125
You know the drill!
The EOS-1D W/70-600mm Aftermath….
Those very few of you who read yesterday's blog post and believed every word of it obviously missed the two links at the end of the article that brought you to the page with this on it:
Belated Happy April Fools Day!
I would like to wish all of you a belated happy April Fools Day. There is no 1D W and there is no EF 70-600mm f/4L IS-W with Internal Extenders USM/STM lens. If you had read more carefully, you would have already known that :).
I would like to thank Bryan Carnathan of The Digital-Picture.com who kindly granted me permission to adapt and re-publish his clever spoof here on my blog on April 2, 2014. You can read the original here. Thanks also to Ron May who alerted me to the original April Fools joke.
Bryan obviously did a great job as I have received several e-mail complaining about Canon :). Some from folks who should have known better… There are some really cool image galleries on Bryan's site; here is a link to one of my favorites: Kid Picture.
For a really good chuckle, see the comments here and check out those who got taken in hook, line, and sinker. I hope that in retrospect most of them would be able to look in the mirror and have a good laugh at themselves and say, "Good one Artie. You got me. I should have read more carefully."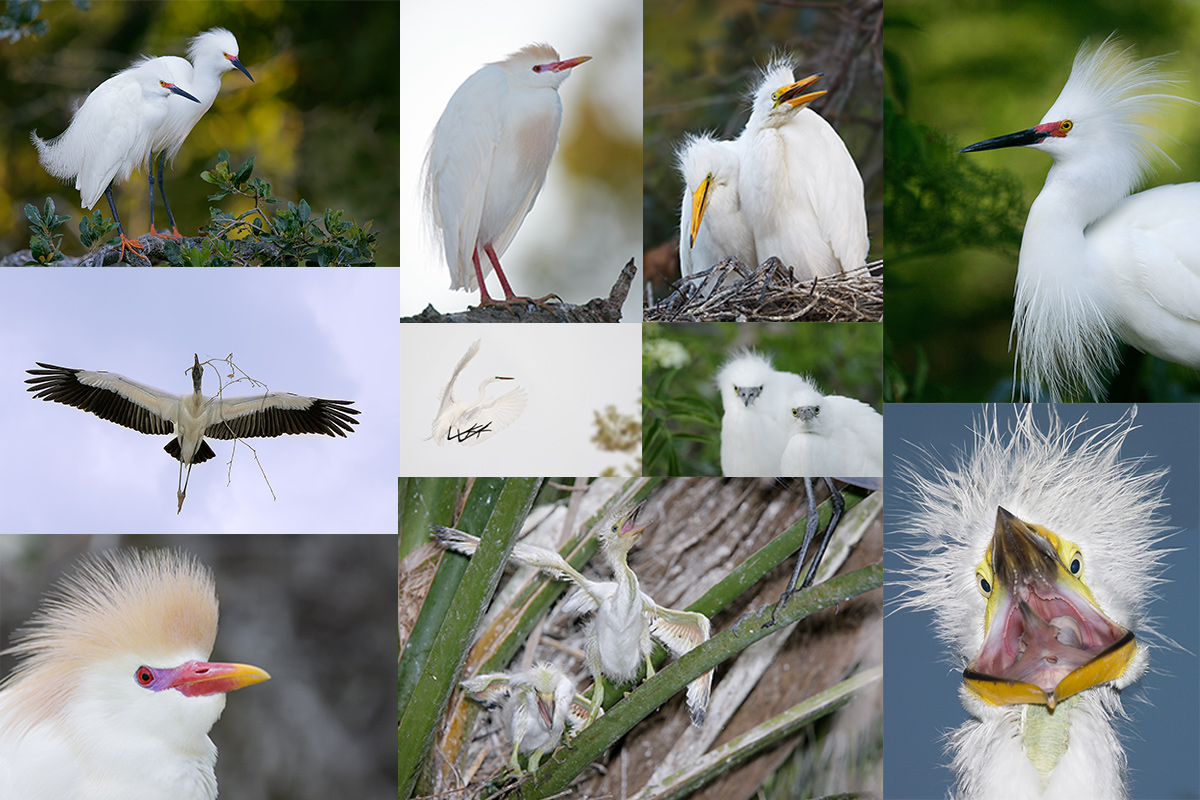 All of the images created at the St. Augustine Alligator Farm and copyright Arthur Morris/BIRDS AS ART
From top left clockwise to center: Snowy Egret pair in breeding plumage, breeding plumage Cattle Egret with fill flash, large Great Egret chicks in the nest, killer breeding plumage Snowy Egret displaying, flash-as-main light Great Egret chick happy to see mom, Little Blue Heron chicks, Cattle Egret breeding plumage head portrait, flash flight Wood Stork with nesting material, Great Egret landing at the nest, large Snowy Egret chicks.
Click on the image to enjoy a larger version.
St. Augustine Alligator Farm Short-Notice IPT. 3-FULL DAYS. Early entry/Late stay. May 5-7, 2014. Meet and greet at 8pm on Sunday May 4: $1299. Two Great Leaders: Arthur Morris and Denise Ippolito
This trip needs four to run.
Breeding herons, egrets, and Wood Storks. Eggs and chicks in the nest. Some fledged young possible. Breeding behaviors including displaying and copulations. Flight and flash flight. Great Egret, Snowy Egret, Little Blue Heron, Cattle Egret, Tricolored Heron, Wood Stork. Early May rocks at the Farm as the weather is usually gorgeous and there should be lots of both small and large chicks in the nest. And you avoid the possibly oppressive heat of June and July.
Includes in-the-field instruction, early entry, late stay, $5/person late-stay gratuity, informal, small group Photoshop and image review sessions. Three lunches.
Not included: your lodging, your St. Augustine Alligator Farm photographer's pass ($79.95 for the year); we will be more than glad to pre-order your pass for you. Please let us know when you register.
What you will learn:
How to see the good situations.
How to best avoid the clutter of a rookery by choosing the very best perspective.
How to properly evaluate the histogram and come up with the right exposure every time after making a single test exposure
How to see and understand the light.
How to to design pleasing images by mastering your camera's AF system.
Why you must work in Manual mode 95% of the time when photographing at a rookery and how to do it.
How to evaluate and process your images.
Via intensive instruction how to use fill flash flash as main light, and Manual flash.
Flash flight techniques including the necessary use of high speed sync.
And tons more.
Please call Jim or Jen at 863-692-0906 to hold your spot with your non-refundable $299 credit card deposit and then put your check in the mail along with your signed registration form; you can find the form here.
Suitable airports: Jacksonville (JAX), Daytona Beach (DAB), Orlando MCO).
We look forward to seeing you in the nation's oldest city for three days of fun and learning.
Note: Folks interested in possibly continuing on to Fort DeSoto–great in spring, are invited to shoot me an e-mail.
The e-Mail from Tim P.
On Wednesday, April 2, 201 I received an e-mail from a Tim P. I chose to share it with you here along with my response. He is TP. I am AM.
TP: Mr. Morris
I was going to post a comment on your blog about your new canon products blog but I'm sure you would (sic) just delete it as you mentioned you have deleted some already. So I'm hoping a personal email will get through to you. You have disappointed me greatly.
AM: Hey Tim, Great to hear from you. Do know that disappointment is a choice. But it is your lucky day as I did get your e-mail. And not only that, not only am I not going to delete it, I decided to publish it on the blog. As noted by you, I did delete a few comments that would have spoiled the fun for some of the boys and girls who had not yet seen the post. To make up for your disappointment, I have opted to post your entire e-mail here for all to read. Along with my response.
TP: I hope you take the time to read this email before you delete it—but I bet you don't.
AM: I guess that you would have lost that bet….
TP: I read your blogs all the time including the one today about the new canon products including the new 70-600 lens—I guess I am gullible.
AM: That is one excellent guess. It is great to know that you were visiting the blog often and learning each day.
TP: And why?—well you are a professional photographer and well respected and I believe what you write—not anymore. You should be above this sort of 'joke."
AM: Is that your opinion or an absolute fact? Tim seriously, can't you take a joke??? Heck, maybe your e-mail was a belated April Fools joke….
TP: I wasted 15 minutes reading it and embarrassed myself with 6 of my photography friends by forwarding it to them.
AM: Sorry, but feeling embarrassed is also a choice. You state that you wasted 15 minutes reading the post. Apparently you did not read very carefully. If you had, you would have read this in the first section, 4th paragraph:
"That the new Canon EOS-1D W is going to revolutionize wildlife photography is unquestionable" says EoL Rick Salmon after 3 months of field testing the new camera. Mr. Salmon was recently announced as the Director of Photography for BBC's upcoming "Planet Life" series. "We spend weeks waiting for the an animal to be in the right position. When that perfect moment arrives, we cannot risk any camera-related issues causing a missed shot. The EOS-1D W is a game changer. Like my hair gel, it never misses."
In retrospect, would you not agree that the hair gel comment indicated that there was something very fishy about Mr. Salmon's comments? Please excuse the pun.
TP: Fortunately one of them is more informed than I, knew it was fake and let me know.
AM: Wow, he must be absolutely brilliant.
TP: I pride myself in not forwarding junk to my friends—only good information that can help them. You have embarrassed me and you should be embarrassed as a professional—I expect better from someone in your position.
AM: Thank you for sharing your thoughts. I find it very hard to believe that there are six other photographers who, like you, have absolutely no sense of humor. That is really remarkable. As for me, I am not at all embarrassed. In fact, I am rather proud of myself that I managed to snag at least a few folks with the spoof. Thanks again to Bryan Carnathan for graciously allowed me to adapt and publish his copyrighted April Fool's joke a day late.
As far as junk, had you forwarded links to the previous 124 blog posts to them?
On the subject of jokes, do these words mean anything to you: Lighten up. Get a life. Breathe deeply and have some fun. Enjoy life. Can't you take a joke?
TP: I have attended an IPT with you in Bosque where you were more interested in taking your own photos than helping paying students like myself.
As it states clearly on the web site on the IPT general information page:
Do know that the leader, that's me: Arthur Morris, and the co-leaders, photograph during IPTs. We let you know what we are doing, and why, and we are always available to answer your questions. We often teach by example. In addition to the in-the-field sessions, there is much teaching done during the lunches and even during dinners; many folks take advantage of these times to ask a multitude of questions on a great variety of photography topics. In addition, folks (including me) often learn a ton from skilled IPT participants.
As far as not helping paying students like you, is that absolutely true? Did you stay close? Did you ask questions? Did you keep your eyes and ears open? The only folks who ever go home unhappy after an IPT are those who arrive as bitter, unhappy campers. I can't help those folks.
How long has it been since your IPT? A decade, or longer? IAC, you might ask yourself this: why did I wait so many years to get this off of my chest? I think that an honest answer to that question would be quite revealing.
TP: I will never again attend another with you and have discouraged many of my friends from attending your IPT's
AM: I guess that I will just have to count this as one of my luckier days.
TP: And its no wonder to me you were at Gatorland recently by yourself.
AM: That was just a weird coincidence. On the first two Saturday In-the-Fields at Gatorland 5 folks attended. Each went home thrilled. And I have 5 folks signed up for this coming Saturday's session. That sort of blows holes in your theory, no?
Not to mention the fact that we average about 60% repeat participants and that most IPTs sell out even in today's crazy market where the only requirement for leading a photo tour is that one owns a camera…. I, along with Denise Ippolito, receive dozens of e-mails each month from folks who were thrilled with what we have to offer. Much of that praise is effusive.
TP: I think the word is gradually getting out. Art Morris doesn't like anyone that is not a 'happy camper'.
AM: Wow, thanks for helping spread that word. I choose to be associated with happy folks who want to learn and improve rather than to surround myself with the bitter unhappy folks who go out of their way to spread their poison and rob others of their energy. To think that you see that as a fault is beyond my comprehension, but again, it says a lot about you.
TP: The other pros that I know like feedback—both good and bad so they can improve. I don't believe that is the case with you.
AM: If you spent any time on BPN you would know that I am open to good, constructive criticism. I see none of that in your e-mail.
TP: Yes you are a wonderful photographer but you lack the skills to be great when it comes to your followers and students.
AM: That is absolutely hilarious. Would that be in your humble opinion? Perhaps you should ask the 2,700+ folks who visit the blog daily. Or the hundreds of happy campers who have traveled with me over the past three decades. Or the thousands who have attended my or our programs and seminars.
TP: You have lost me forever, Tim
AM: I wish that I could say that leaves me distraught but it does not. Tim, you really need to work on your sense of humor, and on your ability to laugh at yourself when you have been had. I wish you the best with those.
later and love, artie
Please Let Me Know
Please leave a comment and let me know your thoughts on Tim P's e-mail.
Slomo
For a great read, and an inspirational video that might change your life, or not, check out the post here by Josh Izenberg is a filmmaker based in San Francisco, on the NY Times "The Opinion Pages." It is about a respected doctor who walked away from his practice to skate up and down the path by the ocean at Pacific Beach in San Diego. Thanks to Dr. Cliff Oliver of The Center for Balance for sharing.
The main message: "Do what you want to." You might guess why I identify to some degree with Slomo. That's his nickname, shortened from Slow Motion.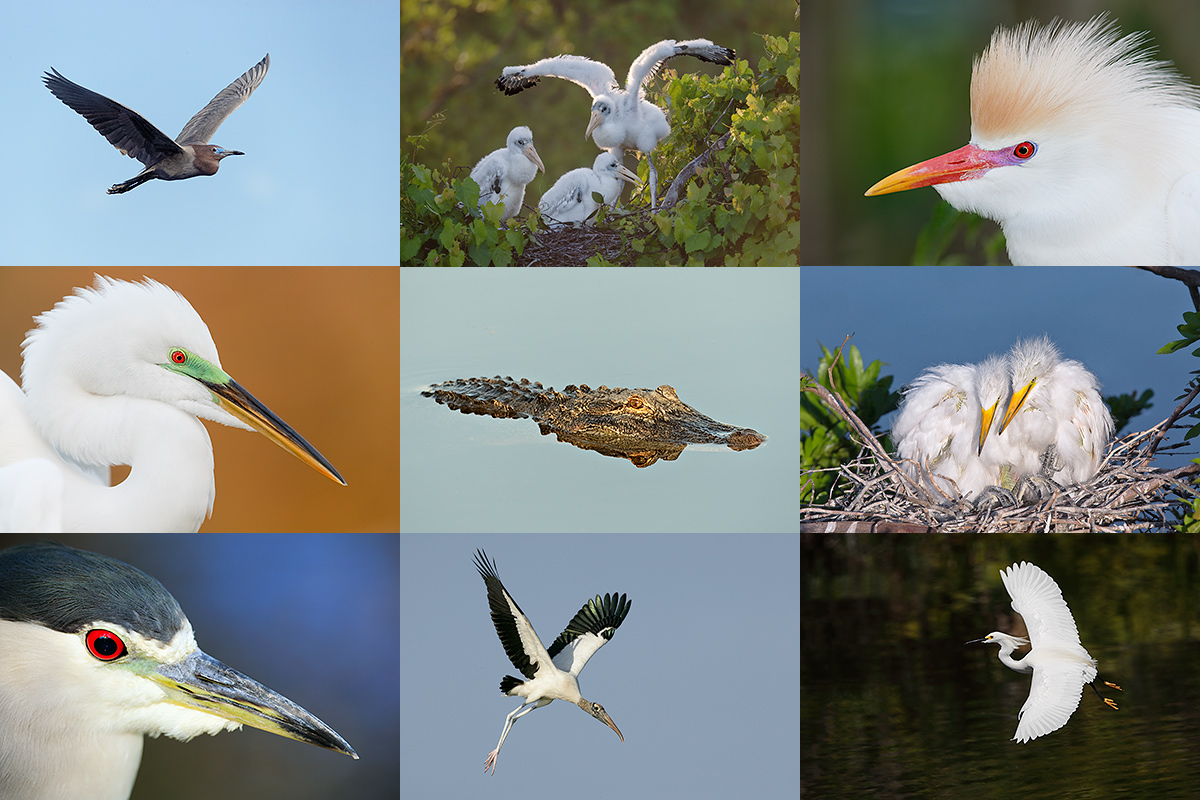 There is a single opening left on the April 5 ITF Workshop. But three folks are leaving early; if you are interested in an afternoon only session ($149), please contact me via e-mail. Please note that I have added the Sunday morning session below.
Gatorland Short Notice Sunday Morning In-the-Field Workshop
Sunday April 6, 2014. 7:15am till 10:30 photo session.Lunch, image review, and Photoshop session included: $299.
The cost of your Gatorland Photographer's Pass is not included.
Payment in full via credit card is due upon registering. Please call Jim or Jennifer at 863-692-0906 to register. Please ask for me if you have any questions. Or get in touch via e-mail. Lens rentals are available.
Support the BAA Blog. Support the BAA Bulletins: Shop B&H here!
We want and need to keep providing you with the latest free information, photography and Photoshop lessons, and all manner of related information. Show your appreciation by making your purchases immediately after clicking on any of our B&H or Amazon Affiliate links in this blog post. Remember, B&H ain't just photography!
Amazon
Everyone buys something from Amazon, be it a big lens or deodorant. Support the blog by starting your search by clicking on the logo-link below. No purchase is too small to be appreciated; they all add up. Why make it a habit? Because I make it a habit of bringing you new images and information on an almost daily basis.
Typos
In all blog posts and Bulletins, feel free to e-mail or to leave a comment regarding any typos, wrong words, misspellings, omissions, or grammatical errors. Just be right. 🙂