The Streak Continues: 263
This blog was published at about 5:30am from my home at Indian Lake Estates, FL. It took me about 2 hours to assemble; this one makes 263 consecutive days with a brand new blog post. I fly from Orlando to Islip for a week of visiting my elderly (gonna be 92 soon) Mom, my younger sister Arna, and doing some late summer bird photography.
As always, I would appreciate your using the BIRDS AS ART B&H affiliate links for all of your major gear, video, and electronic purchases, using our Amazon logo-link for all of your household purchases, and visiting the BAA Online Store for your tripod, tripod head, LensCoat, miscellaneous, accessories, and eGuide purchases as well.
The 2015 UK Puffins and Gannets IPT
There are now just 2 slots left on the 2015 UK Puffins and Gannets IPT; if you are seriously interested in joining us on this truly wonderful trip it would be best not to tarry…. Scroll down here for complete details. artie and denise
Nickerson Beach Update
From Greg Gulbransen: Lots of skimmers feeding chicks out front in the open at Nickerson. Lots of photo ops. Next week will be perfect. For info on my 2-DAY trip click here and scroll down to near the bottom. artie Ask Jim about the very late registration discount.
2015 Palouse IPT #2
The first 2015 Palouse IPT is sold out with a long waiting list. There are now just 4 slots left on the Palouse IPT #2. Scroll down in this blog post for complete details.
Selling Your Used Photo Gear Through BIRDS AS ART
Selling your used (or like-new) photo gear through the BAA Blog or via a BAA Online Bulletin is a great idea. We charge only a 5% commission. One of the more popular used gear for sale sites charges a minimum of 20% plus assorted fees! Yikes. The minimum item price here is $500 (or less for a $25 fee). If you are interested please e-mail with the words Items for Sale Info Request cut and pasted into the Subject line :). Stuff that is priced fairly–I offer free pricing advice, usually sells in no time flat. In the past few months, we have sold just about everything in sight. You can see the additional listings here. Immediately below is today's featured item, a new listing.
Used Canon EOS-1D Mark IV
Walt Anderson is offering a used Canon EOS-1D Mark IV professional digital camera body in near-mint condition for $2899.00. The sale includes an extra battery the original box, and all cables and manuals. The seller will pay insured shipping via UPS Ground to US addresses only. Your new gear will be shipped after your check clears. Payment may also be made via credit card plus a 2% fee.
Please contact Walt via e-mail or by phone at 847-438-3587 (office) or 847-721-8319 (cell) (Central Daylight Time). Walt, a long time friend, is the inventor of the Better Beamer Flash Extender, the very first BAA mail order item. When it comes to taking care of his gear, Walt is fastidious.
The 1D IV is a 1.3 crop factor camera body that was my workhorse camera body for about 4 years not so long ago. I owned four of them in total. It is Denise Ippolito's camera body of choice for birds and wildlife. They were selling used just a few months ago for more than $4,000 so Walt's 1D IV is priced to sell quickly.
Your Help Is Needed
Sales for the first half of August, 2014 via our BIRDS AS ART B&H affiliate links have been microscopically abysmal at best. If you need to purchase some new camera gear, please remember to use either our B&H logo link below or one of the product-specific links in the blog or the Bulletins. All should feel free to write me via e-mail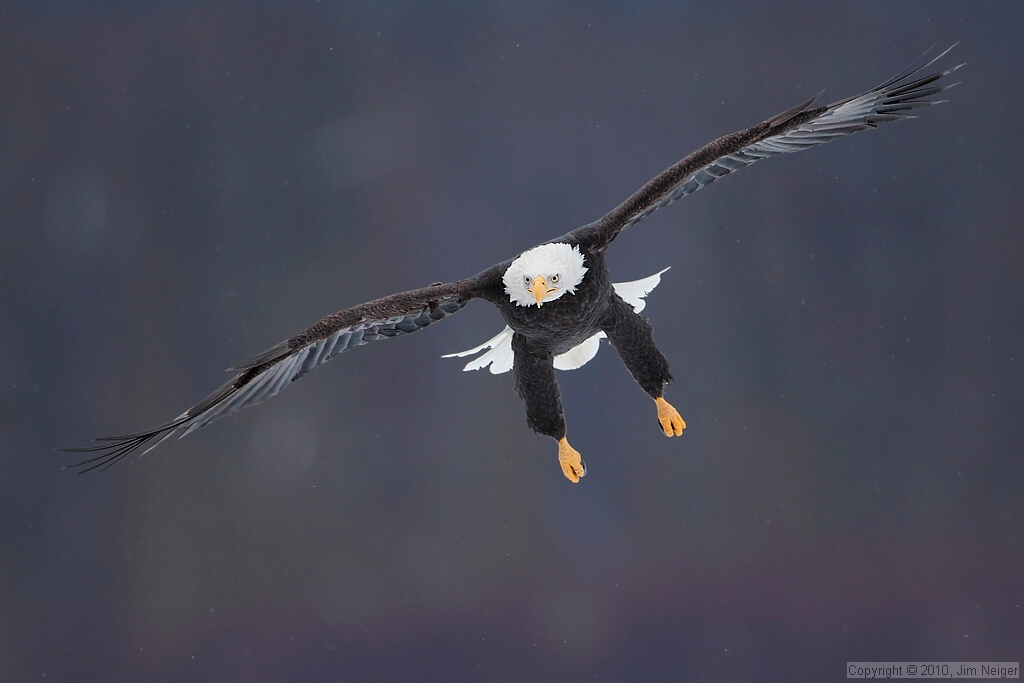 Incoming Bald Eagle/Image copyright 2013: Jim Neiger/Flight School Photography