What's Up?
Today is a travel day. I woke to the alarm at 2:30am, finished packing, loaded the car, and headed down to ABQ. I checked in (TSA pre-check!), and dropped my bags at Southwest curbside, returned my rental car, took the shuttle bus to the terminal, and headed to the gate.
This blog post took less than an hour to prepare and was published from my seat on Southwest Flight 718 just a bit before 6:15am.
Flight Update
Just after take-off I was treated to a spectacular sunrise replete with orange, yellow, red, and pink tones filling most of the eastern sky. It was possible the best sunrise of the entire trip….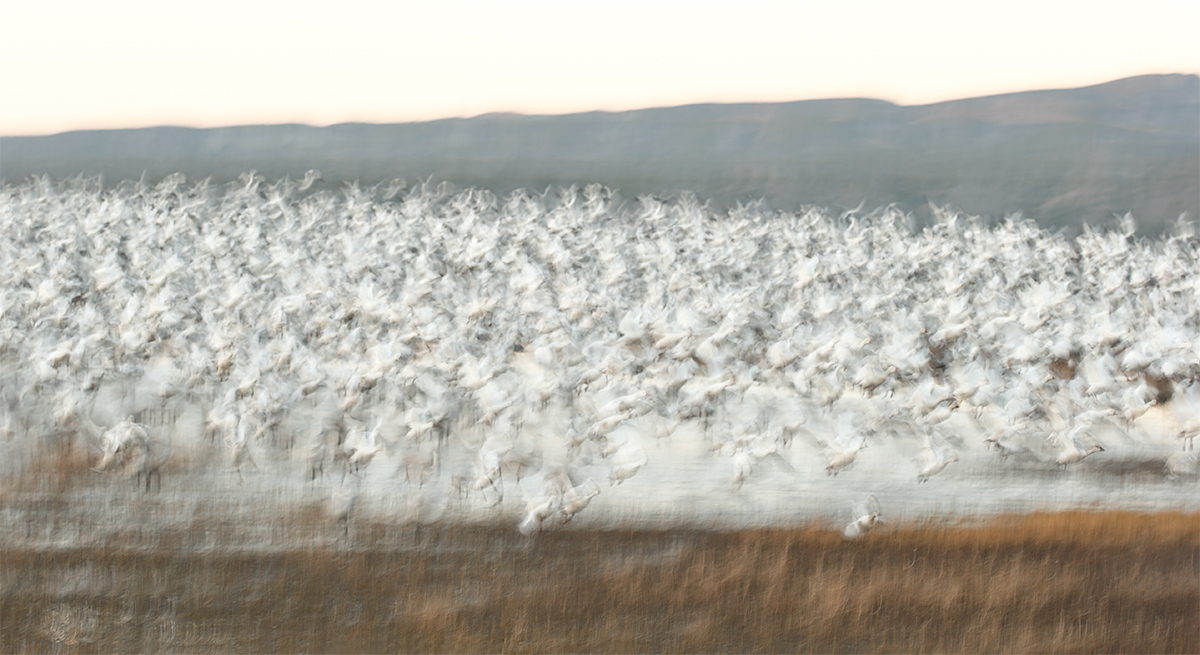 This image was created at 7:02am on December 7, the second and last morning of the fabulous Canon Destination Workshop. I used the Canon EF 70-200mm f/2.8L IS II lens with the Canon Extender EF 1.4X III (hand held at 192mm) and the Canon EOS-1D X. ISO 100. Evaluative metering +2/3 stop as framed: 1/13 sec. at f/7.1 in Tv mode. Captured at 10,000K. Converted in DPP 4 at 8200K.
One sensor below the central sensor/AI Servo Surround/Rear Focus AF as originally framed was active at the moment of exposure. Click here if you missed the Rear Focus Tutorial. Be sure to click on the image to see a larger version.
Your browser does not support iFrame.
The Right Spot at the Right Time
Since arriving at the refuge on November 13, I am proud to say that I had myself and more importantly, my groups, in the right spot at the right time on all but two occasions. After 20 years, I have become quite proficient at reading the light and the wind and bird behavior. Join us on one of next year's Bosque IPTs and learn everything that there is to know about photographing at the refuge including my newly developed strategy for photographing close range blast off with different lenses….
Please feel free to leave a comment and let us know what you like or do not like about today's featured image.
To pan or not to pan…
As most regular readers would likely have surmised, in the "To pan or not to pan? That is the question" blog post here, my very great preference was for the pan blurred image for its graphic look and smoother color tones.
400 DO II
Folks who are pre-ordering the Canon EF 400mm f/4 DO IS II USM lens are asked to consider using my B&H affiliate link.
The Bosque Site Guide
All BAA Site Guides are designed so that with a bit of study you can show up at a great place and know exactly where to be at what time on what wind and in what lighting conditions. With a Site Guide on your laptop you will feel like a 20-year veteran even on your first visit. Site Guides are the next best thing to being on an IPT. If you plan on visiting the refuge it would be foolish to make the trip without having this guide in hand. Why spend money on gear and travel and then spend days stumbling around in the wrong spots? If you have visited previously, and are still unsure of where you should be at this time of day with that wind, this guide will prove invaluable to you as well.
You can order yours here or check out all of our site guides here.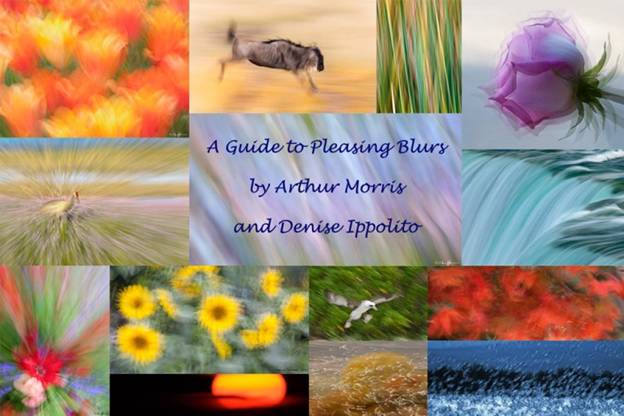 Learn the secrets of creating contest winning images in our "A Guide to Pleasing Blurs."
A Guide to Pleasing Blurs
While lying in bed in the middle of last night and thinking of finishing this blog post, I realized that the two oof bird images were actually de-focused blurs, one of the many categories that we discuss and detail in our great eGuide, A Guide to Pleasing Blurs by Denise Ippolito and yours truly.
Pleasing Blurs are not accidents. Learn pretty much everything that there is about creating them in this instructive (as always) guide.
BIRDS AS ART Instructional Photo Tours (IPTs)
For a listing of all currently offered IPTs, click here.
Click here for BIRDS AS ART Instructional Photo-Tour (IPT) General Information.
Click here for BIRDS AS ART Instructional Photo-Tour (IPT) Deposit and Cancellation Policies.
Click here for BIRDS AS ART Instructional Photo-Tour (IPT) Registration and Release Forms.
DPP 4 eGuide 7D II Update
If you have purchased the DPP 4 eGuide and have purchased a 7D II, please request the free update by shooting Jim an e-mail with the words DPP 4 7D II Update cut and pasted into the Subject Line. You must include some sort of proof of purchase; a cut and paste of page 2 of the current guide will suffice. If you send your request without including proof of purchase your updated eGuide will not be sent 🙂
Facebook
Be sure to like and follow BAA on Facebook by clicking on the logo link upper right. Tanks a stack!
Support the BAA Blog. Support the BAA Bulletins: Shop B&H here!
We want and need to keep providing you with the latest free information, photography and Photoshop lessons, and all manner of related information. Show your appreciation by making your purchases immediately after clicking on any of our B&H or Amazon Affiliate links in this blog post. Remember, B&H ain't just photography!
…..
Amazon.com
Those who prefer to support BAA by shopping with Amazon may use this link:
Amazon Canada
Many kind folks from north of the border, eh, have e-mailed stating that they would love to help us out by using one of our affiliate links but that living in Canada and doing so presents numerous problems. Now, they can help us out by using our Amazon Canada affiliate link by starting their searches by clicking here. Many thanks to those who have written.
Typos
In all blog posts and Bulletins, feel free to e-mail or to leave a comment regarding any typos or errors. Just be right :).