Stuff
I devoted all of the morning to solving a sticky problem with my 2013 audit. It took me about 6 hours to find the file I needed but once I did everything turned rosy. Then I Tivo-ed and watched most of pretty much every NFL game via Direct TV's NFL Ticket. The NY Giant's careless loss to the Cowboys on Sunday Night Football was about as abominating a loss as you would ever wish to experience….
This blog post took about an hour to prepare and should be published at 6am on Monday, September 14, 2015.
Old Car City
If you would like to join Denise Ippolito and me for an inexpensive Creative Adventure workshop/HDR seminar at Old Car City in White, Georgia, please shoot me an e-mail with the words Old Car City in the Subject Line. Complete details will appear in tomorrow's blog post.
The Namibia and the Galapagos IPTs
Both of the above mentioned trips are off to great starts with 7 or 8 spots spoken for on the April 2016 Namibia trip and 5 or 6 deposits on the way for the 2017 Galapagos Photo-Cruise IPT. Learn more about the Namibia IPT here. And learn more about our next great Galapagos trip here. Denise Ippolito will be co-leading both of these great workshops. Lots of Happy Campers are on board already. And Bill Lloyd who recently joined us on the 2015 UK Puffins trip is signing up for both Namibia and Galapagos!
The 2017 Bear Boat IPT(s)
Mid-July offers folks the very best chance to photograph football sized Brown Bear cubs at famed locations like Hallo Bay in Katmai National Park, AK. The sows almost never bring their tiny spring cubs out in the open in June or even early July; they are so small then that predation by other bears is likely. But by mid-month, these little cuties are often seen nursing and frolicking with each other. Though little in nature photography is guaranteed, mid-July offers the absolute best chance to photograph the small cubs with their moms. In order to get our mid-July dates we had to reserve out dates four years in advance. We can guarantee that you will see and photograph a great variety of Brown Bears, the coastal from of Grizzly Bear, at close range. They will be of different age classes and and come in a great variety of colors–the blondes are my favorites. They will be clamming and grazing on the luxuriant meadow grasses. In addition, we will get to photograph both Horned and Tufted Puffins and several species of shorebirds. Common Mergansers with chicks are possible. Wolf is a remote possibility.
If you would like to be put on the Interested List and receive early notice of the two great trips that we are planning, please shoot me an e-mail with the words "2017 Bear Boat Spring Cubs IPT" cut and pasted into the Subject line. Denise and I hope that you can join us. Dates and rates TBA.
Why So Far in Advance?
If you would like to learn why we schedule some of the great workshops so far in advance click here and scroll down to item three.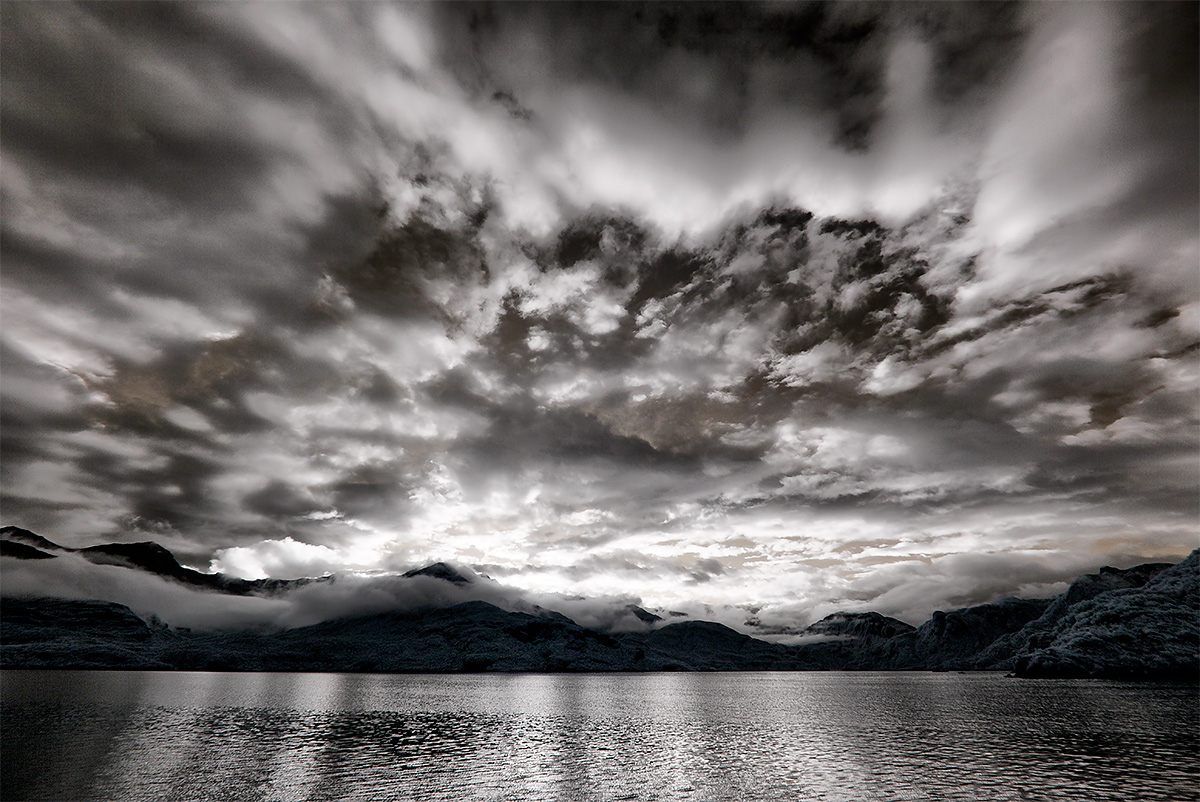 This image was created on the recently concluded Bear Boat IPT at 8:24pm from the boat in Kinak Bay, Katmai National Park on September 6, 2015. I used the hand held Canon EF 11-24mm f/4L USM lens (at 11mm) and the EOS-5D Mark II that I had converted to 720nm Infrared by Kolari Vision (now replaced ideally by the) Canon EOS 5D Mark III . ISO 400. Evaluative metering at zero: 1/250 sec. at f/8 in Av mode minimized blinkies. WB: Custom.
One-Shot shutter button AF on the mountain ridge and re-compose. Be sure to click on the image to see a larger version.
Dramatic IR cloudscape
Your browser does not support iFrame.
Thanks Donna!
As I mentioned a few times here recently, I was big on borrowing lenses on the Bear Boat IPT. Thanks a stack to multiple IPT veteran Donna Bourdon for the loan of her 11-24mm. Even better, she used my B&H affiliate link to purchase it. But it was a two way street: she put a card in my IR body and made lots of images with it with her 11-24 attached. There is nothing like good teamwork!
Dramatic Clouds for IR
For the first 27 days of my trip I never once reached for the IR body. But the moment that I saw the dramatic backlit cloudscape I ran to my Think Tank rolling bag to grab it with the 24-105. Then Donna came up with a much better lens for the job.
Enter the coupon coupon code morris2015 at checkout to save $10 site wide
Kolari Vision Infrared Camera Conversions
If you are ready to join the fun and have a camera converted to Infrared, use either the Kolari Vision logo-link above or the one in the right side-bar of the blog to order your conversion and we will gladly send you our simple guide to properly setting a Custom White Balance for infrared photography at 720nm. Simply e-mail us your receipt and we will be glad to shoot you the PDF.
Kolari Vision prides themselves on their fast turnaround times and excellent customer service; they are getting better and faster as they employ several full time technicians to service everything as quickly as possible. The filters they use have been specifically designed for each camera and filter combination to be the optimal thickness for best autofocus performance between lenses, and the best corner sharpness. The filters also fit directly into the frame making the conversion non-damaging and reversible if needed. Others uses a few standard-sized thick filters that they calibrate the camera around. Doing this reaches accurate autofocus with their test lens. But when a filter is too thick for what the optics were designed for, the sharpness can suffer, particularly in the corners, and other lenses will not consistently focus accurately. Some other IR converters glue their filters directly to the sensor; that makes it almost impossible to revert back or to change the filter.
Kolari offers a comprehensive shop for infrared bodies; customers can order converted cameras directly from KV. Their focus on optical quality built from the ground up has allowed them to recently offer a service that improves the performance of Sony A7 series cameras to the level of the Leica M240 cameras. Content-wise, Kolari has a very comprehensive article list and an exhaustive lens performance database chock full of technical details. Soon, KV will feature an interactive gallery that will showcase different camera/filter picture combinations to get rid of some of the mystery of picking a camera to convert.
You can find lots of IR tips and tutorials here. And see more IR images here and here.
IR Tips
When photographing IR scenics I always Auto-Bracket =/- 1/3 stop and I always use One-Shot AF Shutter Button AF (and re-compose). Rear Focus would work just as well but I find it simpler to leave my IR body in One-Shot AF.
Does it makes any sense to carry a camera from coast to coast for 30 days in case you get one good opportunity?
For me, yes. What do you think?
Facebook
Be sure to like and follow BAA on Facebook by clicking on the logo link upper right. Tanks a stack!
Support the BAA Blog. Support the BAA Bulletins: Shop B&H here!
We want and need to keep providing you with the latest free information, photography and Photoshop lessons, and all manner of related information. Show your appreciation by making your purchases immediately after clicking on any of our B&H or Amazon Affiliate links in this blog post. Remember, B&H ain't just photography!
…..
Amazon.com
Those who prefer to support BAA by shopping with Amazon may use this link:
Amazon Canada
Many kind folks from north of the border, eh, have e-mailed stating that they would love to help us out by using one of our affiliate links but that living in Canada and doing so presents numerous problems. Now, they can help us out by using our Amazon Canada affiliate link by starting their searches by clicking here. Many thanks to those who have written.
Typos
In all blog posts and Bulletins, feel free to e-mail or to leave a comment regarding any typos or errors. Just be right :).