Stuff
On Saturday morning, Jim White and I tried for a sunrise but there was none, only clouds. On Sunday, we left early again, headed west on SR 60, and were rewarded with some not=too-bad color. There was lots to learn for Jim as we created some tree-capes. That included the K7690 trick, using self-timer/Live View in the pre-dawn, and some compositional lessons as well. Then it was back to ILE for more cranes. We put out a road killed opossum and I expected some vultures within an hour. That was not to be. Then it was more baby cranes and an accepting Limpkin. When we got back to the ranch, we spent a while reviewing all his keepers. After another great curry lunch, Jim decided to head back down to Naples early as he has a ton to do on Monday afternoon.
I fly to Phoenix late on Monday. The shoulder is the shoulder. 🙂
The Streak
Today makes two hundred forty-six days in a row with a new educational blog post! This one took about an hour to prepare including the time spent on the image optimizations. With all of my upcoming free time (or not…), the plan right now is to try to break the current record streak of 480 … Good health and good internet connections and my continuing insanity willing.
BIRDS AS ART
BIRDS AS ART is registered in the U.S. Patent and Trademark Office.
Money Saving Reminder
If you need a hot photo item that is out of stock at B&H, would enjoy free overnight shipping, and would like a $50 discount on your first purchase, click here to order and enter the coupon code BIRDSASART at checkout. If you are looking to strike a deal on Canon or Nikon gear (including the big telephotos) or on a multiple item order, contact Steve Elkins via e-mail or on his cell at (479) 381-2592 (Eastern time) and be sure to mention your BIRDSASART coupon code and use it for your online order. Patrick Sparkman saved $350 on a recent purchase!
Booking.Com
Several folks on the Gatorland IPT used the Booking.Com link below and got great rates and saved a handsome $25.00 in the process. If you too would like to give Booking.Com a shot, click here and to earn a $25 reward on your first booking. Thanks to the many who have already tried and used this great service.
Gear Questions and Advice
Too many folks attending BAA IPTs and dozens of folks whom I see in the field, and on BPN, are–out of ignorance–using the wrong gear especially when it comes to tripods and more especially, tripod heads… Please know that I am always glad to answer your gear questions via e-mail. Those questions might deal with systems, camera bodies, accessories, and/or lens choices and decisions.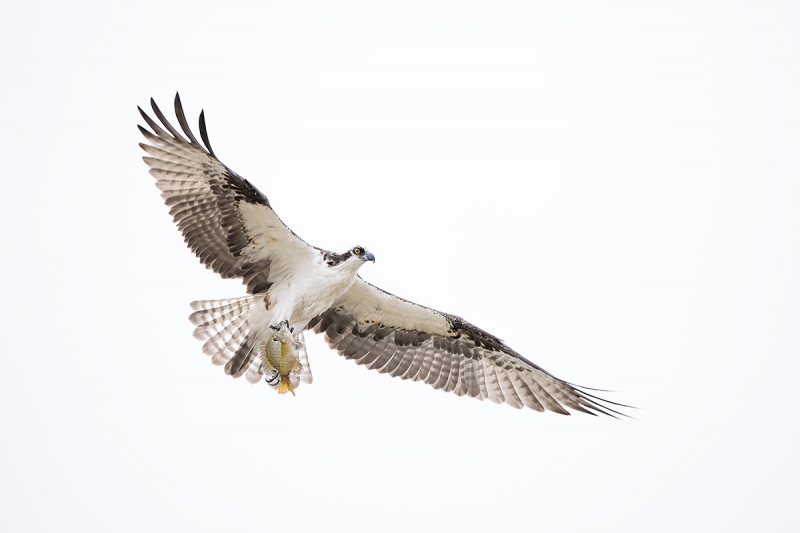 This image was created on March 31, 2018 at Indian Lake Estates by student/friend Jim White with the hand held Nikon AF-S NIKKOR 80-400mm f/4.5-5.6G ED VR lens (at 400mm) and the Nikon D810 DSLR. ISO 1600. Matrix metering +2 2/3 stops off the white sky: 1/1600 sec at f/7.1. SUNNY WB at 11:19am on a totally cloudy morning.
Group (grp)/Shutter button AF was active at the moment of exposure.
Osprey with fresh caught bream (I think.)
Be sure to click on the image to see the spectacular larger version.
Your browser does not support iFrame.
Master Class Student Outdoes Instructor By a Mile!
I am not a big fan of photographing Ospreys in flight at 11 o'clock on a sunny day. With heavy cloud cover and a brisk northeast wind, conditions were perfect. Jim enjoyed learning how to set the right exposure for white sky flight photography. As on the D850, the analog scale on the D810 only shows +/-2 stops, not +/- 3 stops as on the D-850. The situation is exactly the same with the Canon EOS 5D Mark IV DSLR (only shows +/-2 stops) and the Canon EOS-1D X Mark II (shows +/- 3 stops).
With the analogue scale only showing +/- 2 stops here is how I taught Jim to set +2 2/3 stops off the sky:
Pick your aperture (f/7.1).
Set the ISO as dictated by the conditions (ISO 1600).
Point the lens at the white sky.
Select the shutter speed that shows exactly +2 stops; for Jim that was 1/2500 sec.
So if 1/2500 sec is +2, you need to reduce the shutter speed two clicks to let in more light. For Jim that meant going from 1/2500 to 1/2000 to 1/1600 second at which point the analogue scale showed +2 stops with a little arrow at the end of the scale indicating more than 2 stops of over-exposure. He was good to go. And he went.
One of the very nice things about cloudy days is that you do not need to be very concerned at all about light angle. As I mentioned in yesterday's blog post, Jim had a ton to learn about the various AF modes and the AF system as a whole on his D810. He did quite well and left with a pretty good understanding of when to use Group, Single, d-9, d-21,and 3D. We disabled d-51 and Auto.
The Situation
We both walked slowly toward the telephone pole. The bird raised its wings to let us know that it was going to take flight. Neither of us realized that the handsome bird had a fish in its talons. I made about four frames of the bird, all sharp. The problem with my images was that the bird had its head turned to it's left, facing away from me. When we were reviewing Jim's images, I was astounded to see that he had made three sharp images with good head angles before the bird had turned left. Especially because he had been slightly behind me and to my left and the bird had flown to our right.
List of Instructor Excuses
1-I am old and weak slow. (Fact: Jim is several years older than I am.)
2-My bad shoulder prevented me from raising the lens as quickly as I needed to.
3-I was too busy teaching Jim. (Fact: that was done well before we approached the bird.)
The Nikon D850/D5/D500/D7500 Focus Fine-tune Guide
There is lots of mis-information out there on Nikon Automatic AF Fine-tune. Working with Patrick Sparkman, we developed a way of using that feature effectively. Patrick was on a roll and perfected a method for using the Focus Peaking feature available only on the D850 to quickly and accurately micro-adjust all lenses and TC-Es with your D-850. Both Nikon Automatic AF Fine-tune and D850 Focus Peaking AF Fine-tune require a LensAlign Mark II kit so that you can obtain accurate results. I learned recently that the Nikon D500 DSLR and the older D7500 both offer Automatic AF Fine-tune.
Folks who use one of my links to purchase a Nikon D850, a Nikon D5 DSLR Camera (Body Only, Dual XQD Slots), a Nikon D500 DSLR , or any Nikon gear totaling more than $2,000 will receive the new guide free.
IPT Stuff
All IPTs include an introductory briefing before the IPT begins so you know what to expect, frequent in-the-field instruction and guidance (priceless), image editing and small group Photoshop instruction during and after lunch. Breakfasts are on your own so that we can get in the field early. Lunches are on me. Dinners are on your own as well so that we can get to bed as the days in spring will be long.
Rides with the leader are available on a limited basis for $50/day.
Registering for an IPT
To register for an IPT call Jim or Jen in the office at 863-692-0906 from Monday morning through Friday lunch with your credit card in hand to leave your $500 non-refundable deposit. Balances may not be paid by credit card so you will be asked to send a check for your balance along with the signed paperwork that you will find here.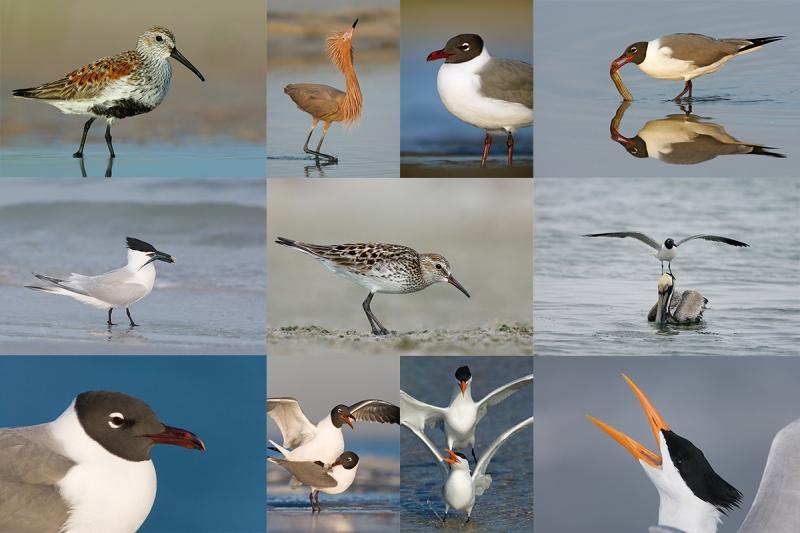 Spring at DeSoto is often magical
DeSoto IPT #1 Sunrise: 7:07 am. Sunset: 6:22pm.
3 1/2 DAYS: SUN 15 APR thru the morning session on WED 18 APR: $1599. Limit 5 photographers.
You must purchase a season Parking Pass in advance for early entry. Click here and scroll down for info. If you are not a local, the six month pass if fine. Best to order by mail. Join me to photograph a wide variety of birds of the shore including pelicans, gulls, terns, sandpipers, oystercatchers, heron, egrets, and night-herons. Many in full breeding plumage. Most are ridiculously tame. Osprey likely. Learn to get the right exposure, flight photography techniques, my secret DeSoto locations, how to see the best situations (nobody is better at that than me), and how to make great images in extremely cluttered situations. Enjoy some great sunrises and sunsets.
Which will offer better opportunities, Desoto #1 or DeSoto #2? I have no idea. Both have the potential to be great.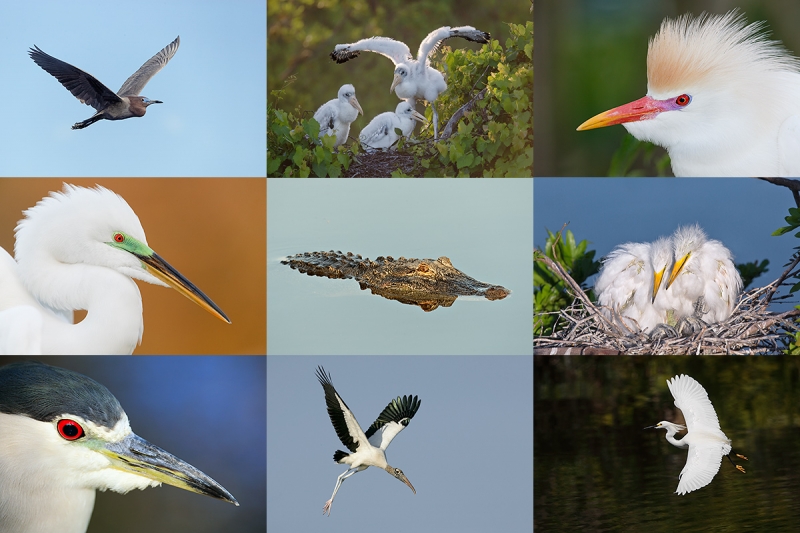 Tame birds in breeding plumage and heron and egret chicks are great fun.
Gatorland IPT #2. Sunrise: 6:48am. Sunset: 7:58pm.
3 1/2 DAYs: THURS 26 APR through and including the morning of SUN 29 APR. $1599. Limit 5 photographers. Openings: 3.
(2 1/2 DAY option) FRI 27 APR through and including the morning of SUN 29 APR. $1199.
Must purchase Gatorland Photographers Pass. Click here for details. All early entry. Late stays Thursday, Friday and Saturday. Gatorland IPT #2 should have lots of chicks, and lots of birds in breeding plumage. We will get to photograph Great Egret, Snowy Egret, Tricolored Heron, and Wood Stork. The Cattle Egrets in full breeding plumage will be present in good numbers. Learn my Gatorland strategy, to get the right exposure, flight photography techniques, my secret Gatorland spots, how to see the best situations (nobody is better at that than me), and how to make great images in extremely cluttered situations.
Help Support the Blog
Please help support my (stupendous) efforts here on the blog by remembering to click on the logo link above each time that you shop Amazon. That would be greatly appreciated. There is no problem using your Prime account; just click on the link and log into your Prime account. With love, artie
If In Doubt …
If in doubt about using the BAA B&H affiliate link correctly, you can always start your search by clicking here. Please note that the tracking is invisible. Web orders only. Please, however, remember to shoot me your receipt via e-mail.
Please Remember to use my Affiliate Links and to Visit the New BAA Online Store 🙂
To show your appreciation for my continuing efforts here, we ask, as always, that you get in the habit of using my B&H affiliate links on the right side of the blog for all of your photo and electronics purchases. Please check the availability of all photographic accessories in the New BIRDS AS ART Online Store, especially the Mongoose M3.6 tripod head, Wimberley lens plates, Delkin flash cards and accessories, and LensCoat stuff.
As always, we sell only what I have used, have tested, and can depend on. We will not sell you junk. We know what you need to make creating great images easy and fun. And please remember that I am always glad to answer your gear questions via e-mail.
I would of course appreciate your using our B&H affiliate links for all of your major gear, video, and electronic purchases. For the photographic stuff mentioned in the paragraph above, and for everything else in the new store, we, meaning BAA, would of course greatly appreciate your business. Here is a huge thank you to the many who have been using our links on a regular basis and those who will be visiting the New BIRDS AS ART Online Store as well.
Facebook
Be sure to like and follow BAA on Facebook by clicking on the logo link upper right. Tanks a stack.
Typos
In all blog posts and Bulletins, feel free to e-mail or to leave a comment regarding any typos or errors. Just be right :).