What's Up?
I swam a mile on Saturday and Sunday. On Sunday morning I went to Gatorland without a client :). There were few birds and fewer photographers but I did fantastically well. The other photographers spent their morning photographing 90 degrees off sun angle. I had my Nikon 600 VR with me and my Nikon 500 PF. Early on I did well with the 600 VR and the TC-E14 on the tripod with the Flexshooter head. But as things turned out, my most valuable lens by far was the hand held Sony FE 100-400mm f/4.5-5.6 GM OSS (with the Alpha a9 Mirrorless Digital camera with and without the Sony FE 1.4x teleconverter). It absolutely kills in close quarters and in changing light — especially in low light as below.
I will share FlexShooter info in a short blog post tomorrow as too many folks can't wait …
SONY A9 Getting Started Guide with Video
If you are just getting started with your SONY a9 body and would like to know how to set the menu items that are relevant to bird photography, please send a Paypal for $22.00 to e-mail with SONY Quick Start Guide in the Subject line or at least somewhere in the e-mail. The guide also includes the best Focus Areas to use for photographing birds both in flight and action and at rest. Along with my comments.
Get a Free Copy!
If you have used my B&H or Bedford affiliate link to purchase a SONY a9 or the Sony FE 100-400mm f/4.5-5.6 GM OSS Lens please shoot me your receipt via e-mail along with a request for your free copy of the SONY Quick Start Guide. Once I confirm that you have used the link correctly you will receive your guide with a link to the video via e-mail.
IPT Updates
The 2019 Fort DeSoto Short-Notice Sandbar Secrets IPT/Sunday May 5 through the morning session on Wednesday May 8, 2019: 3 1/2 DAYS: $1649.00. Limit 4, openings: 2.
The New, Expanded 2019 UK Puffins and Gannets IPT. Seahouses, Bempton Cliffs, and the Dunbar, Scotland Gannet boat to Bass Rock! Thursday June 27 (from EDI) through Tuesday, July 9, 2019 (on the ground; fly home on Wednesday July 10.): $9,999. Limit 5 photographers/Openings: 1
The GALAPAGOS Photo Cruise of a Lifetime IPT/The Complete Galapagos Photographic Experience. July 23 to August 6, 2019 on the boat. 13 FULL and two half-days of photography: $14,499. Limit: 12 photographers/Openings: 2.
The 2020 San Diego 4 1/2-DAY BIRDS AS ART Instructional Photo-Tour (IPT) WED JAN 8, 2020 thru and including the morning session on SUN JAN 12: 4 1/2 days: $2099.(Limit: 8/Openings: 7)
BIRDS AS ART
BIRDS AS ART is registered in the U.S. Patent and Trademark Office.
Mongooses
For the first time in months, we have Mongoose Action Heads in stock.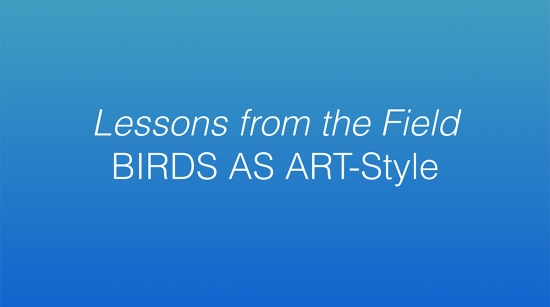 Lessons From the Field/BIRDS AS ART Style is a 1 hour, 15 minute, 314 image,
click and play MP4 video
Lessons From the Field/BIRDS AS ART Style: $10.00
Click here to order or see the Save $10 Bundle offer below.
Lessons From the Field/BIRDS AS ART Style is a 1 hour, 15 minute click and play MP4 video. It is available here in the BAA Online Store, by phone order, or by sending a Paypal for $10.00 to birdsasart@verizon.net. As the file is a large one, be sure to upload it when you have a good internet connection.
The video features 314 of artie's best images, educational and otherwise. Based on his 35 years of in-the-field experience, it covers all the basics along with many fine points. Are you making mistakes that give you no chance to create a great image? Learning to avoid those and learning to think like a pro will make you a better photographer. If you purchase and study the video, it will surely prove to be the best ten dollars you've ever spent on photography.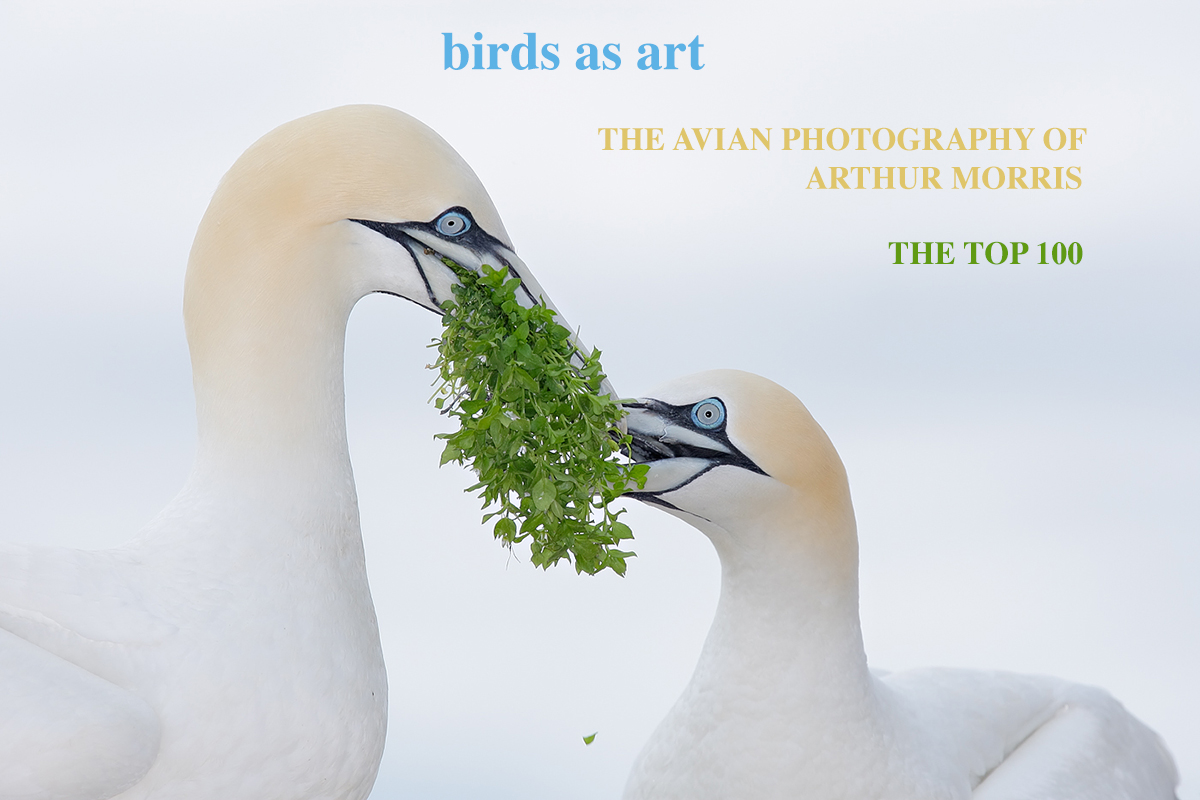 birds as art: The Avian Photography of Arthur Morris/The Top 100:
Save Ten Bucks!
Order the Lessons From the Field MP4 video and add a copy of the birds as art: The Avian Photography of Arthur Morris/The Top 100 (via convenient download — normally sells for $20.00) for an additional 10.00.
Order the bundle for $20.00 by clicking here.

Money Saving Reminder
If you need a hot photo item that is out of stock at B&H, would enjoy free overnight shipping, and would like a $50 discount on your first purchase, click here to order and enter the coupon code BIRDSASART at checkout. If you are looking to strike a deal on Canon or Nikon gear (including the big telephotos) or on a multiple item order, contact Steve Elkins via e-mail or on his cell at (479) 381-2592 (Eastern time) and be sure to mention your BIRDSASART coupon code and use it for your online order. Steve currently has several D850s in stock along with a Nikon 600mm f/4 VR. He is taking pre-orders for the new Nikon 500 P and the Nikon Z6 mirrorless camera body.
Booking.Com
Many IPT folks have been using the Booking.Com link below to get great rates and save a handsome $25.00 in the process. If you too would like to give Booking.Com a shot, click here and to earn a $25 reward on your first booking. Thanks to the many who have already tried and used this great service.
Airbnb
I have been using AirBNB for all of my travel lodging needs. Everyone on the Fort DeSoto IPT is staying at an AirBNB property in Gulfport. Airbnb lists more than 4.5 million homes across 200 countries; you'll find spacious, affordable options for every occasion. With Airbnb you will travel with confidence as reviews from past guests help you find the right fit. Once you do, their secure messaging makes it easy to coordinate with your host. And Airbnb support teams are available 24/7. And this morning, I made a 17-day reservation for an Airbnb condo for San Diego, 2020. I am staying with Rick again: his place has lots of room, a full kitchen, two bedrooms, and great WiFi. All for a lot less than the price of a chain hotel.
Yikes. I almost forgot the best part: Airbnb rates average less than half of even the least expensive chain hotels and motels. If you would like to save $40 on your first booking sign up by using this link: Airbnb. Airbnb does charge clean-up and service fees that make short stays less attractive bargains than long stays.
Those who prefer to stay in a motel or hotel are invited to use the Booking.com link above to save $25.00.
Gear Questions and Advice
Too many folks attending BAA IPTs and dozens of photographers whom I see in the field and on BPN, are–out of ignorance–using the wrong gear especially when it comes to tripods and more especially, tripod heads… Please know that I am always glad to answer your gear questions via e-mail. Those questions might deal with systems, camera bodies, accessories, and/or lens choices and decisions.
I Was Thinking of Selling My Sony Gear …
By the last day of the 2019 DeSoto Spring IPT, I was thinking seriously of selling all my SONY gear as in nearly all situations, I found myself reaching for my Nikon stuff. I am just not in love with the SONY image quality. But is it really fair compare 24.2MP RAW (ARW) files from the a9 with 45.7MP RAW (NEF) files from the D850? When we arrived at our last morning, out-of-the-park location, I grabbed the SONY 100-400/1.4X TC/a9 rig and went to work. The first subjects, turnstones on a concrete fence, reminded me of SONY's strengths. The combo is light in weight and easy to handle. The 93% AF coverage allowed me to get a small AF point cluster on the bird's eye no matter how large in the frame the bird was. But the huge advantage over both Nikon and Canon is the ease of getting the right exposure. I do not find the in-viewfinder live histogram to be a huge help, but by using the Zebra feature (essentially live in-the-viewfinder blinks), it is a simple matter of selecting the shutter speed and the aperture, raising the ISO until you see Zebras, and then backing off one click (1/3 stop). You never need to touch the pain in the _ _ _ exposure compensation wheel. Heck, you never even need to note the EC. And as you might have figured, the more I practice, the better I get at it.
Yesterday at Gatorland there was a situation with many nests — most with medium-sized or small chicks — at close range in a single large bush. The lighting ranged from total shade to bright sun. 560mm gave me more than enough reach and the exposure technique worked like a charm, enabling me to create very good to excellent exposures in one or two seconds. Thanks Patrick!
Speaking of Patrick you might remember that he tried an a7R iii and did not like it. He returned it to Bedford's. Then he kept doing some research online, got the camera back, and began living it. The Sony Alpha a7R III Mirrorless Digital camera is now his main bird photography body! He uses the a9 only in pure flight or action situations … I will be sharing his revised thoughts on the a7R iii and some of Patrick's images with you here soon. Today I will decide if I will borrow an a7R iii for the 2019 Fort DeSoto Short-Notice Sandbar Secrets IPT … (See the details on that trip below.)
Folks can see or re-visit my original thoughts on the SONY gear in the blog post here.
Same Subject in the Sun
The turnstones were very cooperative and everyone in the group enjoyed photographing them at close range when not doing the diving pelicans and terns. "This bird is in the sun so watch for blinkies. That one is in the shade so raise the ISO so that you do not underexpose. Be sure to put the bird back in the frame. Move slowly and get a bit closer." As I love shorebirds, I was first on line.
Sun Angle Question
If you look carefully at the shadow cast by the bird's legs, you will note that I was working about 10-15 degrees off sun angle. Why did I do that?
Your Opinion?
Which image do you like best? Why?
Which pose do you like best? Why?
Which light do you prefer, sun or shade? Why?
Shorebirds; Beautiful Beachcombers
My Shorebirds: Beautiful Beachcombers, written for naturalists and birders, will teach you everything you've always wanted to know about the aging, identification, behavior, feeding habits and strategies, and the timing and routes of migration of North America's sandpipers, godwits, yellowlegs, phalaropes, plovers, avocets, stilts, and oystercatchers.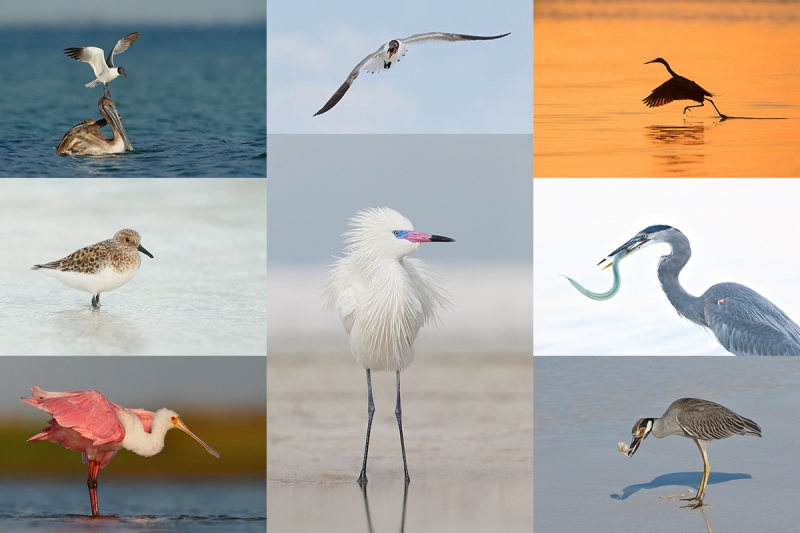 Fort DeSoto in spring is rife with tame birds, many in full breeding plumage. Click on the composite to enjoy a larger version.
Clockwise from upper left around to center: Laughing Gull landing on head of Brown Pelican, Laughing Gull in flight, Reddish Egret sunrise silhouette, Great Blue Heron with needlefish, Yellow-crowned Night Heron with ghost crab, Roseate Spoonbill, Sanderling in breeding plumage, and white morph Reddish Egret in glorious breeding plumage.
The 2019 Fort DeSoto Short-Notice Sandbar Secrets IPT/Sunday May 5 through the morning session on Wednesday May 8, 2019: 3 1/2 DAYS: $1649. Limit 4/Openings: 4. Meet and greet at 7PM on the evening of Saturday May 4.
I will run this with a single registrant. Airport pick-up might be available as is riding with the leader. Combine those to avoid having to rent a car.
Fort DeSoto, located just south of St. Petersburg, FL, is a mecca for a great variety of migrant shorebirds, gulls, terns, and passerines in Spring. Many of the gulls and terns will be courting and copulating. There the migrants join hundreds of Florida resident egrets, herons, night-herons, and pelicans on the T-shaped peninsula. We should get to photograph one of Florida's most desirable shorebird species: Marbled Godwit. Black-bellied Plover and Willet are easy, American Oystercatcher almost guaranteed. Great Egret, Snowy Egret, Great Blue Heron, Tricolored Heron, and White Ibis are easy as well and many of those will be in their spectacular breeding plumages. Yellow-crowned Night-Heron is a strong possibility. We may get to see and photograph the amazing heron/egret hybrid that has been present for three years. And we should enjoy some great Brown Pelican flight photography. In addition, Royal, Sandwich, Forster's, and Caspian Terns will likely provide us with some good flight opportunities as well. Though not guaranteed, Roseate Spoonbill and Wood Stork might well be expected. And we will be on the lookout for a migrant passerine fallout in the event of a thunderstorm or two. Yikes, I almost forgot to mention that nearly all of the birds are ridiculously tame!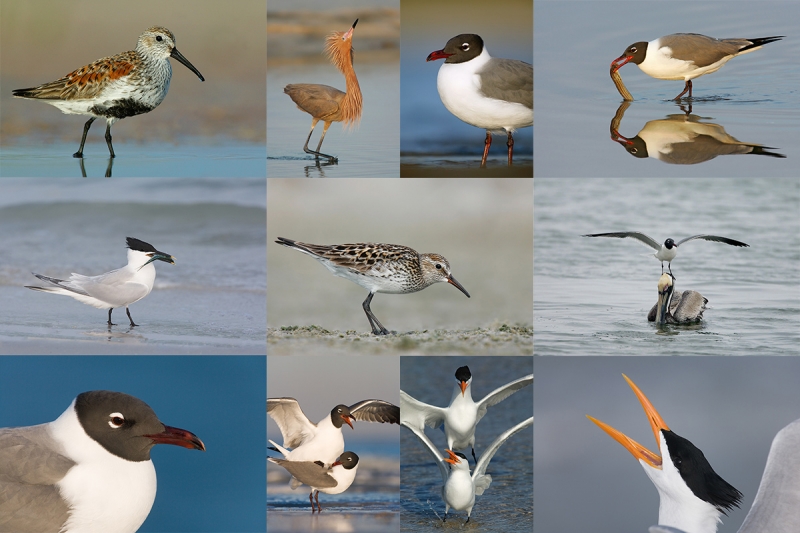 Yes, Fort DeSoto in spring is rife with tame birds, most in breeding plumage. Click on the composite to enjoy a larger version.
Clockwise from upper left around to center: breeding plumage Dunlin, dark morph Reddish Egret displaying, Laughing Gull vertical front-end portrait, Laughing Gull with prey item, landing on head of Brown Pelican, breeding plumage Royal Tern displaying, Royal Terns — pre-copulatory stance, Laughing Gulls copulating, Laughing Gull head portrait, breeding plumage Sandwich Tern with fish, and a rare treat, a breeding plumage White-rumped Sandpiper.
Just some of the stuff you will learn …
On the IPT you will learn basics and fine points of digital exposure and to get the right exposure every time after making a single test exposure, how to approach free and wild birds without disturbing them, to understand and predict bird behavior, to identify many species of shorebirds, to spot the good situations, to choose the best perspective, to see and understand the light, and to design pleasing images by mastering your camera's AF system. Most importantly you will surely learn to evaluate wind and sky conditions and understand how they affect bird photography. And you will learn how and why to work in Manual mode (even if you're scared of it).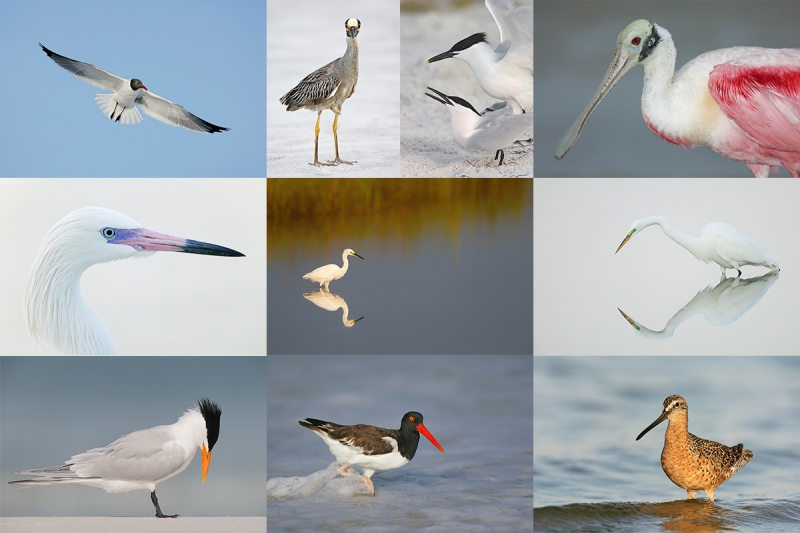 Again, Fort DeSoto in spring is rife with tame birds, most in breeding plumage. Click on the composite to enjoy a larger version.
Clockwise from upper left around to center: Laughing Gull in flight, Yellow-crowned Night-Heron, Sandwich Terns copulating, Roseate Spoonbill, Great Egret with reflection, breeding plumage Short-billed Dowitcher, American Oystercatcher, Royal Tern, white morph Reddish Egret, and Snowy Egret in marsh.
What we do
There will be seven shooting sessions in all: four 3+ hours morning session and three 2 1/2 hour afternoon sessions. There will be Photoshop/image review/critiquing sessions during lunch (lunch is included) on each of the three full days. That will be followed by Instructor Nap Time.
The best airport is Tampa (TPA). Once you register, you will receive an e-mail with the hotel/lodging information. Airport pick-up might be available as is riding with the leader. Combine those to avoid having to rent a car.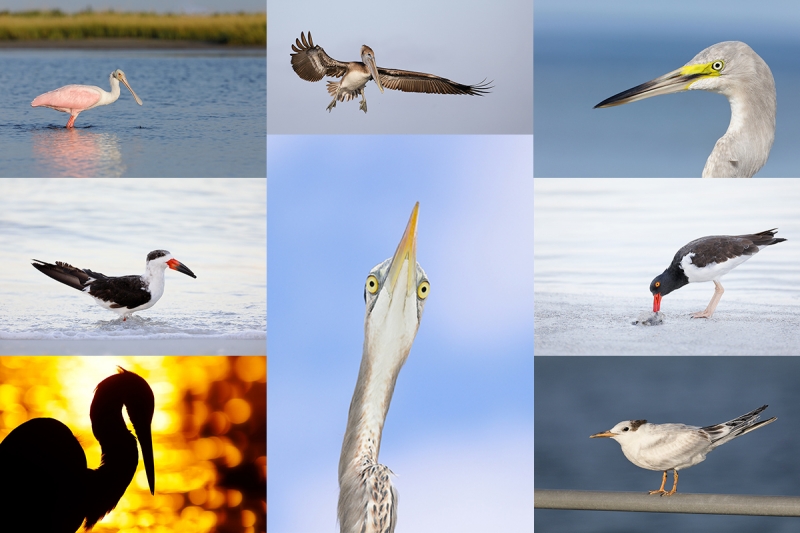 You got it, Fort DeSoto in spring is rife with tame birds, most in breeding plumage. Click on the composite to enjoy a larger version.
Clockwise from upper left around to center: Roseate Spoonbill, immature Brown Pelican in flight, the heron/egret hybrid, American Oystercatcher feeding, immature Royal Tern on railing, Great Egret morning silhouette, Black Skimmer in surf, and underside head portrait of Great Blue Heron.
Signing Up
A $500 deposit is due when you sign up and is payable by credit card. Balances must be paid by check after you register. Your deposit is non-refundable unless the IPT sells out with four folks so please check your plans carefully before committing. You can register by calling Jim or Jennifer during weekday business hours at 863-692-0906 with a credit card in hand or by sending a check as follows: make the check out to: BIRDS AS ART and send it via US mail here: BIRDS AS ART, PO BOX 7245, Indian Lake Estates, FL 33855. You will receive a confirmation e-mail with detailed instructions, clothing, and gear advice. Please remember that the meet and greet will take place on the evening of Saturday May 4. Please shoot me an e-mail if you plan to register or if you have any questions.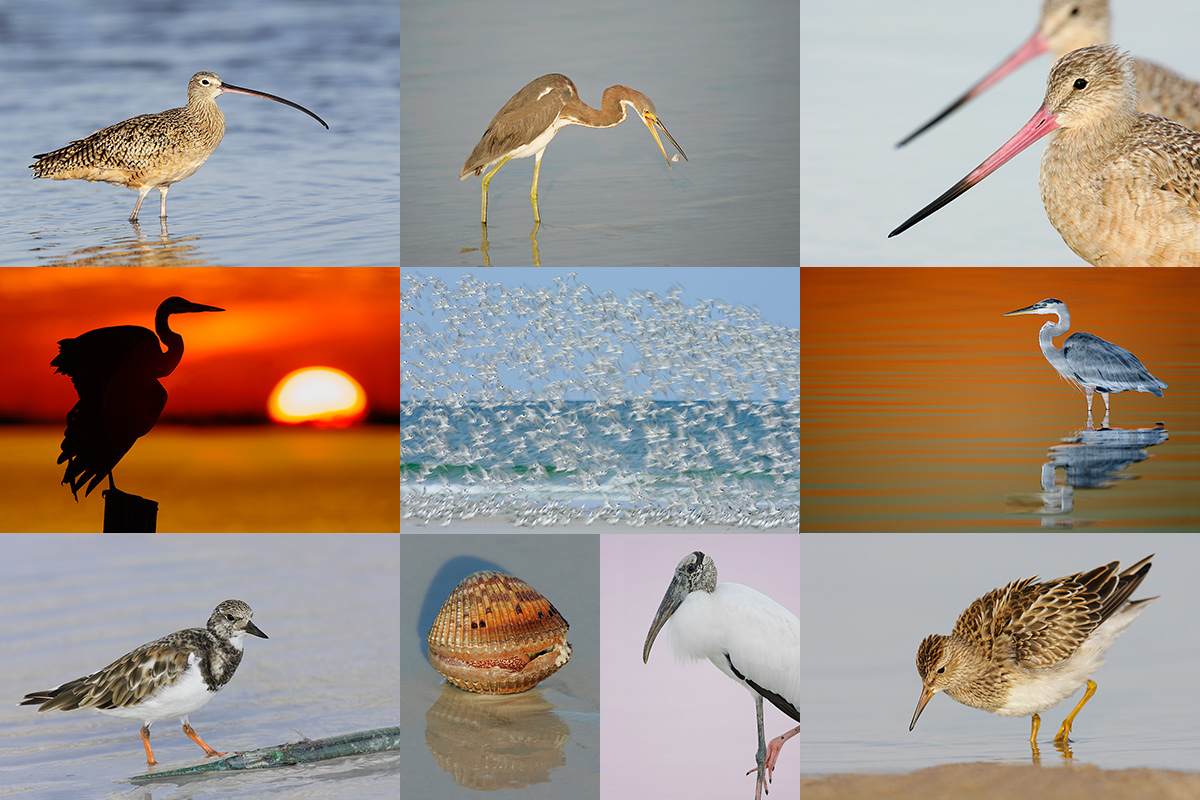 Folks attending this IPT will be out in the field early and stay late to take advantage of sunrise and sunset colors. Click on the composite to enjoy a larger version.
Clockwise from upper left to center: Long-billed Curlew, juvenile Tricolored Heron, Marbled Godwits, Great Blue Heron, juvenile Pectoral Sandpiper, Wood Stork, smiling Sea Scallop, Ruddy Turnstone scavenging needlefish, Great Blue Heron sunset silhouette at my secret spot, and southbound migrant tern flock blur.
Early and Late
Getting up early and staying out late is pretty much a staple on all BIRDS AS ART Instructional Photo-Tours; on this particular trip we will get lots of sleep as the days are short. Being in the field well before the sun comes up and staying out until sunset will often present unique photographic opportunities, opportunities that will be missed by those who need their beauty rest. I really love it when I am leaving the beach on a sunny morning after a great session just as a carful or two of well-rested photographers arrive.
If In Doubt …
If in doubt about using the BAA B&H affiliate link correctly, you can always start your search by clicking here. Please note that the tracking is invisible. Web orders only. Please, however, remember to shoot me your receipt via e-mail.
Please Remember to use my Affiliate Links and to Visit the New BAA Online Store 🙂
To show your appreciation for my continuing efforts here, we ask, as always, that you get in the habit of using my B&H affiliate links on the right side of the blog for all of your photo and electronics purchases. Please check the availability of all photographic accessories in the New BIRDS AS ART Online Store, especially the Mongoose M3.6 tripod head, Wimberley lens plates, Delkin flash cards and accessories, and LensCoat stuff.
As always, we sell only what I have used, have tested, and can depend on. We will not sell you junk. We know what you need to make creating great images easy and fun. And please remember that I am always glad to answer your gear questions via e-mail.
I would of course appreciate your using our B&H affiliate links for all of your major gear, video, and electronic purchases. For the photographic stuff mentioned in the paragraph above, and for everything else in the new store, we, meaning BAA, would of course greatly appreciate your business. Here is a huge thank you to the many who have been using our links on a regular basis and those who will be visiting the New BIRDS AS ART Online Store as well.
Facebook
Be sure to like and follow BAA on Facebook by clicking on the logo link upper right.
Typos
In all blog posts and Bulletins, feel free to e-mail or to leave a comment regarding any typos or errors. Just be right :).