What's Up?
It is good to be home, eating well, back in the pool and working hard. It has been pouring here for several days with huge thunderstorms and torrential rains (interspersed with periods of bright sunshine). I fly to the UK next Wednesday evening for the 2019 Puffins, Gannets, and Red Kites IPT.
Today's featured image was created on the 2018 Fall DeSoto IPT; I will be announcing the 2019 Fall Sandbar Secrets IPT here soon; it will take place in early to mid-October.
If you missed the Return-To-Bosque IPTs blog post, click here.
FlexShooter Pro Update
We currently have FlexShooter Pro heads in stock here.
BIRDS AS ART
BIRDS AS ART is registered in the U.S. Patent and Trademark Office.
Selling Your Used Photo Gear Through BIRDS AS ART
Selling your used (or like-new) photo gear through the BAA Blog is a great idea. We charge only a 5% commission. One of the more popular used gear for sale sites charged a minimum of 20%. Plus assorted fees! Yikes. They went out of business. And e-Bay fees are now up to 13%. The minimum item price here is $500 (or less for a $25 fee). If you are interested please scroll down here or shoot us an e-mail with the words Items for Sale Info Request cut and pasted into the Subject line :). Stuff that is priced fairly — I offer pricing advice to those who agree to the terms — usually sells in no time flat. Over the past year, we have sold many dozens of items. Do know that prices on some items like the EOS-1D Mark IV, the old Canon 100-400, the old 500mm, the EOS-7D and 7D Mark II and the original 400mm DO lens have been dropping steadily. Most recently the price of used Canon 600mm f/L IS II lenses have been dropping like a rock with the introduction of the 600 III. You can always see the current listings by clicking here or on the Used Photo Gear tab on the orange-yellow menu bar near the top of each blog post page.
As used gear sales have slowed a bit in recent months — especially with dSLR bodies, there are lots of great buys right now both below and on the Used Gear Page.
New Listings
Canon EF 600mm f/4L IS II USM Lens
Mansoor Assadi is offering a Canon EF 600mm f/4L IS II USM lens in like-new condition for the low price of $6799.00. The sale includes the original box and everything that came in it, a LensCoat cover, and insured ground shipping via major courier to lower 48 US addresses only.
Please contact Mansoor via e-mail or by phone at 1-415-559-8027 (Pacific time).
The 600 II has been the state of the art super-telephoto lens for birds, nature, wildlife, and sports for many years. When I was using Canon and could get it to my location, it was always my go-to weapon. It is fast and sharp and deadly alone or with either TC. With a new one going for $9,499, you can save a cool ???? by grabbing Mansoor's practically new lens now. The lighter 600 III goes for $12,999.00! artie
Canon EF 500mm f/4L IS USM Lens (The "old five")
BAA Record-low Price!
John Nelson is offering a Canon 500mm f/4 IS USM lens (the "old five") in near-mint condition for the BAA record-low price of $2749.00. The sale includes the rear lens cap, the lens trunk w/key, the front lens cover, the lens strap, and insured ground shipping via major courier to US lower 48 addresses only. Your item will not ship until your check clears unless other arrangements are made.
Please contact John via e-mail or by phone at 1-516-477-3784 (Eastern time).
The 500mm f/4 lenses have been the world's most popular telephoto lenses for birds, nature, wildlife, and sports for many decades. I owned and used and loved my "old five" for many years. If you don't have the cash for a 500 II and can handle the additional 1 1/2 pounds, then this is your best super-telephoto option. Most everyone can produce sharp images with this lens and a 1.4X TC. Folks with good to excellent sharpness techniques can do the same with a 2X TC. A new 500 II sells right noe for $8,999.00; you can save a big bundle by grabbing John's lens right now. artie
Price Reduction
Canon mount Zeiss Distagon T 15mm f/2.8 ZE Lens
Price Reduced $150.00 on June 20, 2019.
Top BAA Used Gear page seller Jim Keener is also offering a Canon mount Zeiss Distagon T 15mm f/2.8 ZE lens in like-new condition for the crazy low price of $799.00 (was $949.00). The sale includes the original box and packaging, the product booklet and blank warranty card, the front and rear lens caps, and insured ground shipping via major courier to US lower 48 addresses only. Your item will not ship until your check clears.
Please contact Jim via e-mail or by phone at 310-741-7435 (9am-9pm Mountain time).
The Canon EF-mount Distagon T* 15mm f/2.8 ZE from ZEISS is a unique prime that is ideal for landscape, interior, and astrophotography applications. Its relatively bright f/2.8 maximum aperture is suitable for working in difficult lighting conditions while shooting handheld. A Distagon optical concept is used; this reduces field curvature and distortion for high overall sharpness and accurate rendering across the frame. The T* anti-reflective coating has been applied to individual elements and a lens hood is integrated into the lens's design to control lens flare and ghosting. This ultra wide-angle prime is designed for full-frame Canon EF-mount cameras, however, can also be used with APS-C (crop factor) models where it provides a 24mm equivalent focal length. B&H
This is a phenomenal buy on a primo architectural and astrophotography lens that normally sells for $2,950.00. Right now at B&H there is $1,071.00 in instant savings that brings the price down to $1879. That said, Jim's lens is still the better buy! By far! Jim does not like haggling so he always prices his gear to sell quickly. artie

Money Saving Reminder
If you need a hot photo item that is out of stock at B&H, would enjoy free overnight shipping, and would like a $50 discount on your first purchase, click here to order and enter the coupon code BIRDSASART at checkout. If you are looking to strike a deal on Canon or Nikon gear (including the big telephotos) or on a multiple item order, contact Steve Elkins via e-mail or on his cell at (479) 381-2592 (Eastern time) and be sure to mention your BIRDSASART coupon code and use it for your online order. Steve currently has several D850s in stock along with a Nikon 600mm f/4 VR. He is taking pre-orders for the new Nikon 500 P and the Nikon Z6 mirrorless camera body.
Gear Questions and Advice
Too many folks attending BAA IPTs and dozens of photographers whom I see in the field and on BPN, are–out of ignorance–using the wrong gear especially when it comes to tripods and more especially, tripod heads… Please know that I am always glad to answer your gear questions via e-mail. Those questions might deal with systems, camera bodies, accessories, and/or lens choices and decisions.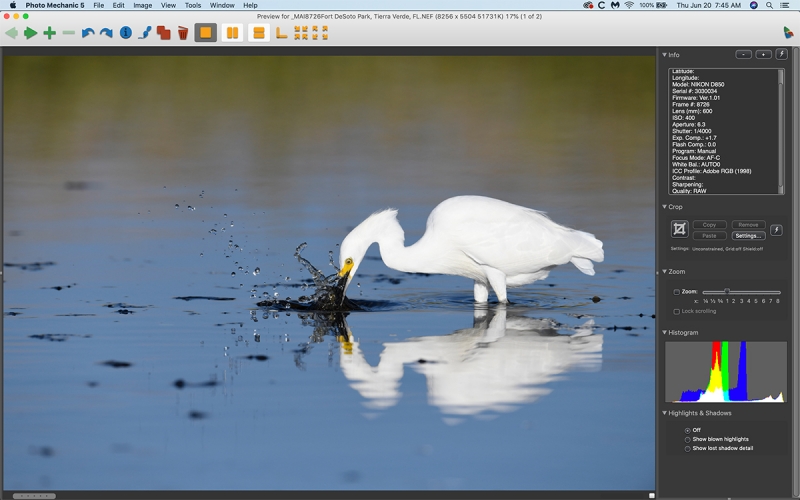 Snowy Egret striking: the Photo Mechanic screen capture for today's featured image.
Be sure to click on the image to see a larger version and better enjoy the sharpness.
Your browser does not support iFrame.
Your browser does not support iFrame.
The Photo Mechanic Screen Capture for Today's Featured Image
As regular readers well know, Photo Mechanic is the linchpin of my digital workflow. With Photo Mechanic selecting my keepers is a lightning-fast process. And I am able to quickly zoom in to check for sharpness with all of my Nikon and Canon images. Note the pretty much perfect histogram and the very ugly splotches of mud in the original …
The Animated GIF
Take a few moments to check out the animated GIF above; it shows the before (with ugly mud and muck) and after (with sweet blue water) versions of today's featured image.
My Two Favorite Backgrounds
In the original The Art of Bird Photography I wrote something to this effect: My two favorite backgrounds are still blue water and distant green vegetation, preferably lit by early morning light. Today's image featured all of the above. But the splotches of ugly black mud and muck were never part of the plan …
Though it took me about 30 minutes, I was thrilled with the results. See the optimized image and learn how I did the clean-up in The Image Optimization item below.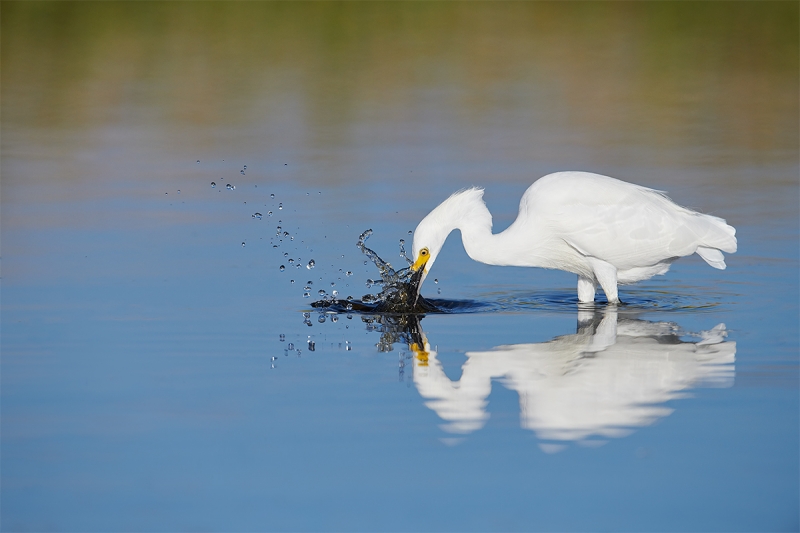 This image was created on the Fall 2018 DeSoto IPT on the morning of Septemeber 26, 2018. Standing at full height behind my tripod, I used the Induro GIT 304L/Mongoose M3.6-mounted Nikon AF-S NIKKOR 600mm f/4E FL ED VR lens and the mega mega-pixel Nikon D850 DSLR. ISO 400. Matrix metering at about zero: 1/4000 sec. at f/6.3 in Manual mode was perfect with the histogram pushed all the way to the right. AUTO1 WB at 7:41am on a clear morning.
Nikon Focus Peaking fine-tune value: +5. See the Nikon AF Fine-tune e-Guide here.
One to the right of center Group (grp) Continuous (C in Nikon/AI Servo with Canon) AF was active at the moment of exposure. The array was centered on the bird's neck right on the same plane as the eye. (Note: today I would use d9 AF for images like this.)
Snowy Egret striking
Be sure to click on the image to enjoy a larger version.
Your browser does not support iFrame.
Your browser does not support iFrame.
The Optimized Image
Immediately above is the optimized image. As regular readers know, I would never even consider entering this image in a photo contest that prohibits image clean-up. And yes, I understand that some folks might consider the clean-up of today's image a criminal act. I am fine with that. The original image is of a Snowy Egret striking and the optimized image is of a Snowy Egret striking. For me and my ethics, the natural history of the situation is the same. If you like ugly black muck and mud, I am fine with that. If your personal ethics do not allow for such clean-up as you strive to keep everything natural, I am fine with that.
For me, the simple fact is that the optimized image is far more beautiful than the original.
The Image Optimization
After converting the image in Capture One Pro 12 I brought the TIF into Photoshop for a bit of Eye Doctor work and the extensive image clean-up. For the latter, I used the Patch Tool, Content-Aware Fill, the Spot Healing Brush, and to a lesser degree, the Clone Stamp Tool. The most difficult work was in the areas that the muck and mud intersected with the bird. I used a series of small Quick Masks refined with Regular Layer Masks to ensure that the edges of the bird remained pristine. The process required lots of somewhat painstaking work, but for me, the results were well worth it.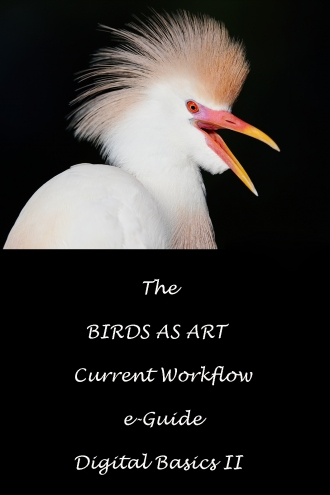 The BIRDS AS ART Current Workflow e-Guide (Digital Basics II).
You can order your copy from the BAA Online Store here, by sending a Paypal for $40 here, or by calling Jim or Jennifer weekdays at 863-692-0906 with your credit card in hand.
The BIRDS AS ART Current Workflow e-Guide (Digital Basics II)
Everything mentioned above (except for Capture One RAW conversions) and tons more — including all of my personalized Keyboard Shortcuts — is covered in detail in the BIRDS AS ART Current Workflow e-Guide (Digital Basics II), an instructional PDF that is sent via e-mail. Learn more and check out the free excerpt in the blog post here. While the new e-Guide reflects my Macbook Pro/Photo Mechanic/DPP 4/Photoshop workflow, folks using a PC and/or BreezeBrowser will also benefit greatly by studying the material on DB II. Do note that you will find the RGB Curves Adjustment Color Balancing tutorial only in the new e-guide. Note: folks working on a PC and/or those who do not want to miss anything Photoshop may wish to purchase the original Digital Basics along with DB II while saving $15 by clicking here to buy the DB Bundle.
The two most recent and many of the older MP4 Photoshop Tutorial videos releases go hand and hand with the information in DB II): Note: all of the videos are now priced at an amazingly low $5.00 each.
Folks who learn well by following along rather than by reading can check out the complete collection of MP 4 Photoshop Tutorial Videos by clicking here.
Though I have become more proficient at converting my Nikon RAW (NEF) files in Adobe Camera Raw, I continue to optimize my old Canon images in DPP 4. You can learn how and why I converted (and still convert) nearly all of my Canon digital RAW files in DPP 4 in the DPP 4 RAW Conversion Guide here. And, yes, I still have many Canon images to work on. 🙂 The RAW conversions for all three of today's featured images was straightforward once I entered my camera/ISO specific recipes (as detailed in the DPP 4 RAW Conversion Guide).
More recently, I have begun converting my Nikon and Sony RAW files in Capture One. Learn more about Capture One Pro 12 and Arash Hazeghi's "The Nikon Photographers' Guide to Phase One Capture One Pro e-Guide" in the blog post here. Note: C-1 Pro 12 Works great with SONY ARW (RAW) files too!
You can learn advanced Quick Masking and advanced Layer Masking techniques in APTATS I & II. You can save $15 by purchasing the pair. Folks can learn sophisticated sharpening and (NeatImage) Noise Reduction techniques in the The Professional Post Processing Guide by Arash Hazeghi and edited by yours truly. Please use this link to purchase NeatImage.
To introduce folks to our MP.4 videos and the basics involved in applying more NeatImage noise reduction to the background and less on the subject, I'd be glad to send you a free copy of the Free Noise Reduction Basics MP.4 Video. Simply click to shoot me an e-mail to get your free copy.
If In Doubt …
If in doubt about using the BAA B&H affiliate link correctly, you can always start your search by clicking here. Please note that the tracking is invisible. Web orders only. Please, however, remember to shoot me your receipt via e-mail.
Please Remember to use my Affiliate Links and to Visit the New BAA Online Store 🙂
To show your appreciation for my continuing efforts here, we ask, as always, that you get in the habit of using my B&H affiliate links on the right side of the blog for all of your photo and electronics purchases. Please check the availability of all photographic accessories in the New BIRDS AS ART Online Store, especially the Mongoose M3.6 tripod head, Wimberley lens plates, Delkin flash cards and accessories, and LensCoat stuff.
As always, we sell only what I have used, have tested, and can depend on. We will not sell you junk. We know what you need to make creating great images easy and fun. And please remember that I am always glad to answer your gear questions via e-mail.
I would, of course, appreciate your using our B&H affiliate links for all of your major gear, video, and electronic purchases. For the photographic stuff mentioned in the paragraph above, and for everything else in the new store, we, meaning BAA, would of course greatly appreciate your business. Here is a huge thank you to the many who have been using our links on a regular basis and those who will be visiting the New BIRDS AS ART Online Store as well.
Facebook
Be sure to like and follow BAA on Facebook by clicking on the logo link upper right.
Typos
In all blog posts and Bulletins, feel free to e-mail or to leave a comment regarding any typos or errors. Just be right :).