What's Up?
Red-eye flights are never huge fun, but mine was uneventful. I met multiple IPT participant Randy Strickland in Chicago for our flight to Edinburg, Scotland. Most of the group had arrived early: many multiple IPT veteran Anita North, first-timers Shonagh Adleman and Carsten Anderson (of Danmark), arrived early in Edinburgh. Many multiple IPT veteran David Hollander along with wife Krista flew to London and got in a day early. That left only many multiple IPT veteran Malcolm McKenzie to complete the group. Fortunately, his flight from JFK got in early and after meeting everyone and packing the van, off we went on our way to Cranswick.
We arrived at our hotel at about 4:30 local time and were off to Bempton Cliffs by 5:15pm. The conditions were fantastic. There are two great locations at Bempton and we headed for the one to our right. The forecast was for a cloudy morning so I had the group sleep in; we had breakfast at 6:30am. The action on the cliffs was fast and frantic, again with perfect conditions — cloudy bright with no hint of the sun until 11am. One participant created more than 5,000 images during this single fabulous session, most of them of braking, landing gannets. It was so good that I instructed the group to simply point their lens four feet above and four feet to the right of the nearby point of land and wait for a landing bird to appear in the viewfinder. Nobody had to wait very long.
It is sunny with a hint of clouds as we head back out to Bempton on Friday afternoon. We will have dinner in the hotel pub tonight while rooting on the US Women's National Team against France in the World Cup.
Coming Soon
I will be announcing the Fort DeSoto Fall Sandbar Secrets IPT soon. Both Bosque IPTs and the San Diego IPT are wide open. Click here to see the IPT listings.
Publication Delay 🙁
Publication of the The BAA Middle of Florida Photographic Site Guide, co-written and co-illustrated by Joe Przybyla and yours truly has been delayed as yours truly screwed up the PDF. Once that is released, the publication of Focus on Frogs – An Illustrated Guide to Great Photography was written and illustrated by Andrew McLachlan and edited for readability by yours truly will follow. Each of these new e-Guides is lavishly illustrated with images that will educate and inspire. Both will sell for $50.00 via electronic download.
FlexShooter Pro Update
We currently have FlexShooter Pro heads in stock here. We are sold out on the newly-arrived FLN-60 BigFeet recently re-designed for the Nikon 600 VR. Click here to access the pretty much complete FL SH Pro story.
BIRDS AS ART
BIRDS AS ART is registered in the U.S. Patent and Trademark Office.

Money Saving Reminder
If you need a hot photo item that is out of stock at B&H, would enjoy free overnight shipping, and would like a $50 discount on your first purchase, click here to order and enter the coupon code BIRDSASART at checkout. If you are looking to strike a deal on Canon or Nikon gear (including the big telephotos) or on a multiple item order, contact Steve Elkins via e-mail or on his cell at (479) 381-2592 (Eastern time) and be sure to mention your BIRDSASART coupon code and use it for your online order. Steve currently has several D850s in stock along with a Nikon 600mm f/4 VR. He is taking pre-orders for the new Nikon 500 P and the Nikon Z6 mirrorless camera body.
Gear Questions and Advice
Too many folks attending BAA IPTs and dozens of photographers whom I see in the field and on BPN, are–out of ignorance–using the wrong gear especially when it comes to tripods and more especially, tripod heads… Please know that I am always glad to answer your gear questions via e-mail. Those questions might deal with systems, camera bodies, accessories, and/or lens choices and decisions.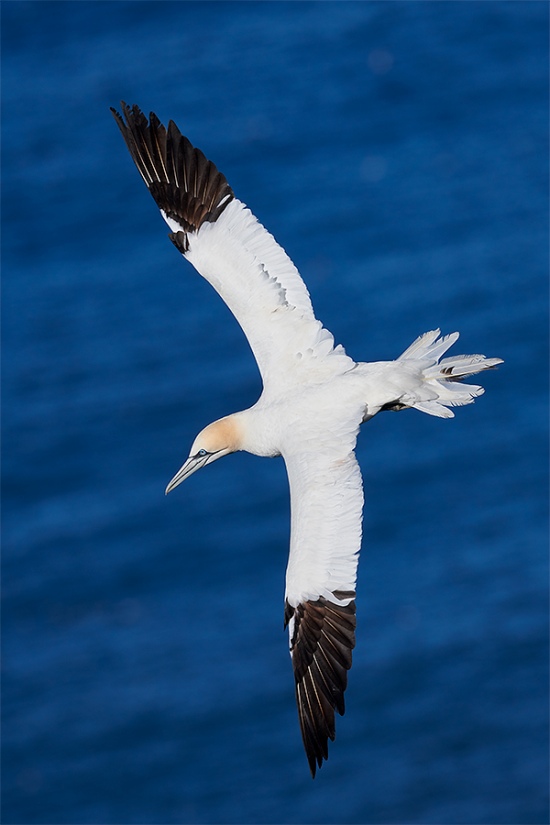 This image was created on June 27, the first afternoon of the 2019 UK Puffins and Gannets IPT. I used the handheld Nikon AF-S NIKKOR 500mm f/5.6E PF ED VR lens and my souped-up Nikon D850. AUTO ISO: 1000. Matrix metering 2/3 stop off the 30 degrees up blue sky: 1/3200 sec. at f/8 in Manual mode. AUTO1 WB at 7:25pm on a dead clear sunny afternoon.
Center Group (grp) Continuous (C in Nikon/AI Servo with Canon) was active at the moment of exposure. The array was centered on the base of the gannet's far wing.
Nikon Focus Peaking fine-tune value: +4. See the Nikon AF Fine-tune e-Guide here.
Northern Gannet, banking — a vertical original!
Your browser does not support iFrame.
Your browser does not support iFrame.
Maybe One Day I Will Get Smart Enough …
Maybe one day I will get smart enough to leave my Nikon 600 VR at home on long flights when I am headed to photograph relatively tame birds. The 500 PF is that good. It is a dream to handhold. When it is coupled with the D850 — assuming no operator error — I am totally shocked if I create a flight image that is not razor sharp on the bird's eye. That said I am loaning my favorite Nikon rig to BPN buddy Mikey Poole who is serving as our local guide for the second year running. I will be using my SONY 100-400 GM with both camera bodies on Friday afternoon. Probably along with the 1.4X teleconverter. As he did last year, Mike has been a big help getting us in the right spots along the cliffs. His additional responsibilities include translating Scottish and British English to understandable American English. As Robin Williams said in his classic stand-up golf routine: If you want a linguistic adventure, go drinking with a Scotsman.
Vertical Original Bank Shots
I am pretty sure that in ABP II, I wrote something to this effect: If you are photographing banking birds in flight and you start to clip the wings top or bottom or both when holding the camera horizontally, you might try holding the camera on end to create vertical banking shots. That is exactly what happened to me on Thursday afternoon and exactly what I did. I always use center group AF when attempting vertical original bank shots. Note that I went to f/8 for a bit of extra d-o-f to ensure a sharp head in cases when the bird's head was not quite on the exact same plane as the back. Today's featured image is mega-sharp. IAC, it takes a fair amount of practice to master this technique. But as you might agree, images like today's featured photograph make the effort well worth it.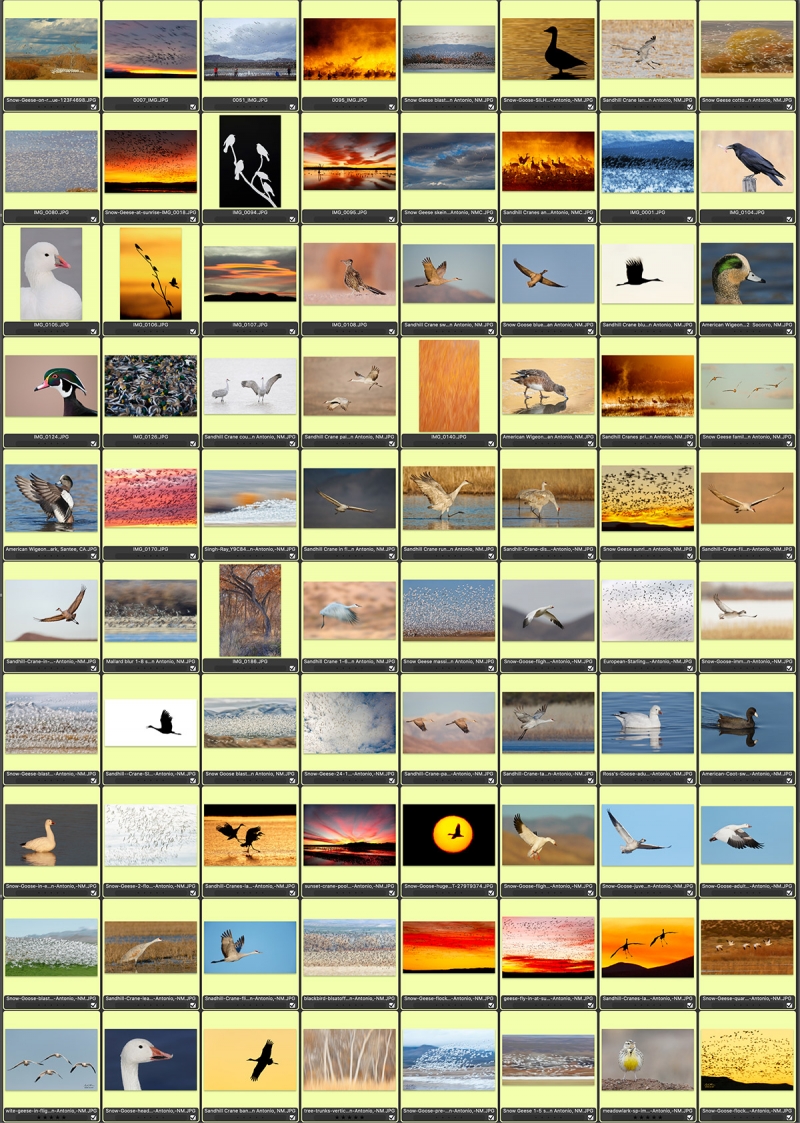 Bosque del Apache 2019 IPTs
Notice the incredible variety of images that you can learn to make by developing your skills and your creative vision on a BAA IPT.
2019 Bosque del Apache IPTs
Return to Bosque Reduced Rate Scouting IPT #1. NOV 26-28, 2019 — 3 FULL DAYS: $1199.00. Limit: 8. Introductory Meet and greet at 7pm on MON 25 NOV.

Return to Bosque IPT #2. NOV 29 (afternoon session thru DEC 4 (morning session) — 5 DAYS (4 full and two half): $2249.00. Limit: 10/Openings: 9. Introductory Meet and greet at 2:00pm on FRI 29 NOV.
I quit going to Bosque several years ago as conditions had worsened each year for several seasons running. My understanding is that things have improved dramatically in recent years. Photography-wise, I know Bosque better than anyone. Join me to learn how wind and sky conditions influence bird photography, how to create dramatic sunrise and sunset silhouettes, how to be in the right place at the right time, and how to create contest-winning blurs. As usual, you will learn to get the right exposure every time, to use your camera's AF system to create pleasing, balanced image designs, and to improve your flight photography skills.
We should get to photograph many thousands of Snow Geese, more than a few blast-offs, some Ross's Geese, and lots of Sandhill Cranes in the water, taking flight and flying. Depending on local conditions we may get to shoot some ducks: point-blank American Wigeon and Wood Duck. With any luck, we might enjoy sunrises and sunsets that leave you in tears. Live, eat, and breathe photography with one of (if not the) world's premier photographic educators at one of his very favorite locations on the planet. Top-notch Photoshop instruction. Join me to learn to think like a pro and to recognize situations and to anticipate them based on the weather. Every time we make a move, I will let you know why. When you get home, applying what you learned will prove to be invaluable.
I go with one registrant. Lunch is included on all full days of each workshop.
Free Morning Session
Sign up for either IPT and enjoy a free morning session on Friday, 29 NOV.
$500 Multiple IPT Discount
Join me for both IPTs and we will be glad to apply a $500 multiple IPT discount.
To Register
To register, send your non-refundable $500 deposit — check made out to BIRDS AS ART — via US Mail to PO Box 7245, Indian Lake Estates, FL 33855. Or call Jim weekdays at 863-692-0906 to put your non-refundable deposit on a credit card. Balances must be paid in full by check no later than three months before the IPT. If you cancel, all but your deposit will be refunded only if the IPT sells out.
Travel Insurance
Travel insurance for both big international trips and US-based IPTs is highly recommended as we never know what life has in store for us. I strongly recommend that you purchase quality travel insurance. Travel Insurance Services offers a variety of plans and options. Included with the Elite Option or available as an upgrade to the Basic & Plus Options you can also purchase Cancel for Any Reason Coverage that expands the list of reasons for your canceling to include things such as sudden work or family obligation and even a simple change of mind. My family and I use and depend on the great policies offered by TIS whenever we travel. You can learn more here: Travel Insurance Services. Do note that many plans require that you purchase your travel insurance within 14 days of our cashing your deposit check or running your credit card. Whenever purchasing travel insurance, be sure to read the fine print carefully even when dealing with reputable firms like TSI.
If In Doubt …
If in doubt about using the BAA B&H affiliate link correctly, you can always start your search by clicking here. Please note that the tracking is invisible. Web orders only. Please, however, remember to shoot me your receipt via e-mail.
Please Remember to use my Affiliate Links and to Visit the BAA Online Store 🙂
To show your appreciation for my continuing efforts here, we ask, as always, that you get in the habit of using my B&H affiliate links on the right side of the blog for all of your photo and electronics purchases. Please check the availability of all photographic accessories in the New BIRDS AS ART Online Store, especially the Mongoose M3.6 tripod head, Wimberley lens plates, Delkin flash cards and accessories, and LensCoat stuff.
As always, we sell only what I have used, have tested, and can depend on. We will not sell you junk. We know what you need to make creating great images easy and fun. And please remember that I am always glad to answer your gear questions via e-mail.
I would, of course, appreciate your using our B&H affiliate links for all of your major gear, video, and electronic purchases. For the photographic stuff mentioned in the paragraph above, and for everything else in the new store, we, meaning BAA, would of course greatly appreciate your business. Here is a huge thank you to the many who have been using our links on a regular basis and those who will be visiting the New BIRDS AS ART Online Store as well.
Facebook
Be sure to like and follow BAA on Facebook by clicking on the logo link upper right.
Typos
In all blog posts and Bulletins, feel free to e-mail or to leave a comment regarding any typos or errors. Just be right :).