What's Up?
After four great days at Bempton Cliffs — Thanks, Mikey! — we moved down from Cranswick to Seahouses on Monday. We are all set for six straight days on the puffin boats.
BPN is down, with apologies. We suffered a phishing attack that is so bad that right now not even the service provider can get into the back-end to do the clean-up. We are working on it.
Coming Soon
I will be announcing the Fort DeSoto Fall Sandbar Secrets IPT soon. Both Bosque IPTs and the San Diego IPT are wide open. Click here to see the IPT listings.
Publication Delay 🙁
Publication of the The BAA Middle of Florida Photographic Site Guide, co-written and co-illustrated by Joe Przybyla and yours truly has been delayed as yours truly screwed up the PDF. Once that new e-Guide is released, the publication of Focus on Frogs – An Illustrated Guide to Great Photography was written and illustrated by Andrew McLachlan and edited for readability by yours truly will follow. Each of these new e-Guides is lavishly illustrated with images that will educate and inspire. Both will sell for $50.00 via electronic download.
FlexShooter Pro Update
We currently have FlexShooter Pro heads in stock here. We are sold out on the newly-arrived FLN-60 BigFeet recently re-designed for the Nikon 600 VR. Click here to access the pretty much complete FL SH Pro story.
BIRDS AS ART
BIRDS AS ART is registered in the U.S. Patent and Trademark Office.

Money Saving Reminder
If you need a hot photo item that is out of stock at B&H, would enjoy free overnight shipping, and would like a $50 discount on your first purchase, click here to order and enter the coupon code BIRDSASART at checkout. If you are looking to strike a deal on Canon or Nikon gear (including the big telephotos) or on a multiple item order, contact Steve Elkins via e-mail or on his cell at (479) 381-2592 (Eastern time) and be sure to mention your BIRDSASART coupon code and use it for your online order. Steve currently has several D850s in stock along with a Nikon 600mm f/4 VR. He is taking pre-orders for the new Nikon 500 P and the Nikon Z6 mirrorless camera body.
Gear Questions and Advice
Too many folks attending BAA IPTs and dozens of photographers whom I see in the field and on BPN, are–out of ignorance–using the wrong gear especially when it comes to tripods and more especially, tripod heads… Please know that I am always glad to answer your gear questions via e-mail. Those questions might deal with systems, camera bodies, accessories, and/or lens choices and decisions.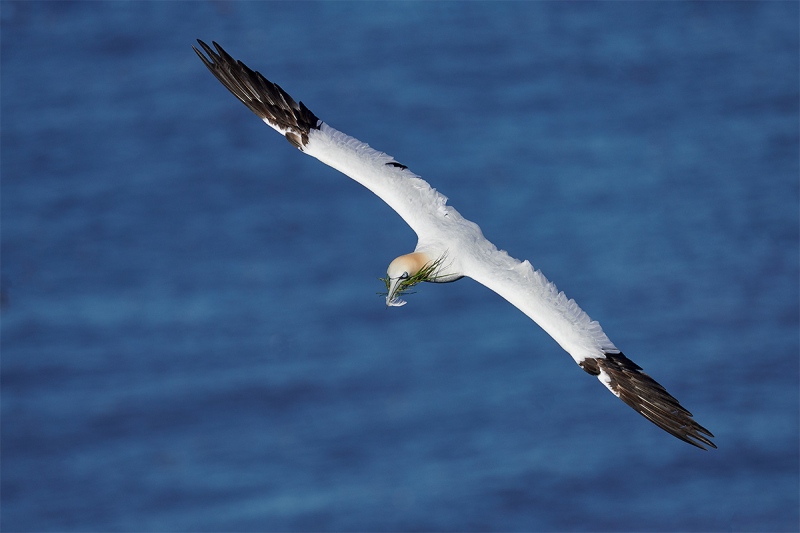 This image was created on June 27, 2019 on the first afternoon of the 2019 UK Puffins and Gannets IPT. Again, I used the handheld Nikon AF-S NIKKOR 500mm f/5.6E PF ED VR lens and my souped-up Nikon D850 AUTO ISO: 500. Matrix metering at about -1/3 stop as framed: 1/4000 sec. at f/7.1 in Manual mode. AUTO1 WB at 6:34pm on a clear sunny afternoon.
Center Group (grp) Continuous (C in Nikon/AI Servo with Canon) was active at the moment of exposure. The upper point of the array was nicely on the back of the bird's head.
Nikon Focus Peaking fine-tune value: +4. See the Nikon AF Fine-tune e-Guide here.
Northern Gannet with nesting material — top shot
Click on the image to enjoy a larger version.
Your browser does not support iFrame.
Your browser does not support iFrame.
Some Great Chances
We had action during every photo session at Bempton Cliffs. When the dust cleared, however, the first afternoon and the following morning proved to have been the bomb. Today's featured image was created on that epic first afternoon with the rig that has fast become a huge part of who I am, the Nikon 500 PF/gripped D850 combo. As I wrote as far back at the original (and still relevant) The Art of Bird Photography, "Add green whenever possible." The bits of grasses in the bird's bill here add tremendously to the success of this image. This image was part of a five-frame sequence, all razor-sharp. You can check out the insane sharpness by scrolling down.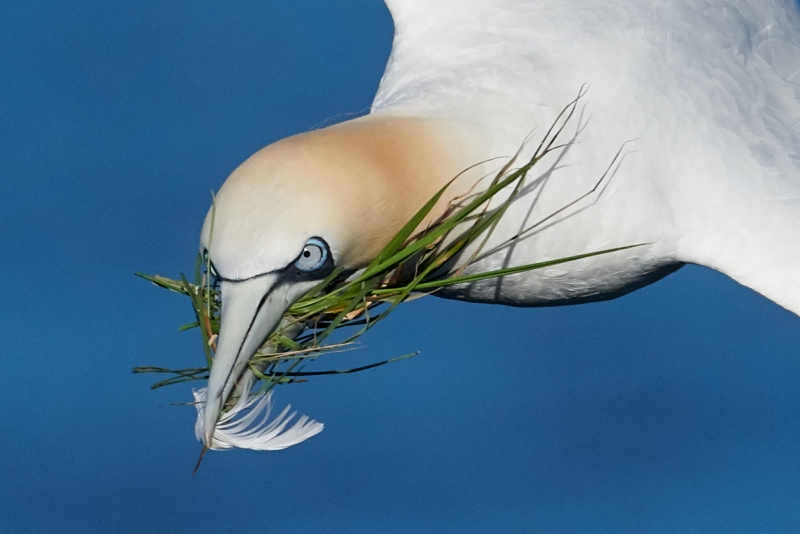 Unsharpened 100% crop
Click on the image to enjoy a larger version.
Your browser does not support iFrame.
Your browser does not support iFrame.
The Unsharpened 100% Crop
Whaddya think?
Capture One
The RAW file for this image was — as all of my new images are — converted quickly and easily and beautifully in Capture One. I fine-tuned the BLUEs with the Color editor. Adjustments made with the Color editor are pretty much the same as those made on the HSL tab in other RAW conversion engines such as ACR.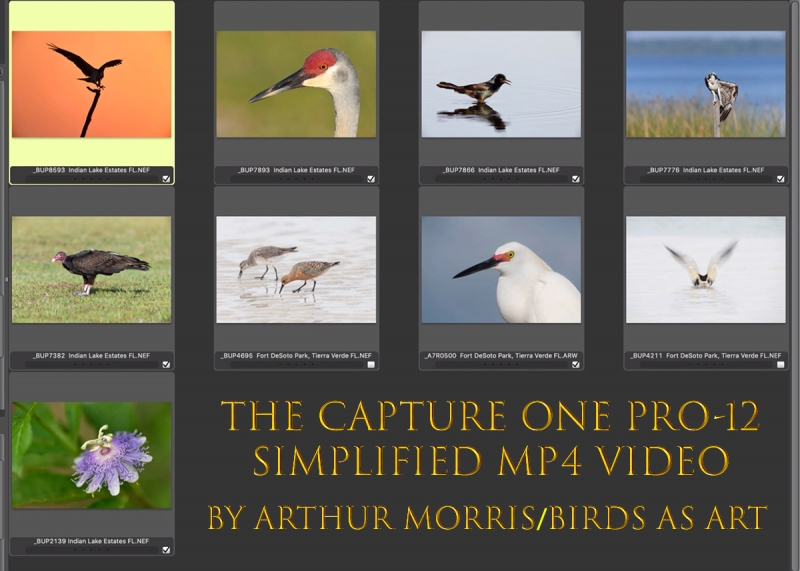 The Capture One Pro-12 Simplified Video
Click here to order.
The Capture One Pro-12 Simplified Video
$15.00 via electronic download
When I first heard about doing RAW conversions in Capture One Pro 12 I purchased the somewhat pricey program and tried to figure it out on my own. I was totally lost. So I did some reading online and was still very confused. Then I consulted Arash Hazeghi's comprehenisve The Nikon Photographers' Guide to Phase One Capture One Pro e-Guide and while Arash does a great job of covering the fine points, I still had some difficulty getting started. I thought Who needs Sessions and who wants to have to Import images? So I consulted Patrick Sparkman, the BAA technical advisor. Patrick had been using C-1 Pro 12 for a while. We spent a good deal of time on FaceTime simplifying things. That video is a direct result of those conversations.
You can purchase your copy in the BAA Online Store here.
If you are new to Capture One Pro-12, please click here to order. Understand that C-1 Pro 12 is expensive for good reason … Are your photos worth it?
Here are some of the things you will learn in this 33+ minute video as we convert nine different RAW files (eight Nikon and one SONY) from soup to nuts, from Photo Mechanic through the RAW conversion in Capture One to Photoshop:
1-How to quickly and easily find your images while working in a simple file folder format.
2-How to customize your Exposure and Details tabs to streamline your workflow.
3-How to set the White and Black points using Levels.
4-How to adjust set the values for the relevant sliders including Exposure, White Balance, High Dynamic Range (the Highlight and Shadow sliders), and Clarity and Structure.
5-How to work at 100 or 200% and fine tune your settings for Noise Reduction and Sharpness.
6-How to work with the Color Editor
If you are trying to get a handle on how to use this great RAW conversion engine for your Nikon and SONY images, this video is just what you have been looking for. It is meant to serve as an adjunct to Arash's comprehensive The Nikon Photographers' Guide to Phase One Capture One Pro e-Guide. For Canon shooters, Arash and I both recommend using DPP 4.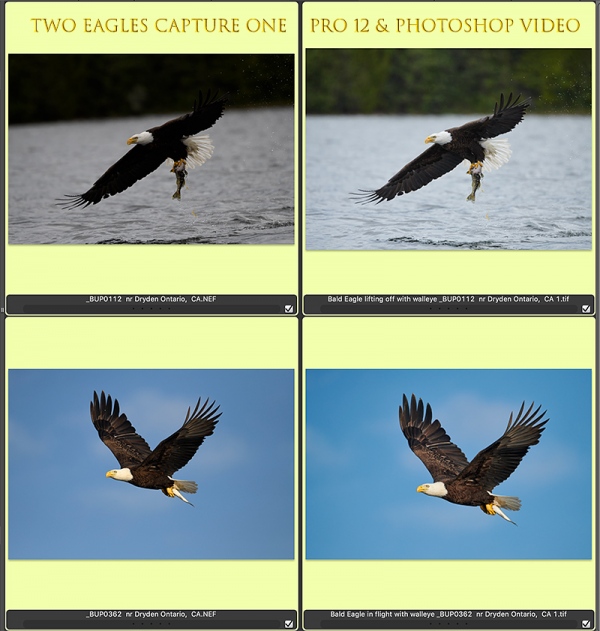 The Two Eagles Capture One & More MP4 Video
Cheap: $5.00. Click here to order.
The Two Eagles Capture One & More MP4 Video
I thought that it would be interesting and educational to do an MP4 video showing the Capture One conversions and the Photoshop optimizations of a cloudy day under-exposed Bald Eagle as compared to a properly exposed sunny day Bald Eagle. In the Two Eagles Capture One & More MP4 Video I have done just that. The topics covered include using Click White Balance to determine a pleasing Color Temperature, adjusting the Highlights and Shadows sliders, setting the Black and White points using the end-lines in Levels, Capture One Noise Reduction, adjusting the other important sliders, converting the image to a TIFF, and bringing the TIFF into Photoshop. Once there we crop the image, level and fill in canvas if needed (as was necessary with the cloudy eagle), do some background and bill cleanup using the Patch Tool, the Spot Healing Brush, the Clone Stamp Tool, Content-Aware Fill, and a small Quick Mask modified by a Regular Layer Mask, sharpen selectively with a Contrast Mask, do some Eye Doctor work with Tim Grey Dodge and Burn, flatten and save the master file, and create and sharpen a JPEG. All of that plus lots more in an easy to follow format — you can pause the tape or rewind as needed.
The best news is that this video costs only $5.00, in other words, cheap. You can have a link for this 29-minute video sent to you via e-mail by clicking here. If you enjoy this inexpensive video and would like to learn more about Capture One, check out the Capture One Pro-12 Simplified MP4 Video immediately below. If you are new to Capture One Pro-12, please click here to order. Understand that C-1 Pro 12 is expensive for good reason … Are your photos worth it?
If In Doubt …
If in doubt about using the BAA B&H affiliate link correctly, you can always start your search by clicking here. Please note that the tracking is invisible. Web orders only. Please, however, remember to shoot me your receipt via e-mail.
Please Remember to use my Affiliate Links and to Visit the BAA Online Store 🙂
To show your appreciation for my continuing efforts here, we ask, as always, that you get in the habit of using my B&H affiliate links on the right side of the blog for all of your photo and electronics purchases. Please check the availability of all photographic accessories in the New BIRDS AS ART Online Store, especially the Mongoose M3.6 tripod head, Wimberley lens plates, Delkin flash cards and accessories, and LensCoat stuff.
As always, we sell only what I have used, have tested, and can depend on. We will not sell you junk. We know what you need to make creating great images easy and fun. And please remember that I am always glad to answer your gear questions via e-mail.
I would, of course, appreciate your using our B&H affiliate links for all of your major gear, video, and electronic purchases. For the photographic stuff mentioned in the paragraph above, and for everything else in the new store, we, meaning BAA, would of course greatly appreciate your business. Here is a huge thank you to the many who have been using our links on a regular basis and those who will be visiting the New BIRDS AS ART Online Store as well.
Facebook
Be sure to like and follow BAA on Facebook by clicking on the logo link upper right.
Typos
In all blog posts and Bulletins, feel free to e-mail or to leave a comment regarding any typos or errors. Just be right :).