What's Up?
For the most part, we have enjoyed excellent photography weather (i.e., cloudy bright) interspersed with short periods of blue skies with wind against sun. On Monday morning, we head up to Dunbar, Scotland for two gannet boat trips (weather permitting/fingers crossed).
I will be following up soon on the many responses to the Exposure Quiz in the last blog post here. Thanks to all who joined the discussion.
Including the time spent on the image optimizations, this blog post took well more than three hours to assemble. An hour of that was spent on replacing both of the eyes on Image #2; they were soft due to motion blur.
Coming Soon
I will be announcing the Fort DeSoto Fall Sandbar Secrets IPT soon. Both Bosque IPTs and the San Diego IPT are wide open. Click here to see the IPT listings.
Publication Delay 🙁
Publication of the The BAA Middle of Florida Photographic Site Guide, co-written and co-illustrated by Joe Przybyla and yours truly has been delayed as yours truly screwed up the PDF. Once that new e-Guide is released, the publication of Focus on Frogs – An Illustrated Guide to Great Photography was written and illustrated by Andrew McLachlan and edited for readability by yours truly will follow. Each of these new e-Guides is lavishly illustrated with images that will educate and inspire. Both will sell for $50.00 via electronic download.
FlexShooter Pro Update
We currently have FlexShooter Pro heads in stock here. We are sold out on the newly-arrived FLN-60 BigFeet recently re-designed for the Nikon 600 VR. Click here to access the pretty much complete FL SH Pro story.
BIRDS AS ART
BIRDS AS ART is registered in the U.S. Patent and Trademark Office.

Money Saving Reminder
If you need a hot photo item that is out of stock at B&H, would enjoy free overnight shipping, and would like a $50 discount on your first purchase, click here to order and enter the coupon code BIRDSASART at checkout. If you are looking to strike a deal on Canon or Nikon gear (including the big telephotos) or on a multiple item order, contact Steve Elkins via e-mail or on his cell at (479) 381-2592 (Eastern time) and be sure to mention your BIRDSASART coupon code and use it for your online order. Steve currently has several D850s in stock along with a Nikon 600mm f/4 VR. He is taking pre-orders for the new Nikon 500 P and the Nikon Z6 mirrorless camera body.
Gear Questions and Advice
Too many folks attending BAA IPTs and dozens of photographers whom I see in the field and on BPN, are–out of ignorance–using the wrong gear especially when it comes to tripods and more especially, tripod heads… Please know that I am always glad to answer your gear questions via e-mail. Those questions might deal with systems, camera bodies, accessories, and/or lens choices and decisions.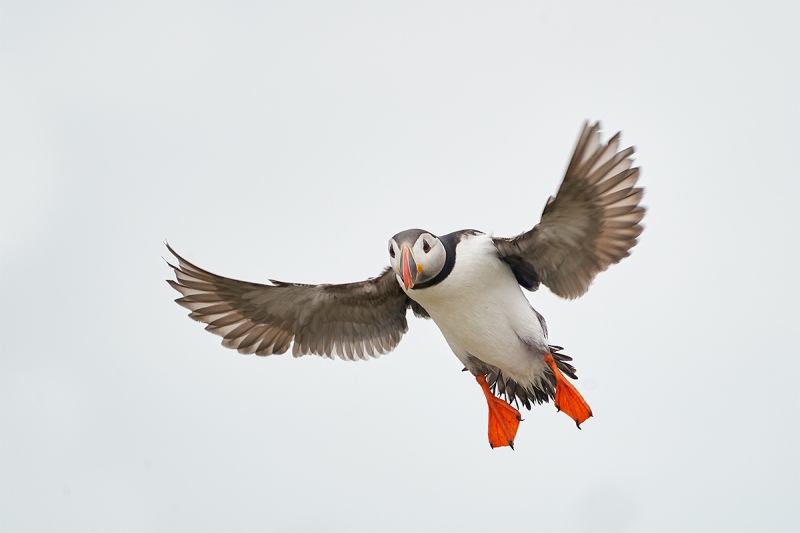 This image was created on July 4 at Inner Farnes. I used the handheld Sony FE 100-400mm f/4.5-5.6 GM OSS lens with the Sony FE 1.4x Teleconverter (at 560mm) and the blazingly fast AF king, the Sony Alpha a9 Mirrorless Digital Camera ISO: 1250. Matrix metering at about + 1 2/3 stops off the sky: 1/1250 sec. at f/9 in Manual mode. AUTO WB at 2:49pm on a cloud day.
Zone AF was active at the moment of exposure.
Image #1: Atlantic Puffin braking to land
Click on the image to enjoy a larger, inexplicably sharper version.
Your browser does not support iFrame.
SONY Gear Makes a Huge BAA Comeback …
Recently, I have been thinking very seriously about selling at least my SONY a9 … On the afternoon of July 1, we had many great chances to photograph puffins braking hard to land while flying straight at us. I used my Nikon 500mm PF lens with the D850. With the birds at a distance, AF kept up nicely and produced many sharp-on-the-eye images (using center Group AF). But as the birds got larger in the frame, the Nikon AF could not keep up; none of the images were sharp on the eyes. Many were sharp on the feet. Perhaps that was due in part to operator error, and perhaps I might have done better using single center point AF.
In any case, I decided to do the next day with only my SONY gear. For flight, I went with the a9. As I needed a bit more reach than 400mm, I added the 1.4X TC. AF seemed fabulous and when I got the images on the laptop that afternoon, I was thrilled to see that nearly all of the flight images were sharp on the eye. For static subjects (see the two images below), I went strictly with the a7R iii (alone or with either teleconverter). I was very happy with those results also and decided to stick with the SONY gear for another day or two. Today is our last trip to the Farnes and I am again. leaving my Nikon gear at the lodge …
The Near-wing Blur
In an effort to maintain a relatively low ISO (1250), I went with a relatively low flight shutter speed of 1/1250 second. This resulted in a blur of the primaries of the near-wing. I do not mind such burring but in most cases would prefer that both wings look the same.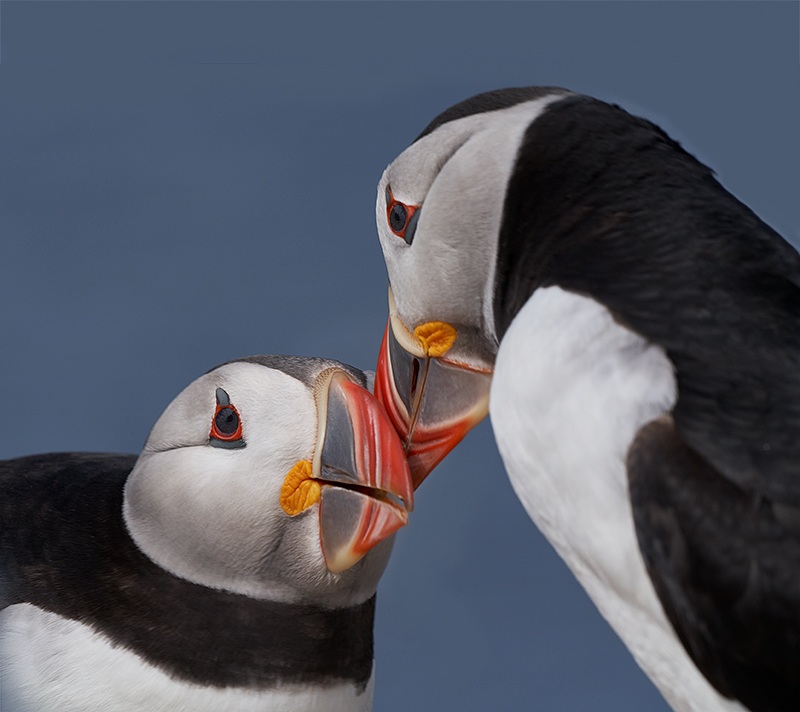 This image was created on July 5 at Staple Island on the 2019 UK Puffins and Gannets IPT. I used the handheld Sony FE 100-400mm f/4.5-5.6 GM OSS lens with the Sony FE 1.4x Teleconverter (at 560mm) and the mega mega-pixel Sony Alpha a7R III Mirrorless Digital Camera Body. ISO: 400. Matrix metering at about +2/3 stop: 1/500 sec. at f/16 in Manual mode. AUTO WB at 10:40\1am on a cloudy-bright day.
(Continuous) AF was active at the moment of exposure. I do not recall which AF pattern I was using and unfortunately, there is no software that allows users to determine either the AF pattern of the selected point. This is quite unfortunate. If I am incorrect, please let me know by leaving a comment with a reference.
Image #2: Atlantic Puffins courtship behavior: billing
Click on the image to enjoy a larger, inexplicably sharper version.
Your browser does not support iFrame.
The a7R iii with the 1.4X Teleconverter
This incredibly versatile set-up (140-560mm) offers a fabulous .98 meter minimum focusing distance. And the a7R iii image files are superb. As compared to the a9, flight photography with the a7R iii is pathetic even without the 1.4X TC; it is sluggish at best and I find that framing moving subjects is exceedingly difficult due to the viewfinder blackout. In addition, right after the first flight shot, you see the image in the viewfinder for a brief instant. This is quite distracting. As mentioned here before, being able to see and track a flying bird with the a9 (no blackout!) is a huge advantage for flight photography.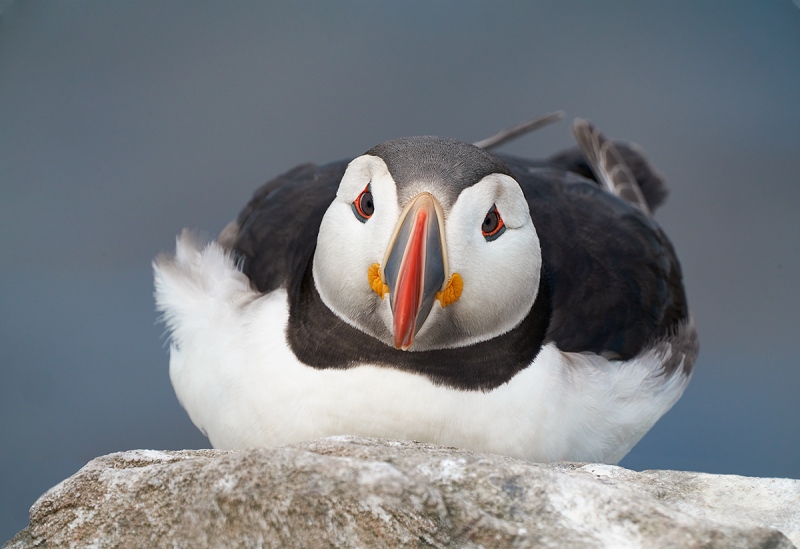 This image was created on July 5 at Staple Island on the 2019 UK Puffins and Gannets IPT. I used the handheld Sony FE 100-400mm f/4.5-5.6 GM OSS lens with the Sony FE 2.0x Teleconverter (at 740mm) and the mega mega-pixel Sony Alpha a7R III Mirrorless Digital Camera Body. ISO: 800. Matrix metering at about +2/3 stop: 1/400 sec. at f/14 in Manual mode. AUTO WB at 10:54am on a cloudy-bright day.
Expand Flexible Spot C (Continuous) AF was active at the moment of exposure. I moved the AF point to cover the bird's right eye.
Image #3: Atlantic Puffin resting — looking right down the lens barrel
Click on the image to enjoy a larger, inexplicably sharper version.
Your browser does not support iFrame.
Level?
Is this image level? If not, does it need clock-wise or counter-clockwise rotation?
The a7R iii with the 2X Teleconverter
Performance and versatility are again excellent with a focal length range of 200-800mm. The Optical Steady Shot feature allows you to make sharp images at any half-way decent shutter speed. I could have switched out the 2X TC for the 1.4X and gotten closer to make Image #3, but I might have lost the moment … The fine feather detail on the puffin's forehead in Image #3 is superb.
My Current Sony Approach
My current SONY approach is to use the a9 with our without the 1.4X TC for flight and to switch to the a7R iii (with or without either TC) for static subjects. This is somewhat of a pain in the neck but the results are well worth it. Flight photography with the a9 is light-years better than with the a7R iii while a7R iii image quality is — as expected — much better than a9 IQ.
I plan on using both the SONY a9/100-400 GM rig and my Nikon D850 70-400mm f/4 combo on our gannet boat trips on Monday afternoon and Tuesday morning.
What I Hate About SONY
#1: When you play back an image to review it, the image remains visible in the viewfinder until and unless you remember to either half-press the shutter button or press the Playback button again. Many times during a single session I will raise the rig to my eye when I see something interesting to photograph, only to see the last reviewed image in the viewfinder. This is a huge pain that usually results in my missing the shot. It is likely that as I use the SONY gear more I will remember to turn off the image. But is it borderline criminal that you cannot set the camera so that the image disappears after three or five or ten seconds …
2- Dust is a real and constant problem with mirrorless camera bodies as there is no mirror to protect the sensor. Be sure to turn off the camera before changing lenses or bodies or adding or removing TCs. And be sure to keep your back to the breeze when doing any of the above. I will let you know if I come up with a solution to sensor cleaning that is best for SONY
Your Favorite?
Please leave a comment letting us know which of today's featured images is your favorite and why you made your choice.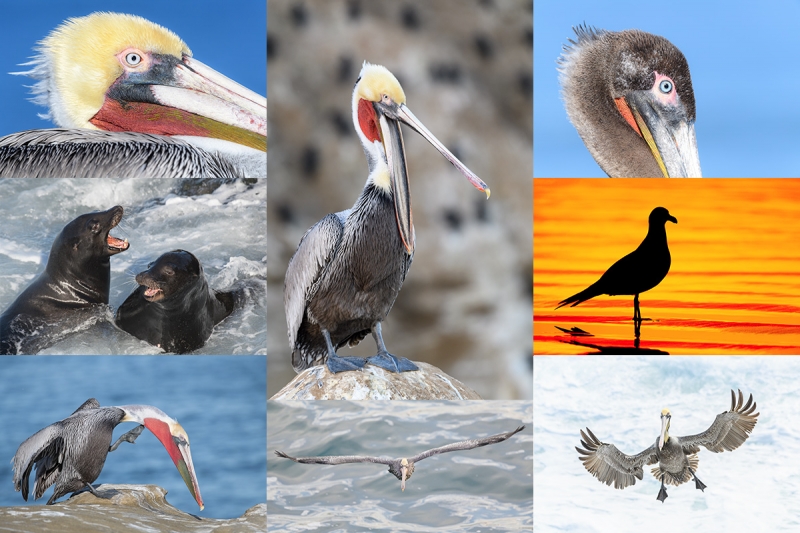 San Diego offers a wealth of very attractive natural history subjects, including and especially the Pacific race of California Brown Pelican. With annual visits spanning more than four decades, I have lots of photographic experience there … Click on the composite to enjoy a larger version.
The 2020 San Diego 4 1/2-DAY BIRDS AS ART Instructional Photo-Tour (IPT) WED JAN 8, 2020 thru and including the morning session on SUN JAN 12: 4 1/2 days: $2099.(Limit: 8/Openings: 6)
Introductory Meet and Greet at 7:00pm on the evening before the IPT begins; WED JAN 7, 2020.
Join me in San Diego to photograph the spectacular breeding plumage Brown Pelicans with their fire-engine red and olive green bill pouches; Brandt's (nesting with eggs and possibly chicks) and Double-crested Cormorants; breeding plumage Wood and Ring-necked Duck; other duck species possible including Lesser Scaup, Redhead, and Surf Scoter; a variety of gulls including Western, California, and the gorgeous Heermann's, all in full breeding plumage; shorebirds including Marbled Godwit, Willet, Sanderling and Black-bellied Plover; many others are possible including Least, Western, and Spotted Sandpiper, Whimbrel, Black and Ruddy Turnstone, Semipalmated Plover, and Surfbird; Harbor Seals (depending on the current regulations) and California Sea Lions; and Bird of Paradise flowers. And as you can see by studying the IPT cards, there are some nice bird-scape and landscape opportunities as well. Not to mention a ton of excellent flight photography opportunities and instruction.
Please note: where permitted and on occasion, ducks and gulls may be attracted (or re-located) with offerings of grains or healthy bread.
Learning Exposure, Whether You Like It Or Not
Whether you like it or not, we will be beating the subject of exposure like a dead horse. In every new situation, you will hear my thoughts on the exposure situation along with my thoughts on both Nikon and Canon histograms and the subject of blinkies. Whether you like it or not, you will learn to work in manual mode and to get the right exposure every time as long as a bird gives you ten seconds with the light constant. And you will learn what to do when the light is changing constantly. What you learn about exposure will be one of the great takeaways on every IPT.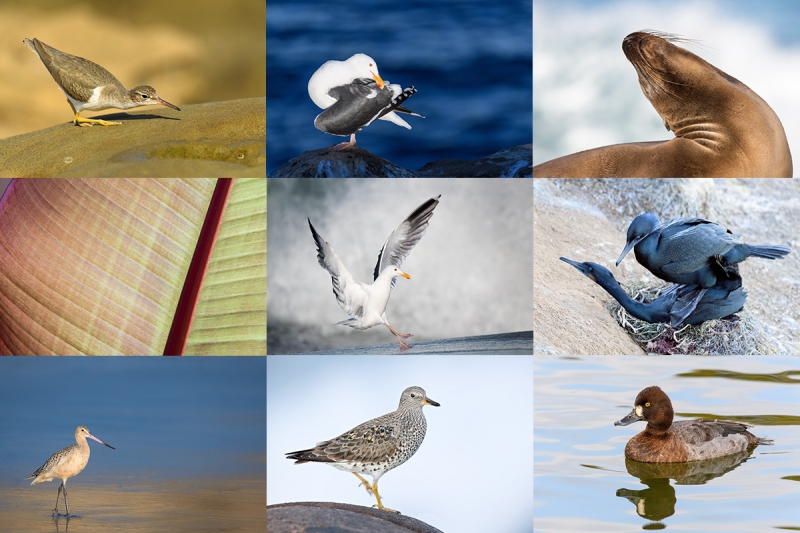 Though the pelicans will be the stars of the show on this IPT, there will be many other handsome and captivating subjects in wonderful settings. Click on the composite to enjoy a larger version.
It Ain't Just Pelicans
With gorgeous subjects just sitting there waiting to have their pictures taken, photographing the pelicans on the cliffs is about as easy as nature photography gets. With the winds from the east almost every morning there is usually some excellent flight photography as well. And the pelicans are almost always doing something interesting: preening, scratching, bill pouch cleaning, or squabbling. And then there are those crazy head throws that are thought to be a form of intra-flock communication. You will be guided as to how to make the best of all of those opportunities. And depending on the weather and local conditions and tides, there are a variety of fabulous photo chances available in and around San Diego.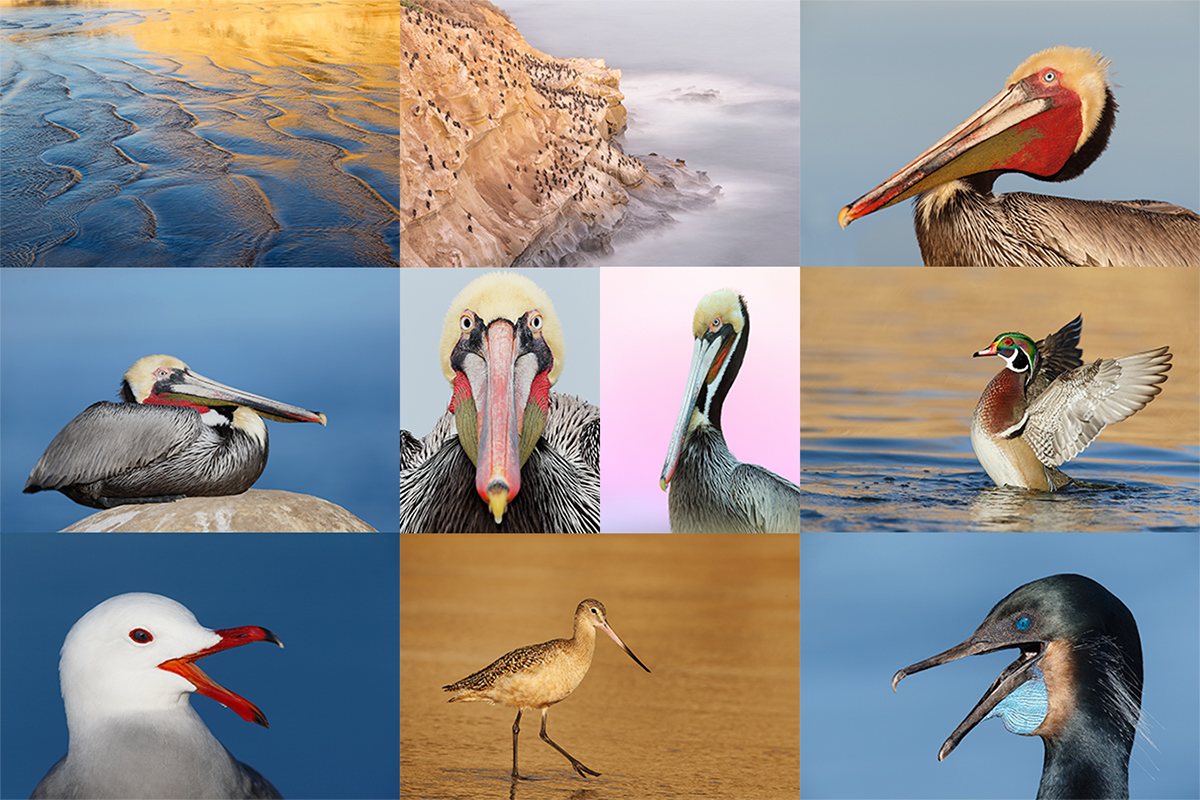 Did I mention that there are lots of great birds and natural history subjects in San Diego in winter? Click on the composite to enjoy a larger version.
The San Diego Details
This IPT will include five 3 1/2 hour morning photo sessions, four 2 1/2 hour afternoon photo sessions, four lunches, and after-lunch image review and Photoshop sessions. To ensure early starts, breakfasts will be your responsibility. And so that we can get some sleep, dinners will be on your own.
A $599 non-refundable deposit is required to hold your slot for this IPT. You can send a check (made out to "Arthur Morris) to us at BIRDS AS ART, PO Box 7245, Indian Lake Estates, FL, 3385, or call Jim or Jennifer at the office with a credit card at 863-692-0906. Your balance, payable only by check, will be due on 10/11//2018. If we do not receive your check for the balance on or before the due date we will try to fill your spot from the waiting list. Please print, complete, and sign the form that is linked to here and shoot it to us along with your deposit check. If you register by phone, please print, complete and sign the form as noted above and either mail it to us or e-mail the scan. If you have any questions, please feel free to contact me via e-mail.
Travel Insurance
Travel insurance for both big international trips and US-based IPTs is highly recommended as we never know what life has in store for us. I strongly recommend that you purchase quality travel insurance. Travel Insurance Services offers a variety of plans and options. Included with the Elite Option or available as an upgrade to the Basic & Plus Options you can also purchase Cancel for Any Reason Coverage that expands the list of reasons for your canceling to include things such as sudden work or family obligation and even a simple change of mind. My family and I use and depend on the great policies offered by TIS whenever we travel. You can learn more here: Travel Insurance Services. Do note that many plans require that you purchase your travel insurance within 14 days of our cashing your deposit check or running your credit card. Whenever purchasing travel insurance, be sure to read the fine print carefully even when dealing with reputable firms like TSI.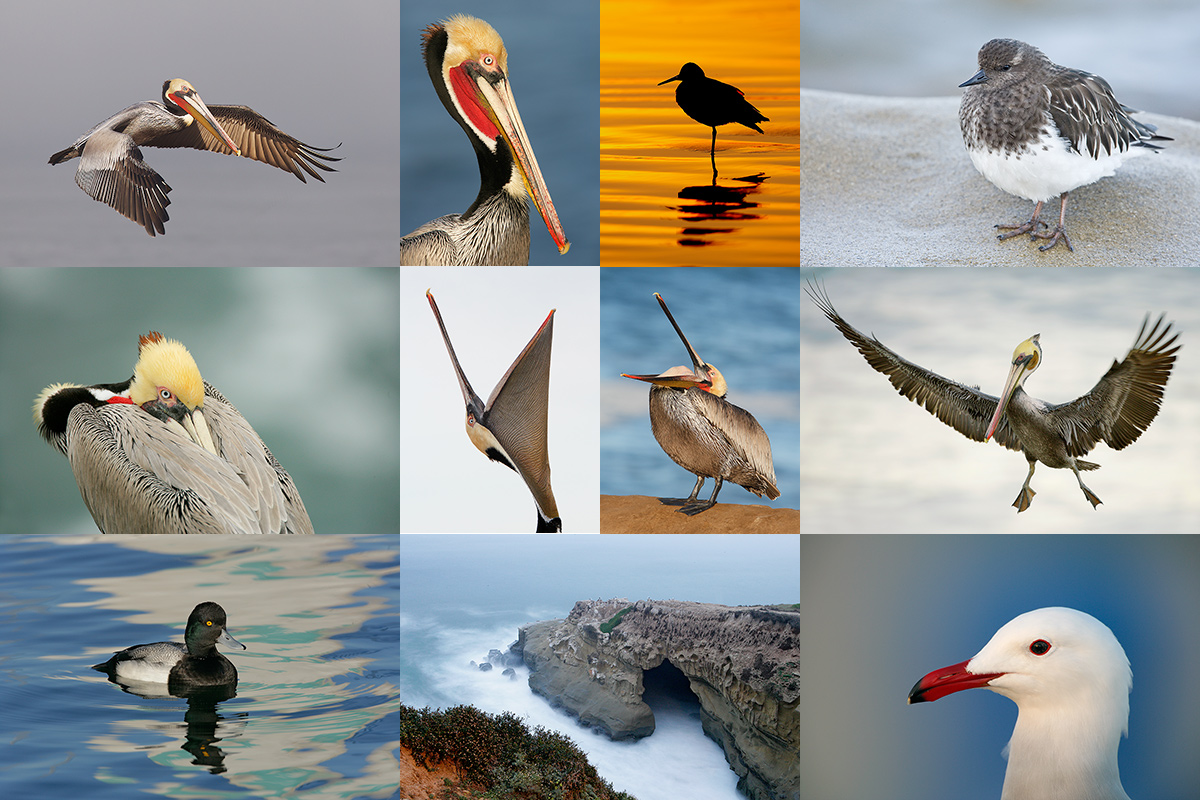 Variety is surely the spice of life in San Diego. Click on the composite to enjoy a larger version.
Getting Up Early and Staying Out Late
On all BIRDS AS ART IPTS including and especially the San Diego IPT, we get into the field early to take advantage of unique and often spectacular lighting conditions and we stay out late to maximize the chances of killer light and glorious sunset silhouette situations. We often arrive at the cliffs a full hour before anyone else shows up to check out the landscape and seascape opportunities.
If In Doubt …
If in doubt about using the BAA B&H affiliate link correctly, you can always start your search by clicking here. Please note that the tracking is invisible. Web orders only. Please, however, remember to shoot me your receipt via e-mail.
Please Remember to use my Affiliate Links and to Visit the BAA Online Store 🙂
To show your appreciation for my continuing efforts here, we ask, as always, that you get in the habit of using my B&H affiliate links on the right side of the blog for all of your photo and electronics purchases. Please check the availability of all photographic accessories in the New BIRDS AS ART Online Store, especially the Mongoose M3.6 tripod head, Wimberley lens plates, Delkin flash cards and accessories, and LensCoat stuff.
As always, we sell only what I have used, have tested, and can depend on. We will not sell you junk. We know what you need to make creating great images easy and fun. And please remember that I am always glad to answer your gear questions via e-mail.
I would, of course, appreciate your using our B&H affiliate links for all of your major gear, video, and electronic purchases. For the photographic stuff mentioned in the paragraph above, and for everything else in the new store, we, meaning BAA, would of course greatly appreciate your business. Here is a huge thank you to the many who have been using our links on a regular basis and those who will be visiting the New BIRDS AS ART Online Store as well.
Facebook
Be sure to like and follow BAA on Facebook by clicking on the logo link upper right.
Typos
In all blog posts and Bulletins, feel free to e-mail or to leave a comment regarding any typos or errors. Just be right :).