What's Up?
If everything goes as planned, I will be resting comfortably in the hotel in Guayaquil, Ecuador or photographing large Land Iguanas at a city park there when you read this. On Tuesday, the group and I continue on to Baltra. We will board the Samba that afternoon for two weeks in nature photography heaven, the Galapagos archipelago. I will be offline from Tuesday, July 23 until the late afternoon of Tuesday, August 6. You can reach Jim or Jen by phone at the office (863-692-0906) weekdays if you need help with mail order or IPT stuff. The blog will be published at least every other day while I am away.
In-the-Field at Nickerson
When I get back from the Galapagos on WED 7 AUG, I will be home for one full day and sleeping two nights in my own bed. That Friday, August 9th, I fly up to Islip to visit family, see Jersey Boys for the fourth time, and do some photography.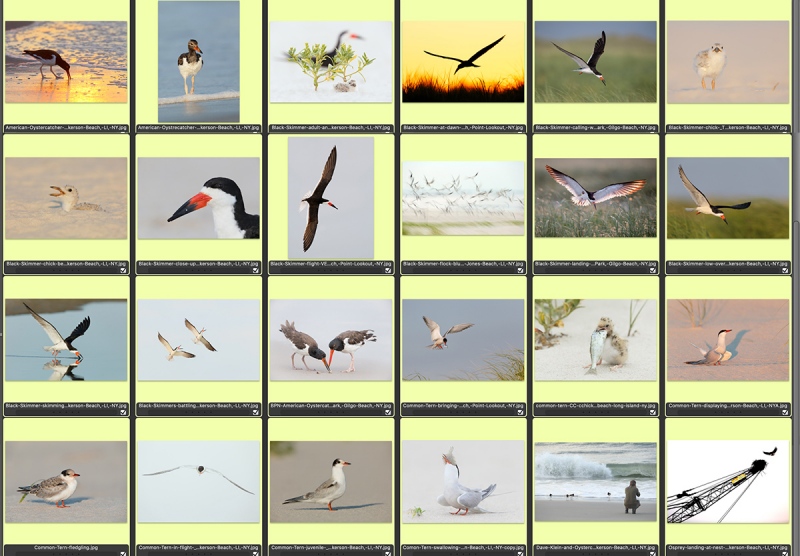 There is lots of great stuff at Nickerson Beach in August
Click on the composite to see a larger version
Nickerson Beach In-the-Field Session
All are invited to join me for an In-the-Field photo session or two, or a full day, during the middle of August 2019, as below. We will get to photograph Black Skimmers in flight, dueling in mid-air, and on the beach. With luck, we might get some great stuff on chicks and fledged young as the timing is perfect. We have a good chance to photograph Common Tern and American Oystercatcher, both with fledged young. We should enjoy some good gull photography with herring, great black-backed, and even lesser black-backed. Gull predation of fledged young skimmers is likely. We may also have some good chances with several species of migrant shorebirds, especially Sanderling. It goes without saying that as always, you will learn a ton.
Please contact me via e-mail if you would like to join me. Remember that I will be offline from Tuesday, July 23 until late in the day on WED 7 AUG. Call Jim or Jen weekdays at 863-692-0906 with a credit card in hand to register. I will confirm on THURS 8 AUG.
Morning Sessions: pre-dawn (about 6am) till 9:30am: $400.00
Each session includes a working lunch/Photoshop/Workflow/Image review session. Limit 3.
Available: SAT 10 AUG, TUES 13 AUG, THURS 15 AUG.
Afternoon Sessions: 4:30pm until sunset (at about 8:10pm). Limit 3: $300.00.
Available: TUES 13 AUG or THURS 15 AUG.
Full-Days: $600.00. Limit 3.
Available: TUES 13 AUG or THURS 15 AUG.
FlexShooter Pro Update
We currently have FlexShooter Pro heads in stock here. We have all but one of the BigFeet in stock (phone orders only for now: 863-692-0906) but are sold out of the new FLN-60 BigFoot that was recently re-designed for the Nikon 600 VR. Click here to access the pretty much complete FlexShooter Pro story with videos.
BIRDS AS ART
BIRDS AS ART is registered in the U.S. Patent and Trademark Office.

Money Saving Reminder
If you need a hot photo item that is out of stock at B&H, would enjoy free overnight shipping, and would like a $50 discount on your first purchase, click here to order and enter the coupon code BIRDSASART at checkout. If you are looking to strike a deal on Canon or Nikon gear (including the big telephotos) or on a multiple item order, contact Steve Elkins via e-mail or on his cell at (479) 381-2592 (Eastern time) and be sure to mention your BIRDSASART coupon code and use it for your online order. Steve currently has several D850s in stock along with a Nikon 600mm f/4 VR. He is taking pre-orders for the new Nikon 500 P and the Nikon Z6 mirrorless camera body.
Gear Questions and Advice
Too many folks attending BAA IPTs and dozens of photographers whom I see in the field and on BPN, are–out of ignorance–using the wrong gear especially when it comes to tripods and more especially, tripod heads… Please know that I am always glad to answer your gear questions via e-mail. Those questions might deal with systems, camera bodies, accessories, and/or lens choices and decisions.
My Galapagos Gear Bag
The big news here is that my Nikon AF-S NIKKOR 600mm f/4E FL ED VR lens is staying home on the shelf. I brought the big lens to the UK and used it a grand total of zero times. Hand-holding the Nikon 500 PF or the SONY 100-400 is an exercise of freedom. Not having to lug a big tripod and the big lens was a pleasure that I enjoyed immensely. Though I have brought a variety of long, fast lenses to the archipelago on past trips — I think that this is my ninth — yes, I've been blessed, the decision to go ultra-light this year was an easy one. Many of the birds and animals are silly tame, and the last time I checked I was 73 and counting.
That said, several IPT participants are taking their big glass along; there will be two 600s, one 800, and at least one 500mm, all Canon.
My Nikon Kit
I will be taking the Nikon AF-S NIKKOR 500mm f/5.6E PF ED VR lens, my main and my backup Nikon D850s, and two Nikon AF-S TC-14E III teleconverters. I will also be taking the Nikon AF-S NIKKOR 70-200mm f/4G ED VR lens. I opted to leave the versatile Nikon AF-S NIKKOR 24-120mm f/4G ED VR lens at home; I am not much of a short lens scenic guy.
My SONY Kit
I will be taking all of my SONY gear on the trip. First and foremost will be the versatile, close-focusing Sony FE 100-400mm f/4.5-5.6 GM OSS lens along with both teleconverters, the Sony FE 1.4x and the Sony FE 2.0x.. I will be taking both of my SONY bodies, the vaunted Sony Alpha a9 to use in pure flight situations, and the mega-mega pixel Sony Alpha a7R III for everything else.
All of the lens hoods and the removable foot/lens plate combinations along with the relatively light Induro GIT 204L tripod will be in one of my two checked bags. Having completely forsaken my Mongoose M3.6, my FlexShooter Pro tripod head will also be in one of my two checked bags, safely cushioned by lots of clothing.
Think Tank Rolling Bags
All of the Nikon and SONY lenses, camera bodies, and TCs noted above along with spare batteries and my Delkin CF Memory tote fit easily into the smaller of my two Think Tank rolling bags, the Airport International™ V3.0. Fully packed the bag weighed a relatively svelte 32 1/4 pounds, well below the US legal carry-on limit of 40 pounds. When I travel with the 600, I need the larger of my two Think Tank bags, the Airport Security™ V 2.0 Rolling Camera Bag.
Please click on my Think Tank affiliate link here or on the Think Tank logo-link in the right column of each blog post page to earn a free gift when you purchase any Think Tank product.
Think Tank Urban Disguise Laptop Shoulder Bag
I love this amazing bag as it has tons of room and enables me to pack tons of extra stuff (including and especially my laptop, all the cords, my insulin and frozen gel packs, and my blood sugar meter.
Please click on my Think Tank affiliate link here or on the Think Tank logo-link in the right column of each blog post page to earn a free gift when you purchase any Think Tank product.
My Strategies …
On some landings (and some zodiac rides), I plan on taking the Nikon 500 PF with my souped-up D850 and the SONY 100-400 along with one or two SONY bodies. At times, I might go with the Nikon 500 PF, the Nikon 70-200 f/4, and two D850s. My final option would be to go only SONY. The knowledge I have garnered over the past 15 or so years of visiting the Galapagos will help me to fine-tune my gear choices for each landing.
What Would You Take on a Galapagos Trip?
Feel free to leave a comments lettng us know what gear you would take on a Bucket List trip to the Galapagos.
If In Doubt …
If in doubt about using the BAA B&H affiliate link correctly, you can always start your search by clicking here. Please note that the tracking is invisible. Web orders only. Please, however, remember to shoot me your receipt via e-mail.
Please Remember to use my Affiliate Links and to Visit the BAA Online Store 🙂
To show your appreciation for my continuing efforts here, we ask, as always, that you get in the habit of using my B&H affiliate links on the right side of the blog for all of your photo and electronics purchases. Please check the availability of all photographic accessories in the New BIRDS AS ART Online Store, especially the Mongoose M3.6 tripod head, Wimberley lens plates, Delkin flash cards and accessories, and LensCoat stuff.
As always, we sell only what I have used, have tested, and can depend on. We will not sell you junk. We know what you need to make creating great images easy and fun. And please remember that I am always glad to answer your gear questions via e-mail.
I would, of course, appreciate your using our B&H affiliate links for all of your major gear, video, and electronic purchases. For the photographic stuff mentioned in the paragraph above, and for everything else in the new store, we, meaning BAA, would of course greatly appreciate your business. Here is a huge thank you to the many who have been using our links on a regular basis and those who will be visiting the New BIRDS AS ART Online Store as well.
Facebook
Be sure to like and follow BAA on Facebook by clicking on the logo link upper right.
Typos
In all blog posts and Bulletins, feel free to e-mail or to leave a comment regarding any typos or errors. Just be right :).