What's Up
As of 9:50am on Thursday, August 8, our phone and internet services have been fully restored. Jim is working on your orders and checking phone messages as I type. Thanks for your patience.
I've been online on my iPhone via the Verizon Personal Hotspot. I will be catching up on e-mails and Used Gear Page stuff as soon as this blog post is published.
The In-the-Field sessions at Nickerson (see below) are all wide open …
The Best Laid Plans …
The flight from Guayaquil (GYE) landed at 11:03 in Miami (MIA), exactly 20 minutes early; I had more than enough time to get through customs, claim and re-check my bags, and make my 1:29pm flight to Orlando (MCO) that was scheduled to arrive at 2:43pm. Piece of cake. After a stop at Publix on the way, I would be home at about 5pm. Then came the first bad weather delay e-mail from American Airlines. Then a second. Then a third and a fourth and a fifth. And a sixth. First, MIA was closed due to thunderstorms and when MIA re-opened, MCO was closed due to heavy thunderstorms. When MCO re-opened, they locked the doors and headed to the runway. We thought that we were good to go. Then the pilot announced that we were on hold because of inbound traffic at Orlando so we sat on the runway for another hour. The flight landed at 7:00pm, four hours and 17 minutes late. After a fast dinner at Bonefish Grill and a quick shopping stop at WalMart (Publix closes at 8;30pm), Jim got us home at 11:00ppm. As I had been awake since 1:45am Guayaquil time and had not napped on either flight, I was in bed and fast asleep by 11:03pm. And slept till seven.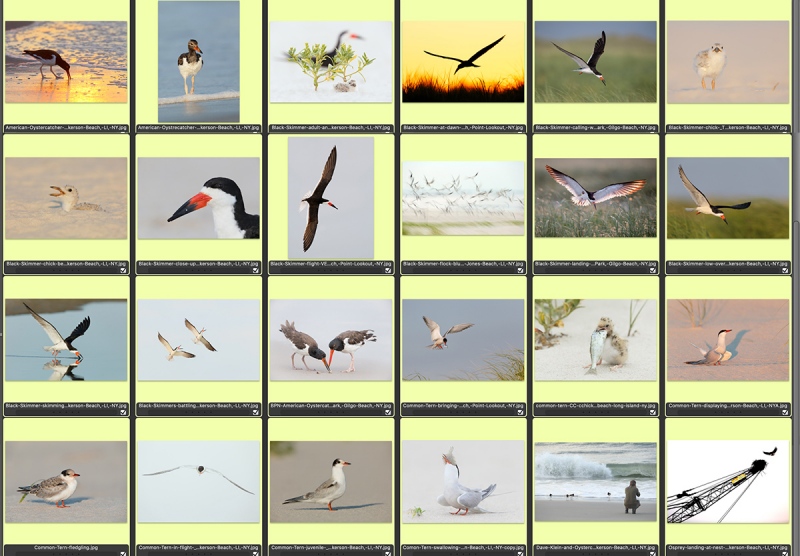 There is lots of great stuff at Nickerson Beach in August
Click on the composite to see a larger version
Nickerson Beach In-the-Field Session
All are invited to join me for an In-the-Field photo session or two, or a full day, during the middle of August 2019, as below. We will get to photograph Black Skimmers in flight, dueling in mid-air, and on the beach. With luck, we might get some great stuff on chicks and fledged young as the timing is perfect. We have a good chance to photograph Common Tern and American Oystercatcher, both with fledged young. We should enjoy some good gull photography with herring, great black-backed, and even lesser black-backed. Gull predation of fledged young skimmers is likely. We may also have some good chances with several species of migrant shorebirds, especially Sanderling. It goes without saying that as always, you will learn a ton.
Please contact me via e-mail if you would like to join me. Remember that I will be offline from Tuesday, July 23 until late in the day on WED 7 AUG. Call Jim or Jen weekdays at 863-692-0906 with a credit card in hand to register. I will confirm on THURS 8 AUG.
Morning Sessions: pre-dawn (about 6am) till 9:30am: $400.00
Each session includes a working lunch/Photoshop/Workflow/Image review session. Limit 3.
Available: SAT 10 AUG, TUES 13 AUG, THURS 15 AUG.
Afternoon Sessions: 4:30pm until sunset (at about 8:10pm). Limit 3: $300.00.
Available: TUES 13 AUG or THURS 15 AUG.
Full-Days: $600.00. Limit 3.
Available: TUES 13 AUG or THURS 15 AUG.
B&H Event Space Program
I will be doing a B&H Event Space Program — Lessons From the Field BIRDS AS ART-Style — on Monday, August 12, 2019, 1:00 to 3:00 PM eastern time. You can register to attend in person or to view the event live online by clicking here. Here is the location: the second floor of B&H NYC SuperStore at 420 9th Avenue, New York NY 10001. Those planning on attending should register asap as spaces are limited.
FlexShooter Pro Update
We currently have FlexShooter Pro heads in stock here. We have all but one of the BigFeet in stock (phone orders only for now: 863-692-0906) but are sold out of the new FLN-60 BigFoot that was recently re-designed for the Nikon 600 VR. Click here to access the pretty much complete FlexShooter Pro story with videos.
BIRDS AS ART
BIRDS AS ART is registered in the U.S. Patent and Trademark Office.
Selling Your Used Photo Gear Through BIRDS AS ART
Selling your used (or like-new) photo gear through the BAA Blog is a great idea. We charge only a 5% commission. One of the more popular used gear for sale sites charged a minimum of 20%. Plus assorted fees! Yikes. They went out of business. And e-Bay fees are now up to 13%. The minimum item price here is $500 (or less for a $25 fee). If you are interested please scroll down here or shoot us an e-mail with the words Items for Sale Info Request cut and pasted into the Subject line :). Stuff that is priced fairly — I offer pricing advice to those who agree to the terms — usually sells in no time flat. Over the past year, we have sold many dozens of items. Do know that prices on some items like the EOS-1D Mark IV, the old Canon 100-400, the old 500mm, the EOS-7D, and the 7D Mark II and the original 400mm DO lens have been dropping steadily. Most recently the price of used Canon 600mm f/L IS II lenses have been dropping like a rock with the introduction of the 600 III. You can always see the current listings by clicking here or on the Used Photo Gear tab on the orange-yellow menu bar near the top of each blog post page.
As used gear sales have slowed a bit in recent months — especially with dSLR bodies, there are lots of great buys right now on the Used Gear Page

Money Saving Reminder
If you need a hot photo item that is out of stock at B&H, would enjoy free overnight shipping, and would like a $50 discount on your first purchase, click here to order and enter the coupon code BIRDSASART at checkout. If you are looking to strike a deal on Canon or Nikon gear (including the big telephotos) or on a multiple item order, contact Steve Elkins via e-mail or on his cell at (479) 381-2592 (Eastern time) and be sure to mention your BIRDSASART coupon code and use it for your online order. Steve currently has several D850s in stock along with a Nikon 600mm f/4 VR. He is taking pre-orders for the new Nikon 500 P and the Nikon Z6 mirrorless camera body.
Gear Questions and Advice
Too many folks attending BAA IPTs and dozens of photographers whom I see in the field and on BPN, are–out of ignorance–using the wrong gear especially when it comes to tripods and more especially, tripod heads… Please know that I am always glad to answer your gear questions via e-mail. Those questions might deal with systems, camera bodies, accessories, and/or lens choices and decisions.

Galapagos 2019 Photo Cruise of a Lifetime Early Favorties
Galapagos 2019 Photo Cruise of a Lifetime IPT Report
It is hard to believe that I first visited the Galapagos in 2005. Until this year — about my 12th trip — 2010 had clearly been the best year for photography. The 2019 trip, however, was at least the equal of 2010. We had superb chances on sea lions hunting and catching tuna and other fish, lots of gorgeous yellow Land Iguanas, piles and piles of Marine Iguanas, two great sessions with Waved Albatross, both chicks and fledged young Blue-footed Booby, numbers of Nazca and both morphs of Red-footed Booby, great flight photography at South Plaza (can you say tropicbird ?), guava-eating Galapagos Tortoises, breeding Flightless Cormorants with nests and and small chicks, a great afternoon panga ride with penguins, an incredibly knowledgeable guide, a great crew, and a superb chef who prepared a variety of local dishes on a consistent basis. The average per-photographer-weight-gain was about four pounds …
After a few too-sunny sessions at the start of the trip, we were blessed with typical June through October weather: cloudy bright with a few light sprinkles. We snorkeled twice; the second session was mega. We saw more than 100 Pacific Green Turtles and several had King Angels and other colorful fish gleaning algae from their carapaces. The skill levels of the nine photographers ranged from experienced to novice. With two couples canceling within ten days of the departure date, we were quite comfy with only 10 passengers on a ship built to carry 14.
SONY Versus Nikon in the Galapagos …
I used my Nikon 500 PF with my souped-up D850 at North Seymour on our afternoon landing on July 23, the first day of the IPT; on the July 25 Punta Albemarle Flightless Cormorant landing — I could not find my SONY 1.4X teleconverter; on the sunny afternoon Hood Island landing; and then again at North Seymour on the visit on our last morning visit. I relied on my SONY gear for the other 16 or so landings and panga (zodiac) and ship-based photo sessions. I did skip one landing.
In low light conditions I used the Induro GIT 204L tripod topped by a FlexShooter Pro head with both the SONY and the Nikon gear. On sunny and cloud-bright days I handheld. For the most part, I used the a7R iii body with the SONY 100-400, often adding the 1.4X TC. With landings that offered good flight photography, I would bring along the a9 to maximize the opportunities. I made many SONY images that I absolutely loved. But I'd still give a slight edge to D850 images when it comes down to image quality and crazy-insane sharpness. Please don't ask me if I could tell the RAW files from the D850 and the a7R iii apart. And many of the a9 images looked pretty darned good as well and stood up nicely to some healthy crops.
49 of the 60 images in the composite were created with my Sony gear. Why the dependence on SONY? The 0.98-meter minimum focusing distance of the SONY 100-400 was a huge advantage when photographing the tame birds and animals of the Galapagos archipelago. And the a9 killed when photographing seabirds in flight. The handheld SONY 100-400 with the a7R iii weighs 4 lbs, 12.9 oz while the handheld Nikon 500 PF with the gripped D-850 weighs 6 lbs, 4.4 oz. So my favorite SONY rig weighs 1 lb 7.5 oz less than my favorite Nikon rig. The Nikon rig has the reach advantage with and without the 1.4X TC (500mm to 400mm — both at f/5.6 and 700mm to 560mm –both at f/8). But when working with tame birds and animals, working in a group of photographers, and when restricted to often narrow trails, a zoom lens is head and shoulders above a fixed lens.
My Favorites
The early favorites composite that opened this blog post features 60 of my favorite images from the trip. I will likely wind up optimizing another 60 or so images. As I almost always process what I consider the very best images first, it is likely that most of the very best stuff is in the composite. I am hoping to find a few more family jewels during the second edit. I edit after each shooting session. Right now I am down to 1646 RAW files from the trip. One participant filled a 2-TB HD … After my second edit, I will likely get down to well less than 500 keepers.
Your Favorites
Based on viewing the admittedly small thumbnails in the composite above — it will not help to try to enlarge the image– please leave a comment and let us know which three images will prove to be the best. And of course, let us know why you made your picks.
Canon Help Needed
Info Received
If you have a good kitchen or postal scale that measures to a tenth of an ounce, please let me know via e-mail (or comment) the weights of the Canon gear below (assuming that you own it) in pounds and ounces to the nearest tenth of an ounce:
Canon 100-400 II with the hood and rear cap with the lens foot removed.
Lens foot for Canon 100-400 II without a plate.
Canon 5D Mark IV with the loaded battery grip.
This just in: Thanks to Adam Rubenstein and "Bug" Bob Allen for e-mailing me the requested weights.
If In Doubt …
If in doubt about using the BAA B&H affiliate link correctly, you can always start your search by clicking here. Please note that the tracking is invisible. Web orders only. Please, however, remember to shoot me your receipt via e-mail.
Please Remember to use my Affiliate Links and to Visit the BAA Online Store 🙂
To show your appreciation for my continuing efforts here, we ask, as always, that you get in the habit of using my B&H affiliate links on the right side of the blog for all of your photo and electronics purchases. Please check the availability of all photographic accessories in the New BIRDS AS ART Online Store, especially the Mongoose M3.6 tripod head, Wimberley lens plates, Delkin flash cards and accessories, and LensCoat stuff.
As always, we sell only what I have used, have tested, and can depend on. We will not sell you junk. We know what you need to make creating great images easy and fun. And please remember that I am always glad to answer your gear questions via e-mail.
I would, of course, appreciate your using our B&H affiliate links for all of your major gear, video, and electronic purchases. For the photographic stuff mentioned in the paragraph above, and for everything else in the new store, we, meaning BAA, would of course greatly appreciate your business. Here is a huge thank you to the many who have been using our links on a regular basis and those who will be visiting the New BIRDS AS ART Online Store as well.
Facebook
Be sure to like and follow BAA on Facebook by clicking on the logo link upper right.
Typos
In all blog posts and Bulletins, feel free to e-mail or to leave a comment regarding any typos or errors. Just be right :).