What's Up?
I enjoyed a good night's sleep at younger daughter Alissa's home in Ronkonkoma, NY. I had planned to head to Nickerson Beach but opted to sleep in with the forecast of clear skies and northwest winds …
I was glad to learn that Mansoor Assadi sold his used Canon 600mm f/4L IS II lens in late July. The will be another one for sale very soon.
A Heart-stopping Flight Adventure
I enjoyed a heart-stopping flight adventure on my Southwest flight to Islip on Friday afternoon. I paid the $40 to upgrade my boarding position. I was happy to get A2. I boarded, removed my laptop from the Think Tank Urban Disguise bag, placed my Think Tank roller and the laptop bag in the overhead, and placed the laptop on my chosen seat along with a copy of the Southwest Magazine. I love the first emergency row aisle seat on the right side of the plane; it has lots of legroom and being on the aisle makes it easier for me to type during the flight. And as I need to get up often to stretch and visit the restroom, being on the aisle lets me do so without disturbing other passengers. Most importantly, by boarding early I am assured that I will never be forced to gate check my rolling bag.
Confident as always that my seat was saved. — I have used this same strategy on the many Southwest flights that I make — I headed to the rear lavs to stand until they shut the door. I had done enough sitting on Wednesday on the way back from Guayaquil and would be sitting for another 150 minutes. When I got back to my seat I was in for a surprise: there was a guy sitting in my seat. I called over a flight attendant and asked what had happened to my laptop. She said that she had brought the laptop to the gate agent. I gently expressed my displeasure and told her that I needed my laptop back, along with my seat. She said that she would deplane and get the laptop from the gate agent.
A few minutes later, she returned and said that the gate agent had sent the laptop to the lost and found. I stated that I was not going anywhere without my laptop so she deplaned again while I stood standing in the front of the plane that was ready to roll. The pilot understood my plight and had given her permission to try to retrieve the laptop. I spoke with another flight attendant and let hew know that if the laptop was not recovered that I would need to get off the plane and get it and catch the next flight. And take my bags off of SW 1570.
She understood. After ten minutes the first flight attendant — looking quite disheveled — rushed back on board with my laptop. I was relieved. "What about my seat?" I asked. I paid $40 for that seat." "You'll have to take any seat now so that we can depart. We can talk about your seat once we are airborne." She lied. I. was stuck in 2B with a nice man to my right and an armrest-hog woman on my left.
When I got off the plane I spoke to the gate agent in Islip. He gave me a number to call to get my $40 refunded and a $100.00 voucher for my troubles. Alls well that ends well. It goes without saying that the next time I save myself a seat I will alert all the flight attendants.
I have an extra center orchestra ticket for Jersey Boys — it will be my fourth time seeing it — for the Sunday matinee off-Broadway performance at New World Stages/Stage 1, 340 West 50th Street between 8th and 9th Avenues. I am looking for anyone who would like to see it, no charge, as my guest. My preference would be for a halfway decent-looking, personable, single female aged 50-73 but anyone who subscribes to the blog is welcome to get in touch. If you would like to join me — no strings attached — please get in touch asap via e-mail or leave a message on my cell phone at 863-221-2372. I rarely hear it ring.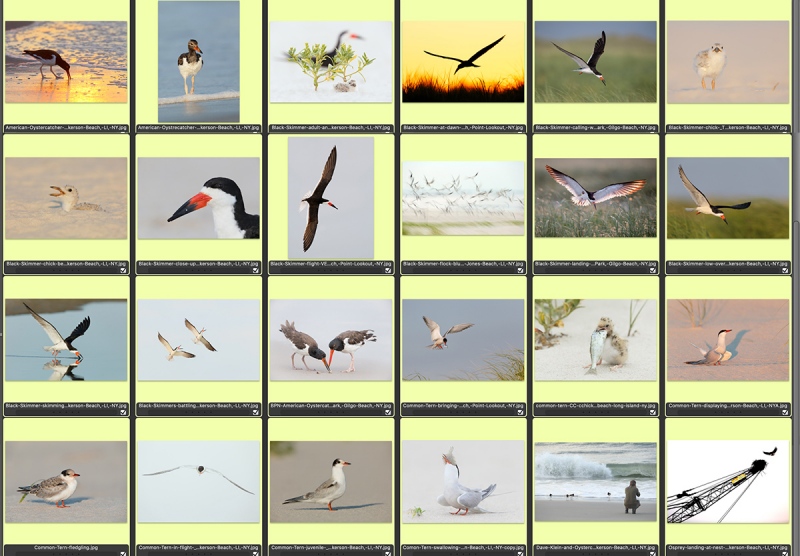 There is lots of great stuff at Nickerson Beach in August
Click on the composite to see a larger version
Nickerson Beach In-the-Field Session
Prices reduced $100.00!
All are invited to join me for an In-the-Field photo session or two, or a full day, during the middle of August 2019, as below. We will get to photograph Black Skimmers in flight, dueling in mid-air, and on the beach. With luck, we might get some great stuff on chicks and fledged young as the timing is perfect. We have a good chance to photograph Common Tern and American Oystercatcher, both with fledged young. We should enjoy some good gull photography with herring, great black-backed, and even lesser black-backed. Gull predation of fledged young skimmers is likely. We may also have some good chances with several species of migrant shorebirds, especially Sanderling. It goes without saying that as always, you will learn a ton.
Please contact me via e-mail or by cell phone as above if you would like to join me.
Morning Sessions: pre-dawn (about 6am) till 9:30am: $300.00 (was 400.00)
Each session includes a working lunch/Photoshop/Workflow/Image review session. Limit 3.
Available: TUES 13 AUG, THURS 15 AUG.
Afternoon Sessions: 4:30pm until sunset (at about 8:10pm). Limit 3: $200.00 (was 300.00).
Available: TUES 13 AUG or THURS 15 AUG.
Full-Days: $500 (was 600.00). Limit 3.
Available: TUES 13 AUG and THURS 15 AUG.
B&H Event Space Program
I will be doing a B&H Event Space Program — Lessons From the Field BIRDS AS ART-Style — on Monday, August 12, 2019, 1:00 to 3:00 PM eastern time. You can register to attend in person or to view the event live online by clicking here. Here is the location: the second floor of B&H NYC SuperStore at 420 9th Avenue, New York NY 10001. Those planning on attending should register asap as spaces are limited.
FlexShooter Pro Update
We currently have FlexShooter Pro heads in stock here. We have all but one of the BigFeet in stock (phone orders only for now: 863-692-0906) but are sold out of the new FLN-60 BigFoot that was recently re-designed for the Nikon 600 VR. Click here to access the pretty much complete FlexShooter Pro story with videos.
BIRDS AS ART
BIRDS AS ART is registered in the U.S. Patent and Trademark Office.
Selling Your Used Photo Gear Through BIRDS AS ART
Selling your used (or like-new) photo gear through the BAA Blog is a great idea. We charge only a 5% commission. One of the more popular used gear for sale sites charged a minimum of 20%. Plus assorted fees! Yikes. They went out of business. And e-Bay fees are now up to 13%. The minimum item price here is $500 (or less for a $25 fee). If you are interested please scroll down here or shoot us an e-mail with the words Items for Sale Info Request cut and pasted into the Subject line :). Stuff that is priced fairly — I offer pricing advice to those who agree to the terms — usually sells in no time flat. Over the past year, we have sold many dozens of items. Do know that prices on some items like the EOS-1D Mark IV, the old Canon 100-400, the old 500mm, the EOS-7D, and the 7D Mark II and the original 400mm DO lens have been dropping steadily. Most recently the price of used Canon 600mm f/L IS II lenses have been dropping like a rock with the introduction of the 600 III. You can always see the current listings by clicking here or on the Used Photo Gear tab on the orange-yellow menu bar near the top of each blog post page.
As used gear sales have slowed a bit in recent months — especially with dSLR bodies, there are lots of great buys right now on the Used Gear Page

Money Saving Reminder
If you need a hot photo item that is out of stock at B&H, would enjoy free overnight shipping, and would like a $50 discount on your first purchase, click here to order and enter the coupon code BIRDSASART at checkout. If you are looking to strike a deal on Canon or Nikon gear (including the big telephotos) or on a multiple item order, contact Steve Elkins via e-mail or on his cell at (479) 381-2592 (Eastern time) and be sure to mention your BIRDSASART coupon code and use it for your online order. Steve currently has several D850s in stock along with a Nikon 600mm f/4 VR. He is taking pre-orders for the new Nikon 500 P and the Nikon Z6 mirrorless camera body.
Gear Questions and Advice
Too many folks attending BAA IPTs and dozens of photographers whom I see in the field and on BPN, are–out of ignorance–using the wrong gear especially when it comes to tripods and more especially, tripod heads… Please know that I am always glad to answer your gear questions via e-mail. Those questions might deal with systems, camera bodies, accessories, and/or lens choices and decisions.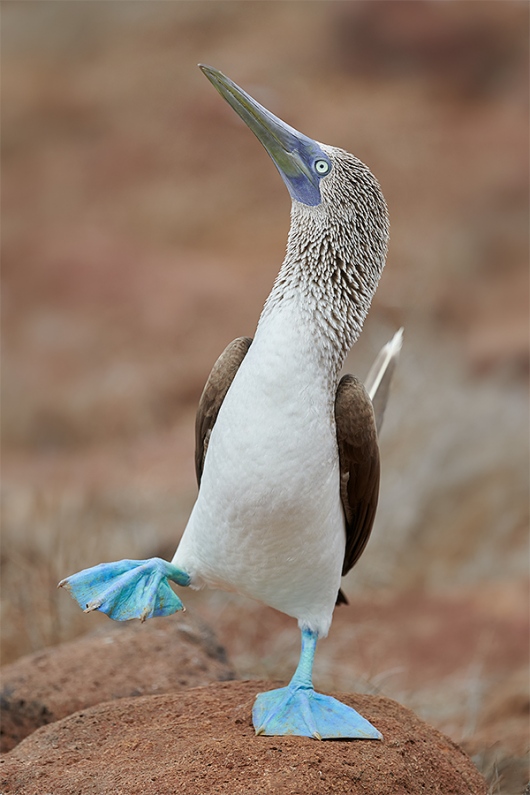 This image was created on the morning of August 6, 2019, on the Galapagos Photo-Cruise of a Lifetime IPT. I used the handheld Nikon AF-S NIKKOR 500mm f/5.6E PF ED VR lens and my souped-up Nikon D850 ISO: 500. Matrix metering at about +2/3 stop as framed: 1/500 sec. at f/5.6 in Manual mode was a slight underexposure. AUTO1 WB at 7:50am on a solidly overcast morning.
Three above center Single Point Continous AF was active at the moment of exposure. The selected AF point was placed on the bird's neck, right on the same plane as its eye.
Nikon Focus Peaking fine-tune value: +4. See the Nikon AF Fine-tune e-Guide here.
Blue-footed Booby raised foot dance display
Your browser does not support iFrame.
Your browser does not support iFrame.
What a Way to Finish!
North Seymour is one of the three great sites that we visited twice on this IPT. On our too-sunny first-day afternoon visit we walked the trail along the coast and then doubled back, thus missing any chances to photograph the frigatebirds with inflated pouches. We did quite well on those on our last (blessedly cloudy morning) landing. We were headed back to the jetty to return to the Samba for the last time when we came across two Blue-footed Boobies standing on a nice rock. The pinpoint pupils indicated that the bird on our left was the male; the females of this species have distended (for lack of a better term) pupils. The male was doing a slow version of the raised foot dance showing off for his mate. Without a zoom lens, I stayed well back so that I could fit the displaying bird into a vertical frame.
With the soft light, everyone got to photograph this excellent situation to their heart's content, or at least until the male stepped off the rock and wandered away. I cautioned everyone in front of my about getting low as that would have introduced distracting rocks and bushes into the background. Getting low is not always the best strategy. And with the birds on a fairly decent-sized boulder, the background was effectively placed well behind the subject even though I was standing at full height. I created at least 88 images of this single bird and kept 18. This one was my favorite by a small margin.
All in all, it was a great finish to a great trip. If you are interested in joining me in the Galapagos in October 2020, please let me know via e-mail
If In Doubt …
If in doubt about using the BAA B&H affiliate link correctly, you can always start your search by clicking here. Please note that the tracking is invisible. Web orders only. Please, however, remember to shoot me your receipt via e-mail.
Please Remember to use my Affiliate Links and to Visit the BAA Online Store 🙂
To show your appreciation for my continuing efforts here, we ask, as always, that you get in the habit of using my B&H affiliate links on the right side of the blog for all of your photo and electronics purchases. Please check the availability of all photographic accessories in the New BIRDS AS ART Online Store, especially the Mongoose M3.6 tripod head, Wimberley lens plates, Delkin flash cards and accessories, and LensCoat stuff.
As always, we sell only what I have used, have tested, and can depend on. We will not sell you junk. We know what you need to make creating great images easy and fun. And please remember that I am always glad to answer your gear questions via e-mail.
I would, of course, appreciate your using our B&H affiliate links for all of your major gear, video, and electronic purchases. For the photographic stuff mentioned in the paragraph above, and for everything else in the new store, we, meaning BAA, would of course greatly appreciate your business. Here is a huge thank you to the many who have been using our links on a regular basis and those who will be visiting the New BIRDS AS ART Online Store as well.
Facebook
Be sure to like and follow BAA on Facebook by clicking on the logo link upper right.
Typos
In all blog posts and Bulletins, feel free to e-mail or to leave a comment regarding any typos or errors. Just be right :).