What's Up
I have been relaxing and getting stuff done here on Long Island. I spent a few hours at the Sayville Summerfest mostly listening to music. I had no clue that my friend Tom Pfeifer was a rock star. I enjoyed his group, the Norman Bates Project. Check out their cover of Little Red Riding Hood here with Tom on guitar as lead vocalist. I arrived early to catch Pete Mancini & the Hillside Airmen; their Americana/alternative country style was right. up. my alley. You can learn more about Pete here and sample the band's sounds by clicking on the Music tab.
Last for me — again highly recommended by Tom, were The Hideaways. Chris Laybourne was simply amazing on tenor sax; I was captivated by his skills, his energy, and his stamina. I loved their cover of Deep in the Heart of Texas; you can give that a listen here (from April of this year). To learn more about this great band, click here. You can listen to samples of their music by clicking on the Amazon, Apple Music/i-Tunes, or Spotify links at the bottom of the page.
All in all, it was a great afternoon of music and people watching (during the breaks).
Sunday: Jersey Boys (for the fifth time!)
I took the LIRR into the city on Sunday morning and walked from Penn Station to my hotel on East 52nd Street. My room was ready just after 12:00 noon. I had lunch at the Irish pub right next door; the burger was good. I walked back to the theater on the west side at 50th Street, delayed only briefly by the 37th Annual Dominican Day Parade. The off-Broadway theater, New World Stages/Stage 1 was maybe one-fourth the size of a typical Broadway theater. I first saw Jersey Boys on Broadway with understudy Dominick Scaglione playing the role of Frankie Valli. He killed it, and I fell in love with him and his co-star, Quinn van Antwerp as Bob Gaudio. I saw them together again on Broadway just weeks before they both would be leaving the show and months before it closed on Broadway.
So when I noted on Sunday that understudy Joshua Charles Skurnik would be performing the role of Frankie Valli I was not disappointed. He, Austin Colby as Bob Gaudio, and the rest of the stellar cast killed it to the tune of a rousing four-minute standing ovation. I was surprised, almost stunned, by the quality of the production.
I walked back to the hotel after the matinee and enjoyed a dish of delicious goat korma at Darbar Grill on E55th. St. just off Third Avenue. I first tired Korma at an Indian Restaurant in Dunbar Scotland and loved it then too. All in all, I walked an even five miles; amazingly, I rarely missed a traffic light the entire day.
B&H Event Space Program
I will be doing a B&H Event Space Program this afternoon, Monday, August 12, 2019, 1:00 to 3:00 PM eastern time at the NYC super-store. You can register to attend in person or to view this new version of Lessons From the Field BIRDS AS ART-Style live online by clicking here. You can clearly hear the sound in several spots on the video, below,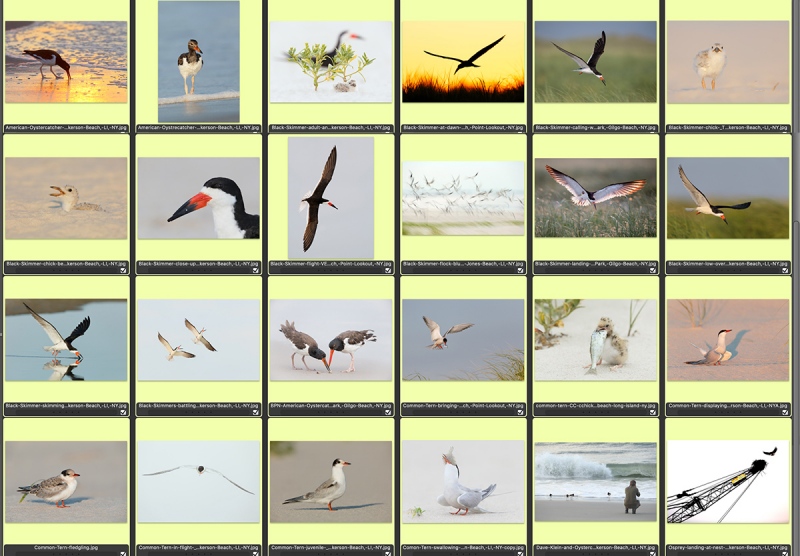 There is lots of great stuff at Nickerson Beach in August
Click on the composite to see a larger version
Nickerson Beach In-the-Field Sessions
Prices reduced $100.00!
All are invited to join me for an In-the-Field photo session or two, or a full day, during the middle of August 2019, as below. We will get to photograph Black Skimmers in flight, dueling in mid-air, and on the beach. With luck, we might get some great stuff on chicks and fledged young as the timing is perfect. We have a good chance to photograph Common Tern and American Oystercatcher, both with fledged young. We should enjoy some good gull photography with herring, great black-backed, and even lesser black-backed. Gull predation of fledged young skimmers is likely. We may also have some good chances with several species of migrant shorebirds, especially Sanderling. It goes without saying that as always, you will learn a ton.
Please contact me via e-mail or leave a message on my cell phone at 863-221-2372 if you would like to join me.
Morning Sessions: pre-dawn (about 6am) till 9:30am: $300.00 (was 400.00)
Each session includes a working lunch/Photoshop/Workflow/Image review session. Limit 3.
Available: TUES 13 AUG, THURS 15 AUG.
Afternoon Sessions: 4:30pm until sunset (at about 8:10pm). Limit 3: $200.00 (was 300.00).
Available: TUES 13 AUG or THURS 15 AUG.
Full-Days: $500 (was 600.00). Limit 3.
Available: TUES 13 AUG and THURS 15 AUG.
FlexShooter Pro Update
We currently have FlexShooter Pro heads in stock here. We have all but one of the BigFeet in stock (phone orders only for now: 863-692-0906) but are sold out of the new FLN-60 BigFoot that was recently re-designed for the Nikon 600 VR. Click here to access the pretty much complete FlexShooter Pro story with videos.
BIRDS AS ART
BIRDS AS ART is registered in the U.S. Patent and Trademark Office.
Selling Your Used Photo Gear Through BIRDS AS ART
Selling your used (or like-new) photo gear through the BAA Blog is a great idea. We charge only a 5% commission. One of the more popular used gear for sale sites charged a minimum of 20%. Plus assorted fees! Yikes. They went out of business. And e-Bay fees are now up to 13%. The minimum item price here is $500 (or less for a $25 fee). If you are interested please scroll down here or shoot us an e-mail with the words Items for Sale Info Request cut and pasted into the Subject line :). Stuff that is priced fairly — I offer pricing advice to those who agree to the terms — usually sells in no time flat. Over the past year, we have sold many dozens of items. Do know that prices on some items like the EOS-1D Mark IV, the old Canon 100-400, the old 500mm, the EOS-7D, and the 7D Mark II and the original 400mm DO lens have been dropping steadily. Most recently the price of used Canon 600mm f/L IS II lenses have been dropping like a rock with the introduction of the 600 III. You can always see the current listings by clicking here or on the Used Photo Gear tab on the orange-yellow menu bar near the top of each blog post page.
As used gear sales have slowed a bit in recent months — especially with dSLR bodies, there are lots of great buys right now on the Used Gear Page

Money Saving Reminder
If you need a hot photo item that is out of stock at B&H, would enjoy free overnight shipping, and would like a $50 discount on your first purchase, click here to order and enter the coupon code BIRDSASART at checkout. If you are looking to strike a deal on Canon or Nikon gear (including the big telephotos) or on a multiple item order, contact Steve Elkins via e-mail or on his cell at (479) 381-2592 (Eastern time) and be sure to mention your BIRDSASART coupon code and use it for your online order. Steve currently has several D850s in stock along with a Nikon 600mm f/4 VR. He is taking pre-orders for the new Nikon 500 P and the Nikon Z6 mirrorless camera body.
Gear Questions and Advice
Too many folks attending BAA IPTs and dozens of photographers whom I see in the field and on BPN, are–out of ignorance–using the wrong gear especially when it comes to tripods and more especially, tripod heads… Please know that I am always glad to answer your gear questions via e-mail. Those questions might deal with systems, camera bodies, accessories, and/or lens choices and decisions.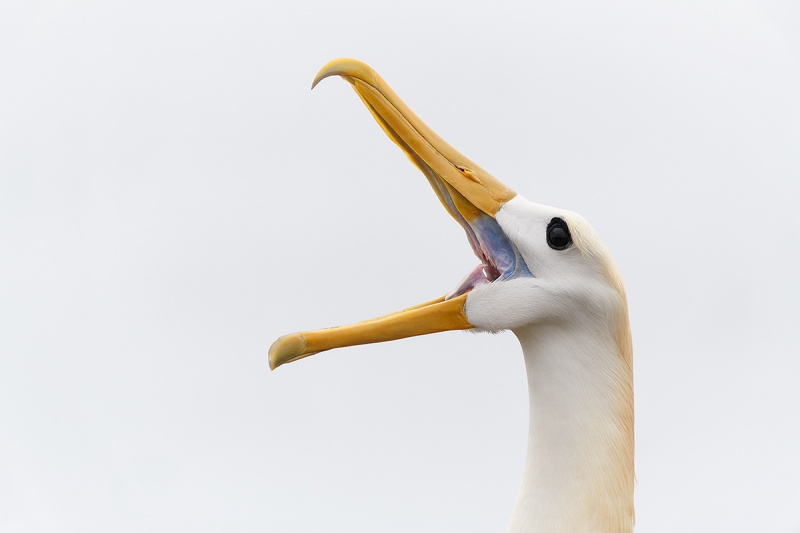 This image was created on August 1, 2019 at Hood Island on the Galapagos Photo-Cruise of a Lifetime IPT. I used the handheld Sony FE 100-400mm f/4.5-5.6 GM OSS lens with the Sony FE 1.4x Teleconverter (at 479mm) and the mega mega-pixel Sony Alpha a7R III Mirrorless Digital Camera Body. ISO:800. Multi-metering +1 1/3 stops was not nearly anough as the image was 2/3 stop inder at 1/800 sec. at f/9 in Manual mode. Shade WB (in error) at 8:33am on a dreary morning.
Expand Flexible Spot (S) (Continuous) AF was active at the moment of exposure. As I remember, the selected AF point was placed on the bird's face just below and in front of its eye. Unfortunately, there is no software that allows users to determine either the AF pattern or the selected AF point after the fact. This is quite unfortunate. If I am incorrect, please let me know by leaving a comment with a reference.
Waved Albatross clonk
Click on the image to enjoy a larger version.
Your browser does not support iFrame.
The Clonk
The clonk is one of the eight distinct steps in the complex Waved Albatross courtship dance — see the video below. Others include the strut that begins the dance, bill fencing, bill clatter, sky-pointing, and hiding the bill under the wing. I had long been striving to create an image of a single bird at the clonk stage of the dance. Having a chance to create with the white sky/high key look was one of the great thrills of the 2019 voyage.
Clonk is an onomatopoeia, a word that sounds like the sound it reproduces. The sound is made just after either the male or the female (or both) freezes for a moment with their bills wide open. It can be seen — and then heard — several times in the video below.
Waved Albatross Courtship Video
Re-run by popular demand
Click on the play button above to view the Waved Albatross courtship video that was a highly honored in the 2016 Nature's Best Photography/Windland Smith Rice International Awards Competition. If you are interested in joining me in the Galapagos in October 2019, please get in touch via e-mail.
If In Doubt …
If in doubt about using the BAA B&H affiliate link correctly, you can always start your search by clicking here. Please note that the tracking is invisible. Web orders only. Please, however, remember to shoot me your receipt via e-mail.
Please Remember to use my Affiliate Links and to Visit the BAA Online Store 🙂
To show your appreciation for my continuing efforts here, we ask, as always, that you get in the habit of using my B&H affiliate links on the right side of the blog for all of your photo and electronics purchases. Please check the availability of all photographic accessories in the New BIRDS AS ART Online Store, especially the Mongoose M3.6 tripod head, Wimberley lens plates, Delkin flash cards and accessories, and LensCoat stuff.
As always, we sell only what I have used, have tested, and can depend on. We will not sell you junk. We know what you need to make creating great images easy and fun. And please remember that I am always glad to answer your gear questions via e-mail.
I would, of course, appreciate your using our B&H affiliate links for all of your major gear, video, and electronic purchases. For the photographic stuff mentioned in the paragraph above, and for everything else in the new store, we, meaning BAA, would of course greatly appreciate your business. Here is a huge thank you to the many who have been using our links on a regular basis and those who will be visiting the New BIRDS AS ART Online Store as well.
Facebook
Be sure to like and follow BAA on Facebook by clicking on the logo link upper right.
Typos
In all blog posts and Bulletins, feel free to e-mail or to leave a comment regarding any typos or errors. Just be right :).