What's Up?
The B&H Event Space program went well on Monday. There were about 50 folks in the newly renovated space. DeSoto IPT veteran Muhammad Arif drove down from Ithaca, NY to attend the program. He does IT work for Cornell University. His family, originally from Bangladesh, lives in Ozone Park. So he took two days off from work and stayed with his folks on Monday evening so that he could do an In-the-Field session with me at Nickerson Beach on Tuesday morning. We lucked out with the weather; with the winds from the west/southwest, clouds were a necessity. We had them in spades and even worked around a few brief showers. We enjoyed lots o flight photography. And there were lots of young skimmers around varying in size from the tiny chicks in Muhammad's photo below to fledged and flying young. Our morning session was followed by a great lunch at Bagel Plaza in Merrick and a long image review and Photoshop session.
As I have not done a lot at Nickerson in recent years and conditions are great, I changed my plans; instead of flying back to Orlando early on Friday, I will be heading home next Tuesday. I am now able to offer several additional In-the-Field sessions as noted below.
I am meeting Greg Gulbransen for an In-the-Field session at 6:30am today. Greg, a pediatrician from Long Island, is an incredibly talented photographer. You can see an eclectic collection of his images on his new website here.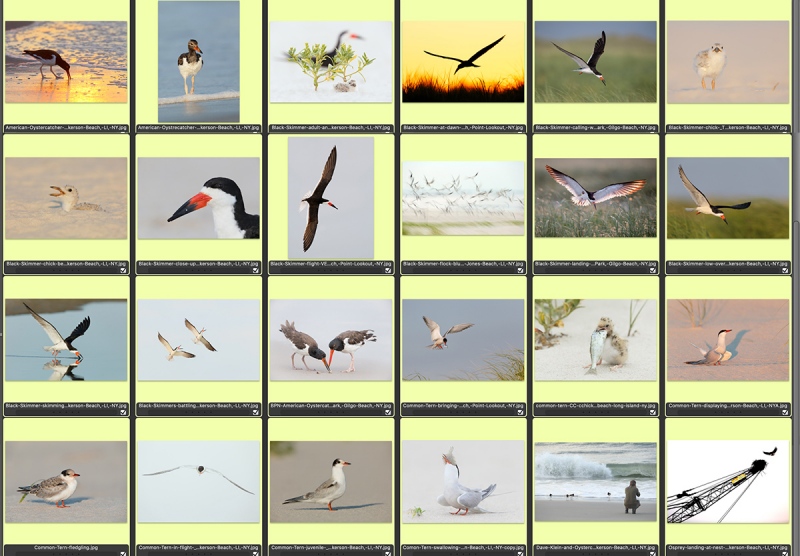 There is lots of great stuff at Nickerson Beach in August
Click on the composite to see a larger version
Nickerson Beach In-the-Field Morning Sessions
Prices reduced $100.00!
All are invited to join me for an In-the-Field photo session or two during the middle of August 2019, as below. We will get to photograph Black Skimmers and Common Terns in flight, the skimmers dueling in mid-air, and both species on the beach. With luck, we might get some great stuff on chicks and fledged young as the timing is perfect. We have a good chance to photograph American Oystercatcher with fledged young. We should enjoy some good gull photography with herring, great black-backed, and even lesser black-backed gulls. Gull predation of fledged young skimmers is likely. We may also have some good chances with several species of migrant shorebirds, especially Sanderling. It goes without saying that as always, you will learn a ton.
Please contact me via e-mail or leave a message on my cell phone at 863-221-2372 if you would like to join me.
Morning Sessions: pre-dawn (about 6am) till 9:30am: $300.00 (was 400.00)
Each session includes a working lunch/Photoshop/Workflow/Image review session. Limit 3.
With the current forecast, mornings are looking much better than the afternoons so I have eliminated the afternoon shoots.
Available: TUES 13 AUG, THURS 15 AUG, FRI AUG 16, SAT AUG 17, and MON AUG 19.
FlexShooter Pro Update
We currently have FlexShooter Pro heads in stock here. We have all but one of the BigFeet in stock (phone orders only for now: 863-692-0906) but are sold out of the new FLN-60 BigFoot that was recently re-designed for the Nikon 600 VR. Click here to access the pretty much complete FlexShooter Pro story with videos.
BIRDS AS ART
BIRDS AS ART is registered in the U.S. Patent and Trademark Office.
Selling Your Used Photo Gear Through BIRDS AS ART
Selling your used (or like-new) photo gear through the BAA Blog is a great idea. We charge only a 5% commission. One of the more popular used gear for sale sites charged a minimum of 20%. Plus assorted fees! Yikes. They went out of business. And e-Bay fees are now up to 13%. The minimum item price here is $500 (or less for a $25 fee). If you are interested please scroll down here or shoot us an e-mail with the words Items for Sale Info Request cut and pasted into the Subject line :). Stuff that is priced fairly — I offer pricing advice to those who agree to the terms — usually sells in no time flat. Over the past year, we have sold many dozens of items. Do know that prices on some items like the EOS-1D Mark IV, the old Canon 100-400, the old 500mm, the EOS-7D, and the 7D Mark II and the original 400mm DO lens have been dropping steadily. Most recently the price of used Canon 600mm f/L IS II lenses have been dropping like a rock with the introduction of the 600 III. You can always see the current listings by clicking here or on the Used Photo Gear tab on the orange-yellow menu bar near the top of each blog post page.
As used gear sales have slowed a bit in recent months — especially with dSLR bodies, there are lots of great buys right now on the Used Gear Page

Money Saving Reminder
If you need a hot photo item that is out of stock at B&H, would enjoy free overnight shipping, and would like a $50 discount on your first purchase, click here to order and enter the coupon code BIRDSASART at checkout. If you are looking to strike a deal on Canon or Nikon gear (including the big telephotos) or on a multiple item order, contact Steve Elkins via e-mail or on his cell at (479) 381-2592 (Eastern time) and be sure to mention your BIRDSASART coupon code and use it for your online order. Steve currently has several D850s in stock along with a Nikon 600mm f/4 VR. He is taking pre-orders for the new Nikon 500 P and the Nikon Z6 mirrorless camera body.
Gear Questions and Advice
Too many folks attending BAA IPTs and dozens of photographers whom I see in the field and on BPN, are–out of ignorance–using the wrong gear especially when it comes to tripods and more especially, tripod heads… Please know that I am always glad to answer your gear questions via e-mail. Those questions might deal with systems, camera bodies, accessories, and/or lens choices and decisions.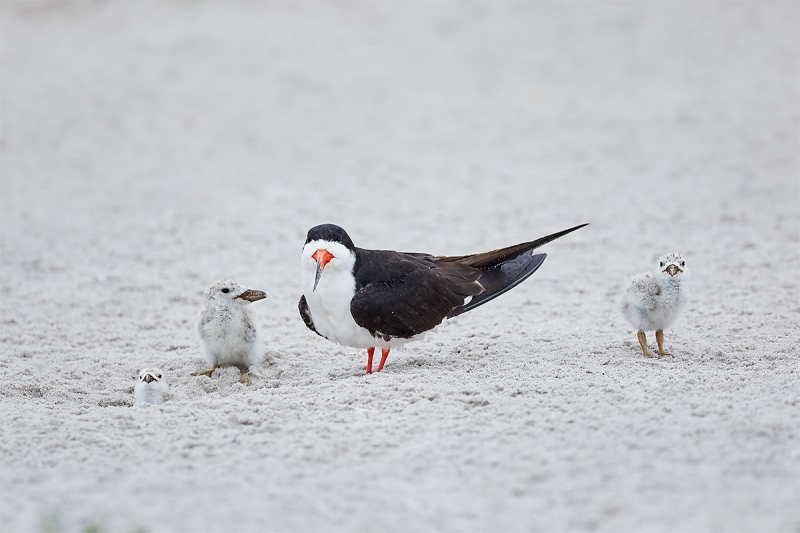 This image was created on August 13, 2019, by Muhammad Arif. He used the Induro GIT 304L/Wimberley-mounted Canon 500mm f/4L IS lens ("the old five") and the EOS 5D Mark III. ISO:1000. Evaluative metering +1 2/3 stops was perfect. AWB at 7:26am on a very cloudy morning.
Center Surround (Continuous) AI Servo AF was active at the moment of exposure.
Adult Black Skimmer with three chicks
Image courtesy of and copyright 2019: Muhammad Arif
Click on the image to enjoy a larger version.
Via e-Mail from Muhammad Arif
Tuesday was fantastic. Nickerson had been on my bucket list for a while and what better way to accomplish that goal than with an In-the-Field session with artie. I was impressed by the number of skimmers and terns and at such close range, too. The Oystercatchers were a plus as were the many tern and skimmer fledglings and chicks. I learned tons. Thanks for taking the time to explain why we want to be at 1/15th sec. vs 1/30th sec. vs 1/60th sec during the very low light of early morning, how to better position myself for flight photography, and how observing bird behavior would increase my chances of making a good picture. I really appreciated the pointers for using and carrying my tripod better and the pointers on identifying young birds, especially this year's fledged oystercatchers. Reviewing my images with you to understand what to look for in an image and quickly discard the bad ones was invaluable and will save me from wasting countless hours. Your enthusiasm for both photographing our feathered friends and sharing your wealth of knowledge is contagious and I feel inspired to go out into the field more and try for better images. If I can remember and use half the things I learned today, my images will improve by leaps and bounds. Thanks a million; I am already looking forward to another IPT.
In Additon …
In addition to the stuff that Muhammad mentioned in his e-mail, we spent a good deal of time during lunch assessing his sharpness problems. From where I sat, I am pretty sure that proper micro-adjusting would go a long way to helping him produce sharper images.
If In Doubt …
If in doubt about using the BAA B&H affiliate link correctly, you can always start your search by clicking here. Please note that the tracking is invisible. Web orders only. Please, however, remember to shoot me your receipt via e-mail.
Please Remember to use my Affiliate Links and to Visit the BAA Online Store 🙂
To show your appreciation for my continuing efforts here, we ask, as always, that you get in the habit of using my B&H affiliate links on the right side of the blog for all of your photo and electronics purchases. Please check the availability of all photographic accessories in the New BIRDS AS ART Online Store, especially the Mongoose M3.6 tripod head, Wimberley lens plates, Delkin flash cards and accessories, and LensCoat stuff.
As always, we sell only what I have used, have tested, and can depend on. We will not sell you junk. We know what you need to make creating great images easy and fun. And please remember that I am always glad to answer your gear questions via e-mail.
I would, of course, appreciate your using our B&H affiliate links for all of your major gear, video, and electronic purchases. For the photographic stuff mentioned in the paragraph above, and for everything else in the new store, we, meaning BAA, would of course greatly appreciate your business. Here is a huge thank you to the many who have been using our links on a regular basis and those who will be visiting the New BIRDS AS ART Online Store as well.
Facebook
Be sure to like and follow BAA on Facebook by clicking on the logo link upper right.
Typos
In all blog posts and Bulletins, feel free to e-mail or to leave a comment regarding any typos or errors. Just be right :).