What's Up?
I wound up with 100 keepers on the sunny morning of Thursday, August 15, 2019. I ventured out that morning with only the 500 PF and enjoyed some superb flight photography. On a partly cloudy Friday, I did well and wound up with 55 keepers. I went exploring on Saturday and found a mother lode of skimmer chicks; I have not downloaded those yet …
On Thursday night I went to see Pete Mancini and the Hillside Airmen at the Loading Dock in Patchogue. They were great again. Tom Ryan on drums was amazing. To hear some sample clips, click here and give a listen to My Hometown, Cease and Desist, DUI Blues, Flying First Class, To Be Alive, and lots more. These guys are really good and Pete's voice, a blend of country and rock is really easy to listen to.
On Sunday I am taking my first Nickerson morning off and driving up to Hyde Park with daughter Alissa, her husband Ajiniyaz, and grandson Idris to visit Idris's older brother Ilyas at the Anderson Center for Autism. I will photograph again on Monday afternoon. I fly home on Tuesday.
Mike Ross was thrilled to receive his SONY 600mm f/4 GM OSS lens from Bedford's last week.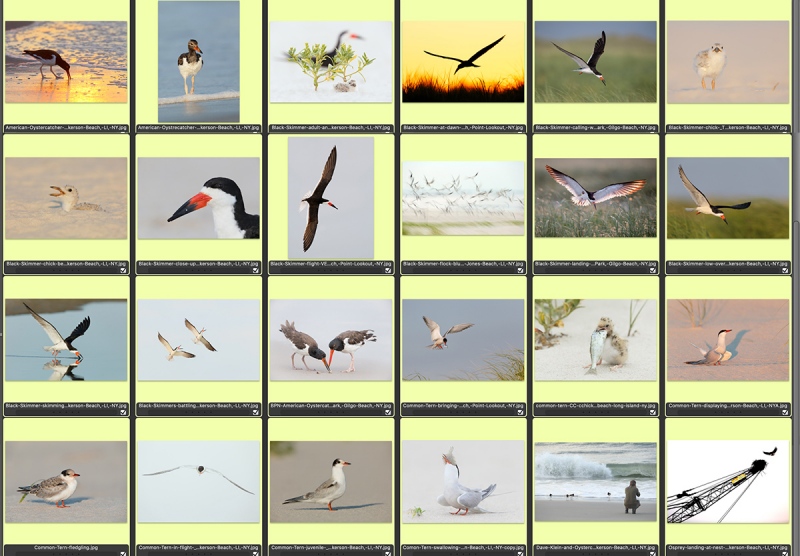 There is lots of great stuff at Nickerson Beach in August
Click on the composite to see a larger version
Nickerson Beach In-the-Field Afternoon Session
Price reduced $100.00!
You are invited to join me for an In-the-Field photo session this coming Monday, as below. We will get to photograph Black Skimmers and Common Terns in flight, the skimmers dueling in mid-air, and both species on the beach. With luck, we might get some great stuff on chicks and fledged young as the timing is perfect. We have a good chance to photograph American Oystercatcher with fledged young. We should enjoy some good gull photography with herring, great black-backed, and even lesser black-backed gulls. Gull predation of fledged young skimmers is likely. We may also have some good chances with several species of migrant shorebirds, especially Sanderling. It goes without saying that as always, you will learn a ton.
If you would like to join me on Monday afternoon, please text me at 863-221-2372 and, in addition, shoot me an e-mail as well.
Afternoon Session: 4:30pm till sunset: $200.00 (was $300.00)
With the current forecast, Monday afternoon is looking good. Available: MON AUG 19.
FlexShooter Pro Update
We currently have FlexShooter Pro heads in stock here. We have all but one of the BigFeet in stock (phone orders only for now: 863-692-0906) but are sold out of the new FLN-60 BigFoot that was recently re-designed for the Nikon 600 VR. Click here to access the pretty much complete FlexShooter Pro story with videos.
BIRDS AS ART
BIRDS AS ART is registered in the U.S. Patent and Trademark Office.

Money Saving Reminder
If you need a hot photo item that is out of stock at B&H, would enjoy free overnight shipping, and would like a $50 discount on your first purchase, click here to order and enter the coupon code BIRDSASART at checkout. If you are looking to strike a deal on Canon or Nikon gear (including the big telephotos) or on a multiple item order, contact Steve Elkins via e-mail or on his cell at (479) 381-2592 (Eastern time) and be sure to mention your BIRDSASART coupon code and use it for your online order. Steve currently has several D850s in stock along with a Nikon 600mm f/4 VR. He is taking pre-orders for the new Nikon 500 P and the Nikon Z6 mirrorless camera body.
Gear Questions and Advice
Too many folks attending BAA IPTs and dozens of photographers whom I see in the field and on BPN, are–out of ignorance–using the wrong gear especially when it comes to tripods and more especially, tripod heads… Please know that I am always glad to answer your gear questions via e-mail. Those questions might deal with systems, camera bodies, accessories, and/or lens choices and decisions.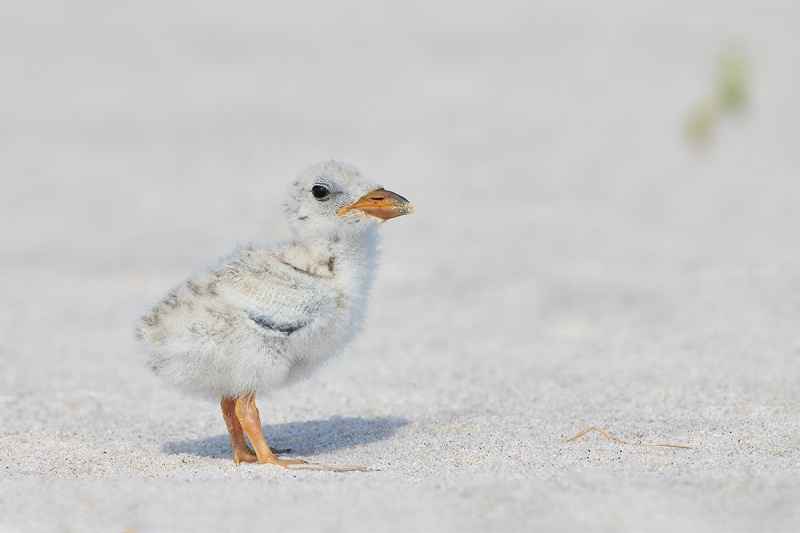 This image was created on the morning of August 15, 2019. I used the handheld Nikon AF-S NIKKOR 500mm f/5.6E PF ED VR lens, the Nikon AF-S Teleconverter TC-14E III, and my souped-up Nikon D850 Auto ISO: 900. Matrix metering plus about 1 stop: 1/1000 sec. at f/11 in Manual mode was perfect. AUTO1 WB at 9:28am on a sunny morning.
One below center d-9 Continous AF was active at the moment of exposure. The selected AF point was placed on the chick's neck as originally framed. This image was cropped a bit from behind and below.
Nikon Focus Peaking fine-tune value: +1. See the Nikon AF Fine-tune e-Guide here.
Black Skimmer chick
Click on the image to enjoy a larger version.
Your browser does not support iFrame.
Your browser does not support iFrame.
Nikon 500 PF and TC-14E
I created today's featured image while seated using the knee-pod technique. In addition to being the world's greatest flight lens, the 500 PF does nicely on statci subjects at 700mm. One parent was brooding this chick for a good half hour. Tom Pfeifer and I waited patiently for this cute little skimmer baby to come out from under the adult. When it finally did, it was nice enough to stand still for about 3 seconds and pose for us.
A Chick That Cleaned Up Nicely
To eliminate much of the beach debris, I used the Patch Tool, Content-Aware Fill, and the Spot Healing Brush (all as usual). To eliminate the dark spot in front of the chick's breast and the light spot below its belly I used two small Quick Masks each refined with a Regular Layer mask. All that after doing the RAW conversion in Capture One. Lastly, I re-shaped the bit of beach vegetation right above the chick and then moved it to the upper right corner for much better compositional balance.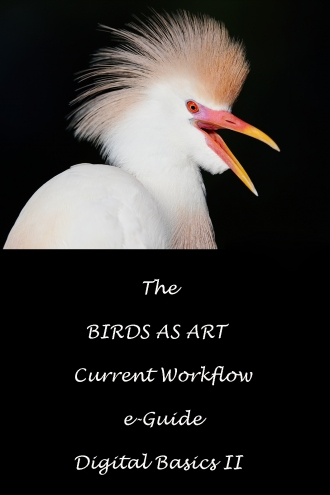 The BIRDS AS ART Current Workflow e-Guide (Digital Basics II).
You can order your copy from the BAA Online Store here, by sending a Paypal for $40 here, or by calling Jim or Jennifer weekdays at 863-692-0906 with your credit card in hand.
The BIRDS AS ART Current Workflow e-Guide (Digital Basics II)
Everything mentioned above (except for Capture One RAW conversions) and tons more — including all of my personalized Keyboard Shortcuts — is covered in detail in the BIRDS AS ART Current Workflow e-Guide (Digital Basics II), an instructional PDF that is sent via e-mail. Learn more and check out the free excerpt in the blog post here. While the new e-Guide reflects my Macbook Pro/Photo Mechanic/DPP 4/Photoshop workflow, folks using a PC and/or BreezeBrowser will also benefit greatly by studying the material on DB II. Do note that you will find the RGB Curves Adjustment Color Balancing tutorial only in the new e-guide. Note: folks working on a PC and/or those who do not want to miss anything Photoshop may wish to purchase the original Digital Basics along with DB II while saving $15 by clicking here to buy the DB Bundle.
The two most recent and many of the older MP4 Photoshop Tutorial videos releases go hand and hand with the information in DB II): Note: all of the videos are now priced at an amazingly low $5.00 each.
Folks who learn well by following along rather than by reading can check out the complete collection of MP 4 Photoshop Tutorial Videos by clicking here.
I continue to optimize my old Canon images in DPP 4. You can learn how and why I converted (and still convert) nearly all of my Canon digital RAW files in DPP 4 in the DPP 4 RAW Conversion Guide here. And, yes, I still have many Canon images to work on. 🙂 More recently, though I had become proficient at converting my Nikon RAW (NEF) files in Adobe Camera Raw, I began converting my Nikon and Sony RAW files in Capture One Pro 12. Learn more about Capture One Pro 12 in the Capture One Pro 12 Simplified MP4 Video here. The next step would be to get a copy of Arash Hazeghi's "The Nikon Photographers' Guide to Phase One Capture One Pro e-Guide" in the blog post here.
You can learn advanced Quick Masking and advanced Layer Masking techniques in APTATS I & II. You can save $15 by purchasing the pair. Folks can learn sophisticated sharpening and (NeatImage) Noise Reduction techniques in the The Professional Post Processing Guide by Arash Hazeghi and edited by yours truly. Please use this link to purchase NeatImage.
To introduce folks to our MP.4 videos and the basics involved in applying more NeatImage noise reduction to the background and less on the subject, I'd be glad to send you a free copy of the Free Noise Reduction Basics MP.4 Video. Simply click to shoot me an e-mail to get your free copy.
If In Doubt …
If in doubt about using the BAA B&H affiliate link correctly, you can always start your search by clicking here. Please note that the tracking is invisible. Web orders only. Please, however, remember to shoot me your receipt via e-mail.
Please Remember to use my Affiliate Links and to Visit the BAA Online Store 🙂
To show your appreciation for my continuing efforts here, we ask, as always, that you get in the habit of using my B&H affiliate links on the right side of the blog for all of your photo and electronics purchases. Please check the availability of all photographic accessories in the New BIRDS AS ART Online Store, especially the Mongoose M3.6 tripod head, Wimberley lens plates, Delkin flash cards and accessories, and LensCoat stuff.
As always, we sell only what I have used, have tested, and can depend on. We will not sell you junk. We know what you need to make creating great images easy and fun. And please remember that I am always glad to answer your gear questions via e-mail.
I would, of course, appreciate your using our B&H affiliate links for all of your major gear, video, and electronic purchases. For the photographic stuff mentioned in the paragraph above, and for everything else in the new store, we, meaning BAA, would of course greatly appreciate your business. Here is a huge thank you to the many who have been using our links on a regular basis and those who will be visiting the New BIRDS AS ART Online Store as well.
Facebook
Be sure to like and follow BAA on Facebook by clicking on the logo link upper right.
Typos
In all blog posts and Bulletins, feel free to e-mail or to leave a comment regarding any typos or errors. Just be right :).