What's Up?
The big news down here is, of course, the path of Hurricane Dorian. We have gas for our generator and lots of water (and food). I am hoping of course that the storm turns out to be some sort of a fizzle. Time will tell. In the meantime, I have been swimming and walking and stretching and exercising and am feeling great.
Be sure to scroll down to see Anita North's spectacular Green Jay image made on Roel Ramirez's ranch last spring.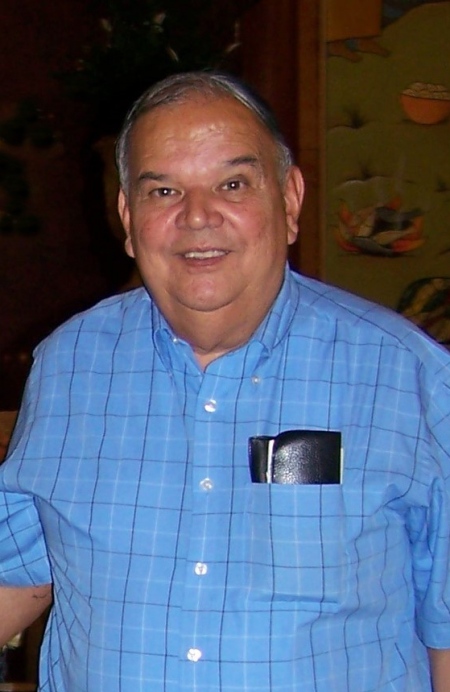 The always-smiling Roel Ramirez
In Memoriam: Roel Ramirez
Nature Photography Loses a Great Friend
I cannot remember when I first met Roel Ramirez. In the first decade of this century, I visited his ranch in Roma, TX several times, always with a group. Roel loved the birds of the Rio Grande Valley and he loved photography. He (or his ranch hand Tacho) fed them regularly for decades. He built several superb photography blinds and welcomed visiting bird photographers and tour leaders with their groups. He was as sweet and generous and sincere as anyone I have ever known. When he greeted you, the smile on his face made you feel as if seeing you was the best thing that had happened to him in years. I stayed in an apartment that he owned in Rio Grande City where he owned a Ford dealership. When he lovingly built a home on the ranch, I was welcome to stay there and did so several times.
Roel's family has been in the Valley for eight generations. I remember him taking me on a tour of Rio Grande City and Roma and proudly showing me the streets named after his ancestors and the businesses they had owned. And he pointed out the best place to grab a breakfast burrito! He was very proud of his Mexican heritage.
After 49 years of marriage, Roel lost his beloved wife Frances in 2014. He was devastated. I had known that Roel had been diagnosed with prostate cancer seemingly forever. I learned recently that more than 25 years ago, doctors had told Roel that he had less than a year to live. The man was a fighter. His body was ravaged by the disease and the medications. Toward the end, he rarely ate and lost a ton of weight. Before I visited in April, I spoke to him several times. As weak as he was, I could hear his smile through the phone lines. Still, he hung on. I learned days ago from his son Michael that Roel passed on August 23rd. I am sure that he was glad to see Frances again and I am sure that he is still smiling.
As I read his obituary (below), I cried. Sometimes it is difficult to know if we are crying tears of sadness or perhaps, tears of love.
The Monitor is a local Rio Grande Valley newspaper based in McAllen, TX where Roel spent the last years of his life.
McAllen, TX – Roel Roberto Ramirez, beloved husband, father, grandfather, and brother passed away on August 23, 2019, in McAllen, Texas, following a lengthy illness. He is survived by his children Michael Ramirez (Teresa), Cynthia Ramirez, and Daniel Ramirez (Edna), all of McAllen, Texas, as well six grandchildren, and his sister, Carmen R. Guerrero. He was preceded in death by his parents, Efren and Carmen Ramirez, brothers Dr. Mario E. Ramirez and Efren M. Ramirez, Jr., granddaughter Mari Carmen Ramirez, and his loving wife of 49 years, Frances Gabelich Ramirez. Roel was 76 years old.
Roel was part of one of the founding families of Roma, Texas. He graduated from Immaculate Conception School in Rio Grande City and Rio Grande City High School, then attended The University of Texas at Austin. Roel had a car while in Austin, and, on trips home to Roma, oftentimes would stop in San Antonio to pick up his cousin, Thalia Hinojosa (Munoz), who was studying nursing at Incarnate Word College. On one of these trips home, Thalia brought along her nursing school classmate, Frances. Roel was smitten with Frances and wooed her in one of the most romantic ways possible: by taking her to the Forty Acres to see a Longhorns football game. They became the love of each other's life and thereafter rarely were apart. They wed in 1964 and were together for the next 49 years until Frances' passing. One has to wonder what would have happened if Roel had not had that car in college.
Roel and Frances had a wonderful life together, filled with travel and adventure the world over. They shared a tremendous love for nature and the outdoors. Roel also was passionate about photography, and nature photography in particular. He loved to spend time at his Loma Blanca ranch in Starr County, where he built water features to attract wildlife, and blinds from which to view and photograph all of the birds and creatures that came to feed and drink. He converted a modest house on the property into what surely was Loma Blanca's first bed and breakfast, where he and Frances welcomed avid birders and photographers from all over the world who marveled at the rich biodiversity and beauty of South Texas.
The Ramirez family would like to express their sincerest thanks and gratitude to all of those who helped care for Roel during his illness, including Dr. Jesus Zavaleta & staff, Dr. Eliana Ochoa & staff, Dr. Paul Corn & staff, Dr. Benjamin West & staff, Dr. Billie Marek & staff, Agustin Cisneros, Rosie Garcia, Blanca Resendez Pruneda, Hospice Compassionate Care Service, and Father Roy Snipes. Thank you also to all of our friends and relatives for your kind words and thoughts and gestures.
In lieu of flowers, the Ramirez family suggests memorial contributions to the MD Anderson Cancer Center in Houston, Texas.
Memorial service will be at 10:00 a.m. Saturday, August 31, 2019, at Our Lady of Refuge (4 S. Eugene de Mazenod Avenue, Roma, TX 78584), with burial to follow at Queen of Peace Memorial Park Cemetery (US Hwy 83 and FM 649, Roma, TX). Pallbearers will be Miguel E. Ramirez and Pablo D. Ramirez. Honorary Pallbearers will be Cecilio Barrera, Manolo Barrera, Jaime Garcia, Cesar Gonzalez, and Luis Ramirez.
IPT Updates
The 2019 Fall Sandbar Secrets Fort DeSoto IPT/September 27-30, 2019: One-half and three FULL DAYS: $1499.00. Free Morning Session on Tuesday, October 1. Limit 6/Openings 5. Afternoon session on Friday, September 25 at 4pm, followed by three full days. We photograph till sunset on Monday, September 30
The Return to Bosque Reduced Rate Scouting IPT. NOV 26-28, 2019 — 3 FULL DAYS: $1199.00. Limit: 8/Openings: 6. Extra Day Options: Join me for one to three extra In-the-Field Days at the end of the IPT as follows: FRI 29 NOV, SAT 30 NOV, and SUN 1 DEC for only $300.00/day.
The 2020 San Diego 4 1/2-DAY BIRDS AS ART Instructional Photo-Tour (IPT) WED JAN 8, 2020 thru and including the morning session on SUN JAN 12: 4 1/2 days: $2099.(Limit: 8/Openings: 5)
Couples, IPT veterans, and folks wishing to sign up with a friend or with a partner are asked to contact me via e-mail
FlexShooter Pro Update
We currently have FlexShooter Pro heads in stock here. We have all but one of the BigFeet in stock (phone orders only for now: 863-692-0906) but are sold out of the new FLN-60 BigFoot that was recently re-designed for the Nikon 600 VR. Click here to access the pretty much complete FlexShooter Pro story with videos.
BIRDS AS ART
BIRDS AS ART is registered in the U.S. Patent and Trademark Office.
Selling Your Used Photo Gear Through BIRDS AS ART
Selling your used (or like-new) photo gear through the BAA Blog is a great idea. We charge only a 5% commission. One of the more popular used gear for sale sites charged a minimum of 20%. Plus assorted fees! Yikes. They went out of business. And e-Bay fees are now up to 13%. The minimum item price here is $500 (or less for a $25 fee). If you are interested please scroll down here or shoot us an e-mail with the words Items for Sale Info Request cut and pasted into the Subject line :). Stuff that is priced fairly — I offer pricing advice to those who agree to the terms — usually sells in no time flat. Over the past year, we have sold many dozens of items. Do know that prices on some items like the EOS-1D Mark IV, the old Canon 100-400, the old 500mm, the EOS-7D, and the 7D Mark II and the original 400mm DO lens have been dropping steadily. Most recently the price of used Canon 600mm f/L IS II lenses have been dropping like a rock with the introduction of the 600 III. You can always see the current listings by clicking here or on the Used Photo Gear tab on the orange-yellow menu bar near the top of each blog post page.
As used gear sales have slowed a bit in recent months — especially with dSLR bodies, there are lots of great buys right now on the Used Gear Page

Money Saving Reminder
If you need a hot photo item that is out of stock at B&H, would enjoy free overnight shipping, and would like a $50 discount on your first purchase, click here to order and enter the coupon code BIRDSASART at checkout. If you are looking to strike a deal on Canon or Nikon gear (including the big telephotos) or on a multiple item order, contact Steve Elkins via e-mail or on his cell at (479) 381-2592 (Eastern time) and be sure to mention your BIRDSASART coupon code and use it for your online order. Steve currently has several D850s in stock along with a Nikon 600mm f/4 VR. He is getting folks the hot new SONY stuff: the 200-600, the 600 f/4 GM, and the 7R iv. And the wait-list is short for the Nikon 500 P.
Gear Questions and Advice
Too many folks attending BAA IPTs and dozens of photographers whom I see in the field and on BPN, are–out of ignorance–using the wrong gear especially when it comes to tripods and more especially, tripod heads… Please know that I am always glad to answer your gear questions via e-mail. Those questions might deal with systems, camera bodies, accessories, and/or lens choices and decisions.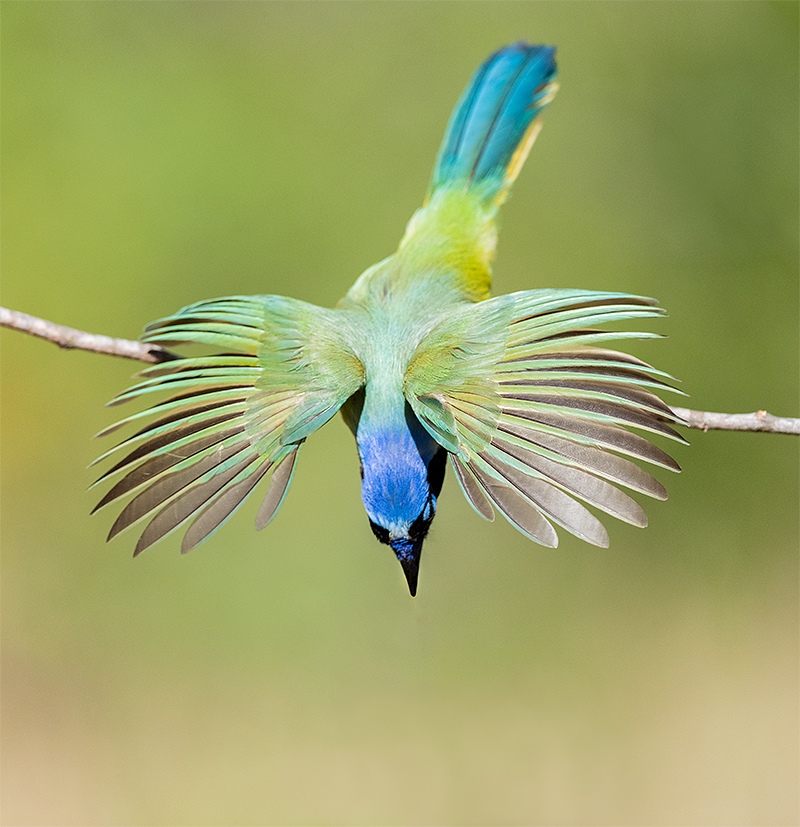 This image was created on the Roma, TX IPT by many-multiple IPT veteran Anita North on the morning of April 19, 2019. She used the Induro GIT 304L/FlexShooter Pro-mounted Nikon AF-S NIKKOR 600mm f/4G ED VR AF lens and her Nikon D850 ISO: 1000. Matrix metering at about zero: 1/8000 sec. at f/4.5 in Manual mode was perfect. NATURAL AUTO WB at 10:21am on a sunny morning.
One diagonally up and to the right of center Group (grp) Continous AF was active at the moment of exposure. Things worked out pretty well with the array centered on the jay's back.
Nikon Focus Peaking fine-tune value: -10. See the Nikon AF Fine-tune e-Guide here.
Green Jay reaching for orange
Image courtesy of and Copyright 2019: Anita North.
Your browser does not support iFrame.
The Merits of Blasting Away …
Many multiple IPT-participant and good friend Anita North likes to push the shutter button. On mornings when I have created five or six hundred images, I have seen Anita create two, three, four, or even five thousand photos. Her shooting strategy is simple: once you have acquired focus, press the shutter button and hold it down. I have tried unsuccessfully for years to get her to be more selective. Understandably, she has trouble keeping up with her editing (with picking her keepers). Several times on trips, her computer has gotten so full that it simply quit working.
That said, there are times — as with today's featured image — when her shooting strategy allows her to create some amazing images. I was next to her in the blind shooting too selectively … She has — in fact — inspired me to adopt a more aggressive shooting strategy and I have been shooting a lot more over the past few months.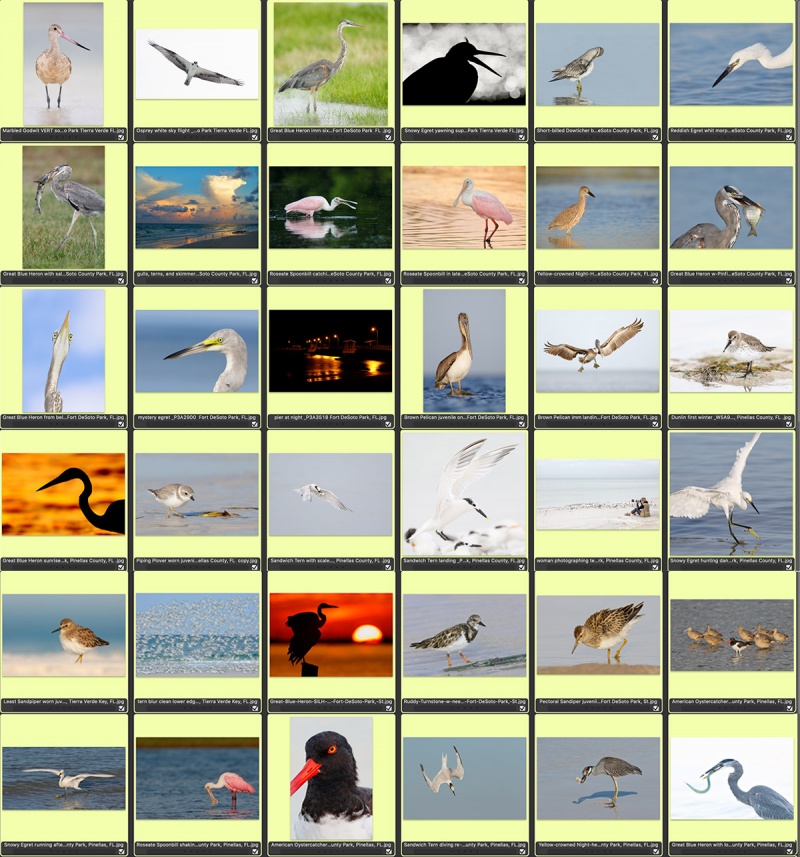 Fort DeSoto in fall is rife with tame birds. All of the images in this card were created at Fort DeSoto in either late September or very early October. I hope that you can join me there this September.
The 2019 Fall Sandbar Secrets Fort DeSoto IPT/September 27-30, 2019: One-half and three FULL DAYS: $1499.00. Limit 6/Openings 5.
Afternoon session on Friday September 25 at 4pm. That followed by three full days. We photograph till sunset on Monday, September 30 Added: a Free Morning Session on Tuesday October 1
Fort DeSoto, located just south of St. Petersburg, FL, is a mecca for migrant shorebirds and terns in fall. There they join hundreds of egrets, herons, night-herons, and gulls that winter on the T-shaped peninsula. With luck, we may get to photograph two of Florida's most desirable shorebird species: Marbled Godwit and Roseate Spoonbill. Black-bellied Plover and Willet are easy. Great Egret, Snowy Egret, Great Blue Heron, Tricolored Heron, and White Ibis are easy as well and we will almost surely come up with a tame Yellow-crowned Night-Heron or two along with some American Oystercatchers. We may very well get to see and photograph the amazing heron/egret hybrid that has been present for four years. We should get to do some Brown Pelican flight photography. In addition, Royal, Sandwich, Forster's, and Caspian Terns will likely provide us with some good flight opportunities as well. Though not guaranteed, Wood Stork might well be expected. And we will be on the lookout for a migrant passerine fallout in the event of a thunderstorm or two.
On the IPT you will learn:
1- The basics and fine points of digital exposure; how to get the right exposure every time after making a single test exposure.
2- How and why to work in Manual mode (even if you're scared of it).
3- How to approach free and wild birds without disturbing them.
4- Lots about bird behavior and how to use that knowledge to help you create better images.
5- To age and identify many species of shorebirds including sandpipers, plovers, dowitchers, and possibly yellowlegs.
6- To spot good situations and to choose the best perspective.
7- To see, evaluate, and understand the light.
8- To design pleasing images by mastering your camera's AF system.
9- And perhaps most importantly, to evaluate wind and sky conditions and understand how they affect bird photography.
10- How and when to access the magical sandbar safely.
11- More than you could ever imagine.
Morning sessions will run at least three to 3 1/2 hours, afternoon sessions 2 1/2 to 3 hours. There is never a set schedule on an IPT — we adapt to the conditions. There will be a Photoshop/image review session after lunch (included) each day. That will be followed by Instructor Nap Time. This IPT will run with only a single registrant (though that is not likely to happen). The best airport is Tampa (TPA). Once you register, you will receive an e-mail with the hotel information. Do know that it is always best if IPT folks stay in the same general area (rather than at home or at a friend's place a good distance away).
Folks attending this IPT will be out in the field early and stay late to take advantage of sunrise and sunset colors; this is pretty much a staple on almost all BIRDS AS ART Instructional Photo-Tours. Doing so will often present unique photographic opportunities, opportunities that will be missed by those who need their beauty rest and those who need to get home for a proper dinner. I really love it when I am leaving the beach at 9:30am on a sunny morning after a great session just as a carful or two of well-rested photographers are arriving …
Payment in full is due now. Credit cards are OK for your $500 deposit. You can register by calling Jim or Jennifer during weekday business hours at 863-692-0906 with a credit card in hand. If you leave a deposit you will receive an e-mail with your balance statement and instructions for sending your balance check. If you wish to pay in full right off the bat, you can make your check out to BIRDS AS ART and send it via US mail here: BIRDS AS ART, PO BOX 7245, Indian Lake Estates, FL 33855. You will receive a confirmation e-mail with detailed instructions, and clothing and gear advice in mid-August. Please remember that we will meet early on Saturday morning. Please shoot me an e-mail if you plan to register or if you have any questions.
If In Doubt …
If in doubt about using the BAA B&H affiliate link correctly, you can always start your search by clicking here. Please note that the tracking is invisible. Web orders only. Please, however, remember to shoot me your receipt via e-mail.
Please Remember to use my Affiliate Links and to Visit the BAA Online Store 🙂
To show your appreciation for my continuing efforts here, we ask, as always, that you get in the habit of using my B&H affiliate links on the right side of the blog for all of your photo and electronics purchases. Please check the availability of all photographic accessories in the New BIRDS AS ART Online Store, especially the Mongoose M3.6 tripod head, Wimberley lens plates, Delkin flash cards and accessories, and LensCoat stuff.
As always, we sell only what I have used, have tested, and can depend on. We will not sell you junk. We know what you need to make creating great images easy and fun. And please remember that I am always glad to answer your gear questions via e-mail.
I would, of course, appreciate your using our B&H affiliate links for all of your major gear, video, and electronic purchases. For the photographic stuff mentioned in the paragraph above, and for everything else in the new store, we, meaning BAA, would of course greatly appreciate your business. Here is a huge thank you to the many who have been using our links on a regular basis and those who will be visiting the New BIRDS AS ART Online Store as well.
Facebook
Be sure to like and follow BAA on Facebook by clicking on the logo link upper right.
Typos
In all blog posts and Bulletins, feel free to e-mail or to leave a comment regarding any typos or errors. Just be right :).