What's Up?
Congrats to New Orleans Saints quarterback Drew Brees and place-kicker Will Lutz. I have always rooted for the Saints and especially for Brees. He and the rest of the Saints stunk in the first half of the Monday Night Football game against the Houston Texans. They went ahead in the second half and when Lutz kicked a 46-yard field goal with 50 seconds left, it looked as if the game were in the bag as they were up by six points. But Houston QB Deshaun Watson marched them down the field on a two-play, 75-yard drive that ended with a 37-yard touchdown pass to receiver Kenny Stills (who was originally drafted by New Orleans). All looked lost but the Texans kicker pushed the extra point wide and the game was tied. But New Orleans was called for roughing the kicker. Game over. Or not?
Because the Texans scored so quickly, the Saints got the ball back with 37 seconds left and very slim hopes. Brees completed two passes to get close to field goal range and with six seconds left, completed a short pass to the Texans' 41-yard line. Lutz, who had missed a 56-yard field goal at the very end of the first half, came out to try a 58-yarder. He pounded it straight through the uprights with lots of room to spare as the Saints won the game in miraculous fashion.
It was Lutz's longest ever successful field goal. If you wrote this as a script for a Hollywood movie, nobody would believe it. You can check it out on Sports Center.
Which?
Which of George Golumbeski's two featured images do you like best? Scroll down to view and let us know why.
BIRDS AS ART
BIRDS AS ART is registered in the U.S. Patent and Trademark Office.
Selling Your Used Photo Gear Through BIRDS AS ART
Selling your used (or like-new) photo gear through the BAA Blog is a great idea. We charge only a 5% commission. One of the more popular used gear for sale sites charged a minimum of 20%. Plus assorted fees! Yikes. They went out of business. And e-Bay fees are now up to 13%. The minimum item price here is $500 (or less for a $25 fee). If you are interested please scroll down here or shoot us an e-mail with the words Items for Sale Info Request cut and pasted into the Subject line :). Stuff that is priced fairly — I offer pricing advice to those who agree to the terms — usually sells in no time flat. Over the past year, we have sold many dozens of items. Do know that prices on some items like the EOS-1D Mark IV, the old Canon 100-400, the old 500mm, the EOS-7D, and the 7D Mark II and the original 400mm DO lens have been dropping steadily. Most recently the price of used Canon 600mm f/L IS II lenses have been dropping like a rock since the introduction of the 600 III. You can always see the current listings by clicking here or on the Used Photo Gear tab on the orange-yellow menu bar near the top of each blog post page.
As used gear sales have slowed a bit in recent months — especially with dSLR bodies, there are lots of great buys right now on the Used Gear Page
Canon 600mm f/4L IS USM III Lens (with extras!)
Sale pending first day of listing
Multiple IPT veteran George Golumbeski is offering a Canon 600mm f/4L IS III lens in near-mint condition (with extras) for an amazingly low $11,299.00. The sale includes the a Digital Camo Lenscoat Cover, a 4th Generation Designs replacement low foot, a Don Zeck front lens cap, the rear lens cap, the original lens foot, the heavy-duty Canon front lens cover, the Canon LS600 Soft Case/backpack (no more lens trunks), the original product box, and insured ground shipping via UPS to US lower-48 addresses only. Your item will not ship until your check clears unless other arrangements are made.
Please contact George via e-mail or by phone at 1-973-216-3832 (Eastern time zone).
The 600 III is the latest Canon version of my favorite weapon of mass destruction for bird photography. With its super balance, light weight, incredible sharpness, and a five-stop Image Stabilization system, the 600 III is a technological marvel. The lens tips the scale at a relatively svelte 6.71 lb — about one ounce heavier than the SONY 600mm f/4GM OSS lens. It is a fraction under two pounds lighter than the 600 II. Thus, it is eminently hand-holdable for many folks. You can save a neat $1700.00 by being the one to grab George's pretty much new lens. Did I mention that unlike me, George is fastidious when it comes to caring for his gear? As you can see by viewing George's images below, the lens is super-sharp with either TC, one of the great advantages of Canon over Nikon … artie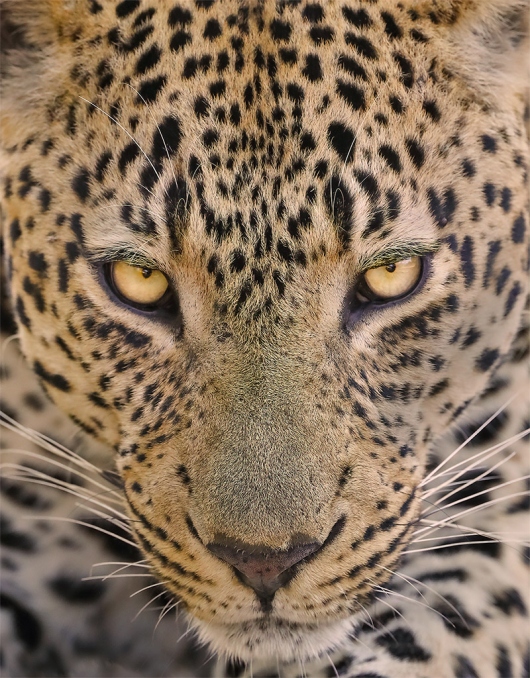 This image was created somewhere in South Africa by many multiple IPT veteran George Golumbeski. For this one he use the handheld Canon EF 600mm f/4L IS III USM lens with the Canon Extender EF 1.4X III and the Canon EOS-1D X Mark II dSLR. ISO: 3200: 1/1000 sec. at f/7.1.
Image #1: Head protrait of free and wild male Leopard

Image courtesy of and copyright 2019: George Golumbeski. Click on the image to enjoy a larger version.
Your browser does not support iFrame.
The Head-On Stare
Pressing the shutter button when an animal or a bird is looking right down the lens barrel will almost always produce an interesting, powerful image. Note that while handholding, George went to ISO 3200 to allow for a fast shutter speed. Note also that while working at point-blank range, he (properly) stopped down from f/5.6 to f/7.1 for a bit of extra depth-of-field.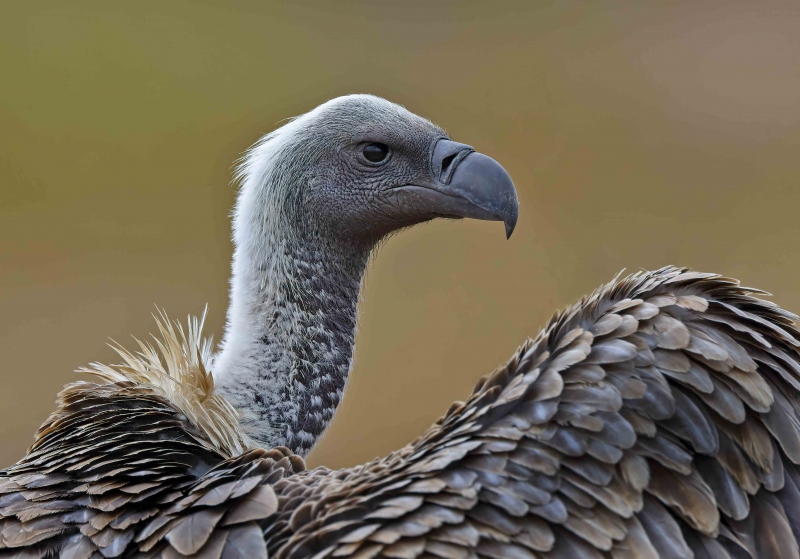 This image was also created somewhere in South Africa by many multiple IPT veteran George Golumbeski. For this one he use the tripod-mounted Canon EF 600mm f/4L IS III USM lens with the Canon Extender EF 2X III and the Canon EOS-1D X Mark II dSLR. ISO: 1000: 1/500 sec. at f/9.
Image #2: White-backed Vulture head portrait

Image courtesy of and copyright 2019: George Golumbeski. Click on the image to enjoy a larger version.
Your browser does not support iFrame.
1200mm Sharpness!
Note the incredible sharpness and fine feather and skin detail on the vulture's face and neck. Working at 1200mm with Canon is a complete pleasure and the results absolutely kill the images made with the Nikon 600 VR and the TC-E20.
Head Angle
Regular readers and the folks in the Avian Forum on Bird Photographers.Net know that I am always quite concerned about head angle. Some folks think that I am too concerned about it. On BPN, I am known as el capitán de la policía de ángulo de cabeza, captain of the head angle police. Having attended several IPTs, George has mastered the head angle principles. With this vulture image, note that the bird's head is turned two degrees toward us. That is perfect for a side portrait as it places the tip of the bill and the same plane as the eye.
On a final note do understand that the perfect head angle varies depending on the position of the bird and the orientation of the subject to the back of the camera. Hey, I think that I will do a Head Angle Primer blog post …
If In Doubt …
If in doubt about using the BAA B&H affiliate link correctly, you can always start your search by clicking here. Please note that the tracking is invisible. Web orders only. Please, however, remember to shoot me your receipt via e-mail.
Please Remember to use my Affiliate Links and to Visit the BAA Online Store 🙂
To show your appreciation for my continuing efforts here, we ask, as always, that you get in the habit of using my B&H affiliate links on the right side of the blog for all of your photo and electronics purchases. Please check the availability of all photographic accessories in the New BIRDS AS ART Online Store, especially the Mongoose M3.6 tripod head, Wimberley lens plates, Delkin flash cards and accessories, and LensCoat stuff.
As always, we sell only what I have used, have tested, and can depend on. We will not sell you junk. We know what you need to make creating great images easy and fun. And please remember that I am always glad to answer your gear questions via e-mail.
I would, of course, appreciate your using our B&H affiliate links for all of your major gear, video, and electronic purchases. For the photographic stuff mentioned in the paragraph above, and for everything else in the new store, we, meaning BAA, would of course greatly appreciate your business. Here is a huge thank you to the many who have been using our links on a regular basis and those who will be visiting the New BIRDS AS ART Online Store as well.
Facebook
Be sure to like and follow BAA on Facebook by clicking on the logo link upper right.
Typos
In all blog posts and Bulletins, feel free to e-mail or to leave a comment regarding any typos or errors. Just be right :).