What's Up?
What a good feeling to have finished getting together all the bricks needed to complete my 2018 tax return; we sent the finished worksheets and all the payroll and interest printouts to my accountant in St. Pete. He should be done in about a week to ten days.
I was glad to learn of the recent sale of Don Carter's Canon 100-400 II and to learn that the sale of George Golumbeski's Canon 600 II became pending immediately after it was listed.
IPT News!
I learned last week that Mary van Deusen and her friend Patti Romano will be driving down from South Carolina to join UK Puffins and Gannets veteran Shonagh Adelman on the 2019 Fall Sandbar Secrets Fort DeSoto IPT at the end of this month. Then things got even better when DeSoto IPT veteran Jim Miller e-mailed letting me know that he would also be joining us. Everyone is excited. There are still two spots left on this great workshop.
IPT Updates
The 2019 Fall Sandbar Secrets Fort DeSoto IPT/September 27-30, 2019: One-half and three FULL DAYS: $1499.00. Free Morning Session on Tuesday, October 1. Limit 6/Openings 2. Afternoon session on Friday, September 25 at 4pm, followed by three full days. We photograph till sunset on Monday, September 30
The Return to Bosque Reduced Rate Scouting IPT. NOV 26-28, 2019 — 3 FULL DAYS: $1199.00. Limit: 8/Openings: 6. Extra Day Options: Join me for one to three extra In-the-Field Days at the end of the IPT as follows: FRI 29 NOV, SAT 30 NOV, and SUN 1 DEC for only $300.00/day.
The 2020 San Diego 4 1/2-DAY BIRDS AS ART Instructional Photo-Tour (IPT) WED JAN 8, 2020 thru and including the morning session on SUN JAN 12: 4 1/2 days: $2099.(Limit: 8/Openings: 5)

Money Saving Reminder
If you need a hot photo item that is out of stock at B&H, would enjoy free overnight shipping, and would like a $50 discount on your first purchase, click here to order and enter the coupon code BIRDSASART at checkout. If you are looking to strike a deal on Canon or Nikon gear (including the big telephotos) or on a multiple item order, contact Steve Elkins via e-mail or on his cell at (479) 381-2592 (Eastern time) and be sure to mention your BIRDSASART coupon code and use it for your online order. Steve currently has several D850s in stock along with a Nikon 600mm f/4 VR. He is getting folks the hot new SONY stuff: the 200-600, the 600 f/4 GM, and the 7R iv. And the wait-list is short for the Nikon 500 P.
Gear Questions and Advice
Too many folks attending BAA IPTs and dozens of photographers whom I see in the field and on BPN, are–out of ignorance–using the wrong gear especially when it comes to tripods and more especially, tripod heads… Please know that I am always glad to answer your gear questions via e-mail. Those questions might deal with systems, camera bodies, accessories, and/or lens choices and decisions.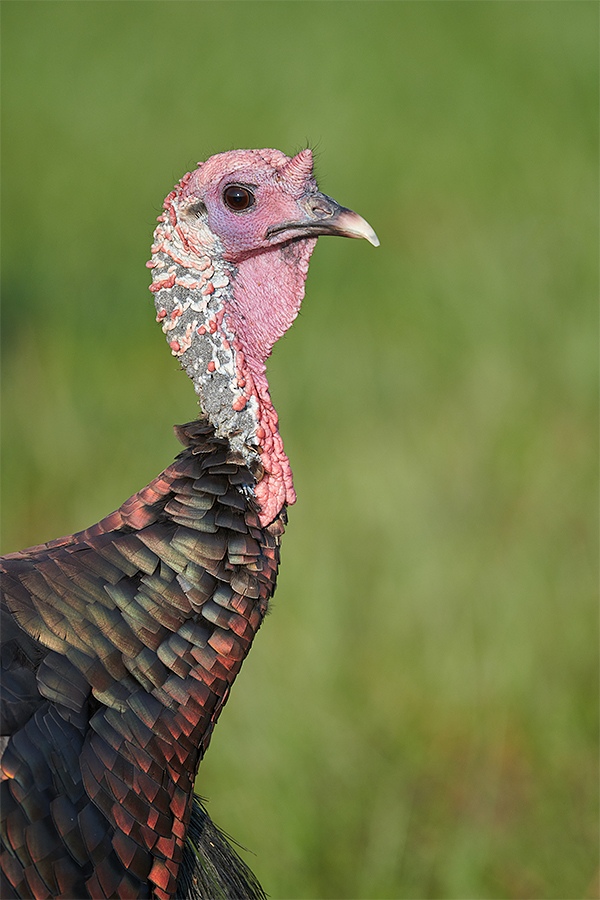 This image was created on the morning of September 6, 2019, at Indian Lake Estates. I used the handheld Nikon AF-S NIKKOR 500mm f/5.6E PF ED VR lens and my souped-up Nikon D850 Auto ISO: 800. Matrix metering plus about 1/3 stop: 1/2500 sec. at f/5.6 in Manual mode was perfect. Natural AUTO1 at 7:41am on a dead-clear morning.
Two up from the center d-25 Continous AF was active at the moment of exposure. The selected AF point was on the pink wattle.
Nikon Focus Peaking fine-tune value: +4. See the Nikon AF Fine-tune e-Guide here.
Wild Turkey — tight vertical portrait of a young tom
Click on the image to enjoy a larger version.
Your browser does not support iFrame.
Your browser does not support iFrame.
500 PF Young Tom Magic
I have been seeing lots of young Wild Turkeys on my morning walks in recent weeks. Most spend time foraging in the North Field that abuts the shore of Lake Walk-in-Water. I only rarely try to photograph them. But last week there was a large group there and the wind was from the northeast. I figure that if I approached them from the north that I might have a chance for a flight shot or two so I grabbed the 500 PF and left the 600 VR on the front passenger seat. As I approached the feeding flock they would move south and then north and then back again. Many species of birds were chowing down on last week's huge mayfly hatch.
As I continued my approach, I noted that the flock was staying tight together and that they were relatively tame — at times I was too close to create horizontal portraits. After making a few of those, I thought that I might have a chance to create a nice vertical head and shoulders portrait of one of the two young males. On my first few attempts, I clipped the bottoms of the beards. The challenge was to get closer to the birds to avoid that so I continued slowly zigging and zagging left and right and forward. Today's featured image was my favorite. Note the perfect head turn, about 2-3 degrees toward us.
This image is un-cropped and totally unexpurgated. I did the RAW conversion in Capture One, brought the TIFF into Photoshop, named and saved the master file, and then created the 1200 pixel wide JPEG for today's blog post. I cannot remember the last time that I did absolutely nothing to an image in Photoshop …
When I began approaching the flock I never thought that I would get close enough to create a vertical front-end portrait …
AF Tip
Pretty much all modern dSLRs and mirrorless camera bodies allow you to set one AF point and mode for horizontals, and a different AF point and mode for verticals. This is a fabulous feature that everyone should know how to set and use. For my vertical shooting, I select a small array of AF points and place it well above center. As long as you have the horizontal/vertical orientation menu item enabled, the camera will remember it.
If I am shooting horizontals, I usually am using a center AF point or small array or one above center. I will often move the point or array that I have set to attain my desired composition. When I need to shoot verticals, all that I have to do is turn the camera on end. The camera will remember the AF point and mode that I have set and in most cases, I am ready to go to work instantly without having to make major changes in the AF point and mode. Depending on how close I am to the subject and the size of the bird in the frame I might move the selected AF point a notch or two up or down or right or left. With Nikon, I like d-25 as the wider spread allows me some compositional freedom in moving the bird left or right (or even up or down a bit) in the frame. To learn to set this menu item see our available Camera Users eGuide here. I am still working on the Nikon D850 Users Guide.
Indian Lake Estates is just one of the great, little-known photography hotspots covered in the BAA Middle of Florida Photographic Site Guide. While ILE is at its very best in late winter and early spring, it is pretty darned good right now for turkey and Osprey and the Sandhill Cranes are always easy here regardless of the season.
Your Call?
You are invited to leave a comment letting us know what you like or dislike about today's featured image.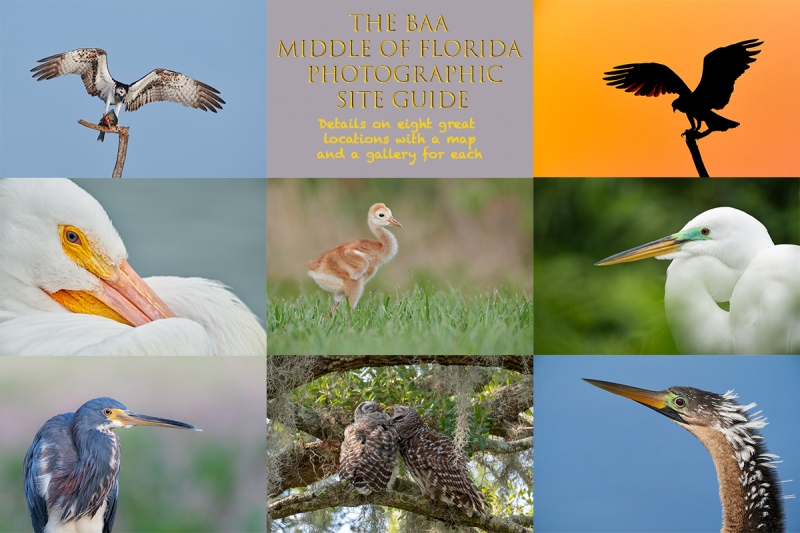 The BAA Middle of Florida Photographic Site Guide
You can purchase your copy here in the BAA Online Store.
The BAA Middle of Florida Photographic Site Guide
126 pages, 87 photographs by Joe Przybyla and Arthur Morris.
The PDF for this e-Guide is an electronic download sent via e-mail.
Purchase your copy here in the BAA Online Store.
I had thought about doing a guide to some of the great but little-known photo hotspots around central Florida for about a decade, but those plans never came to fruition. I met Joe online in the Avian Forum at BirdPhotographer's.Net about two years ago. Joe's photography has improved tremendously over the past few years; he credits the BAA blog, my books and PDFs, and his participation on BPN. The one thing that I learned right from the get-go about Joe is that he is a hard and tenacious worker, always striving to improve his skills and to grow his knowledge base. As he knew of more than a few good spots in central Florida, I broached the idea of us doing a photographic site guide that covered many of the little-known photographic hotspots from Brandon to Lakeland to Joe Overstreet Road to Indian Lake Estates (my Florida home for the past 20 years or so). After more than many, many dozens of hours of effort, The BIRDS AS ART Middle of Florida Photographic Site Guide is now a reality. Thanks to Joe's wife Dottie for her review of our writing. We all learned once again that writing is a process, a back and forth process. All thanks to the white pelicans of Lakeland. Here are the locations that are detailed in this e-Guide:
Indian Lake Estates: Sandhills Cranes with chicks and colts, lots of vultures, and Ospreys up the kazoo!
Gatorland, Kissimmee: Learn to make great images of wading birds in a cluttered rookery.
The Brandon Rookery: Great for nesting Wood Storks, Great Egrets, and more.
Circle Bar B Reserve, Lakeland: Here you will find a great variety of avian subjects in a great variety of habitats.
Lake Morton, Lakeland: There are lots of silly tame birds here including and especially American White Pelican during the colder months.
Lake Mirror, Lakeland: Tame Anhingas, Limpkins, and a zillion White Ibises at times.
West Lake Parker, Lakeland: Here you will have a chance for two difficult birds, Snail Kite, and Purple Gallinule.
Joe Overstreet Road, Kenansville: Crested Caracara, meadowlarks, Loggerhead Shrike, and much more on the fenceposts and barbed wire.
Each location includes a map, a detailed description of the best spots, best season, light and time of day instructions, the expected species, and an educational and inspirational gallery that is designed to open your eyes as to the possibilities.
You can purchase a copy here in the BAA Online Store.
BIRDS AS ART
BIRDS AS ART is registered in the U.S. Patent and Trademark Office.
If In Doubt …
If you are in doubt about using the BAA B&H affiliate link correctly, you can always start your search by clicking here. Please note that the tracking is invisible. Web orders only. Please, however, remember to shoot me your receipt via e-mail.
Please Remember to use my Affiliate Links and to Visit the BAA Online Store 🙂
To show your appreciation for my continuing efforts here, we ask, as always, that you get in the habit of using my B&H affiliate links on the right side of the blog or Bedfords, for all of your photo and electronics purchases. Please check the availability of all photographic accessories in the New BIRDS AS ART Online Store, especially the Mongoose M3.6 tripod head, Wimberley lens plates, Delkin flash cards and accessories, and LensCoat stuff.
As always, we sell only what I have used, have tested, and can depend on. We will not sell you junk. We know what you need to make creating great images easy and fun. And please remember that I am always glad to answer your gear questions via e-mail.
I would, of course, appreciate your using our B&H affiliate links or Bedfords for all of your major gear, video, and electronic purchases. For the photographic stuff mentioned in the paragraph above, and for everything else in the new store, we, meaning BAA, would of course greatly appreciate your business. Here is a huge thank you to the many who have been using our links on a regular basis and those who will be visiting the New BIRDS AS ART Online Store as well.
Facebook
Be sure to like and follow BAA on Facebook by clicking on the logo link upper right.
Typos
In all blog posts and Bulletins, feel free to e-mail or to leave a comment regarding any typos or errors. Just be right :).