What's Up?
I have actually been a bit chilly on my 5pm swims, a pleasant change from a month ago. I spent a good deal of time working on the new galleries. I went through about 11,000 slide show JPEGs one at a time. This afternoon I will work on categorizing them.
IPT News!
I learned two weeks ago that Mary van Deusen and her friend Patti Romano will be driving down from South Carolina to join UK Puffins and Gannets veteran Shonagh Adelman on the 2019 Fall Sandbar Secrets Fort DeSoto IPT at the end of this month. Then things got even better when DeSoto IPT veteran Jim Miller e-mailed letting me know that he would also be joining us. Everyone is excited. There are still two spots left on this great workshop, but you'll need to act quickly. Please e-mail for late-registration discount info.
IPT Updates
The 2019 Fall Sandbar Secrets Fort DeSoto IPT/September 27-30, 2019: One-half and three FULL DAYS: $1499.00. Free Morning Session on Tuesday, October 1. Limit 6/Openings 2. Afternoon session on Friday, September 25 at 4pm, followed by three full days. We photograph till sunset on Monday, September 30
The Return to Bosque Reduced Rate Scouting IPT. NOV 26-28, 2019 — 3 FULL DAYS: $1199.00. Limit: 8/Openings: 6. Extra Day Options: Join me for one to three extra In-the-Field Days at the end of the IPT as follows: FRI 29 NOV, SAT 30 NOV, and SUN 1 DEC for only $300.00/day.
The 2020 San Diego 4 1/2-DAY BIRDS AS ART Instructional Photo-Tour (IPT) WED JAN 8, 2020 thru and including the morning session on SUN JAN 12: 4 1/2 days: $2099.(Limit: 8/Openings: 5)

FlexShooter Pro News
All FlexShooter Pro BigFeet are now in stock in the BAA Online Store. You can click on the chart above or here for more information.
Coming Soon
The FlexShooter Mini
Several months ago I had a FlexShooter Mini to test on both the UK Puffins and Gannets IPT and the Galapagos Photo-Cruise of a Lifetime. It is a smaller, lighter (one pound!) version of the amazing FlexShooter Pro. I used it often with both the Nikon 500 PF and the SONY 100-400 GM with great success and in a pinch, I was able to make sharper images with the Nikon 600 and the TC-E14. All with the Mini mounted on the lighter Induro GIT 204. I suggested to developer/manufacturer Csaba Karai that the Mini needed a bit more spring tension. A new batch with my suggested changes should be in stock in about two weeks.
The FlexShooter Mini with the lighter Induro GIT 204 is dead-solid-perfect for those whose intermediate telephoto or telephoto zoom is their workhorse lens for bird and nature photography. It will sell for $579 plus shipping. Folks who wish to be assured of getting one from our first shipment can order theirs by phone by calling Jim at 863-692-0906 asap. Your card will not be charged until your Mini is shipped. We already have five orders to ship from our first shipment.
FlexShooter Pro Update
We currently have only four FlexShooter Pro heads in stock here. We have all but one of the BigFeet in stock (phone orders only for now: 863-692-0906) but are sold out of the new FLN-60 BigFoot that was recently re-designed for the Nikon 600 VR. Click here to access the pretty much complete FlexShooter Pro story with videos.

Money Saving Reminder
If you need a hot photo item that is out of stock at B&H, would enjoy free overnight shipping, and would like a $50 discount on your first purchase, click here to order and enter the coupon code BIRDSASART at checkout. If you are looking to strike a deal on Canon or Nikon gear (including the big telephotos) or on a multiple item order, contact Steve Elkins via e-mail or on his cell at (479) 381-2592 (Eastern time) and be sure to mention your BIRDSASART coupon code and use it for your online order. Steve currently has several D850s in stock along with a Nikon 600mm f/4 VR. He is getting folks the hot new SONY stuff: the 200-600, the 600 f/4 GM, and the 7R iv. And the wait-list is short for the Nikon 500 P.
Gear Questions and Advice
Too many folks attending BAA IPTs and dozens of photographers whom I see in the field and on BPN, are–out of ignorance–using the wrong gear especially when it comes to tripods and more especially, tripod heads… Please know that I am always glad to answer your gear questions via e-mail. Those questions might deal with systems, camera bodies, accessories, and/or lens choices and decisions.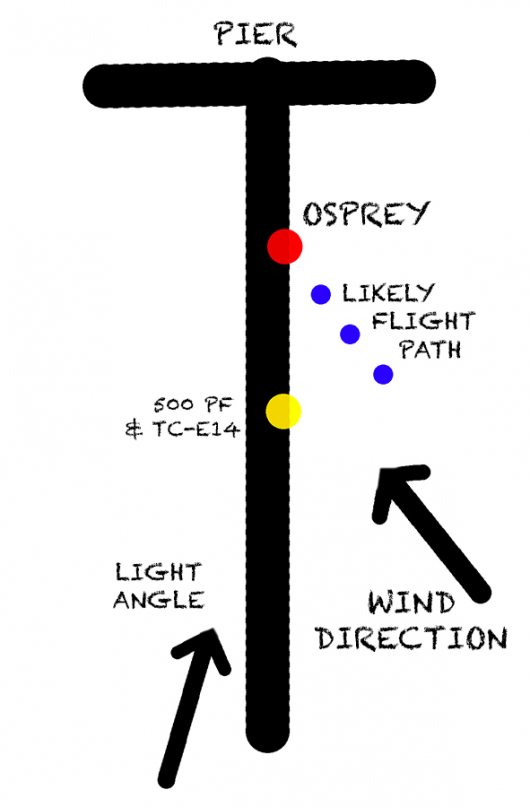 Wind and light angle directions
Wind and Light Angle Directions
Most of the time, birds will take off into the wind. Understanding this simple principle and noting the direction of the light (aka sun angle), can help you predict bird behavior and maximize photo opportunities. In the diagram above, the red dot is the Osprey sitting on the railing of the pier. I facing west, walking on the pier approaching the bird. The wind if from the northeast and the light from the east/northeast. The blue dots indicate the likely path of the bird in flight.
Now here's the best part: once you understand these principles you can predict what will happen while parking your car in the lot at the base of the pier. That's exactly what prompted me to take my lens out on the pier. If the wind had been from the west or northwest, I would have given up on photography and taken by binoculars instead. The very best way to master these principles is to join an IPT. Both the DeSoto and the Bosque IPT should offer lots of flight photography opportunities.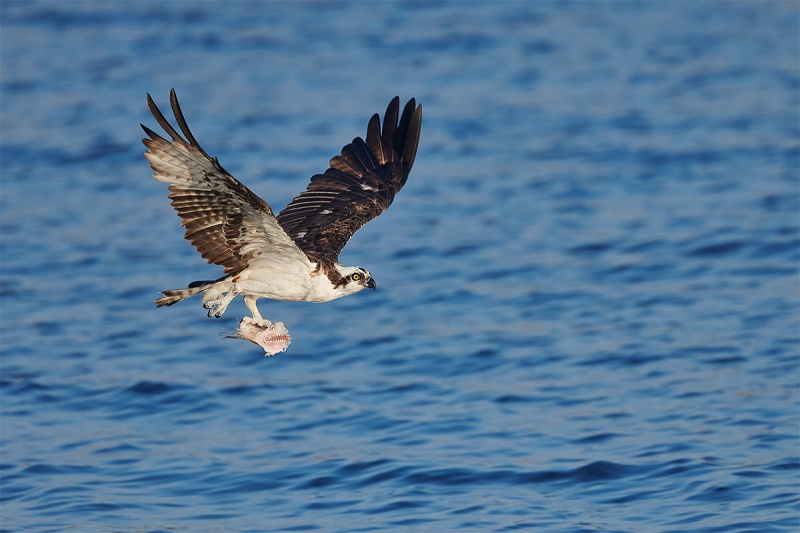 This image was created on the morning of September 11, 2019 down by the lake near my home at ILE. I used the handheld Nikon AF-S NIKKOR 500mm f/5.6E PF ED VR lens, the Nikon AF-S Teleconverter TC-14E III, and my souped-up Nikon D850 ISO: 800. Matrix metering plus about 2/3 stop as originally framed: 1/2000 sec. at f/9 in Manual mode. (32% of the original pixels were cropped away from the left and below.) Natural light AUTO WB at 8:06am on an slightly overcast morning.
Center Group (grp) Continous AF was active at the moment of exposure as originally framed. The upper point of the array was on the bird's eye.
Nikon Focus Peaking fine-tune value: +1. See the Nikon AF Fine-tune e-Guide here.
Osprey in flight with half-eaten fish
Click on the image to enjoy a larger version.
Your browser does not support iFrame.
Your browser does not support iFrame.
The 500 PF/TC-E14/D850 Combo for Flight
Is the 500 PF/TC-E14/D850 combo fabulous for flight photography? No, not by a long shot. Initial focusing acquisition is slowed by working with the 1.4X teleconverter at a maximum aperture of f/8. Is it possible to create quality flight images with the 500 PF/TC-E14/D850? Absolutely yes. Pre-focusing manually will improve things greatly as it did in the situation outlined above. I focused manually on the bird on the railing, anticipated its flight path (based on the wind direction), and walked slowly toward the bird making sure to keep as far right as possible. Once the bird took flight, I was right on it and created a series of five sharp images. Today's featured image had a very good wing position and the bird was right on sun angle.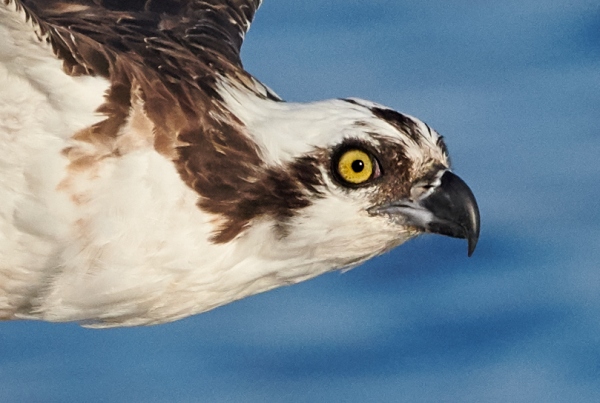 An Unsharpened 100% crop of Osprey in flight with half-eaten fish
500 PF/TC-E14/D850 Flight Sharpness
For me, the sharpness of this combo for flight photography is just fine. See the next image for another example.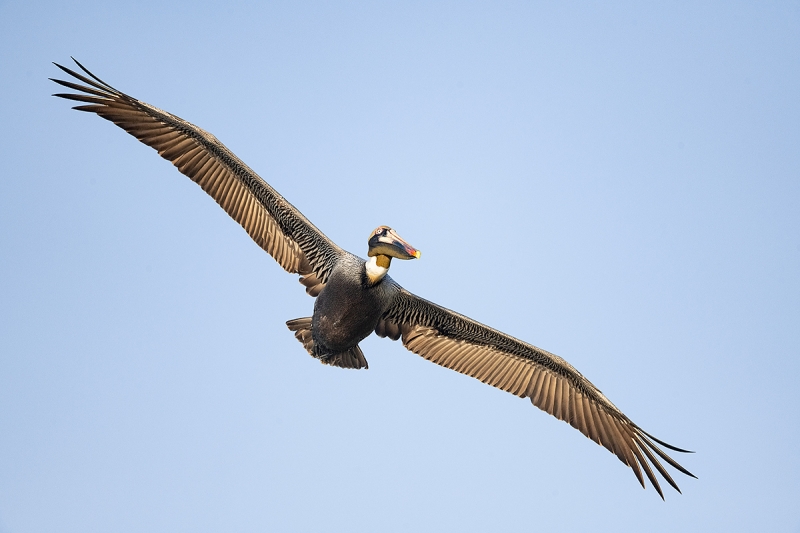 This image was created on the third afternoon of the Spoonbill Boat IPT. I used the handheld Nikon AF-S NIKKOR 500mm f/5.6E PF ED VR lens, the Nikon AF-S Teleconverter TC-14E III, and my souped-up Nikon D850. ISO 800. Matrix metering plus 1/3 stop off the sky: 1/2500 sec. at f/8 was more than a stop under-exposed. (Even though the skies were clear, it was late in the day; the light was very soft and, in addition, it was a bit hazy.) NATURAL AUTO WB at 5:27pm on a clear afternoon.
Nikon Focus Peaking fine-tune value: 0. See the Nikon AF Fine-tune e-Guide here.
Center Group (grp)/Continuous (C in Nikon/AI Servo with Canon) AF was active at the moment of exposure. The array was centered on the bird's face; good on me. This image is perfectly sharp on the eye.
Brown Pelican — forward-facing/turning left flight pose
Click on the image to see a larger inexplicably sharper version.
Your browser does not support iFrame.
Your browser does not support iFrame.
500 PF/700mm Flying Brown Pelican Image
Above is another example of a quality flight image made with the 500PF at 700mm with the D850. It was featured in the blog post here.
BIRDS AS ART
BIRDS AS ART is registered in the U.S. Patent and Trademark Office.
If In Doubt …
If you are in doubt about using the BAA B&H affiliate link correctly, you can always start your search by clicking here. Please note that the tracking is invisible. Web orders only. Please, however, remember to shoot me your receipt via e-mail.
Please Remember to use my Affiliate Links and to Visit the BAA Online Store 🙂
To show your appreciation for my continuing efforts here, we ask, as always, that you get in the habit of using my B&H affiliate links on the right side of the blog or Bedfords, for all of your photo and electronics purchases. Please check the availability of all photographic accessories in the New BIRDS AS ART Online Store, especially the Mongoose M3.6 tripod head, Wimberley lens plates, Delkin flash cards and accessories, and LensCoat stuff.
As always, we sell only what I have used, have tested, and can depend on. We will not sell you junk. We know what you need to make creating great images easy and fun. And please remember that I am always glad to answer your gear questions via e-mail.
I would, of course, appreciate your using our B&H affiliate links or Bedfords for all of your major gear, video, and electronic purchases. For the photographic stuff mentioned in the paragraph above, and for everything else in the new store, we, meaning BAA, would of course greatly appreciate your business. Here is a huge thank you to the many who have been using our links on a regular basis and those who will be visiting the New BIRDS AS ART Online Store as well.
Facebook
Be sure to like and follow BAA on Facebook by clicking on the logo link upper right.
Typos
In all blog posts and Bulletins, feel free to e-mail or to leave a comment regarding any typos or errors. Just be right :).