What's Up
I spent the last two mornings photographing down by the lake with my brand new SONY 600mm f/4GM OSS lens and a SONY a7R iv., most often with the 1.4X teleconverter. For a variety of reasons that I shall expound upon in more detail in future blog posts, I am moth-balling my Nikon stuff for the next few months to give SONY a fair chance. When the trial period is over I shall decide whether I will stick with SONY or go back to Nikon … Either way, there will be some great buys on quality used gear.
Hate e-mails and correspondences detailing your displeasure with the development above should be sent to idontgivearatsass.net. Be sure to cut and paste the address onto the "To:" line.
This weekend, I got a lot more done on the new galleries. And the pool is now down about five degrees! Fall is coming.
Your Favorite?
All are invited to leave a comment and let us know which of today's three featured images you like best. And why.
Selling Your Used Photo Gear Through BIRDS AS ART
Selling your used (or like-new) photo gear through the BAA Blog is a great idea. We charge only a 5% commission. One of the more popular used gear for sale sites charged a minimum of 20%. Plus assorted fees! Yikes. They went out of business. And e-Bay fees are now up to 13%. The minimum item price here is $500 (or less for a $25 fee). If you are interested please scroll down here or shoot us an e-mail with the words Items for Sale Info Request cut and pasted into the Subject line :). Stuff that is priced fairly — I offer pricing advice to those who agree to the terms — usually sells in no time flat. Over the past year, we have sold many dozens of items. Do know that prices on some items like the EOS-1D Mark IV, the old Canon 100-400, the old 500mm, the EOS-7D, and the 7D Mark II and the original 400mm DO lens have been dropping steadily. Most recently the price of used Canon 600mm f/L IS II lenses have been dropping like a rock with the introduction of the 600 III. You can always see the current listings by clicking here or on the Used Photo Gear tab on the orange-yellow menu bar near the top of each blog post page.
As used gear sales have slowed a bit in recent months — especially with dSLR bodies, there are lots of great buys right now on the Used Gear Page
Canon Macro EF 180mm f/3.5L USM Macro Lens
My Favorite Canon frog lens!
BAA Record-low Price
Long-time friend Alan Levine — Alan and Sara knew Elaine! — are offering a Canon Macro EF 180mm f/3.5L USM Macro lens in like-new condition for the BAA record-low price of $799.00. The sale includes the front and rear lens cap, the tripod collar, the original box, the tough fabric carrying case, the lens hood (ET-78), and insured ground shipping via major courier to lower 48 US addresses only. Photos are available upon request. Your item will not ship until your check clears unless other arrangements are made.
Please contact Alan via e-mail.
The Canon 180 Macro was my mainstay macro lens for more than a decade. I love the extra reach that it provides over the various 100mm macro lenses. And, assuming that you will be working on a tripod, the Canon EF Extender 1.4X is perfectly compatible. The lens is great for flowers, bugs, butterflies, frogs, toads, and snakes among lots more. The lens, that is still in production, sells new for $1,399.00. You can save a smooth $600 on Alan's practically like-new lens. artie
Southern Toad
I found this toad in my driveway and created a set-up with a weathered grey log set atop my Sequoia. It was remarkably docile. After a short photo session, I released it in the woods just west of my driveway.
The Canon EF 180mm f/3.5L Macro USM lens was my favorite macro lens because of its reach, the fact that it came with a tripod collar, and because it accepted the 1.4X teleconverters. I do not know of any other 1:1 macro lenses that allow you to add a teleconverter. Feel free to correct me if I am wrong.
"Ruined" flowers …
When we arrived at the gardens, most folks in the group were dismayed to find that many of the tulips were in less than pristine condition; most had one or two petals drooped over. Co-leader Denise Ippolito and I realized instantly that the "ruined" flowers would provide a window into each bloom's most beautiful feature: the tulip center. Then we went to work. The 180 macro on a tripod was the perfect tool for the job.
Rescued and Released
A participant on a Southwest Florida IPT many years ago arrived with a cardboard box. She had stopped her neighbor just as he was about to kill the beautiful young snake with a shovel. We posed it in small, dead tree in the shade with the wall of what was then a Holiday Inn (near Little Estero Lagoon) as background. As the snake was quite comfortable, everyone in the group took turns sharing the 180mm macro lens. Most everyone was shooting Canon back then.
The snake was released into a woodlot near the participant's home that evening.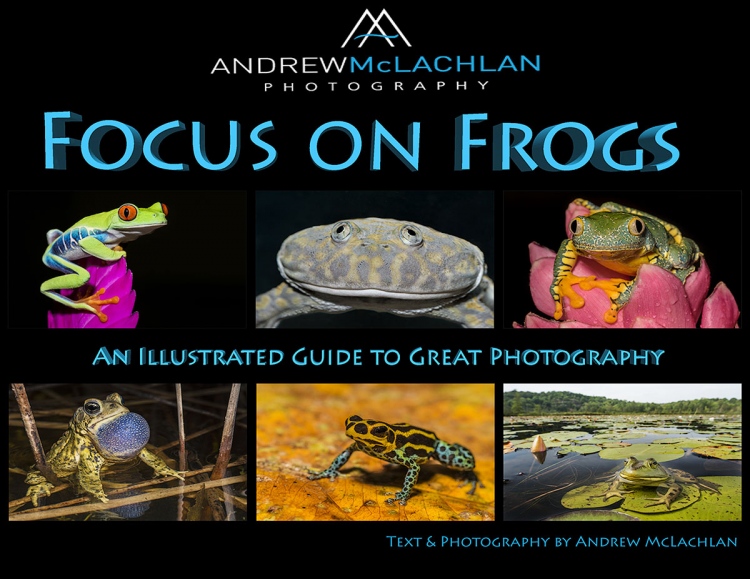 Focus on Frogs by Andrew McLachlan
Focus on Frogs. Text & Photography by Andrew McLachlan: $50.00 via electronic download
To order your copy, click here.
As you can clearly see while checking out Andrew's amazing frog and toad images in this blog post, you will realize that his work might well appear with the credit line reading Andrew McLachlan/FROGS AS ART. That Andrew has worked long and very hard at his craft is quite evident. That Andrew has mastered the use of the gear needed for macro photography is quite evident. That Andrew has perfected the use of electronic flash for both daytime and night-time frog photography is quite evident. That Andrew is creative and has a great eye for image design and color is quite evident. That Andrew has an understanding of how important backgrounds are in nature photography is quite evident. And that Andrew has developed all the skills needed to create outstanding images of frogs and toads – both captive and in their natural habitats, is also quite evident. In short, Andrew is the Frog Whisperer.
Focus on Frogs is a comprehensive guide to photographing frogs and toads. In the wild; in the tropics; in home-made terrariums; and at set-ups. Andrew covers it all: camera systems, bodies, and lenses (of all focal lengths!), the use of polarizers and graduated ND filters, how to dress for frog photography, the essentials accessories that will save you time and money, the use of flash, keeping you and your gear safe, in-the-field tips and techniques, finding the best perspective, Photoshop tips and techniques, frog conservation concerns, all aspects of froggy habitats, getting the right exposure, frog biology and behavior, creating attractive set-ups, over-under frog photography, and artistic renderings. The book ends with a spectacular Webfoot Gallery to inspire you.
The Art of Flower Photography
Denise Ippolito and Arthur Morris are proud to announce the publication of The Art of Flower Photography, a 203 page eBook with more than 140 images: $29.00. A link to the PDF will be sent via e-mail. Get yourself a copy today so that you can learn and be inspired by the tour de force of flower photography how-to books. Purchase by clicking here, by calling BIRDS AS ART at 863-692-0906, or by sending a Paypal to us via e-mail.
Notice for i-Pad Users
It is easy to save and access any and all PDF files including The Art of Flower Photography and The Art of Bird Photography II on an i-Pad. Here is a link to a short easily-followed how-to tutorial: i-Pad PDF Tutorial.
BIRDS AS ART
BIRDS AS ART is registered in the U.S. Patent and Trademark Office.
If In Doubt …
If you are in doubt about using the BAA B&H affiliate link correctly, you can always start your search by clicking here. Please note that the tracking is invisible. Web orders only. Please, however, remember to shoot me your receipt via e-mail.
Please Remember to use my Affiliate Links and to Visit the BAA Online Store 🙂
To show your appreciation for my continuing efforts here, we ask, as always, that you get in the habit of using my B&H affiliate links on the right side of the blog or Bedfords, for all of your photo and electronics purchases. Please check the availability of all photographic accessories in the New BIRDS AS ART Online Store, especially the Mongoose M3.6 tripod head, Wimberley lens plates, Delkin flash cards and accessories, and LensCoat stuff.
As always, we sell only what I have used, have tested, and can depend on. We will not sell you junk. We know what you need to make creating great images easy and fun. And please remember that I am always glad to answer your gear questions via e-mail.
I would, of course, appreciate your using our B&H affiliate links or Bedfords for all of your major gear, video, and electronic purchases. For the photographic stuff mentioned in the paragraph above, and for everything else in the new store, we, meaning BAA, would of course greatly appreciate your business. Here is a huge thank you to the many who have been using our links on a regular basis and those who will be visiting the New BIRDS AS ART Online Store as well.
Facebook
Be sure to like and follow BAA on Facebook by clicking on the logo link upper right.
Typos
In all blog posts and Bulletins, feel free to e-mail or to leave a comment regarding any typos or errors. Just be right :).