What's Up?
Shonagh and I enjoyed two excellent sessions at DeSoto on Thursday afternoon and Friday morning. I am getting quite used to the SONY 600mm f/4 GM lens. Details soon. We met the rest of the group for two hours of learning and then did really well in two locations. Almost time to shower and sleep and run it back again …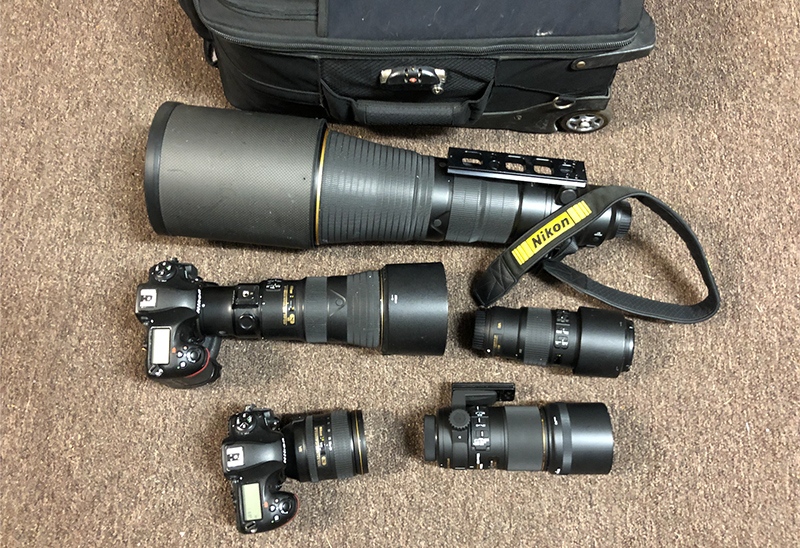 Nikon gear on the floor of the garage …
i-Phone image
Strange Times Indeed
It was strange indeed to drive out of my garage with all of my Nikon gear on the carpet rather than safely stowed in the back of my car … I started with Nikon in January 2018. Compared to my 35 years with Canon, it has been a short ride. After our first two sessions at Desoto, I am about 90% sure that I will be switching completely to SONY … Or not. Time will tell. If and when I do make the change I will, of course, share my reasons with you here.
My Nikon Gear …
From top to bottom and left to right: My larger Think Tank roller; Nikon 600mm f/4 VR, Gripped D850 and my favorite Nikon lens, the 500mm PF, Nikon 70-200mm f/4 VR lens, a D850 with the Nikon 24-120 VR lens, and the killer Sigma APO 150mm f/2.8 EX DG OS HSM Macro lens for Nikon F. All will most likely be for sale soon …