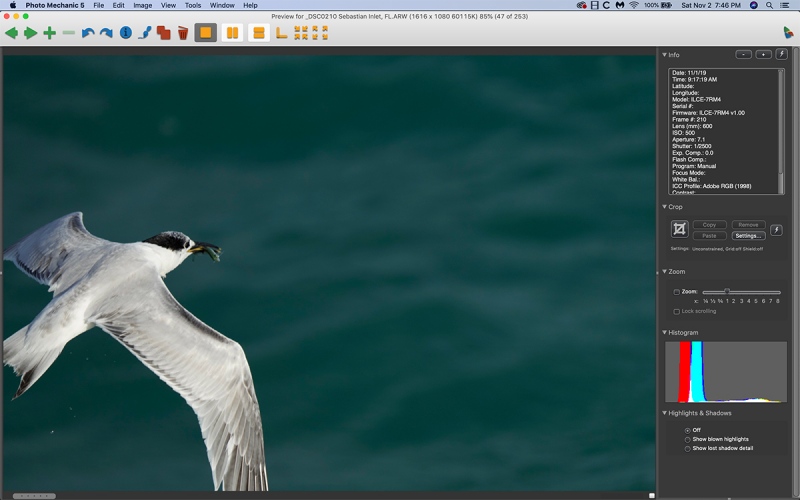 Strong north winds on Friday morning made things close to impossible. This was my best image from the morning session. At least I had a good exposure …
What's Up?
After enjoying an epic morning with the fishing Ospreys last Saturday, I booked an AirBnb for Friday night (November 1). Early in the week, the forecast had been for southeast winds on Friday. Perfect. But that was only the forecast 🙂 I drove over early on Friday and photographed most of the day and then again on Saturday morning. With very strong north winds on Friday and northwest winds on Saturday, the visit was a total bust for Ospreys. Wind against sun is a killer for most bird photography, especially on clear days … I did manage some decent stuff on Wood Stork on my last morning, but Friday was as close to a total zero as you can get.
I enjoyed a fine performance of Beehive at the Riverside Theater in Vero Beach on Friday evening. As for the Ospreys, there's always next time!
To succeed at Sebastian on clear mornings, you need winds from the south, the southeast or the east — the stronger the better.
From Multiple IPT participant Jim Dolgin via e-mail
Artie,
It was a pleasure running into you last Saturday morning at the inlet. That was about as much fun as I've had with photography in a really long time. After reviewing my images from my two days at the inlet, I've realized that I have SO much to thank you for. I went back and reviewed my work from the first day I spent with you at Fort De Soto. It was pretty humbling and embarrassing. My exposures we horrible, I cut off the legs on a bunch of the birds, and my focus points were in less than ideal locations (to say the least).
I have done De Soto, Gatorland, Merritt Island, Nickerson with you plus the chance encounter recently at Sebastian. I study the blog posts over and over — I'm only a little compulsive. I study your images and discussions repeatedly. My images at Sebastian were really good. My Sony 100-400 with 1.4 TC was too short and too slow to create high-quality files due to the high ISO's and large crops needed. BUT!!! They were all sharp on the eye, and the exposures were either perfect or really close. Yes, the A9 helped a bunch with focus. (I got a great buy on that on the BAA Used Gear page.)
I am pleased and proud of the progress I've made, and a lot of it was with you at my side, both literally and figuratively. Let me give you a perfect example. Last Saturday, you immediately understood the limits of my equipment and unsolicited, directed me to the Royal Terns and their repetitive hunting behavior. I was humbled that I had not seen the really good opportunities that were right in front of me …
After your suggestion, I captured some really fine tern images (just as you suggested). Thank you. I realize the instruction you provided was purely out of the goodness of your heart.
Unfortunately, I had to return to my medical practice, though another weekend at the Sebastian Inlet would have been a blast!!
I know we'll spend lots more time together.
All the best, Jim
ps: Steve from Bedfords has a SONY 200-600 arriving Monday. He has put my name on it! And no sales tax to NJ! Thanks again!
IPT Updates
The Return to Bosque Reduced Rate Scouting IPT. NOV 26-28, 2019 — 3 FULL DAYS: $1199.00. Limit: 8/Openings: 6. Extra Day Options: Join me for one to three extra In-the-Field Days at the end of the IPT as follows: FRI 29 NOV, SAT 30 NOV, and SUN 1 DEC for only $300.00/day.
The 2020 San Diego 4 1/2-DAY BIRDS AS ART Instructional Photo-Tour (IPT) WED JAN 8, 2020 thru and including the morning session on SUN JAN 12: 4 1/2 days: $2099.(Limit: 8/Openings: 5)