What's Up
I awoke to some heavy rain on Saturday morning andgot lots of work done, mostly answering e-mails. I just looked at the ten-day forecast for ILE and Sebasatian Inlet and have only one question: will the sun ever come out again?
On Sunday morning it is clear and sunny here at ILE but I have too much to do so I am not heading down to the lake.
I've been swimming every day and the intermittent fasting has been going great. I eat at about 10:30am and then again at 4:30pm (on average). I eat nothing from 5pm till 10am or so the next morning, about a 17-hour fast. I am a bit hungry in the mornings but never hungry after that. Working with Dr. Oliver in an effort to reduce my insulin resistance, I began eating a keto diet about a week ago. I have not injected any insulin in two weeks and the early results are very promising. Best of all, I weighed 174 3/4 lbs. this morning, down from about 188 1/2 in mid-August. No worries, I am losing slowly.
If you missed out on the chance of winning a $20 discount on anything in the BAA Online Store (phone orders only), see yesterday's blog post here.
Selling Your Used Photo Gear Through BIRDS AS ART
Selling your used (or like-new) photo gear through the BAA Blog is a great idea. We charge only a 5% commission. One of the more popular used gear for sale sites charged a minimum of 20%. Plus assorted fees! Yikes. They went out of business. And e-Bay fees are now up to 13%. The minimum item price here is $500 (or less for a $25 fee). If you are interested please scroll down here or shoot us an e-mail with the words Items for Sale Info Request cut and pasted into the Subject line :). Stuff that is priced fairly — I offer pricing advice to those who agree to the terms — usually sells in no time flat. Over the past year, we have sold many dozens of items. Do know that prices on some items like the EOS-1D Mark IV, the EOS-1DX, the old Canon 100-400, the old 500mm, the EOS-7D, and the 7D Mark II and the original 400mm DO lens have been dropping steadily. Most recently the price of used Canon 600mm f/L IS II lenses have been dropping like a rock with the introduction of the 600 III. You can always see the current listings by clicking here or on the Used Photo Gear tab on the orange-yellow menu bar near the top of each blog post page.
The Used Gear page has been hot lately with the continuing price drops on Canon and Nikon gear. There are still lots of great buys right now on the Used Gear Page.
Recent Sales
Peter Noyes sold his Sony Alpha A7R III Mirrorless Digital Camera body in like-new condition with a shutter count of less than 1,000 for $1998.00 the first day it was listed in early November.
Top Used Gear page seller Anthony Ardito sold his gripped Nikon D850 in like-new condition for only $2,399.00, his Nikon AF-S NIKKOR 500mm f/5.6E PF ED VR lens in like-new condition for only $3,396.95, his Nikon AF-S 70-200mm f/2.8E FL ED VR lens in like-new condition for $1,796.95, and his Nikon AF-S 24-70mm f/2.8G ED-IF lens in like-new condition for only $1,196.95, all during October 2019.
I sold my lightly used Nikon AF-S NIKKOR 600mm f/4E FL ED VR lens in Excellent condition for the BAA record-low price of $9796.95 in late October 2019.
John Nelson sold his Canon 500mm f/4 IS USM lens (the "old five") in near-mint condition for the BAA record-low price of $2749.00 in mid-October 2019.
Multiple IPT participant Larry Master sold his Canon EF 500mm f/4.0L IS II USM lens in like-new condition for a BAA record-low $5,989.00 and his Canon EOS 5D Mark IV in like-new condition for $2099.00.
BAA friend and multiple IPT veteran Paul Reinstein sold a Canon Extender EF 2X III teleconverter in excellent condition for only $229.00 the first day it was listed in mid-October.
Top BAA Used Gear page seller Jim Keener sold his Canon mount Zeiss Distagon T 15mm f/2.8 ZE lens in like-new condition for the crazy low price of $799.00 (was $949.00) in early October 2019.
Allen Dale sold a Canon 300mm f2.8L IS II USM lens in excellent condition for $3399.00 in early October 2019.
Nikon 80-400 AFS Nikkor f/4.5-5.6 G ED N VR Lens
Errol Bellon is offering an Nikon 80-400 AFS Nikkor f/4.5-5.6 G ED N VR lens in mint condition for $1396.95. The sale includes a LensCoat, the rear lens cap, the soft lens case with strap, the front lens cap, a Kirk lens foot NC-80-400GN, the original product box, and insured ground shipping via major courier to lower-48 US addresses only.Your item will not ship until your check clears unless other arrangements are made.
Please contact Errol via e-mail.
As below, my Nikon 80-400 was my most-valubale lens on my bucket-list trip to an Emperor Penguin colony in Antarctica. The 80-400 pairs perfectly with the following Nikon VR lenses: the 500 PF, the 500 f/4, and the 600 f/4. Right after I sold mine back in February, 2019 I had seller's remorse. This lens sell new right now for $2,096.95; you can save $700 by grabbing Errol's lens now. artie
Sony Alpha a9 (ILCE 9) Mirrorless Digital Camera Body
BAA Record-low Price!
I am offering my Sony Alpha a9 (ILCE 9) Mirrorless Digital Camera Body in like-new condition (but for a barely visible 3/8″ scratch on the rear LCD) for the BAA record-low price of $2,697.00. The sale includes the original box and everything that came in it along with insured ground shipping via major courier to lower-48 US addresses only. Your item will not ship until your check clears unless other arrangements are made. Pay plus 4% ($2804.88) by credit card and we will ship your new body today. And you will get the credit card points/air miles.
Please contact me via e-mail or on my cell at 863-221-2372 (Eastern time Zone)
Simply put, the SONY a9 has the best AF system of any camera that I have ever used. And Patrick Sparkman agrees 100%. SONY is getting hotter every day. The a9 sells for $3,498.00 and the new a9 II sells for $4498.00. Either way, you can do the math as far as how much you will be saving. artie
IPT Updates
The Return to Bosque Reduced Rate Scouting IPT. NOV 26-28, 2019 — 3 FULL DAYS: $1199.00. Limit: 8/Openings: 4. Extra Day Options: Join me for one to three extra In-the-Field Days at the end of the IPT as follows: FRI 29 NOV, SAT 30 NOV, and SUN 1 DEC for only $300.00/day.
The 2020 San Diego 4 1/2-DAY BIRDS AS ART Instructional Photo-Tour (IPT) WED JAN 8, 2020 thru and including the morning session on SUN JAN 12: 4 1/2 days: $2099.(Limit: 8/Openings: 5)
BIRDS AS ART
BIRDS AS ART is registered in the U.S. Patent and Trademark Office.

Money Saving Reminder
If you need a hot photo item that is out of stock at B&H, would enjoy free overnight shipping, and would like a $50 discount on your first purchase over $1000.00, click here to order and enter the coupon code BIRDSASART at checkout. If you are looking to strike a deal on Canon or Nikon gear (including the big telephotos) or on a multiple item order, contact Steve Elkins via e-mail or on his cell at (479) 381-2592 (Eastern time) and be sure to mention your BIRDSASART coupon code and use it for your online order. Steve has been great at getting folks the hot items that are out of stock at B&H. Those include the SONY a7r IV, the SONY 200-600, the SONY 600mm f/4 GM, and the Nikon 500mm PF. Steve is eager to please.
Gear Questions and Advice
Too many folks attending BAA IPTs and dozens of photographers whom I see in the field and on BPN, are–out of ignorance–using the wrong gear especially when it comes to tripods and more especially, tripod heads… Please know that I am always glad to answer your gear questions via e-mail. Those questions might deal with systems, camera bodies, accessories, and/or lens choices and decisions.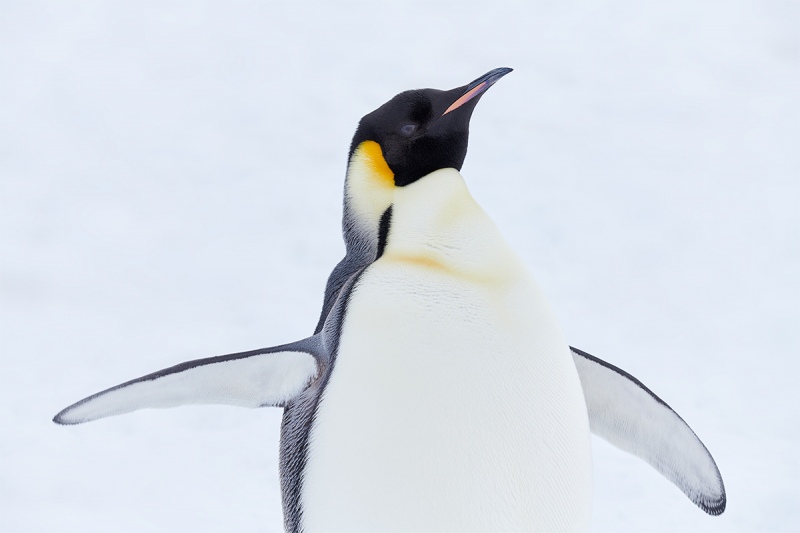 This image was created on Day 1 — October 24, 2018 — on my bucket-list trip to the Snow Hill Island Emperor Penguin colony. While sitting on the snow and ice, I used the hand held Nikon AF-S NIKKOR 80-400mm f/4.5-5.6G ED VR lens (at 195mm) with my Nikon D850. ISO 400. Matrix metering plus about 2 stops off the snow: 1/1000 sec. at f/8 in Manual mode. Auto 1 WB at 2:43pm on a cloudy-bright afternoon.
I selected a Single AF point two up and two to the right of the center/Shutter button AF as originally framed was active at the moment of exposure. The selected AF point was on the penguin's neck very close to the being on the same plane as the penguin's eye.
I kept my 80-400 rig on my shoulder via an RS-7 Curve Breathe Strap so that it was instantly accessible when I was working with the tripod-mounted 500 PF (that often with the TC-E14 or the TC-E17).
Focus peaking AF Fine-tune: +5. See the Nikon AF Fine-tune e-Guide here.
Emperor Penguin/adult stretching
Your browser does not support iFrame.
Why Intermediate Telephoto Zoom Lenses ???
For many bird photographers, an intermediate telephoto zoom is their main lens. My good BPN-friend Joe Przybyla, co-author of the BAA Middle of Florida Photographic Site Guide, makes all of his bird photographs with the Nikon 80-400 and the Nikon D500. He just loves that combo and has developed into a very fine photographer. Both Canon and SONY offer a 100-400mm zoom that focuses down to .98 meters. SONY recently released a 200-600 that is hand holdable for some.
Many bird photographers, however, regularly use tripod-mounted 500mm, 600mm, and even 800mm lenses for much of their work. For them, intermediate telephoto zoom lenses allow them to add variety to their photography. The can be used for tight portraits of very tame birds, for hand held flight and behavioral photography, and for working wider as needed such as when creating bird-scapes or photographing large flocks of birds in flight. And some can serve as qausi-macro lenses and be used to photograph butterlies, frogs, flowers, and the like.
If you use a fixed focal length super-telphoto lens for most of your bird photography, you will want to carefully consider focal length range when adding an intermediate telephoto zoom lens to your kit. For example, an 80- or 100-400mm zoom lens meshes perfectly with a 500 or 600mm lens with zero focal length overlap. It only makes sense to carry your zoom on your shoulder via an RS-7 Curve Breathe Strap so that it is instantly accessible when you are working a tripod-mounted super telephoto.
For me, having an intermediate telephoto zoom in the field is as important to me as my big lens.
Nikon AF-S NIKKOR 80-400mm f/4.5-5.6G ED VR Lens
As I said above, the 80-400 was my most-valuable lens on my bucket-list trip to an Snow Hill Island Emperor Penguin colony in Antarctica. This, the newer version of the 80-400, is a remarkably sharp lens. I remember being astounded by the sharpness, even when I used it hand held with the TC-E14. The 80-400 pairs perfectly with the following Nikon VR lenses: the 500 PF, the 500 f/4, and the 600 f/4 and offers folks a ton of compositional flexibility whenever they need to go wide.
Background Strategies
When I am at the beach or working a pond and there are birds feeding along the shoreline, I will most always look for the cleanest section of beach, sit down behind my tripod right on sun angle, and wait for the birds to come to the cleanest background. There have been times when I would spend ten minutes cleaning white shells and other debris from an otherwise handsome section of beach. And at the East Pond at Jamaica Bay Wildlife Refuge there were times when I got there really early and spent 45 minutes picking Mute Swan feathers our of the mud … On the first morning of the Emperor Penguin expedition, the ropes were set 30 meters from the various colonies. While there were lots of birds in each colony with lots of young, my style of photography was difficult to impossible for several reasons:
1- The birds were close together with several adults and chicks often occupying the same square meter. Isolating a single bird or even an adult with its own chick was extremely difficult.
2- Colonies are inherently messy places with bird poop, regurgitant, and avian footprints everywhere.
3- The warm temperatures that we encountered turned the snow at the colonies into very unattractive slush.
Being Away From the Colony Paid Dividends
For me, the solution to the problems listed above was to work well past the edges of the colonies and look for or wait for single birds on the relatively pristine snow and ice. Some would approach you out of curiosity, others would approach you by chance.
The Lesson
If you have a choice between clean backgrounds and dirty, ugly, cluttered backgrounds always opt for the former. 🙂 That said, many folks could not withstand the allure of all the birds in the colony. But the artistic qualities of their images suffered greatly.
If In Doubt …
If you are in doubt about using the BAA B&H affiliate link correctly, you can always start your search by clicking here. Please note that the tracking is invisible. Web orders only. Please, however, remember to shoot me your receipt via e-mail.
Please Remember to use my Affiliate Links and to Visit the BAA Online Store 🙂
To show your appreciation for my continuing efforts here, we ask, as always, that you get in the habit of using my B&H affiliate links on the right side of the blog or Bedfords, for all of your photo and electronics purchases. Please check the availability of all photographic accessories in the New BIRDS AS ART Online Store, especially the Mongoose M3.6 tripod head, Wimberley lens plates, Delkin flash cards and accessories, and LensCoat stuff.
As always, we sell only what I have used, have tested, and can depend on. We will not sell you junk. We know what you need to make creating great images easy and fun. And please remember that I am always glad to answer your gear questions via e-mail.
I would, of course, appreciate your using our B&H affiliate links or Bedfords for all of your major gear, video, and electronic purchases. For the photographic stuff mentioned in the paragraph above, and for everything else in the new store, we, meaning BAA, would of course greatly appreciate your business. Here is a huge thank you to the many who have been using our links on a regular basis and those who will be visiting the New BIRDS AS ART Online Store as well.
Facebook
Be sure to like and follow BAA on Facebook by clicking on the logo link upper right.
Typos
In all blog posts and Bulletins, feel free to e-mail or to leave a comment regarding any typos or errors. Just be right :).