What's Up?
I've been walking every morning and swimming every afternoon. The pool was up to 73 degrees on Friday and a rather balmy 75 degrees on Saturday. On Friday, a cold northwest wind whipped through the pine trees as I swam. Saturday was as grey a day as I have seen — if it had not been about 70 degrees, I would have expected it to snow. I did get down to the lake on Saturday morning with the 200-600 and the a9 II and made some nice flight images of the vultures.
It is Sunday morning, December 22, 2019 and it is dark and raining here in central Florida. I will almost surely get in a swim this afternoon. It looks as if I will be getting over to DeSoto with a private client next week. Hope so.
San Diego IPT Late Registration Discount
Please e-mail for San Diego IPT late registration discount information.
IPT Updates
Do check out the San Diego Gallery here.

The 2020 San Diego 4 1/2-DAY BIRDS AS ART Instructional Photo-Tour (IPT) WED JAN 8, 2020 thru and including the morning session on SUN JAN 12: 4 1/2 days: $2099.(Limit: 8/Openings: 5)
Click here for complete IPT info and details.
Selling Your Used Photo Gear Through BIRDS AS ART
Selling your used (or like-new) photo gear through the BAA Blog is a great idea. We charge only a 5% commission. One of the more popular used gear for sale sites charged a minimum of 20%. Plus assorted fees! Yikes. They went out of business. And e-Bay fees are now up to 13%. The minimum item price here is $500 (or less for a $25 fee). If you are interested please scroll down here or shoot us an e-mail with the words Items for Sale Info Request cut and pasted into the Subject line :). Stuff that is priced fairly — I offer pricing advice to those who agree to the terms — usually sells in no time flat. Over the past year, we have sold many dozens of items. Do know that prices on some items like the EOS-1D Mark IV, the EOS-1DX, the old Canon 100-400, the old 500mm, the EOS-7D, and the 7D Mark II and the original 400mm DO lens have been dropping steadily. Most recently the price of used Canon 600mm f/L IS II lenses have been dropping like a rock with the introduction of the 600 III. You can always see the current listings by clicking here or on the Used Photo Gear tab on the orange-yellow menu bar near the top of each blog post page.
The Used Gear page has been very hot for the past two weeks with the continuing price drops on both Canon and Nikon gear. And there have been some great buys on SONY stuff too. There are still lots of solid bargains right now on the Used Gear Page. In addition to the recent sales below, there are several pending sales.
Recent Sales
Multiple IPT veteran Jim Miller sold his Canon EF 100-400mm f/4.5-5.6L IS II USM lens in excellent condition for a BIRDS AS ART record-low $1149.00, his Canon EF 500mm f/4L IS USM telephoto lens (the "old five") in excellent condition for $2399.00, a Canon EF 600mm f/4L IS II USM Lens in excellent condition (with some paint scrapes on the bottom of lens foot where it meets mounting plate) for a very low $5,699.00, a Canon EF 70-200mm f/2.8L IS II USM lens in excellent condition (there are some tiny paint chips here and there) for only $849.00, his refurbished Canon EOS 5D Mark III camera body in excellent condition with a few small, faint rubs on the body for a ridiculously low $699.00, a Canon EF 50mm f/1.4 lens in excellent condition for $129.00, and a Canon Extender EF 1.4X III (teleconverter) in very good condition for $199.00, all within days of their being listed in mid-December, 2019.
Ken Siegel sold his Sony a7r III in mint condition for only $1949.00 (was $2049.00) in early December 2019.
IPT veteran Joe Randle sold a Canon 500mm f4L IS USM Super Telephoto lens (the "old five") in near-mint condition for the BAA record-low price of $2499.00 and his Canon EF 24-70 f2.8L II USM lens in near-mint condition for the very low price of $899.00 both in early December 2019.
Jerry Barrack sold a Canon 400mm f/5.6L lens (my old "toy lens") in very good plus condition with some scuff marks here and there for the BAA crazy record-low price of $549.00 in late November.
Multiple IPT veteran Jake Levin sold his Canon EOS 7D Mark II in excellent plus condition for $648.00 in early December 2019.
BAA friend and multiple IPT veteran Paul Reinstein sold his Canon 600mm f/4L IS III lens in near-mint condition (with extras) for an amazingly low $11,499.00 within an hour of it being listed in early December.
Multiple IPT veteran George Golumbeski sold his Canon 600mm f/4L IS III lens in near-mint condition (with extras) for an amazingly low $11,299.00 within hours of it being listed in early September. (I forgot to note the sale here …)
Blog-regular Anthony Ardito sold a Nikon 200-500mm f/5.6E ED AF-S VR Zoom lens in like-new condition for the very low price of $799.95 (was $899.95) in early December 2019.
Ken Siegel sold a Sony A9 Mirrorless Digital Camera Body in mint condition for $2598.00 (was $2698.00) ten days after it was listed.
Josh Anon (son of noted photographer Photoshop expert Ellen Anon) sold a SONY a7R IV Mirrorless Digital camera body in like-new condition for only $2998.00.
New Listings
Canon EF 400mm f/4 IS DO II USM Lens
BAA Record-low Price!
IPT veteran Dane Johnson is offering a Canon EF 400mm f/4 IS DO II USM Lens in pristine, like-new condition with extras for the BAA record-low price of $4,099.00. The sale includes the original product box with the user documents, the lens strap, the rear cap, the ET-120 (WII) lens hood, the front lens cover, the lens trunk with keys, a RRS LCF-52 Replacement Foot (a $95 value), a RealTree Snow LensCoat, and insured ground shipping via major courier to US lower 48 addresses only. Your item will not ship until payment clears unless other arrangements are made.
Please contact Dane via e-mail or by phone at 1-559-593-0989.
I owned and used the 400 DO II when I shot with Canon and found a way to take it on most trips. I took it to Scotland and Nickerson Beach and San Diego. It served me well as my (lighter!) "big gun" on several Galapagos and Southern Ocean (the Falklands and South Georgia) trips. It is a killer for flight photography with or without the 1.4X III TC. It is. razor-sharp with the 2X on static subjects and skilled folks have had amazing success hand holding it with the 2X III TC for flight and for action. As this lens sells new right now for $6899.00, you can save an incredible $2,800.00 by grabbing Dane's lens right now. artie
SONY Price Drops
Sony Alpha a7r IV Mirrorless Digital Camera Body
Price Reduced $200.00 on 21 DEC
BAA Record-low Price!
Multiple IPT veteran Larry Master is offering a Sony a7r IV Mirrorless Digital camera body in absolutely like-new condition for only $2898.00 (was $3098.00). In pristine condition, the body has only 3817 shutter actuations. The sale includes all accessories and insured UPS ground shipping to lower-48 US addresses. Your item will not ship until payment clears unless other arrangements are made.
Please contact Larry via e-mail or by phone at 1-518-645-1545 (Eastern time zone).
You've seen the incredible detail in my a7r IV images made with a variety of SONY lenses and both teleconverters. I've been using my 7r IV for 80% of my bird photography and my a9 II in pure flight situations. As the 7r IV sells new right now for $3498.00 you can save a cool $400.00 by being the first to grab Larry's pretty much new SONY mirrorless body. artie
FE Sony 400mm f/2.8 GM OSS Lens
BIRDS AS ART Record Low Price
Price reduced $400 on 22 DEC 2019
William Schneider is offering a Sony FE 400mm f/2.8 GM OSS lens in mint condition for the BAA record-low price of $10,297.00 (was 10,697.00). This immaculate lens has seen little use. The sale includes the lens hood, the lens trunk, the front lens cover, the rear lens cap, the lens strap, and insured shipping via Fed Ex Ground. Your item will not ship until your check clears unless other arrangements are made.
Please contact Bill via e-mail e-mail or by phone at 1-(262) 269-8628 (Eastern time zone).
This super-fast lens is amazingly light at 6.4 lbs, the same weight as the Nikon 300mm f/2.8. Patrick made lots of great images at St. Paul in the Pribilof Islands last July with the lens alone and with either the 1.4x and 2x teleconverters. He really enjoyed the 8.86 ft close-focusing capability and the beautiful bokeh that the lens produces. As this lens sells new right now for $12,998.00, you can save a cool $2,701.00 by grabbing this virtually new lens asap. artie
ps: at the time of publication this lens is very hard to get; it is not in stock at B&H or at Bedfords.
BIRDS AS ART
BIRDS AS ART is registered in the U.S. Patent and Trademark Office.

Money Saving Reminder
If you need a hot photo item that is out of stock at B&H, would enjoy free overnight shipping, and would like a $50 discount on your first purchase over $1000.00, click here to order and enter the coupon code BIRDSASART at checkout. If you are looking to strike a deal on Canon or Nikon gear (including the big telephotos) or on a multiple item order, contact Steve Elkins via e-mail or on his cell at (479) 381-2592 (Eastern time) and be sure to mention your BIRDSASART coupon code and use it for your online order. Steve has been great at getting folks the hot items that are out of stock at B&H. Those include the SONY a7r IV, the SONY 200-600, the SONY 600mm f/4 GM, and the Nikon 500mm PF. Steve is eager to please.
Gear Questions and Advice
Too many folks attending BAA IPTs and dozens of photographers whom I see in the field and on BPN, are–out of ignorance–using the wrong gear especially when it comes to tripods and more especially, tripod heads… Please know that I am always glad to answer your gear questions via e-mail. Those questions might deal with systems, camera bodies, accessories, and/or lens choices and decisions.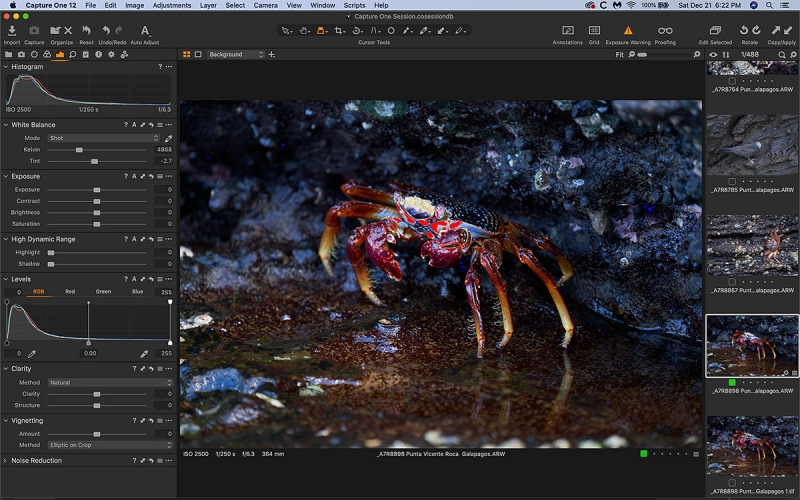 ISO 2500. Exposure determined by Zebras with ISO on the rear dial: 1/250 sec. at f/6.3 in Manual mode. AWB at 2:27pm in deep shade.
A Capture One screen capture of the original RAW file

Your browser does not support iFrame.
The Original RAW File
Click on the image to see a larger version so that you can see the red over-exposure warnings on the lightest blues and the smattering of dark blue under-exposure warnings in the shadows. I was comfortable working subjects at close range from the gently rocking zodiac at 1/250 sec. Then, as usual, I set the aperture at f/6.3, a single click (1/3 stop) narrower than the wide-open f/6.3. Next, I kept increasing the ISO until I noted faint zebras on the light blues on the front of the carapace and then reduced the ISO one click (1/3 stop). The result was a pretty darned good exposure in a very difficult situation: a few very light tones set against wet, black lava rock.
Note: the analog exposure scale would surely show about one full stop of under-exposure with the meter influenced by the large expanse of dark tones.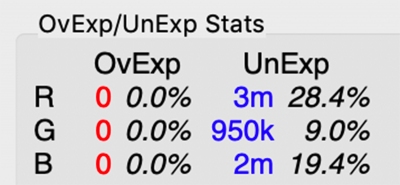 ISO 2500. Exposure determined by Zebras with ISO on the rear dial: 1/250 sec. at f/6.3 in Manual mode. AWB at 2:27pm in deep shade.
Over/Under Exposure Data from RawDigger
The RawDigger Analysis
The RawDigger analysis actually showed no over-exposure and considerable under-exposure especially in the RED and the BLUE channels. This image, however, is a perfect example of why at times a technically under-exposed RAW file is ideal. Continue reading to learn why.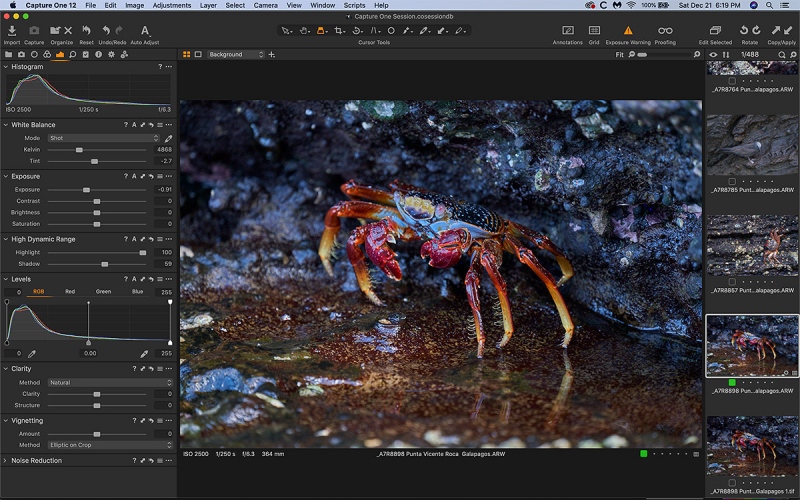 A Capture One screen capture of the RAW file after exposure adjustments

Your browser does not support iFrame.
The RAW File After Exposure Adjustments
Click on the image to view a larger version that makes it easier to view the fine print.
You will note that to save the detail in the light blue highlights, I actually needed to decrease the exposure almost one full stop (-0.91) and move the Highlight slider all the way to the right to 100. Lastly, opening up the shadows by moving the Shadow slider to 59 eliminated the (dark blue) under-exposure warnings (and effectively reduced the contrast). If I had exposed even more to the right it would have likely been impossible to recover the highlight detail …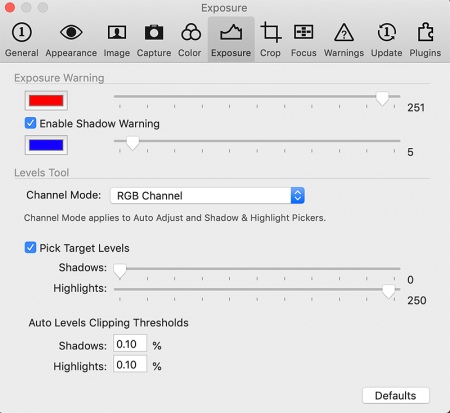 My Capture One Exposure Settings in Preferences
My Capture One Exposure Settings in Preferences
Above are my Capture One exposure settings in Preferences. Any suggestions for changing or improving any of the setting values would be greatly appreciated.
I do realize that some folks might take issue with my line of thought above by noting that I am depending too much on the Capture One over and under-exposure warning levels … Again, comments and suggestions are more than welcome.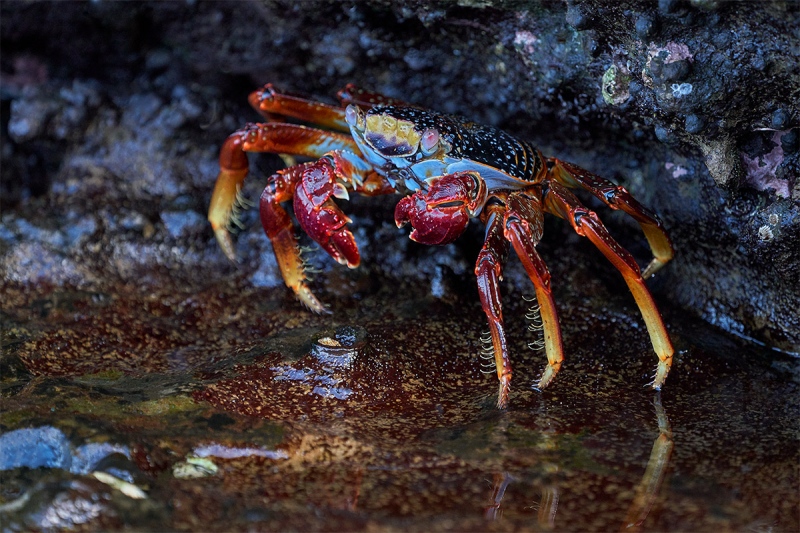 This image was created on July 27,2019 on the 2019 Galapagos Photo-Cruise of a Lifetime IPT. From the panga (zodiac), I used the handheld Sony FE 100-400mm f/4.5-5.6 GM OSS lens (at 364mm) with the high mega-pixel Sony Alpha a7R III Mirrorless Digital camera body. ISO 2500. Exposure determined by Zebras with ISO on the rear dial: 1/250 sec. at f/6.3 in Manual mode. AWB at 2:27pm in deep shade.
Flexible Spot (S) Continuous AF was active at the moment of exposure. The AF point was placed on the yellow strip right between the crab's eyes. Click on the image to enjoy a larger, inexplicably sharper version.
Today's Featured Image: sub-adult Sally Lightfoot Crab on cliff wall

Your browser does not support iFrame.
The Optimized Version
After converting the RAW file in Capture One, I brought the image into Photoshop.
First, note the crop. As I loved the reddish-brown stuff in the foreground I opted to place the crab relatively high in the frame. The relatively tight (but proportionate) crop eliminated lots of distracting elements at the top and bottom of the frame. Next, I cleaned up many specular highlights on the rocks and in the little pool of water as well as a few on the crab itself.
The Teen-aged Crab
The upper surface of the carapaces of fully adult Sally Lightfoot Crabs are orange. The baby crabs of this species are very dark and unmarked, close to black. As they grow (by shedding their shells), the upper surface of the carapaces become spotted with light blue or whitish markings. I have never seen a crab similar to the one in today's featured image; the deep red claws and the sky-blue on the front of the carapace are characteristic of an adult crab, but the dark, spotted surface of the carapace indicate a juvenile crab. Thus, I am pretty sure that this would be classed as a sub-adult.
John Steinbeck on Sally Lightfoot Crabs
From the Wikipedia entry here.
In the first comprehensive study of the fauna of the Gulf of California, carried out by Ed Ricketts, together with John Steinbeck and others, Steinbeck wrote,
Many people have spoken at length of the Sally Lightfoots. In fact, everyone who has seen them has been delighted with them. The very name they are called by reflects the delight of the name. These little crabs, with brilliant cloisonné carapaces, walk on their tiptoes, They have remarkable eyes and an extremely fast reaction time. In spite of the fact that they swarm on the rocks at the Cape [San Lucas], and to a less degree inside the Gulf [of California], they are exceedingly hard to catch. They seem to be able to run in any of four directions; but more than this, perhaps because of their rapid reaction time, they appear to read the mind of their hunter. They escape the long-handled net, anticipating from what direction it is coming. If you walk slowly, they move slowly ahead of you in droves. If you hurry, they hurry. When you plunge at them, they seem to disappear in a puff of blue smoke—at any rate, they disappear. It is impossible to creep up on them. They are very beautiful, with clear brilliant colors, red and blues and warm browns.
Man reacts peculiarly but consistently in his relationship with Sally Lightfoot. His tendency eventually is to scream curses, to hurl himself at them, and to come up foaming with rage and bruised all over his chest. Thus, Tiny, leaping forward, slipped and fell and hurt his arm. He never forgot nor forgave his enemy. From then on he attacked Lightfoots by every foul means he could contrive and his training in Monterey street fighting had equipped him well for this kind of battle. He hurled rocks at them; he smashed at them with boards; and he even considered poisoning them. Eventually, we did catch a few Sallys, but we think they were the halt and the blind, the simpletons of their species. With reasonably well-balanced and non-neurotic Lightfoots we stood no chance.
Apparently, the Sally Lightfoots of the Galapagos Archipelago have become at least somewhat accustomed to the human presence as it is possible to get fairly close to them using a low, slow approach., Alternatively, if you sit quietly along the shoreline lava rocks, they will often approach you.
The Image Clean-up
For the extensive image clean-up, I used my usual cadre of Photoshop tools: the Patch Tool, the Spot Healing Brush, and rarely, the Clone Stamp Tool. I stayed away from Content-Aware Fill as it often smudges fine detail. Along the edges of the cropped frame, I used several small Quick Masks, again, to avoid any smudging. For me, the cleaned-up version is far more pleasing visually than the original.
I love the color palette of this image with the various shades of greens, reddish browns, and purples in the wet lava rocks and in the shallow pool of water. And the crab colors are not shabby either.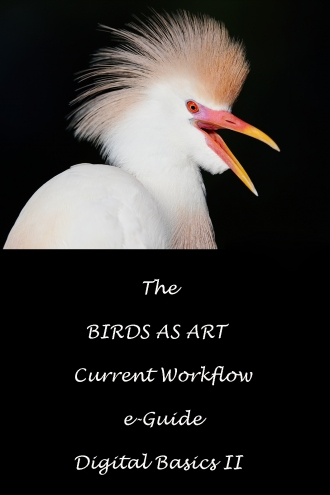 The BIRDS AS ART Current Workflow e-Guide (Digital Basics II).
You can order your copy from the BAA Online Store here, by sending a Paypal for $40 here, or by calling Jim or Jennifer weekdays at 863-692-0906 with your credit card in hand.
The BIRDS AS ART Current Workflow e-Guide (Digital Basics II)
Everything mentioned above (except for Capture One RAW conversions) and tons more — including all of my personalized Keyboard Shortcuts — is covered in detail in the BIRDS AS ART Current Workflow e-Guide (Digital Basics II), an instructional PDF that is sent via e-mail. Learn more and check out the free excerpt in the blog post here. While the new e-Guide reflects my Macbook Pro/Photo Mechanic/DPP 4/Photoshop workflow, folks using a PC and/or BreezeBrowser will also benefit greatly by studying the material on DB II. Note: folks working on a PC and/or those who do not want to miss anything Photoshop may wish to purchase the original Digital Basics along with DB II while saving $15 by clicking here to buy the DB Bundle.
Folks who learn well by following along rather than by reading can check out the complete collection of MP 4 Photoshop Tutorial Videos by clicking here. Note: all of the videos are now priced at an amazingly low $5.00 each.
You can learn how and why I converted all of my Canon digital RAW files in DPP 4 in the DPP 4 RAW Conversion Guide here. More recently, I became proficient at converting my Nikon RAW (NEF) files in Adobe Camera Raw. About two years ago I began converting my Nikon and Sony RAW files in Capture One Pro 12 and continue to do so today.
To purchase Capture One, please use this link. Then you can learn more about Capture One in the Capture One Pro 12 Simplified MP4 Video here. The next step would be to get a copy of Arash Hazeghi's "The Nikon Photographers' Guide to Phase One Capture One Pro e-Guide" in the blog post here.
You can learn advanced Quick Masking and advanced Layer Masking techniques in APTATS I & II. You can save $15 by purchasing the pair. Folks can learn sophisticated sharpening and (NeatImage) Noise Reduction techniques in The Professional Post Processing Guide by Arash Hazeghi and edited by yours truly. Please use this link to purchase NeatImage.
To introduce folks to our MP.4 videos and the basics involved in applying more NeatImage noise reduction to the background and less on the subject, I'd be glad to send you a free copy of the Free Noise Reduction Basics MP.4 Video. Simply click to shoot me an e-mail to get your free copy.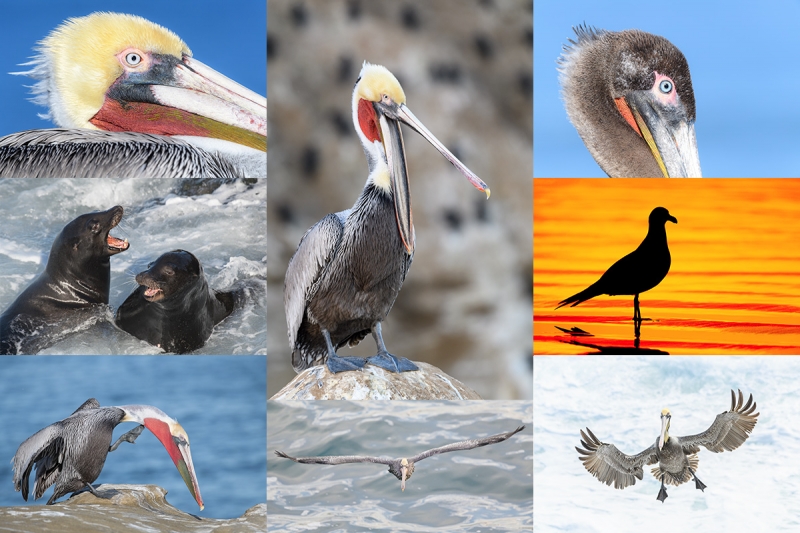 San Diego offers a wealth of very attractive natural history subjects, including and especially the Pacific race of California Brown Pelican. With annual visits spanning more than four decades, I have lots of photographic experience there … Click on the composite to enjoy a larger version.
San Diego IPT Late Registration Discount
Please e-mail for San Diego IPT late registration discount information.
The 2020 San Diego 4 1/2-DAY BIRDS AS ART Instructional Photo-Tour (IPT) WED JAN 8, 2020 thru and including the morning session on SUN JAN 12: 4 1/2 days: $2099.(Limit: 8/Openings: 5)
Introductory Meet and Greet at 7:00pm on the evening before the IPT begins; WED JAN 7, 2020.
Join me in San Diego to photograph the spectacular breeding plumage Brown Pelicans with their fire-engine red and olive green bill pouches; Brandt's (nesting with eggs and possibly chicks) and Double-crested Cormorants; breeding plumage Wood and Ring-necked Duck; other duck species possible including Lesser Scaup, Redhead, and Surf Scoter; a variety of gulls including Western, California, and the gorgeous Heermann's, all in full breeding plumage; shorebirds including Marbled Godwit, Willet, Sanderling and Black-bellied Plover; many others are possible including Least, Western, and Spotted Sandpiper, Whimbrel, Black and Ruddy Turnstone, Semipalmated Plover, and Surfbird; Harbor Seals (depending on the current regulations) and California Sea Lions; and Bird of Paradise flowers. And as you can see by studying the IPT cards, there are some nice bird-scape and landscape opportunities as well. Not to mention a ton of excellent flight photography opportunities and instruction.
Please note: where permitted and on occasion, ducks and gulls may be attracted (or re-located) with offerings of grains or healthy bread.
Learning Exposure, Whether You Like It Or Not
Whether you like it or not, we will be beating the subject of exposure like a dead horse. In every new situation, you will hear my thoughts on the exposure situation along with my thoughts on both Nikon and Canon histograms and the subject of blinkies. Whether you like it or not, you will learn to work in manual mode and to get the right exposure every time as long as a bird gives you ten seconds with the light constant. And you will learn what to do when the light is changing constantly. What you learn about exposure will be one of the great takeaways on every IPT.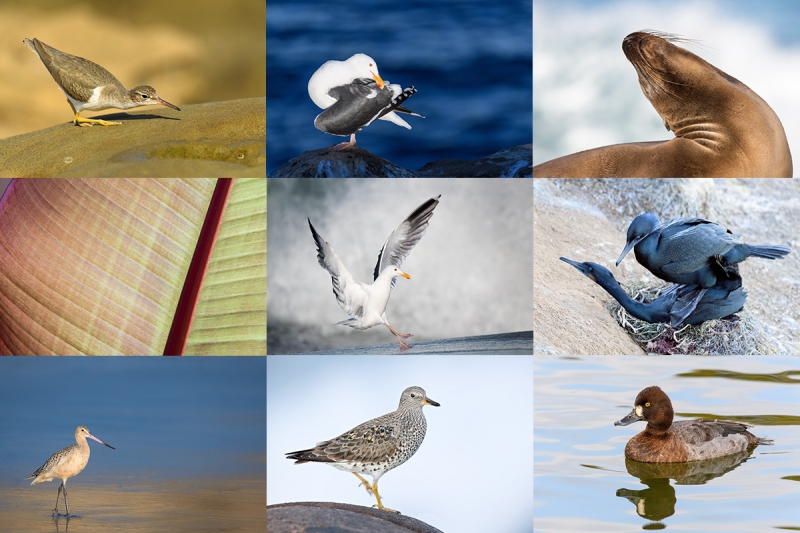 Though the pelicans will be the stars of the show on this IPT, there will be many other handsome and captivating subjects in wonderful settings. Click on the composite to enjoy a larger version.
It Ain't Just Pelicans
With gorgeous subjects just sitting there waiting to have their pictures taken, photographing the pelicans on the cliffs is about as easy as nature photography gets. With the winds from the east almost every morning there is usually some excellent flight photography as well. And the pelicans are almost always doing something interesting: preening, scratching, bill pouch cleaning, or squabbling. And then there are those crazy head throws that are thought to be a form of intra-flock communication. You will be guided as to how to make the best of all of those opportunities. And depending on the weather and local conditions and tides, there are a variety of fabulous photo chances available in and around San Diego.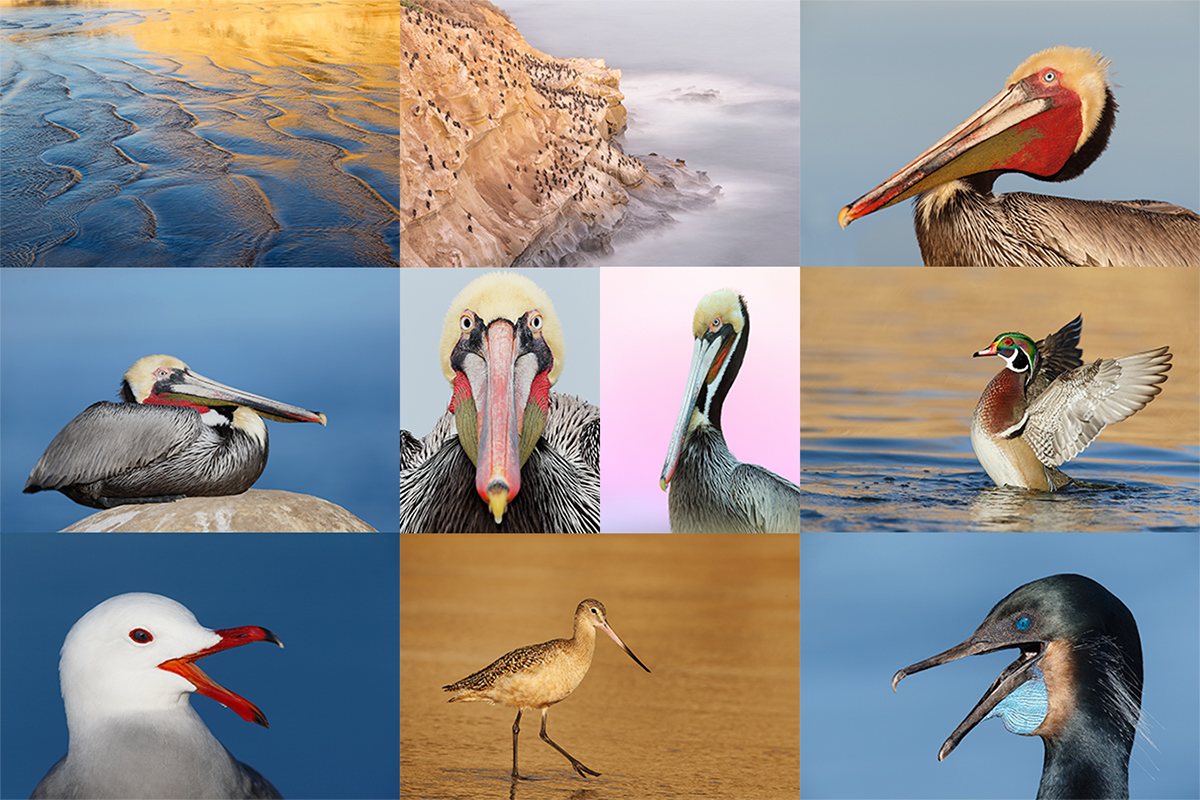 Did I mention that there are lots of great birds and natural history subjects in San Diego in winter? Click on the composite to enjoy a larger version.
The San Diego Details
This IPT will include five 3 1/2 hour morning photo sessions, four 2 1/2 hour afternoon photo sessions, four lunches, and after-lunch image review and Photoshop sessions. To ensure early starts, breakfasts will be your responsibility. And so that we can get some sleep, dinners will be on your own.
A $599 non-refundable deposit is required to hold your slot for this IPT. You can send a check (made out to "Arthur Morris) to us at BIRDS AS ART, PO Box 7245, Indian Lake Estates, FL, 3385, or call Jim or Jennifer at the office with a credit card at 863-692-0906. Your balance, payable only by check, is due upon registration. Please print, complete, and sign the form that is linked to here and shoot it to us along with your deposit check. If you register by phone, please print, complete and sign the form as noted above and either mail it to us or e-mail the scan. If you have any questions, please feel free to contact me via e-mail.
Travel Insurance
Travel insurance for both big international trips and US-based IPTs is highly recommended as we never know what life has in store for us. I strongly recommend that you purchase quality travel insurance. Travel Insurance Services offers a variety of plans and options. Included with the Elite Option or available as an upgrade to the Basic & Plus Options you can also purchase Cancel for Any Reason Coverage that expands the list of reasons for your canceling to include things such as sudden work or family obligation and even a simple change of mind. My family and I use and depend on the great policies offered by TIS whenever we travel. You can learn more here: Travel Insurance Services. Do note that many plans require that you purchase your travel insurance within 14 days of our cashing your deposit check or running your credit card. Whenever purchasing travel insurance, be sure to read the fine print carefully even when dealing with reputable firms like TSI.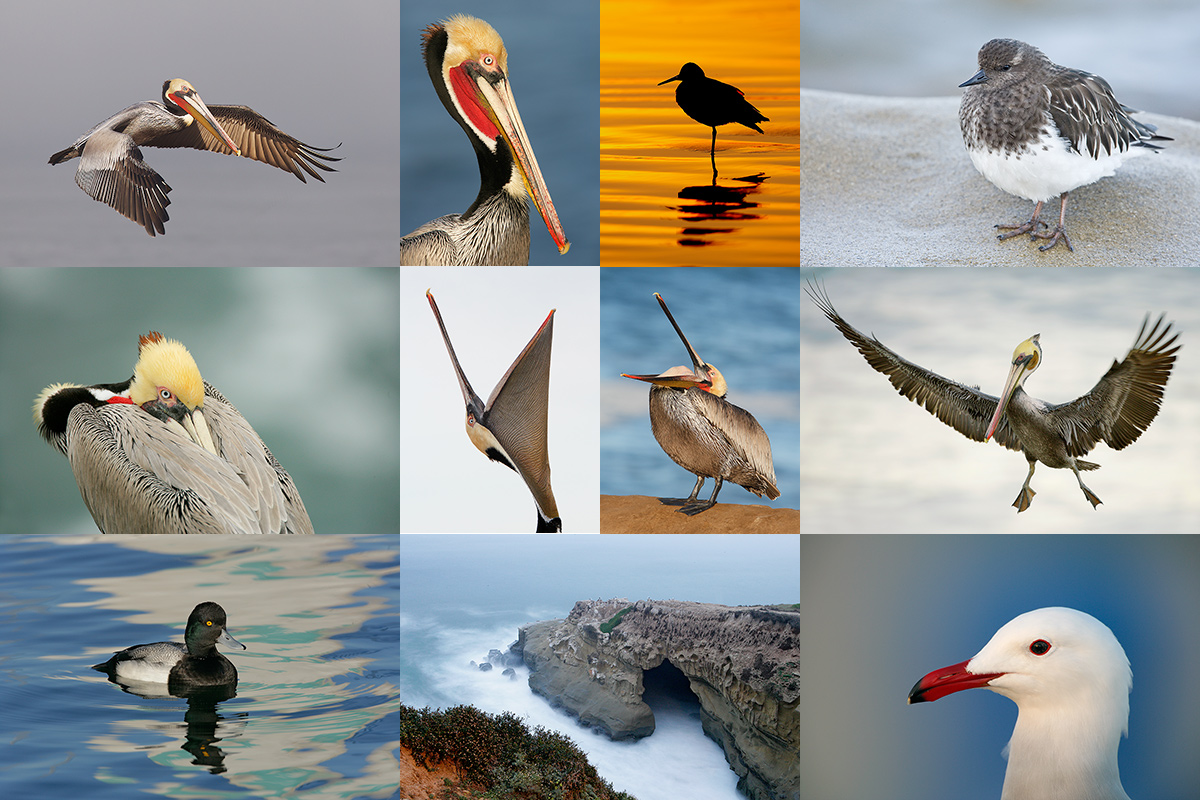 Variety is surely the spice of life in San Diego. Click on the composite to enjoy a larger version.
Getting Up Early and Staying Out Late
On all BIRDS AS ART IPTS including and especially the San Diego IPT, we get into the field early to take advantage of unique and often spectacular lighting conditions and we stay out late to maximize the chances of killer light and glorious sunset silhouette situations. We often arrive at the cliffs a full hour before anyone else shows up to check out the landscape and seascape opportunities.
If In Doubt …
If you are in doubt about using the BAA B&H affiliate link correctly, you can always start your search by clicking here. Please note that the tracking is invisible. Web orders only. Please, however, remember to shoot me your receipt via e-mail.
Please Remember to use my Affiliate Links and to Visit the BAA Online Store 🙂
To show your appreciation for my continuing efforts here, we ask, as always, that you get in the habit of using my B&H affiliate links on the right side of the blog or Bedfords, for all of your photo and electronics purchases. Please check the availability of all photographic accessories in the New BIRDS AS ART Online Store, especially the Mongoose M3.6 tripod head, Wimberley lens plates, Delkin flash cards and accessories, and LensCoat stuff.
As always, we sell only what I have used, have tested, and can depend on. We will not sell you junk. We know what you need to make creating great images easy and fun. And please remember that I am always glad to answer your gear questions via e-mail.
I would, of course, appreciate your using our B&H affiliate links or Bedfords for all of your major gear, video, and electronic purchases. For the photographic stuff mentioned in the paragraph above, and for everything else in the new store, we, meaning BAA, would of course greatly appreciate your business. Here is a huge thank you to the many who have been using our links on a regular basis and those who will be visiting the New BIRDS AS ART Online Store as well.
Facebook
Be sure to like and follow BAA on Facebook by clicking on the logo link upper right.
Typos
In all blog posts and Bulletins, feel free to e-mail or to leave a comment regarding any typos or errors. Just be right :).