What's Up?
The sun finally came out briefly yesterday and it was sunny with blue skies at ILE at 8:30 on Tuesday, December 24 but by 8:45 the clouds had returned in force. As the pool temps were up from a low of 70 to 78 degrees, my swim on Monday afternoon was absolutely balmy. Yesterday I created a free video with tips on photographing in cold weather. It will include info on the fabulous Motion Heat gloves that I used at Bosque this year. It will run in the next blog post.
I will head down to the lake as soon as I publish this blog post.
San Diego IPT Late Registration Discount
Please e-mail for San Diego IPT late registration discount information.
IPT Updates
Do check out the San Diego Gallery here.

The 2020 San Diego 4 1/2-DAY BIRDS AS ART Instructional Photo-Tour (IPT) WED JAN 8, 2020 thru and including the morning session on SUN JAN 12: 4 1/2 days: $2099.(Limit: 8/Openings: 5)
The GALAPAGOS Photo Cruise of a Lifetime IPT/The Complete Galapagos Archipelago Photographic Experience. August 17-31, 2021 on the boat. 13 FULL and two half-days of photography: $14,999.00.
Click here for complete IPT info and details.
Selling Your Used Photo Gear Through BIRDS AS ART
Selling your used (or like-new) photo gear through the BAA Blog is a great idea. We charge only a 5% commission. One of the more popular used gear for sale sites charged a minimum of 20%. Plus assorted fees! Yikes. They went out of business. And e-Bay fees are now up to 13%. The minimum item price here is $500 (or less for a $25 fee). If you are interested please scroll down here or shoot us an e-mail with the words Items for Sale Info Request cut and pasted into the Subject line :). Stuff that is priced fairly — I offer pricing advice to those who agree to the terms — usually sells in no time flat. Over the past year, we have sold many dozens of items. Do know that prices on some items like the EOS-1D Mark IV, the EOS-1DX, the old Canon 100-400, the old 500mm, the EOS-7D, and the 7D Mark II and the original 400mm DO lens have been dropping steadily. Most recently the price of used Canon 600mm f/L IS II lenses have been dropping like a rock with the introduction of the 600 III. You can always see the current listings by clicking here or on the Used Photo Gear tab on the orange-yellow menu bar near the top of each blog post page.
The Used Gear page has been very hot for the past two weeks with the continuing price drops on both Canon and Nikon gear. And there have been some great buys on SONY stuff too. There are still lots of solid bargains right now on the Used Gear Page. In addition to the recent sales below, there are several pending sales.
4th Generation Design Mongoose M3.5 Action Head
IPT veteran Dane Johnson is offering a. Mongoose M3.5 Action Head in like-new condition for the crazy low price of only $249.00. The head was used only twice. The sale includes the tool kit, the original user document and insured ground shipping via major courier to US lower 48 addresses only. Your item will not ship until payment clears unless other arrangements are made.
Please contact Dane via e-mail or by phone at 1-559-593-0989.
I used various versions of the Mongoose with great success for well more than a decade with all of my telephoto and intermediate telephoto lenses ranging from the 70-200mm f/2.8 to the 800mm f/5.6. and including the 600mm f/4 with the 2X TC! (All Canon.) As the current version sells for $680 plus shipping, you can save a neat $431.00 by being the first to get in touch with Dane. artie
SONY Price Drops
Sony Alpha a7R Mirrorless Digital Camera
Sale Pending first day of listing
Top pro-Jim Zuckerman is offering a Sony Alpha a7R Mirrorless Digital camera in excellent condition for an incredibly low $749.00 (was $1399). The sale includes two batteries, the original box, the charger, a ProTama Lens Mount Adapter (for Canon EF/EF-S Lenses to Sony E-mount camera), and insured ground shipping via major courier to US addresses only. Your item will not ship until your check clears unless other arrangements are made.
Please contact Jim via e-mail or by phone at 1-615-414-7644 (Central time).
The Alpha a7R Mirrorless Digital Camera from Sony incorporates a full-frame Exmor CMOS sensor into an E-mount body thus providing the light gathering capability and detail-rich imaging of a full-frame sensor with a compact, lightweight and versatile mirrorless interchangeable lens camera system. Differing from the full-frame Sony Alpha a7, the Alpha a7R omits the low-pass filter from its 36.4MP sensor, thus optimizing its high resolution, detail-rich imaging capability. In addition, the sensor features a new gapless lens design to increase corner-to-corner light collecting efficiency. The standard ISO sensitivity range of 100-25600 provides rich saturation in bright light and clear, low-noise images in low-light situations. This camera sells new for $1898. B&H
This, the first of the a7R series, would be an inexpensive way to get introduced to the SONY system. It is a great body for both travel and general nature photography. And you will save thousands as compared to a new a7R III or a7R IV. artie
Sony Alpha a7r IV Mirrorless Digital Camera Body
Price Reduced $200.00 on 21 DEC
BAA Record-low Price!
Multiple IPT veteran Larry Master is offering a Sony a7r IV Mirrorless Digital camera body in absolutely like-new condition for only $2898.00 (was $3098.00). In pristine condition, the body has only 3817 shutter actuations. The sale includes all accessories and insured UPS ground shipping to lower-48 US addresses. Your item will not ship until payment clears unless other arrangements are made.
Please contact Larry via e-mail or by phone at 1-518-645-1545 (Eastern time zone).
You've seen the incredible detail in my a7r IV images made with a variety of SONY lenses and both teleconverters. I've been using my 7r IV for 80% of my bird photography and my a9 II in pure flight situations. As the 7r IV sells new right now for $3498.00 you can save a cool $600.00 by being the first to grab Larry's pretty much new SONY mirrorless body. artie
FE Sony 400mm f/2.8 GM OSS Lens
BIRDS AS ART Record Low Price
Price reduced $400 on 22 DEC 2019
William Schneider is offering a Sony FE 400mm f/2.8 GM OSS lens in mint condition for the BAA record-low price of $10,297.00 (was 10,697.00). This immaculate lens has seen little use. The sale includes the lens hood, the lens trunk, the front lens cover, the rear lens cap, the lens strap, and insured shipping via Fed Ex Ground. Your item will not ship until your check clears unless other arrangements are made.
Please contact Bill via e-mail e-mail or by phone at 1-(262) 269-8628 (Eastern time zone).
This super-fast lens is amazingly light at 6.4 lbs, the same weight as the Nikon 300mm f/2.8. Patrick made lots of great images at St. Paul in the Pribilof Islands last July with the lens alone and with either the 1.4x and 2x teleconverters. He really enjoyed the 8.86 ft close-focusing capability and the beautiful bokeh that the lens produces. As this lens sells new right now for $12,998.00, you can save a cool $2,701.00 by grabbing this virtually new lens asap. artie
ps: at the time of publication this lens is very hard to get; it is not in stock at B&H or at Bedfords.
BIRDS AS ART
BIRDS AS ART is registered in the U.S. Patent and Trademark Office.

Money Saving Reminder
If you need a hot photo item that is out of stock at B&H, would enjoy free overnight shipping, and would like a $50 discount on your first purchase over $1000.00, click here to order and enter the coupon code BIRDSASART at checkout. If you are looking to strike a deal on Canon or Nikon gear (including the big telephotos) or on a multiple item order, contact Steve Elkins via e-mail or on his cell at (479) 381-2592 (Eastern time) and be sure to mention your BIRDSASART coupon code and use it for your online order. Steve has been great at getting folks the hot items that are out of stock at B&H. Those include the SONY a7r IV, the SONY 200-600, the SONY 600mm f/4 GM, and the Nikon 500mm PF. Steve is eager to please.
Gear Questions and Advice
Too many folks attending BAA IPTs and dozens of photographers whom I see in the field and on BPN, are–out of ignorance–using the wrong gear especially when it comes to tripods and more especially, tripod heads… Please know that I am always glad to answer your gear questions via e-mail. Those questions might deal with systems, camera bodies, accessories, and/or lens choices and decisions.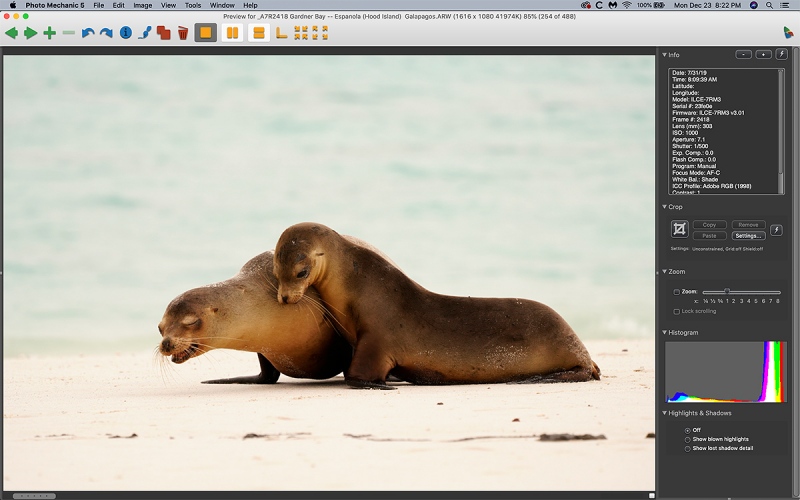 ISO 1000. Exposure determined by Zebras with ISO assigned to the rear wheel: 1/500 sec. at f/7.1 in Manual mode. Shade WB at 8:09am on a typically overcast morning.
The RAW file viewed in Photo Mechanic

Your browser does not support iFrame.
The Photo Mechanic Screen Capture
To expose to the right, I was likely +2 stops off the sand alone or about +1 1/3 as framed. With most camera systems, exposing to the right (as seen by the histogram on the PM screen capture above is the way to go as it results in larger file size and excellent control of noise. Blog regular Adam Rubinstein has sent me several e-mails suggesting a different approach with SONY bodies: shoot everything 2-3 stops underexposed and open the image up during post-processing. He suggests that ISO 320 is ideal for SONY. I will try shooting some comparisons with tame, static subjects. In addition to comparing the noise levels, it would be interesting to compare the file sizes of the test images …
Note the beach crud in the original … Shade WB was an error; I meant to set Cloudy. During the RAW conversion in Capture One I cooled the image down by reducing the WB via the slider.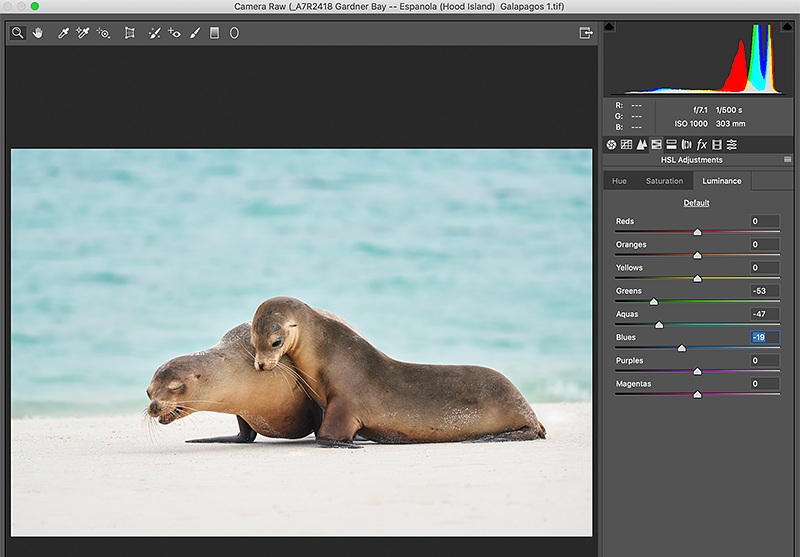 Camera RAW (ACR) HSL Adjustments

Your browser does not support iFrame.
Camera RAW (ACR) HSL Adjustments
Many folks do not realize that you can take a TIF file from a Capture One or a DPP 4 or other RAW conversion engine and make adjustments in Photoshop via Filter > Camera RAW Filter (ACR). As always, it is best to work on a layer so that you can fine-tune your results by changing the Opacity of the layer or you can refine them by adding a Regular Layer Mask.
For today's featured image I went Filter > Camera RAW Filter and then worked on the HSL tab. To bring up the rich CYAN color of the water I reduced the Luminance of the GREENs, AQUAs, and BLUEs after first increasing the Saturation of each of those colors just a bit. I find it a bit easier to make changes to specific colors with the HSL tab in ACR than using the Color Editor in Capture One …
For the beach clean-up, I used my usual cadre of Photoshop tools: the Patch Tool, the Spot Healing Brush, and Content-Aware Fill. I used the Add to Selection Lasso Tool to select all of the crud on the beach and then hit Shift/Delete to execute Content-Aware Fill. With not a lot of detail in the sand this worked to perfection and saved a ton of time as compared to removing the distractions one crud at a time …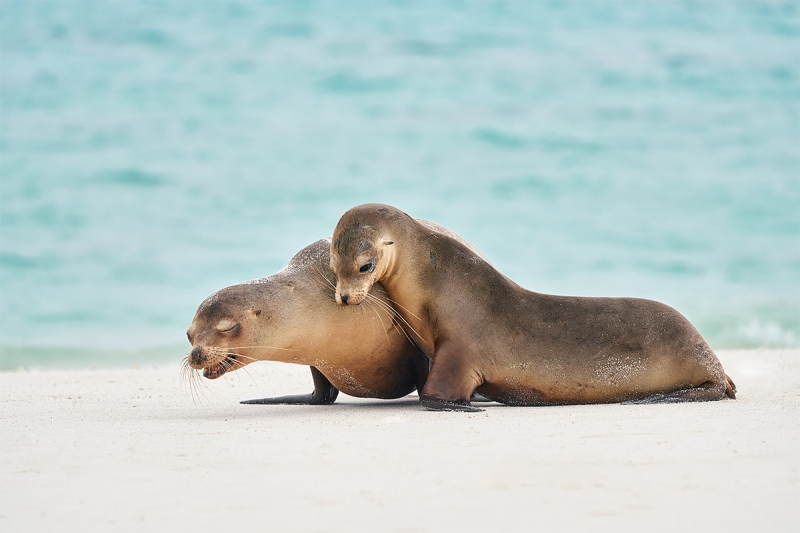 This image was created on July 31 on the 2019 Galapagos Photo-Cruise of a Lifetime IPT at Gardner. Bay. I used the handheld Sony FE 100-400mm f/4.5-5.6 GM OSS lens (at 303mm) with the high mega-pixel Sony Alpha a7R III Mirrorless Digital camera body. ISO 1000. Exposure determined by Zebras with ISO on the rear dial: 1/500 sec. at f/7.1 in Manual mode. Shade WB at 8:09am on a typically overcast morning.
Center Zone Continuous AF was active at the moment of exposure.
Today's Featured Image: Galapagos Sealions playing l

Your browser does not support iFrame.
The Optimized Version
As is typically more of a problem with higher megapixel camera bodies like the SONY a7R III & IV, the Nikon D850, and the Canon 5DS R, motion blur on the head of the seal on top was a bit of a problem. As the image was so cute, I attempted to fix that with a Contrast Mask (Unsharp Mask at 15/65/0). For web display, the results were just fine.
Gardner Bay for Galapagos Sealions
On any Galapagos trip, you will run into the sealions on most landings. Gardner Bay, with its lovely white sand beaches and lots of sealions of all ages, is my very favorite place to photograph them. In addition to these playful pinnipeds, we get to photograph Hood Mockingbird, Galapagos Dove, and several species of Darwin's finches.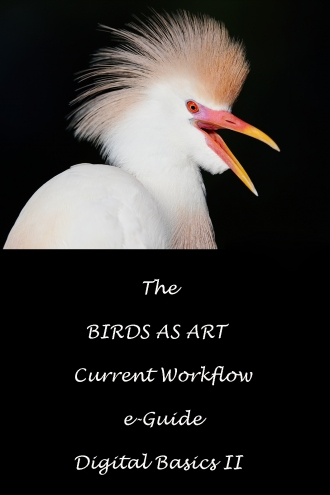 The BIRDS AS ART Current Workflow e-Guide (Digital Basics II).
You can order your copy from the BAA Online Store here, by sending a Paypal for $40 here, or by calling Jim or Jennifer weekdays at 863-692-0906 with your credit card in hand.
The BIRDS AS ART Current Workflow e-Guide (Digital Basics II)
Everything mentioned above (except for Capture One RAW conversions) and tons more — including all of my personalized Keyboard Shortcuts — is covered in detail in the BIRDS AS ART Current Workflow e-Guide (Digital Basics II), an instructional PDF that is sent via e-mail. Learn more and check out the free excerpt in the blog post here. While the new e-Guide reflects my Macbook Pro/Photo Mechanic/DPP 4/Photoshop workflow, folks using a PC and/or BreezeBrowser will also benefit greatly by studying the material on DB II. Note: folks working on a PC and/or those who do not want to miss anything Photoshop may wish to purchase the original Digital Basics along with DB II while saving $15 by clicking here to buy the DB Bundle.
Folks who learn well by following along rather than by reading can check out the complete collection of MP 4 Photoshop Tutorial Videos by clicking here. Note: all of the videos are now priced at an amazingly low $5.00 each.
You can learn how and why I converted all of my Canon digital RAW files in DPP 4 in the DPP 4 RAW Conversion Guide here. More recently, I became proficient at converting my Nikon RAW (NEF) files in Adobe Camera Raw. About two years ago I began converting my Nikon and Sony RAW files in Capture One Pro 12 and continue to do so today.
To purchase Capture One, please use this link. Then you can learn more about Capture One in the Capture One Pro 12 Simplified MP4 Video here. The next step would be to get a copy of Arash Hazeghi's "The Nikon Photographers' Guide to Phase One Capture One Pro e-Guide" in the blog post here.
You can learn advanced Quick Masking and advanced Layer Masking techniques in APTATS I & II. You can save $15 by purchasing the pair. Folks can learn sophisticated sharpening and (NeatImage) Noise Reduction techniques in The Professional Post Processing Guide by Arash Hazeghi and edited by yours truly. Please use this link to purchase NeatImage.
To introduce folks to our MP.4 videos and the basics involved in applying more NeatImage noise reduction to the background and less on the subject, I'd be glad to send you a free copy of the Free Noise Reduction Basics MP.4 Video. Simply click to shoot me an e-mail to get your free copy.
If In Doubt …
If you are in doubt about using the BAA B&H affiliate link correctly, you can always start your search by clicking here. Please note that the tracking is invisible. Web orders only. Please, however, remember to shoot me your receipt via e-mail.
Please Remember to use my Affiliate Links and to Visit the BAA Online Store 🙂
To show your appreciation for my continuing efforts here, we ask, as always, that you get in the habit of using my B&H affiliate links on the right side of the blog or Bedfords, for all of your photo and electronics purchases. Please check the availability of all photographic accessories in the New BIRDS AS ART Online Store, especially the Mongoose M3.6 tripod head, Wimberley lens plates, Delkin flash cards and accessories, and LensCoat stuff.
As always, we sell only what I have used, have tested, and can depend on. We will not sell you junk. We know what you need to make creating great images easy and fun. And please remember that I am always glad to answer your gear questions via e-mail.
I would, of course, appreciate your using our B&H affiliate links or Bedfords for all of your major gear, video, and electronic purchases. For the photographic stuff mentioned in the paragraph above, and for everything else in the new store, we, meaning BAA, would of course greatly appreciate your business. Here is a huge thank you to the many who have been using our links on a regular basis and those who will be visiting the New BIRDS AS ART Online Store as well.
Facebook
Be sure to like and follow BAA on Facebook by clicking on the logo link upper right.
Typos
In all blog posts and Bulletins, feel free to e-mail or to leave a comment regarding any typos or errors. Just be right :).