What's Up?
I am en route to the airport. It's hard to believe that in about 26 hours I will be spending the morning with the beautiful Pacific-race Brown Pelicans in La Jolla, CA. It is one of my very favorite bird photography spots on the planet. Private client and friend Bill Schneider will be with me this weekend. I will be staying for an additional six days to do some exploring on the central California coast just south of and including Morro Bay.
IPT Updates
Coming soon: one or two Spoonbill Boat IPTs, a spring Fort DeSoto Sandbar Secrets IPT, and a Nickerson Beach IPT this summer.
Do check out the Galapgos Gallery here.
The GALAPAGOS Photo Cruise of a Lifetime IPT/The Complete Galapagos Archipelago Photographic Experience. August 17-31, 2021 on the boat. 13 FULL and two half-days of photography: $14,999.00.

You can see complete IPT info and details here.
Selling Your Used Photo Gear Through BIRDS AS ART
Selling your used (or like-new) photo gear through the BAA Blog is a great idea. We charge only a 5% commission. One of the more popular used gear for sale sites charged a minimum of 20%. Plus assorted fees! Yikes. They went out of business. And e-Bay fees are now up to 13%. The minimum item price here is $500 (or less for a $25 fee). If you are interested please scroll down here or shoot us an e-mail with the words Items for Sale Info Request cut and pasted into the Subject line :). Stuff that is priced fairly — I offer pricing advice to those who agree to the terms — usually sells in no time flat. Over the past year, we have sold many dozens of items. Do know that prices on some items like the EOS-1D Mark IV, the EOS-1DX, the old Canon 100-400, the old 500mm, the EOS-7D, and the 7D Mark II and the original 400mm DO lens have been dropping steadily. Most recently the price of used Canon 600mm f/L IS II lenses have been dropping like a rock with the introduction of the 600 III. You can always see the current listings by clicking here or on the Used Photo Gear tab on the orange-yellow menu bar near the top of each blog post page.
The Used Gear page has been very hot for the past month with the continuing price drops on both Canon and Nikon gear. And there have been some great buys on SONY stuff too. There are still lots of solid bargains right now on the Used Gear Page. In addition to the recent sales below, there are several pending sales.
Recent Sales
In addition to the recent sales noted below, there are many pending sales as well.
Jim Lewis sold his Fujinon XF100-400mm F/4.5-5.6 R LM OIS lens in excellent condition for $899.00, his Canon EF 300mm f/2.8L IS II lens in like-new condition for a very low $3077.00 (was $3,198.00), a Canon Extender EF 1.4x III and a Canon Extender EF 2X III, both in like-new condition for only $223.00, all in mid-December 2019.
IPT veteran Dane Johnson sold his Canon EOS-1D X in like-new condition (with a low shutter count of < 7,100) along with a Canon EF 24-105mm f/4L IS USM Lens in mint condition for the crazy low price of only $2,095.00 (was $2,599.00) in mid-December 2019. BPN friend Ravi Hirekatur sold his Canon EF 100-400mm f/4-5.6L IS lens (the original 1-4) in excellent condition for the BAA record-low price of $499.00 in mid-December. Multiple IPT veteran Jim Miller sold his Canon EF 100-400mm f/4.5-5.6L IS II USM lens in excellent condition for a BIRDS AS ART record-low $1149.00, his Canon EF 500mm f/4L IS USM telephoto lens (the "old five") in excellent condition for $2399.00, a Canon EF 600mm f/4L IS II USM Lens in excellent condition (with some paint scrapes on the bottom of lens foot where it meets mounting plate) for a very low $5,699.00, a Canon EF 70-200mm f/2.8L IS II USM lens in excellent condition (there are some tiny paint chips here and there) for only $849.00, his refurbished Canon EOS 5D Mark III camera body in excellent condition with a few small, faint rubs on the body for a ridiculously low $699.00, a Canon EF 50mm f/1.4 lens in excellent condition for $129.00, and a Canon Extender EF 1.4X III (teleconverter) in very good condition for $199.00, all within days of their being listed in mid-December, 2019. Ken Siegel sold his Sony a7r III in mint condition for only $1949.00 (was $2049.00) in early December 2019. IPT veteran Joe Randle sold a Canon 500mm f4L IS USM Super Telephoto lens (the "old five") in near-mint condition for the BAA record-low price of $2499.00 and his Canon EF 24-70 f2.8L II USM lens in near-mint condition for the very low price of $899.00 both in early December 2019.
New Listing
Canon Macro EF 180mm f/3.5L Macro Lens
BAA Record-low Price!
IPT veteran Dane Johnson is offering a Canon EF 180mm f/3.5 L Macro Lens in near-mint condition for the crazy low price of only $649.00. There are no scratches, scuffs, or marks of any kind on the glass, lens or hood. The only sign of age is a slight graying of the rubber on the focusing ring. The sale includes the lens, front and rear lens caps, tripod collar, Lens Hood ET-78II, Canon's fabric Lens Case, lens case shoulder strap, original user documents, the original product box, and insured ground shipping via major courier to US lower 48 addresses only. Photos are available upon request. Your lens will not ship until your check clears unless other arrangements are made.
Please contact Dane via e-mail or by phone at 1-559-593-0989.
The Canon 180 Macro was my mainstay macro lens for more than a decade. I loved the extra reach that it provides over the various 100mm macro lenses. And, assuming that you will be working on a tripod, the Canon EF Extender 1.4X is perfectly compatible. The lens is great for flowers, bugs, butterflies, frogs, toads, and snakes among lots more. This lens — still in production — sells new for $1,399.00. You can save a smooth $750.00 on Dane's practically new lens. artie
BIRDS AS ART
BIRDS AS ART is registered in the U.S. Patent and Trademark Office.

Money Saving Reminder
If you need a hot photo item that is out of stock at B&H, would enjoy free overnight shipping, and would like a $50 discount on your first purchase over $1000.00, click here to order and enter the coupon code BIRDSASART at checkout. If you are looking to strike a deal on Canon or Nikon gear (including the big telephotos) or on a multiple item order, contact Steve Elkins via e-mail or on his cell at (479) 381-2592 (Eastern time) and be sure to mention your BIRDSASART coupon code and use it for your online order. Steve has been great at getting folks the hot items that are out of stock at B&H. Those include the SONY a7r IV, the SONY 200-600, the SONY 600mm f/4 GM, and the Nikon 500mm PF. Steve is eager to please.
Gear Questions and Advice
Too many folks attending BAA IPTs and dozens of photographers whom I see in the field and on BPN, are–out of ignorance–using the wrong gear especially when it comes to tripods and more especially, tripod heads… Please know that I am always glad to answer your gear questions via e-mail. Those questions might deal with systems, camera bodies, accessories, and/or lens choices and decisions.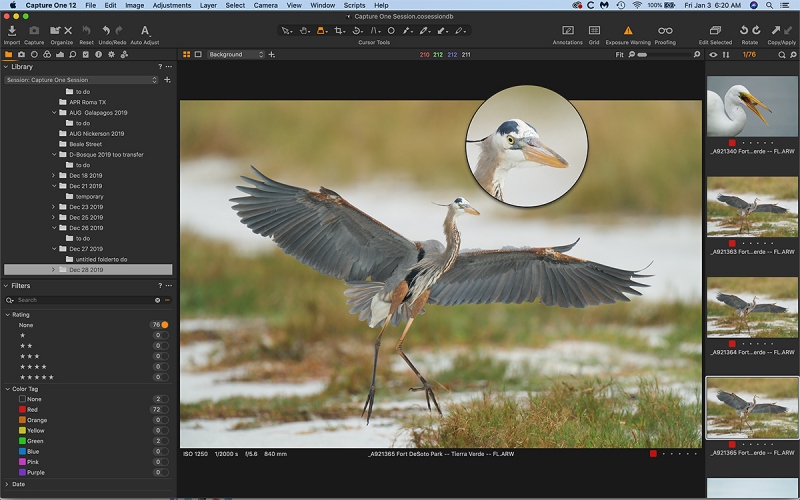 Capture One Screen Capture for today's featured image: Great Blue Heron braking to land
Your browser does not support iFrame.
Being Lucky is Not Enough …
You've Got to Be Prepared and Be Quick!
I spotted this bird flying toward us. Harry was down at the shoreline photographing some White Pelicans resting on the sandbar. I was well up on the beach. When I saw. the bird. coming I called out, "Here comes a great blue right at us." As I had been set for the very white pelicans in manual mode at ISO 800, 1/2000 second at f/5.6 and knew that the GBH would need more light I simply upped the ISO by turning the Control Wheel clockwise two clicks to raise the ISO to 1250. The exposure was dead-solid perfect; in RAW Digger it showed 0% overexposure and 0%. underexposure! Sometimes you do not have time to check for the Zebras but a good basic understanding of exposure theory will almost always save the day. Remember: WHITEs need less light to be properly exposed than MIDDLE TONEs and BLACKs and. DARK TONEs need more light than MIDDLE TONES.
Learn Exposure Theory in the chapter on Exposure in the original The Art of Bird Photography.. Or save some bucks and enjoy a complete bird photography education by purchasing the two-book bundle here.
I love the underwing detail in this image and I got very lucky with the background and the positioning of the bird's head against white sand in the background. But the main point of this post is that no matter how lucky you are to be in the right place at the right time, you need to have mastered the fundamentals and the operation of your camera and lens in order to meet success.
The SONY 600mm/1.4XTC/a9 II for Flight
I created about 15 images of the incoming heron. All were razor-sharp on the eye. WIDE is simply amazing, even. with the 14X TC in place. As you can see in the screen capture that opened this blog post, I kept only three. At the start of the series, I had been panning a bit too slowly and the bird was too far to my right in the frame. (Universal advice for better flight photography: pan faster!) Even when I am shooting flight off a tripod, my biggest problem is simply keeping the bird centered in the frame. And the situation is worse when I am handholding. Folks scoff when I write that I am not a very good flight photographer but my hand-eye coordination, strength, and stamina (for handholding especially) have never been great.
I am falling more in love with my SONY gear every day that I use it and the a9 II tops the list … Patrick Sparkman and I will be working on a comprehensive SONY Camera User's Guide while I am in California. It will be the best camera user's guide that I have ever created in part because the SONY menus are so complex and offer so, so many options, some of them useful. And we have learned by experience that some of the default settings can cause serious problems …For folks who have not used my B&H affiliate links or purchased their gear from Bedfords, this guide will be priced oppressively.
The SONY Zebras Exposure Guide Short Video
If you own a high-end SONY camera body, there is absolutely no reason that you should not be getting a perfect exposure every time with every image even in the most difficult situations — white birds, dark backgrounds, dark birds against white skies, simply pick your shutter speed and aperture and then adjust the ISO on the Control Wheel until you see faint blinkies. It's that simple. Learn how in the SONY Zebras Exposure Guide Short Video. To order your copy, please send a Paypal to us at birdsasart@verizon.net for $30. Please state in the Paypal that the payment is for the SONY Zebras Exposure Guide Short Video.
Alternatively, you can place a phone order for the SONY Zebras Exposure Guide by calling Jim at 863-692-0906 MON to THURS and most FRI mornings.
Folks who have purchased a SONY lens and/or a SONY body using either my B&H affiliate links or from Steve Elkins at Bedfords will enjoy a $20 discount. If you qualify, please shoot me an e-mail so that I can confirm your discount.
Folks who have purchased the SONY 600mm f/4 GM lens using my links will receive the file for free. If you qualify for a free copy, please shoot me an e-mail so that I can confirm your discount.
After I confirm your discount, you can either call Jim or send us a Paypal (as above).
If In Doubt …
If you are in doubt about using the BAA B&H affiliate link correctly, you can always start your search by clicking here. Please note that the tracking is invisible. Web orders only. Please, however, remember to shoot me your receipt via e-mail.
Please Remember to use my Affiliate Links and to Visit the BAA Online Store 🙂
To show your appreciation for my continuing efforts here, we ask, as always, that you get in the habit of using my B&H affiliate links on the right side of the blog or Bedfords, for all of your photo and electronics purchases. Please check the availability of all photographic accessories in the New BIRDS AS ART Online Store, especially the Mongoose M3.6 tripod head, Wimberley lens plates, Delkin flash cards and accessories, and LensCoat stuff.
As always, we sell only what I have used, have tested, and can depend on. We will not sell you junk. We know what you need to make creating great images easy and fun. And please remember that I am always glad to answer your gear questions via e-mail.
I would, of course, appreciate your using our B&H affiliate links or Bedfords for all of your major gear, video, and electronic purchases. For the photographic stuff mentioned in the paragraph above, and for everything else in the new store, we, meaning BAA, would of course greatly appreciate your business. Here is a huge thank you to the many who have been using our links on a regular basis and those who will be visiting the New BIRDS AS ART Online Store as well.
Facebook
Be sure to like and follow BAA on Facebook by clicking on the logo link upper right.
Typos
In all blog posts and Bulletins, feel free to e-mail or to leave a comment regarding any typos or errors. Just be right :).