What's Up?
Monte Brown came early to spend a few extra days with me and then attend the San Diego IPT. He was hoping to photograph the usually easy Wood Ducks. We tried and failed three times early on. This normally dependable species was inexplicably missing in action. As we had killed on the pelicans every morning and on two afternoons as well, we decided to try for Wood Ducks for Monte on the last morning of the IPT. I must admit to not being very optimistic about our chances. Well, the usually reliable spot under the big oak tree turned out to be Wood Duck City. We had about six handsome males and several hens in the shade and in soft light with golden yellow and rich green reflections. And for the second time ever for me, we had them leaping out of the water into the oak tree to grab an acorn or two. And for the second time ever, I failed miserably at catching them as takeoff or in flight. Others succeeded beyond belief … Photos to follow.
Monte is reviewing his images as I type. He just said, "There are so many good ones that it is hard to …"
If you are at all interested in joining me in Homer, please get in touch asap via e-mail or call me on my cell at 863-221-2372.
Learn some neat stuff about RAW files and exposure in the comments and my responses in the blog post here.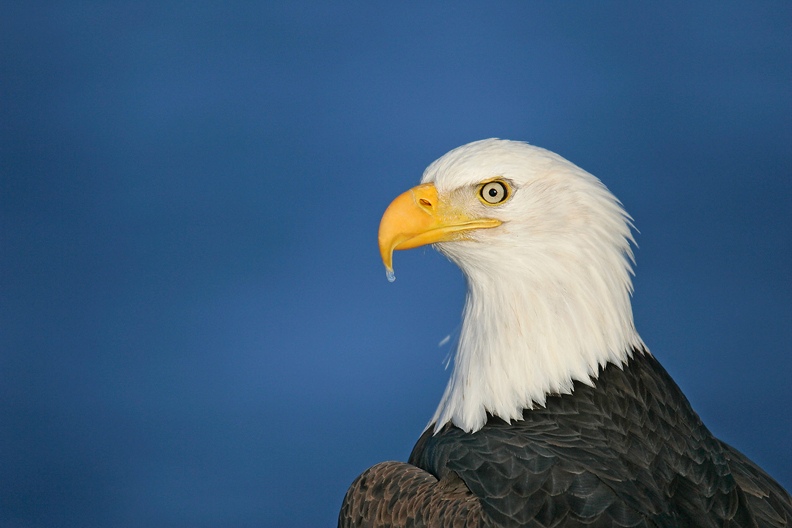 This image was made with a tripod-mounted Canon 600mm L IS lens wide open at f/4.
If you missed the Homer IPTs announcement (there are two separate trips), or if you are thinking of attending, be sure to see yesterday's post here.
Image #26: Bald Eagle with ice on bill tip
More On Homer
For the first trip only, I am offering a $500/person discount for those who sign up with a friend or spouse.
IPT #1: FEB 25 through the full day on MAR 1, 2020. Six full days: $4799.00. Limit 5 photographers/Openings: 4.
IPT #2: MAR 3 through the full day on MAR 7, 2020. Five full days: $3999.00. Limit 5 photographers/Openings: 3.
Via e-mail from Multiple IPT veteran Greg Ferguson:
I attended this IPT in 2011 and can only say it was the most intensive bird photography I have ever experienced. My arms were tired and sore from shooting so many action photos. It is highly recommended! I called Jim today and signed up for a reprise. Greg