What's Up?
Homer is nearly sold out. First-time John Koeniger left his deposit for the 2nd trip this morning. The other six registrants are IPT veterans. Thanks about that for a moment … So there is just one slot left on the second trip, two on the first. If you would like to make this happen for you, please contact me immediately via e-mail or try me on my cell at 863-221-2372. The pool is up to 70 degrees!
Homer Bald Eagle Photography Lessons
Click on the play triangle to learn about getting the right exposure for black and white subjects in sun or on cloudy or snowy days, the best lenses for eagle photography in Homer, creating pleasing blurs, basic and advanced composition, and tons more in this free video. Click on the little broken white square lower right next to YouTube to view the video full screen. Hit Escape to exit full screen. Enjoy!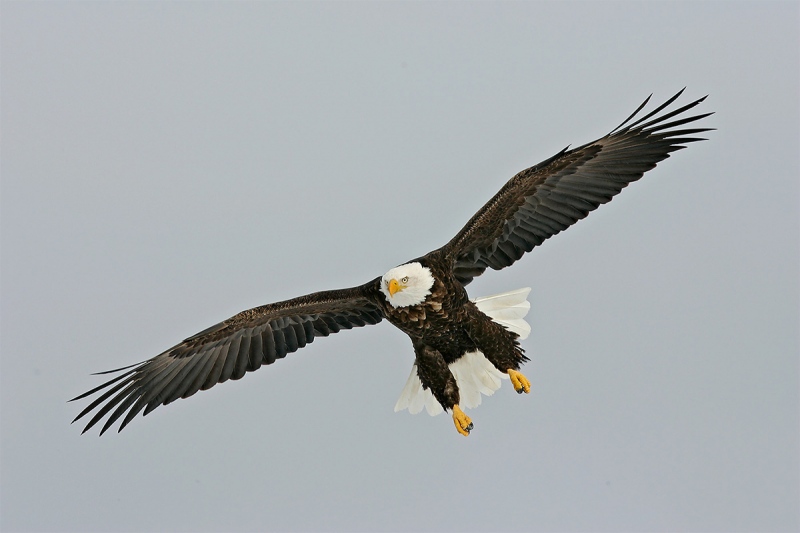 This image was made with the hand held Canon Lens 100-400mm IS lens (at 300mm). ISO 400: 1/1000 sec.at f/6.3.
If you missed the Homer IPTs announcement (there are two separate trips), or if you are thinking of attending, be sure to see the complete offering here.
Image #33: Bald Eagle on final approach
More On Homer
For the first trip only, I am offering a $500/person discount for those who sign up with a friend or spouse. You can access the complete trip offering here.
IPT #1: FEB 25 through the full day on MAR 1, 2020. Six full days: $4799.00. Limit 5 photographers/Openings: 2.
IPT #2: MAR 3 through the full day on MAR 7, 2020. Five full days: $3999.00. Limit 5 photographers/Openings: 2.
Via e-mail from Multiple IPT veteran Greg Ferguson:
I attended this IPT in 2011 and can only say it was the most intensive bird photography I have ever experienced. My arms were tired and sore from shooting so many action photos. It is highly recommended! I called Jim today and signed up for a reprise. Greg
Via e-mail from Multiple IPT veteran Dick Curtain:
I attended the Homer IPT in the past and can only say it was a great experience. Many eagles, beautiful scenery, great instruction, and many fond memories. Don't miss it.
IPT Updates
The Greatest-ever Bald Eagle Experience IPTs:
IPT #1: FEB 25 through the full day on MAR 1, 2020. Six full days: $4799.00 (Price reduced to $3999.00!). Limit 5 photographers/Openings: 1.
IPT #2: MAR 3 through the full day on MAR 7, 2020. Five full days: $3999.00. Limit 5 photographers/Openings: 2
The 2020 Hooptie Deux/Roseate Spoonbill Boat 3 1/2 DAY IPT — MAR 19 thru the morning session 22 MAR 2020: $2599.00. Limit: 5 photographers/Sold out