What's Up?
I am headed over to St Pete later this morning to meet up with multiple IPT veteran Larry Master at Fort DeSoto this afternoon for 1 1/2 days of pretty much private SONY In-the-Field Instruction. I will do my swim at 8:30am today and then have the bloodwork for my next check-up done on the way over. A nice crowd of non-photographers was present at my program last night at ILE. Thanks to Jim Litzenberg for his assistance.
Thanks to those who left comments at yesterday's An Absolute Pleasure blog post here.
I spoke by phone and e-mail with John LeClair. He said that Tricia had been nervous about coming to Gatorland thinking that she might be in over her head. He continued by saying that his wife felt 100% comfortable and appreciated my gentle approach to teaching. And, she learned a ton!
A $1399 Discount Offer
I am offering a phenomenal $1399 late registration discount on the first Homer IPT. $1399 is not a typo. 2 slots are open.
The Greatest-ever Bald Eagle Experience IPTs:
IPT #1: FEB 25 through the full day on MAR 1, 2020. Six full days: $4799.00 Limit 5 photographers/Openings:2.
Please e-mail if you would like to cross off Doing the Homer Bald Eagles from your bucket list.
Florida Learning Opportunity
Morning In-the-Field Session: Thursday FEB 13, 2020
Join me at DeSoto or in Lakeland to photograph tame American White Pelicans and lots more; right now the location is your call. Morning session (6:30-9:30am) plus a working brunch: $250.00.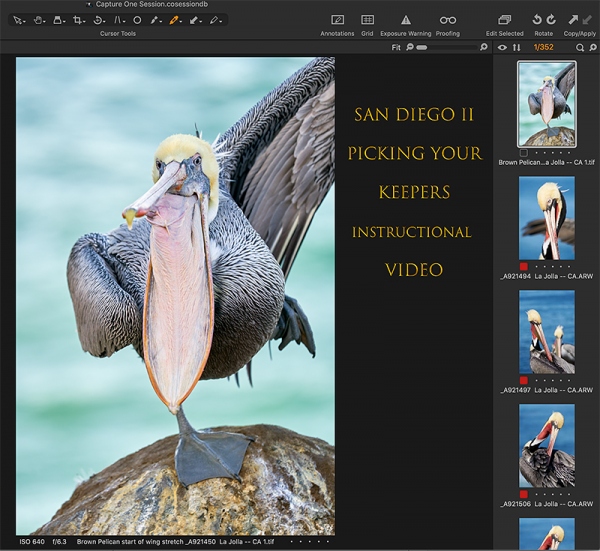 San Diego II Picking Your Keepers Instructional Video
San Diego II Picking Your Keepers Instructional Video
$20 via electronic download. Order your copy from the BAA Online Store by clicking here.
Today's featured image was a keeper in the San Diego II folder. In this one hour, sixteen-minute Capture One screen capture video, sit beside me as I pick my keepers from an almost 800-image folder entitled San Diego II. Learn what makes one image better than other very similar ones. Learn the minutiae of head angle and light angle and the compositional fine points (including the importance of using diagonal lines to your images) that make one image a keeper and others in the series insta-deletes. Learn more about wing positions and flight poses and tons more. In the video, I comment on my image optimization plans for many images and throw in some in-the-field and capture tips as well. With today's digital camera bodies offering superb autofocus accuracy, fast frame rates, and often ridiculously large image files, learning to edit (pick your keepers) tightly is an important skill to develop.
The editing teaser was done in Photo Mechanic, the main video in Capture One. But it does not matter whether you use one of those programs or Bridge in Photoshop or Lightroom to pick your keepers; it is the principles that are involved in making each keep-or-reject decision that will prove to be invaluable.
During IPTs, editing sessions like the one in the video are extremely popular; everyone always learns a ton — why didn't I see that? — and folks often clamor for more.
$20 via electronic download. Order your copy from the BAA Online Store by clicking here.
Selling Your Used Photo Gear Through BIRDS AS ART
Selling your used (or like-new) photo gear through the BAA Blog is a great idea. We charge only a 5% commission. One of the more popular used gear for sale sites charged a minimum of 20%. Plus assorted fees! Yikes. They went out of business. And e-Bay fees are now up to 13%. Please understand that e-Bay prices are bogus. And the same is true of the prices of used gear including my dear friends at B&H and the other mega-outfits. They offer you pennies and then try to sell the stuff to ignorant folks for ridiculously high prices. With their huge international exposure, they occasionally find someone …
The minimum item price here is $500 (or less for a $25 fee). If you are interested please scroll down here or shoot us an e-mail with the words Items for Sale Info Request cut and pasted into the Subject line :). Stuff that is priced fairly — I offer pricing advice to those who agree to the terms — usually sells in no time flat. Over the past year, we have sold many many dozens of items. Do know that prices on some items like the EOS-1D Mark IV, the 5Ds and 5Ds R, the old Canon 500mm, the EOS-7D, the Canon 200-400 with internal extender, and the original 400mm DO lens have been dropping steadily. Most recently the price of used Canon 600mm f/L IS II lenses have been dropping like a rock with the introduction of the 600 III. The prices garnered for used Canon gear has tanked completely as demand has dropped tremendously. It is ironic that for decades Canon gear had very strong resale value …
Note: all BAA Used Gear sales include insured ground shipping via UPS to lower 48 US addresses only. Others who live elsewhere are invited to e-mail the seller for shipping surcharge info. Sellers should charge you only the difference between shipping to the farthest US location from their home and the charge to a non-lower-48 address.
New Listing
Canon 300mm f/2.8L IS USM Lens (with extras!)
Barry McKenzie is offering a Canon 300mm f/2.8L IS USM lens in excellent plus condition for a very low $3,399.00. The sale includes the hood, the rear cap, the lens trunk, a LensCoat, the CD, two front lens covers, the Canon PL-C52 polarizer, and insured ground shipping via major courier to lower-48 US addresses only. Photos available on request. Your item will not ship until your check clears unless other arrangements are made.
Please contact Barry via e-mail.
The 300mm f/2.8 lenses have long been the favorites of the world's best hawks-in-flight photographers. And since they perform superbly with both teleconverters, they make a great workhorse lens for bird photographers who wish to hand hold, especially those with crop factor bodies like the 7D Mark II or those with some of the newer Canon bodies likee the very popular Canon EOS 90D… artie
An All-Time Bargain!
Canon EF 600mm f/4L IS III USM Lens
Price dropped $600 on 6 FEB 2020!
Paul Mckenzie is offering a Canon EF 600mm f/4L IS III USM lens in mint condition (but for a very few minor blemishes on the lens hood) for the BAA record-low-by-far price of 10,399.00 (was $10,999.00). The sale includes the lens hood, the front lens cover, the rear cap, the original product box, the instruction manual, the warranty card, the strap, and insured shipping via FedEx. The sale does not include the LS600 soft case. Your item will ship upon receipt of your wire transfer. All sales are subject to the restrictions noted above.
Please contact Paul via e-mail.
The 600 III is the latest Canon version of my favorite weapon of mass destruction for bird photography. With its super balance, light weight, incredible sharpness, and a five-stop Image Stabilization system, the 600 III is a technological marvel. The lens tips the scale at a relatively svelte 6.71 lb — about one ounce heavier than the SONY 600mm f/4GM OSS lens. It is a fraction under two pounds lighter than the Canon 600 II. Thus, it is eminently hand-holdable for many folks. As this lens sells new for $12,999.00, you can save a neat $2600.00 by being the one to grab Paul's pretty much new lens. This lens is super-sharp with either TC, one of the great advantages of Canon over Nikon … artie
BIRDS AS ART
BIRDS AS ART is registered in the U.S. Patent and Trademark Office.

Money Saving Reminder
If you need a hot photo item that is out of stock at B&H, would enjoy free overnight shipping, and would like a $50 discount on your first purchase over $1000.00, click here to order and enter the coupon code BIRDSASART at checkout. If you are looking to strike a deal on Canon or Nikon gear (including the big telephotos) or on a multiple item order, contact Steve Elkins via e-mail or on his cell at (479) 381-2592 (Eastern time) and be sure to mention your BIRDSASART coupon code and use it for your online order. Steve has been great at getting folks the hot items that are out of stock at B&H. Those include the SONY a7r IV, the SONY 200-600, the SONY 600mm f/4 GM, and the Nikon 500mm PF. Steve is eager to please.
Gear Questions and Advice
Too many folks attending BAA IPTs and dozens of photographers whom I see in the field and on BPN, are–out of ignorance–using the wrong gear especially when it comes to tripods and more especially, tripod heads… Please know that I am always glad to answer your gear questions via e-mail. Those questions might deal with systems, camera bodies, accessories, and/or lens choices and decisions.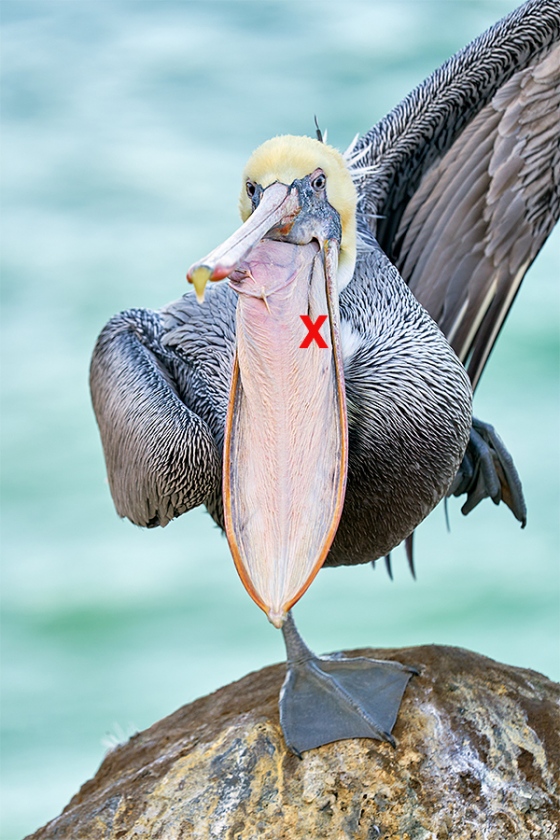 This image was created on January 10, 2020 at La Jolla, CA. Again, I used the hand held Sony FE 200-600mm f/5.6-6.3 G OSS lens (at 397mm) with the blazingly fast AF King, the Sony Alpha a9 II Mirrorless Digital camera body. ISO 640. Exposure determined by Zebras with ISO on the rear wheel: 1/320 sec. at f/6.3 in Manual mode. AWB at 10:55am on a cloudy morning.
Upper Right Zone Continuous (C) AF got the job done.
Click to enlarge and enjoy a slightly larger version.
Brown Pelican start of wing stretch

Your browser does not support iFrame.
The Correct Answer Was E
In the Image-Difficulty Multiple Choice Quiz blog post here, I posted the following:
What Factors Made Creating This Image Quite Difficult?
A- Getting the framing right
B- Getting the right exposure
C- Getting both eyes visible and relatively sharp
D- A & B
E- A & C
F- A, B, & C
So why was E the only correct answer?
A- is correct because getting the framing right when the bird does something unexpected is very difficult. Here II zoomed out quickly and hoped for the best.
B- is incorrect as getting the right exposure with SONY using Zebras in Manual mode with ISO on the rear dial is child's play once you learn how to do it.
C- is correct because getting both eyes visible and relatively sharp is extremely difficult (often bordering on the impossible). Getting both eyes visible was actually the pelican's doing. I got lucky with that, and with getting the eyes relatively sharp. by following my own oft-given advice: when unexpected action occurs press the shutter button. If you try to adjust the AF Area Mode or the location of an AF point, you will surely miss the action. That would surely have been the case here as the action lasted two seconds at most. The red X on the image shows the area of sharpest focus which very closely approximates the location of the active AF point. I was very lucky in that the plane of focus (at the red X) was only slightly in front of the plane of the bird's left eye … Very lucky!
Both eyes sharpened up nicely with a Contrast Mask as detailed in Digital Basics II.
One of the two great faults with the SONY system is that no SONY software exists and tell the photographer either which AF Area was used or the location of the active AF point. You might say that this is both a crying shame and a huge embarrassment. It is possible to do both of these things in RAW digger. The AF area can be found in the EXIF. Determining the approximate focus location is both difficult and cumbersome. But it can be done. If anyone would like a short tutorial on how to determine the focus location in Raw Digger, please send a PayPal for $10 to birdsasart@verizon.net and be sure that the words Raw Digger Focus Location are somewhere in the e-mail. It will take a day or two to get the tutorial together. If any income derived is derived here, it will be shared with Patrick Sparkman who taught me everything I know aboout Raw Digger. He is not planning on retiring with the proceeds …
If In Doubt …
If you are in doubt about using the BAA B&H affiliate link correctly, you can always start your search by clicking here. Please note that the tracking is invisible. Web orders only. Please, however, remember to shoot me your receipt via e-mail.
Please Remember to use my Affiliate Links and to Visit the BAA Online Store 🙂
To show your appreciation for my continuing efforts here, we ask, as always, that you get in the habit of using my B&H affiliate links on the right side of the blog or Bedfords, for all of your photo and electronics purchases. Please check the availability of all photographic accessories in the New BIRDS AS ART Online Store, especially the Mongoose M3.6 tripod head, Wimberley lens plates, Delkin flash cards and accessories, and LensCoat stuff.
As always, we sell only what I have used, have tested, and can depend on. We will not sell you junk. We know what you need to make creating great images easy and fun. And please remember that I am always glad to answer your gear questions via e-mail.
I would, of course, appreciate your using our B&H affiliate links or Bedfords for all of your major gear, video, and electronic purchases. For the photographic stuff mentioned in the paragraph above, and for everything else in the new store, we, meaning BAA, would of course greatly appreciate your business. Here is a huge thank you to the many who have been using our links on a regular basis and those who regularly visit the New BIRDS AS ART Online Store as well.
Facebook
Be sure to like and follow BAA on Facebook by clicking on the logo link upper right.
Typos
In all blog posts and Bulletins, feel free to e-mail or to leave a comment regarding any typos or errors. Just be right :).