What's Up?
Larry Master and I had a great afternoon at DeSoto. And best of all, Larry learned a ton about his SONY a9 ii. We have a full day together, today, WED 9 FEB 2020.
This Just In!
Larry and I had a killer Wednesday morning at DeSoto. We started with several species of wading birds catching shrimp (and one large sculpin!) in still, mirror-like greenish-black water. On the beach, we had large flocks of Red Knot, and some great incoming Royal Tern flight photography to go along with a big Snowy Egret/Red-breasted Merganser feeding spree. At our last stop, we had dozens of handsome molting Laughing Gulls, many dozens of Willets, and a pair of tame American Oystercatchers. We are dining at the Neptune Grill in Gulfport as I type!
Last Second Florida Learning Opportunity
Morning In-the-Field Session: Thursday FEB 13, 2020
Join me at DeSoto or in Lakeland to photograph tame American White Pelicans and lots more; right now the location is your call. Morning session (6:45-10:000am) plus a working brunch: $250.00.
Price Drop on a Gem
Canon 600mm f/4L IS USM III Lens
Price dropped $600 on 12 FEB 2020!
IPT veteran Cris Hamilton is offering a Canon EF 600 f/4L IS III USM Lens in mint condition for $10,899..0 (was $11,499.00). The sale includes the original shipping box and everything that came with the lens: the lens hood, the rear cap, the front lens cover, the soft case, the instruction manual, the warranty card, the lens strap, a Realtree LensCoat, and insured ground shipping via major courier to lower-48 US addresses only. Your item will not ship until your check clears unless other arrangements are made.
Please contact Cris via e-mail or by phone at 1-724-746-1954 (Eastern time zone).
The 600 III is the latest Canon version of my favorite weapon of mass destruction for bird photography. With its super balance, light weight, incredible sharpness, and a five-stop Image Stabilization system, the 600 III is a technological marvel. The lens tips the scale at a relatively svelte 6.71 lb — about one ounce heavier than the SONY 600mm f/4GM OSS lens. It is a fraction under two pounds lighter than the 600 II. Thus, it is eminently hand-holdable for many folks. As this lens sells new for $12,999.00, you can save a neat $2,100.00 by being the one to grab Cris's pretty much new lens right now. This lens is super-sharp with either TC, one of the great advantages of Canon over Nikon … artie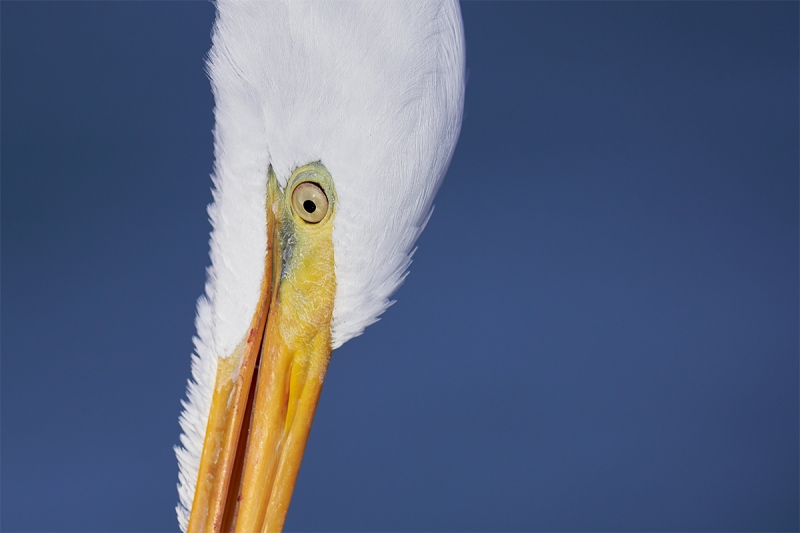 This image was created 11 FEB at Fort DeSoto, I used the hand held Sony FE 200-600mm f/5.6-6.3 G OSS lens (at 600mm) with the 61-MP monster, the Sony Alpha a7R IV Mirrorless Digital camera body. ISO 800. Exposure determined by Zebras with ISO on the rear wheel: 1/2000 sec. at f/7.1 in Manual mode. AWB at 4:36pm on a sunny afternoon.
Flexible Spot (M) Tracking — Continuous (C) AF was active at the moment of exposure.
Click to enlarge and enjoy a larger version.
Great Egret — face detail of young bird

Your browser does not support iFrame.
More on Flexible Spot (M) with Tracking
I am learning a lot more about this AF Area each day:
1- you must be very precise when first acquiring focus.
2- following foraging shorebirds and other moving subjects requires practice to build your confidence.
3- it is friggiin' amazing!