What's Up?
I photographed for a while at Lakeland on Thursday morning on the way home from DeSoto/Gulfport. And did well. Each day I fall more in love with my SONY gear. I forgot to mention a recent first: on Wednesday morning during the 1 1/2 days I spent with multiple IP veteran Larry Master I headed out with one of my a9 ii bodies on my 200-600 (on my shoulder via the Black Rapid Curve Breathe strap). and my other a9 ii on my tripod-mounted 600 GM! I left the a7r iv in my SUV. The 600 killed in the low light of early morning with the dark green reflections and the shrimp-catching wading birds and the 200-6oo killed on Snowy Egret and Royal Tern flight.
At Lakeland, I went with a7riv on the tripod-mounted 600 GM and an a9 ii on the 100-400 GM on my shoulder via the Black Rapid Curve Breathe strap. When you know exactly what to expect, there are lots options for pairing SONY bodies and lenses …
Via e-Mail from Larry Master
Thanks again for a great 1 1/2 days of SONY instruction and fun photography!
Larry
A Blog Comment by John LeClair
Cris, it was just about a perfect day! We did not have the nesting birds we anticipated but the purpose was to learn from Artie's vast experience more than anything else. And my wife and I did that in spades.
Thanks for all your help and patience Artie. It was phenomenal.
John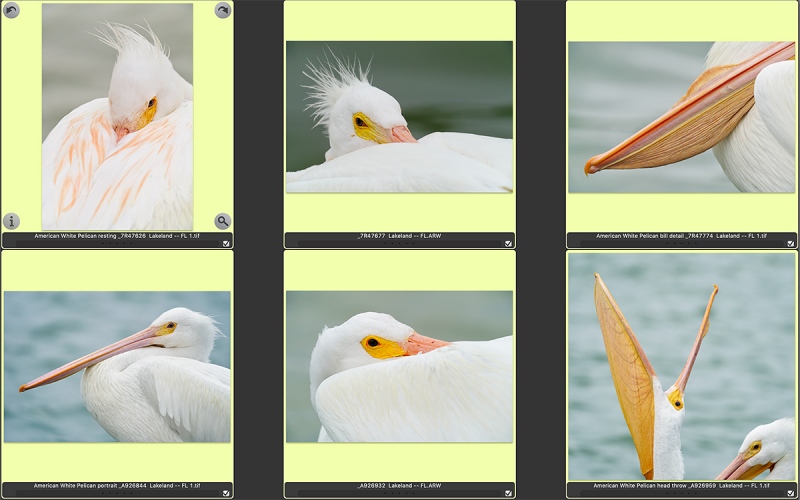 Click on the image to see a larger version.
SONY Lakeland favorites selected from 56 American White Pelican-keepers made during a 70-minute session on the morning of TEUS 14 FEB 2020.
Another Last Second Florida Learning Opportunity
Morning In-the-Field Session: Saturday FEB 15, 2020
Join me at for sunrise blurs at the Circle Bar B Preserve in Lakeland and then move to another great location in Lakeland to photograph tame American White Pelicans and lots more. Morning session (6:45-10:000am) plus a working brunch: $275.00.
The weather is looking perfect for Saturday morning: partly cloudy with northeast winds.
If you would like to join me, please get in touch immediately either via e-mail or by cell phone: 863-221-2372.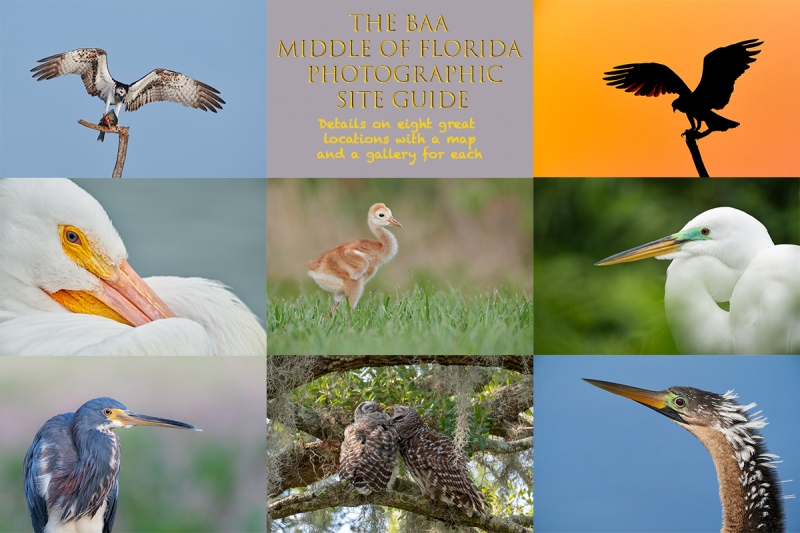 The BAA Middle of Florida Photographic Site Guide
You can purchase your copy here in the BAA Online Store.
The BAA Middle of Florida Photographic Site Guide
126 pages, 87 photographs by Joe Przybyla and Arthur Morris.
The PDF for this e-Guide is an electronic download sent via e-mail.
Purchase your copy here in the BAA Online Store.
I had thought about doing a guide to some of the great but little-known photo hotspots around central Florida for about a decade, but those plans never came to fruition. I met Joe online in the Avian Forum at BirdPhotographer's.Net about two years ago. Joe's photography has improved tremendously over the past few years; he credits the BAA blog, my books and PDFs, and his participation on BPN. The one thing that I learned right from the get-go about Joe is that he is a hard and tenacious worker, always striving to improve his skills and to grow his knowledge base. As he knew of more than a few good spots in central Florida, I broached the idea of us doing a photographic site guide that covered many of the little-known photographic hotspots from Brandon to Lakeland to Joe Overstreet Road to Indian Lake Estates (my Florida home for the past 20 years or so). After more than many, many dozens of hours of effort, The BIRDS AS ART Middle of Florida Photographic Site Guide is now a reality. Thanks to Joe's wife Dottie for her review of our writing. We all learned once again that writing is a process, a back and forth process. All thanks to the white pelicans of Lakeland. Here are the locations that are detailed in this e-Guide:
Indian Lake Estates: Sandhills Cranes with chicks and colts, lots of vultures, and Ospreys up the kazoo!
Gatorland, Kissimmee: Learn to make great images of wading birds in a cluttered rookery.
The Brandon Rookery: Great for nesting Wood Storks, Great Egrets, and more.
Circle Bar B Reserve, Lakeland: Here you will find a great variety of avian subjects in a great variety of habitats.
Lake Morton, Lakeland: There are lots of silly tame birds here including and especially American White Pelican during the colder months.
Lake Mirror, Lakeland: Tame Anhingas, Limpkins, and a zillion White Ibises at times.
West Lake Parker, Lakeland: Here you will have a chance for two difficult birds, Snail Kite, and Purple Gallinule.
Joe Overstreet Road, Kenansville: Crested Caracara, meadowlarks, Loggerhead Shrike, and much more on the fenceposts and barbed wire.
Each location includes a map, a detailed description of the best spots, best season, light and time of day instructions, the expected species, and an educational and inspirational gallery that is designed to open your eyes as to the possibilities.
You can purchase a copy here in the BAA Online Store.