What's Up?
As planned, I tried for pre-dawn blurs on Saturday at Circle Bar B preserve and had lots of good chances. A GBH flew right up to me and posed for about ten minutes on the dark, cloudy, morning. Then I headed to Lakeland for the white pelicans and did just fine keeping 39 images. Then I headed to the Fields Auto Group showroom about 15 minutes to the east, arranged to trade in my Sequoia, and ordered a brand-new 2020 SUV. On Sunday I worked for 11 hours on the new SONY guide and will be doing the same today. I was fortunate to have lots of help from co-author Patrick Sparkman and old friend and skilled photographer Ellen Anon. Today, Monday 17 FEB 2020, will be more of the same.
I fly to Homer, AK on Thursday. If anyone out there is interested in making the first Homer IPT, please know that no reasonable offer will be refused.
I was glad to learn on Sunday that the sale of Cris Hamilton's Canon 600 III is pending.

Money Saving Reminder
If you need a hot photo item that is out of stock at B&H, would enjoy free overnight shipping, and would like a $50 discount on your first purchase over $1000.00, click here to order and enter the coupon code BIRDSASART at checkout. If you are looking to strike a deal on Canon or Nikon gear (including the big telephotos) or on a multiple item order, contact Steve Elkins via e-mail or on his cell at (479) 381-2592 (Eastern time) and be sure to mention your BIRDSASART coupon code and use it for your online order. Steve has been great at getting folks the hot items that are out of stock at B&H. Those include the SONY a7r IV, the SONY 200-600, the SONY 600mm f/4 GM, and the Nikon 500mm PF. Steve is eager to please.
Gear Questions and Advice
Too many folks attending BAA IPTs and dozens of photographers whom I see in the field and on BPN, are–out of ignorance–using the wrong gear especially when it comes to tripods and more especially, tripod heads… Please know that I am always glad to answer your gear questions via e-mail. Those questions might deal with systems, camera bodies, accessories, and/or lens choices and decisions.
First, and Simple …
It is very rare that the first image you create during a given shooting session is anything special, but for me, today's featured image was just that. The image design is quite simple and I just love the aqua water background. The light is soft and the head-angle spot-on with the bill perfectly parallel to the imaging sensor. I created only two frames of this bird. In this image, the first, the nictitating membrane covered the eye. In frame two, the eye was clean and green but the bird had turned its head a bit toward me. So after converting both RAW files in Capture One, I grabbed only the pupil from frame two and — using techniques from APTATS I & II — moved it into place on frame one using the Move Tool (V). That chore took about 30 seconds.
The more that I practice with Tracking: Flexible Spot M, the more proficient I become with creating the exact composition that I want …
I spent most of the rest of the morning working with the 600 GM, the 2X TC, and the a7r iv before leaving the lake to go car shopping. I learn more about my SONY gear every time I am out photographing and wind up loving it more and more. There are still two major things that tick me off about the SONY system. I will share them both with you here soon.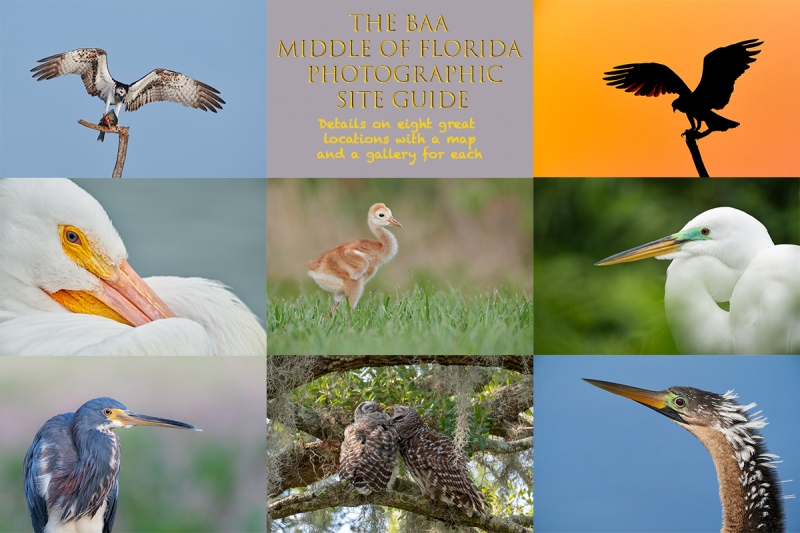 The BAA Middle of Florida Photographic Site Guide
You can purchase your copy here in the BAA Online Store.
The BAA Middle of Florida Photographic Site Guide
126 pages, 87 photographs by Joe Przybyla and Arthur Morris.
The PDF for this e-Guide is an electronic download sent via e-mail.
Purchase your copy here in the BAA Online Store.
I had thought about doing a guide to some of the great but little-known photo hotspots around central Florida for about a decade, but those plans never came to fruition. I met Joe online in the Avian Forum at BirdPhotographer's.Net about two years ago. Joe's photography has improved tremendously over the past few years; he credits the BAA blog, my books and PDFs, and his participation on BPN. The one thing that I learned right from the get-go about Joe is that he is a hard and tenacious worker, always striving to improve his skills and to grow his knowledge base. As he knew of more than a few good spots in central Florida, I broached the idea of us doing a photographic site guide that covered many of the little-known photographic hotspots from Brandon to Lakeland to Joe Overstreet Road to Indian Lake Estates (my Florida home for the past 20 years or so). After more than many, many dozens of hours of effort, The BIRDS AS ART Middle of Florida Photographic Site Guide is now a reality. Thanks to Joe's wife Dottie for her review of our writing. We all learned once again that writing is a process, a back and forth process. All thanks to the white pelicans of Lakeland. Here are the locations that are detailed in this e-Guide:
Indian Lake Estates: Sandhills Cranes with chicks and colts in late winter and spring, lots of vultures, and Ospreys up the kazoo!
Gatorland, Kissimmee: Learn to make great images of wading birds in a cluttered rookery.
The Brandon Rookery: Great for nesting Wood Storks, Great Egrets, and more.
Circle Bar B Reserve, Lakeland: Here you will find a great variety of avian subjects in a great variety of habitats.
Lake Morton, Lakeland: There are lots of silly tame birds here including and especially American White Pelican during the colder months.
Lake Mirror, Lakeland: Tame Anhingas, Limpkins, and a zillion White Ibises at times.
West Lake Parker, Lakeland: Here you will have a chance for two difficult birds, Snail Kite, and Purple Gallinule.
Joe Overstreet Road, Kenansville: Crested Caracara, meadowlarks, Loggerhead Shrike, and much more on the fenceposts and barbed wire.
Each location includes a map, a detailed description of the best spots, best season, light and time of day instructions, the expected species, and an educational and inspirational gallery that is designed to open your eyes as to the possibilities.
You can purchase a copy here in the BAA Online Store.
If In Doubt …
If you are in doubt about using the BAA B&H affiliate link correctly, you can always start your search by clicking here. Please note that the tracking is invisible. Web orders only. Please, however, remember to shoot me your receipt via e-mail.
Please Remember to use my Affiliate Links and to Visit the BAA Online Store 🙂
To show your appreciation for my continuing efforts here, we ask, as always, that you get in the habit of using my B&H affiliate links on the right side of the blog or Bedfords, for all of your photo and electronics purchases. Please check the availability of all photographic accessories in the New BIRDS AS ART Online Store, especially the Mongoose M3.6 tripod head, Wimberley lens plates, Delkin flash cards and accessories, and LensCoat stuff.
As always, we sell only what I have used, have tested, and can depend on. We will not sell you junk. We know what you need to make creating great images easy and fun. And please remember that I am always glad to answer your gear questions via e-mail.
I would, of course, appreciate your using our B&H affiliate links or Bedfords for all of your major gear, video, and electronic purchases. For the photographic stuff mentioned in the paragraph above, and for everything else in the new store, we, meaning BAA, would of course greatly appreciate your business. Here is a huge thank you to the many who have been using our links on a regular basis and those who regularly visit the New BIRDS AS ART Online Store as well.
Facebook
Be sure to like and follow BAA on Facebook by clicking on the logo link upper right.
Typos
In all blog posts and Bulletins, feel free to e-mail or to leave a comment regarding any typos or errors. Just be right :).