What's Up
Homer continues to offer consistently astounding photographic opportunities. After a delayed start on Wednesday — one of the two big outboards on our watercraft refused to start — we wound up having a totally fantastic day. During the delay, I seized the teachable moment by reviewing in detail all of my My Menu items and explained why and how to use each one. Just as in the Sony Camera Videos and e-Guide. In the morning, everyone got some tight Bald Eagle head portraits and some great eagle-striking shots against green or black water backgrounds In the afternoon we worked on the eagles-banking-in-front-of-snow-covered-mountains images and finished off with a slew of great sunset silhouette opportunities. The moisture in the air provided the color despite a relatively clear sky.
Those who can't wait to get their Canon EOS-1DX Mark III bodies after reading Clemens' review are advised to contact Steve Elkins at Bedford Camera rather than spending six to twelve months on the B&H waiting list … Clemens was thrilled that Steve got him his 1DX III just in time for the Homer trip. Steve's contact info is below.
Homer IPT group 2 will be heading out for DAY 3 early today, Thursday 5 MAR 2020. I head back to Florida on Sunday arriving in Orlando next Monday morning.
The Sony Camera Videos and Pre-publication e-Guide Costs and Discount Info
The cost of the SONY e-Guide is $100.00 US and will include one of the camera set-up videos — we offer one video each for the a7r iii, the a7r iv, the a9, and the a9 ii — and the written guide with the galleries. The guide is now 98% done and you will — of course, receive the final version when it is completed. I sent out the third draft today to those who have purchased the Guide with or without the discount.
Folks who have used my B&H links or purchased their SONY gear from Bedfords will receive said discount based exactly on how much they spent. If you spent more than $10,000 you will receive one free video and the e-Guide. Additional camera videos are $25.00 each. If you spent $2400, you will receive a 24% discount, and so on and so forth. And again, additional camera videos will be $25.00 each.
I will need time to verify your B&H purchases so folks will need to send their receipts and then be a bit patient. It is much easier to verify Bedfords' purchases but I need those receipts as well.
If you have not used BAA links, please do so in the future. If that is the case and you would like the e-Guide now, please send a Paypal for $100 US to birdsasart@verizon.net and be sure to include the words "SONY Pre-publication Guide" in the Paypal e-mail along with the name of your camera or cameras so that you can receive the correct video or videos. Please add $25 for each additional camera video. Be sure to send a copy of the Paypal transaction to me via e-mail.
Folks who have used BAA links to purchase their SONY gear should send their receipts to me via e-mail asap and let me know which camera videos they need. I will verify their purchases as quickly as possible and send a quote to be paid via Paypal as above.
Thanks to all who have properly used my B&H links or gone through the fabulous Steve Elkins at Bedfords, and thanks to everyone for having faith in the information that I provide, knowing that it will be the best available anywhere.
BIRDS AS ART
BIRDS AS ART is registered in the U.S. Patent and Trademark Office.
Canon EF 400mm f/4 DO IS II Lens with tons of extras! Australian Sale Only
$500.00 AUD Price Drop on 4 MAR 2020
Barry Barfield is offering a Canon EF 400mm f/4 DO IS II in near-mint condition for a very low $4999.00 AUD(was $5,499.00 AUD). The sale includes the 1.4X III and 2X III teleconverters, the rear lens cap, the lens trunk, the original tough front lens cover, the lens strap, a RRS Arca-Swiss foot, the Canon drop-in polarizer, a Realtree LensCoat, the original product box, and insured courier shipment to anywhere in Australia. In addition, the lens will be covered by the remainder of the Canon Australia Factory warranty until May 30, 2020. Barry is located in Brisbane. Your item will not ship until your check clears unless other arrangements are made.
Please contact Barry via e-mail or here: MOB: 0418780575.
I owned and used and loved the 400 DO II when I shot with Canon and found a way to take it on most trips. I took it to Scotland and Nickerson Beach and San Diego. It served me well as my (lighter!) big gun several Galapagos and Southern Ocean (the Falklands and South Georgia) trips. It is a killer for flight photography with or without the 1.4X III TC. It is razor-sharp with the 2X on static subjects and skilled folks have had amazing success hand holding it with the 2X III TC for flight and for action. With all the great extras and the super low price of about $3753.00 US you might wish to contact Barry and explore the possibility of shipping the lens outside of Australia … artie

Money Saving Reminder
If you need a hot photo item that is out of stock at B&H, would enjoy free overnight shipping, and would like a $50 discount on your first purchase over $1000.00, click here to order and enter the coupon code BIRDSASART at checkout. If you are looking to strike a deal on Canon or Nikon gear (including the big telephotos) or on a multiple item order, contact Steve Elkins via e-mail or on his cell at (479) 381-2592 (Eastern time) and be sure to mention your BIRDSASART coupon code and use it for your online order. Steve has been great at getting folks the hot items that are out of stock at B&H. Those include the SONY a7r IV, the SONY 200-600, the SONY 600mm f/4 GM, and the Nikon 500mm PF. Steve is eager to please.
Gear Questions and Advice
Too many folks attending BAA IPTs and dozens of photographers whom I see in the field and on BPN, are–out of ignorance–using the wrong gear especially when it comes to tripods and more especially, tripod heads… Please know that I am always glad to answer your gear questions via e-mail. Those questions might deal with systems, camera bodies, accessories, and/or lens choices and decisions.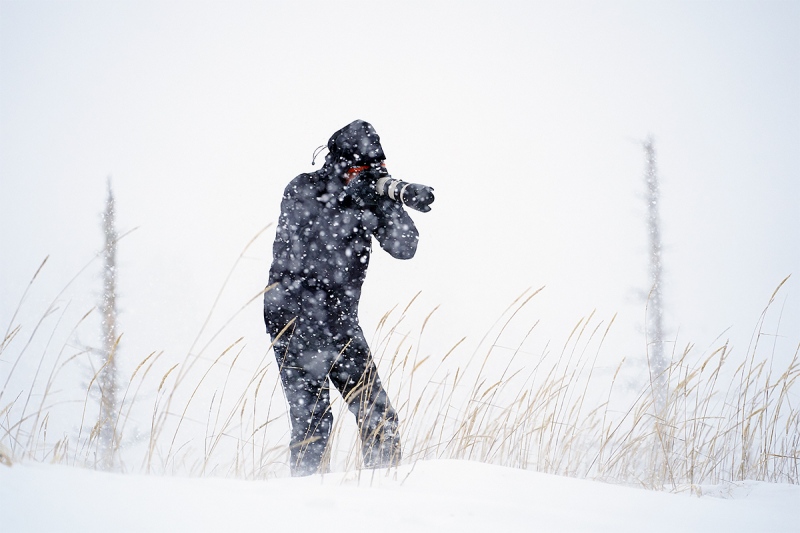 This image was created at Kachemak Bay, AK on 25 FEB 2020. I used the hand held Sony FE 70-200mm f/2.8 GM OSS lens (at 200mm) with the blazingly fast AF King, the Sony Alpha a9 II Mirrorless Digital camera body) that features incredibly accurate AF. ISO 1600. Exposure determined via Zebras on the rear wheel: 1/1600 sec. at f/3.2. AWB at 11:45am in a snowstorm.
Image copyright 2020: Arthur Morris/BIRDS AS ART. Please note that all of the rest of the images in this blog post were created by Clemens Van der Werf.
Clemens Van der Werf at Homer in a blizzard — the man in black!

Your browser does not support iFrame.
Clemens van der Werf and BIRDS AS ART
I first met Clemens van der Werf — long-time friend and surely my most accomplished student — on the 2010 Southwest Florida Presidents Week IPT. Clemens had had an interest in black and white photography as a teenager when he bought his first serious camera — an Olympus OM 2, and began photographing on local bicycle trips. In addition, he photographed sailboat regattas when he was not racing himself. He even sold a few prints to the sailors to finance his hobby. When he entered college he developed other interests and shelved photography. In 2006 he was in Newport, Rhode Island for work when he came across a beautiful gallery that featured the work of a Dutch photographer, Onne Van der Wal.
Onne, a Canon Explorer of Light, got him to sell all of his by-then Nikon gear and switch to Canon. In 2007 Clemens bought an EOS-5D, the 70-200/2.8 IS, the 300/2.8 IS, and the 24-105 f/4 IS. From 2007 through 2009 Clemens casually photographed his family and some more sailboat races. For the sailboats, he used the Canon 300mm f/2.8L IS lens. Early in 2008 he bought an EOS-1Ds Mark III and in April 2009 added the 500mm f/4 IS. Soon thereafter he drove to the St Augustine Alligator Farm with his daughter for a day trip; it was the first time he used the 500mm f/4. He remembers that he photographed during the middle of a bright sunny day! All handheld as that is how he and Onne did it when photographing boats from the water. Clemens thought that tripods were for dummies. He was not happy with the results. Coincidentally, Onne had attended a program that I did in Newport, RI in the fall of 2008. I gave him an ABP II CD and in early 2009, Onne passed it along to Clemens who gleaned it for the technical information. Clemens had no interest in birds at all. Still in search of good technical information, he googled "Arthur Morris" and subscribed to and devoured our free Bulletins. Still, he rarely got out to photograph.
The First IPT …
In late 2009 Clemens thought it would be a good idea to do a workshop with me. He figured that he could learn a lot. The workshop that caught his eye was scheduled for February 2010 close to his home in Fort Lauderdale, Florida. He did not care at all for the subjects that we would be photographing: birds. His only goal was to learn about the technical side of photography. His knowledge of birds was pretty close to zero at that time, as was his interest in them. When all the workshop participants got together on the first evening he seriously wondered if he had made a mistake and thought that he might not make it through the week. The average age of the participants was well above retirement age and they all were avid birders; there seemed to be no connection at all.
Clemens continues the story
How deceiving my first impression of the workshop had been! It turned out to be a fun week during which I started to appreciate birds and their behaviors. The information exchange during the week was close to overload as I had to deal with lots of new things such as manual mode, flash, Photoshop, Artie's rules of art, etc. But the bottom line was that I became hooked on bird photography and wanted more. During March/April of 2010, I went out on Tampa Bay twice with artie and Captain James Shadle to photograph Roseate Spoonbills and visited Sanibel Island with my family. That August, I joined Artie again at Nickerson Beach, NY. In November I joined him again at his beloved Bosque del Apache. I attended the San Diego IPT that January and visited Homer on an IPT later that year. After a Florida IPT, I bought an EOS-1D Mark IV and borrowed the new 800mm lens for the Florida and Nickerson Beach IPTs. I purchased that great lens just before the Bosque IPT.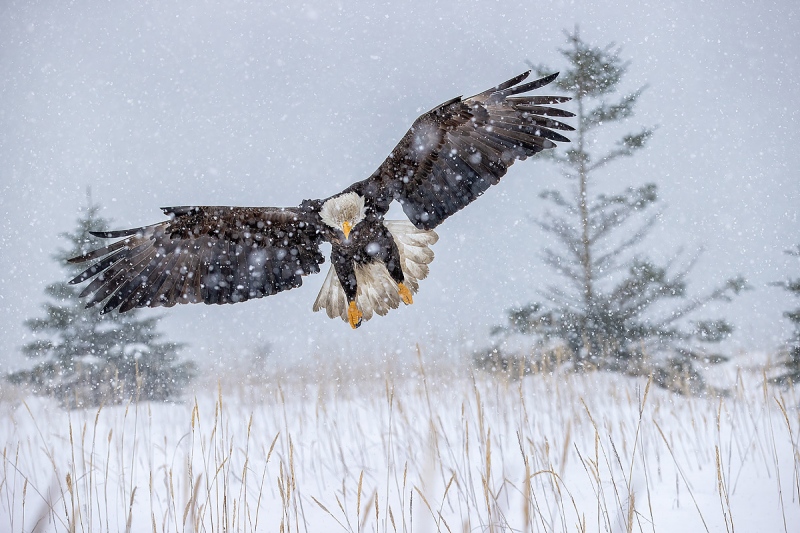 This image was also created near Homer, AK by Clemens Van der Werf. He used the handheld Canon 70-200mm f/2.8L IS II (now replaced by the Canon EF 70-200mm f/2.8L IS III (at 125mm) with his brand-new latest greatest Canon body, the 20 fps Canon EOS-1D X Mark III DSLR with CFexpress Card and Reader. ISO 2000: 1/3200 sec. at f/4.5.
Click on the image to see a larger version.
Image #3: Bald Eagle landing in snowstorm with conifers in the background. Image courtesy of and copyright 2020 Clemens Van der Werf.

Your browser does not support iFrame.
The Challenge as Clemens See It
The challenge is to combine one's creative eye and the techniques of digital photography to create pleasing image captures. Creating technically perfect images is by no means equal to capturing images worthy of being hung on your wall or ones that leave you with the constant urge to look at them again and again. Once you have created an image that gets and keeps your attention, you know that you will have met the challenge and hit the jackpot. Now there are two subjects that have my special attention: birds and boats.
You Too Can Learn a Ton on a BIRDS AS ART Instructional Photo-Tour (IPT)
From the September 8, 2014 blog post here:
Interestingly enough, when Clemens came on his first IPT he had no interest in bird photography. He just wanted to learn photography. As noted above, Canon Explorer of Light Onne van der Wal recommended that Clemens study with artie. He did that in spades, having attended well more than a dozen IPTs, Photo- Cruises, Expeditions, and Bear Boat trips in all.
The New EOS-1DX III as Clemens sees it; Part I.
The Canon 1Dx bodies have been solid performers under challenging conditions for many years. The autofocus performance of the 1Dx and 1Dx MkII had been lacking as compared to Nikon or lately Sony (A9) especially when it comes down to dynamic focusing using the whole sensor array or specific zones. on the 1DX Mark II, the Automatic AF area selection never did a great job of acquiring and tracking the subject; thus, that mode was pretty much useless for photographing birds in flight. Single-point AF or AF Expand (4 or 9 points) with the tracking sensitivity set at -2 often produced good results for me with flying birds, but the fact that you were limited as far as image design always bothered me. Nikon's dynamic focusing and Sony's tracking capabilities provided extra compositional flexibility. As a result, many bird photographers decided to leave Canon and switch to Nikon or a Sony a9 series body. I decided to stay the course with Canon for two reasons: my collection of great Canon lenses, and the fact that the development of sensor and AF technology is like an arms race: one day Nikon is ahead, the next day Canon is ahead. I was lucky enough to get the new Canon 1Dx MkIII camera body from Steve Elkins just in time for my trip to Alaska to photograph the bald eagles. It was the perfect place to test the improved AF capabilities of the new Canon flagship body, the EOS-1D X Mark III DSLR with CFexpress Card and Reader.
The New EOS-1DX III as Clemens sees it; Part II
The new Canon 1Dx MkIII is a hybrid camera with an Optical Viewfinder (OVF) and Live-View shooting making it a mirrorless camera at the same time. There are a ton of other great new features, but I focused primarily on testing the new enhanced AF system. I was especially interested to see if the new dynamic 191-point Automatic AF selection and the AF zones would perform better than the previous versions of the 1Dx. The conclusion is that even under difficult circumstances — the first two days with heavy winds and heavy snow) — the camera had no issue focusing on the subject and keep tracking it with the Automatic AF selection mode. I used the center point to acquire focus and as soon as it locked the focus on the bird, it did a great job keeping multiple AF points on the subject and tracking it through the frame and through the snowflakes. The same applied for the Zones — smaller AF areas with multiple AF points active. Even with busy backgrounds, the AF stayed locked on the subject. The AF modes have been reduced to 4 compared to 5 in the previous 1Dx models. I primarily used Mode 2 (Continue to Track Subjects, Ignoring Possible Obstacles) and Mode 4 (For Subjects That Accelerate or Decelerate Quickly) but was not able to see a significant difference between the modes. Even with trying the "Deep Learning" Automatic setting (Tracking Automatically Adapts to Subject Movement) I did not notice a significant difference. They all performed really well. The conclusion is that Canon has produced a camera that is now on-par or even better than its competitors with respect to AF performance. Although I did not test the mirrorless capabilities yet, other tests show that this function is also equal to or better than the Sony A9 performance, the only difference is that you can not use the OVF in mirrorless-mode with the 1DX III and have to use the display on the back of the camera (the rear monitor) instead. Due to the fact you have to keep the camera away from your eye, this is somewhat awkward for photographing birds in flight. I am very happy with the AF performance as compared to the previous Canon models and am looking forward to testing it further on Florida birds this coming spring.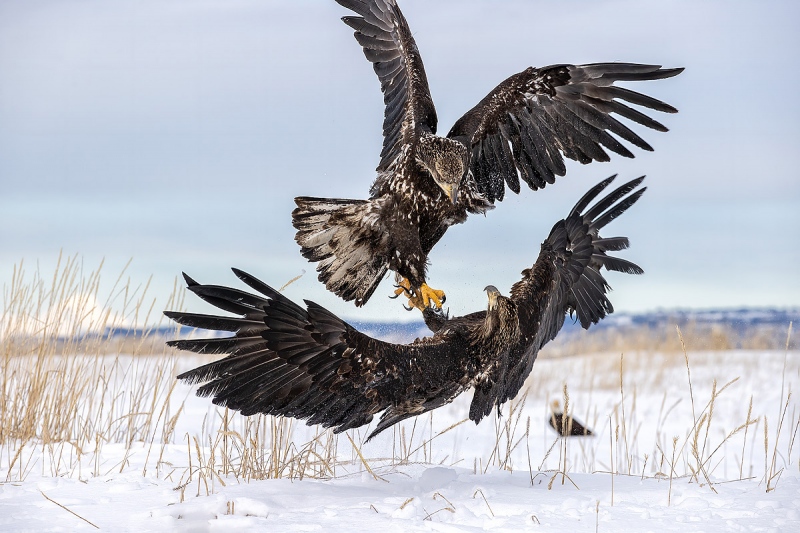 This image was also created near Homer, AK by Clemens Van der Werf. He used the handheld Canon 70-200mm f/2.8L IS II (now replaced by the Canon EF 70-200mm f/2.8L IS III (at 382mm) with his brand-new latest greatest Canon body, the 20 fps Canon EOS-1D X Mark III DSLR with CFexpress Card and Reader. ISO 1250: 1/2000 sec. at f/7.1.
Click on the image to see a larger version.
Image #7: Bald Eagles juveniles squabbling. Image courtesy of and copyright 2020 Clemens Van der Werf.

Your browser does not support iFrame.
Canon EOS-1DX Mark III versus the SONY a9 ii
First off, I am glad for my many Canon friends — including and especially Clemens — that they now have a body that features a consistently accurate AF system that can track birds flying right at them and maintain accurate focus with birds flying against backgrounds other than sky. Here is my take on comparing the Canon EOS-1D X Mark III with the Sony Alpha a9 II.
The 1DX III weighs 2.75 pounds. The SONY a9 ii weighs 1.49 pounds. For many of us, that is game over.
For bird photographers, the "mirrorless" capabilities of the 1DX III simply do not exist. When photographing birds in flight you cannot use the rear monitor and — with the mechanical shutter — you suffer from viewfinder blackout.
At 24.2MP the SONY a9ii images files are approximately 20% larger than the Canon EOS-1DX Mark II files (20.1MP). Nineteen point 52381 percent larger to be exact.
I know for a fact that when creating uncompressed RAW files and using AF-C, the a9 ii maintains its advertised 20 frames per second frame rate. I am not sure if the same is true of the 1DX III. All previous Canon (and Nikon) dSLRs — all with mechanical shutters — have slowed down from their advertised frame rates when using AI Servo (Canon) or C (Nikon).
The a9 ii offers the amazing Zebras technology that enables even SONY beginners to consistently come up with perfect or near-perfect exposures (after five minutes of instructions. And the a9 ii features Tracking Flexible Spot AF that enables folks to easily perfect their image designs when photographing static birds with every image sharp on the eye.
Like Clemens new 1DX III, my a9 ii has performed superbly in Homer. I have had it covered in wet snow and continued shooting without a problem. Despite creating as many as 2,500 images in a single session, I have not had to change a battery once in temps as low as 13 degrees F. And best of all, well more than 98% of the flight images that I have created in Homer are razor-sharp on the eye.
The Clemens Advantage
Folks who are strong, who have excellent reflexes, who have excellent stamina, whoo have superior hand-eye coordination and fine-motor-skills will always have an advantage over the rest of us when it comes to handholding relatively heavy gear, especially when doing flight photography. Period.
It is Quite Obvious …
It is quite obvious that Clemens is a highly-skilled, highly-motivated photographer who works very hard at his craft. And it is equally obvious that he created a slew of great images with his new Canon dSLR. Thank you, Clemens, for allowing me to share your images and your thoughts on the 1DX Mark III here on the blog. Folks can be inspired by more of Clemens' great work here.
While picking your favorites, be sure to study the composition of each image; one of Clemens' great strengths is creating carefully and superbly designed photographs.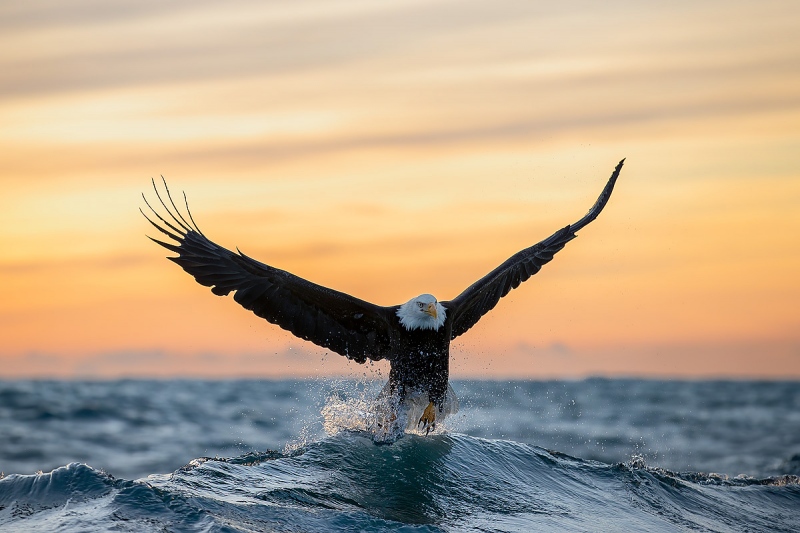 This image was also created near Homer, AK by Clemens Van der Werf. He used the handheld Canon 70-200mm f/2.8L IS II (now replaced by the Canon EF 70-200mm f/2.8L IS III (at 170mm) with his brand-new latest greatest Canon body, the 20 fps Canon EOS-1D X Mark III DSLR with CFexpress Card and Reader. ISO 800: 1/3200 sec. at f/4.
Click on the image to see a larger version.
Image #10: Bald Eagle striking at breaking wave top with sunset color. Image courtesy of and copyright 2020 Clemens Van der Werf.

Your browser does not support iFrame.
Your Two Favorite Clemens' Images?
I have two very clear favorites from the wonderful collection of images presented here today on the blog. I will share my two favorites with you here soon along with my reasons. All are invited to do the same. I'd be totally shocked if anyone's choices matched mine …
The Greatest-ever Bald Eagle Experience IPTs
IPT #1: SAT 20 FEB 2021 through the full day on THURS 25 FEB MAR 1, 2021. Six full days: $5499.00. Limit 5 photographers/Openings: 4.

IPT #2: SAT 27 FEB 2021 through the full day on WED 3 MAR 2021. Five full days: $4599.00. Limit 5 photographers/Openings: 4
Please note the slightly revised dates for IPT #2 above.
From Homer, Alaska
We will do two 2-hour or one 4-hour photographic boat trips at Kachemak Bay each day (weather permitting). Our schedule will be flexible and driven by the wind and sky conditions. We will have numerous and varied mind-boggling opportunities to photograph Bald Eagle, a hugely popular species. We will be feeding the eagles to attract them into photographic range. The trip is costly because chartering the boat is expensive, the fish are very expensive at $1.25/pound (all on me), the costs of in-room breakfasts and one sit-down meal/day are included, hotel to dock transfers are included, as is lodging (double-occupancy). The cost of a single supplement is $90.00/night. I need to mention that two other Bald Eagle trips led by North American photographers include only breakfast and do not include lodging; this makes my trips an even greater value.
We will do lots of flight photography from the boat and on land until you can no longer lift your lens. We will get off the boat on various islands to photograph the birds both perched and in flight. It would be entirely possible to do this entire trip with just a 70-200mm f/2.8 lens and a 1.4X teleconverter. Bald Eagles take five years to reach maturity; we will get to photograph birds of all age-classes from juvenile plumage to full adults with their gleaming white heads (and everything in between). There will be numerous informal Image Editing, Photoshop, and Image Review sessions throughout each trip. As I am conversant in Canon, Nikon, and SONY I can help you better understand your gear no matter what you are shooting.
Going up earlier than all other tours this year proved to be fantastic with tons of snow on the ground to light up the eagle's underwings. You will usually not enjoy those conditions on the March tours (unless you are very lucky). In addition, the eagles are more ravenous early in the season. In FEB 2020 we often had 30-40 or more eagles in the air around the boat with as many as 75 perched in trees or resting on the black sand beaches. Folks who want to do some photography locally during downtime may wish to rent a vehicle.
It is best to register right now to save your spot. Register for both trips and apply a $300 discount. If you have been on a previous IPT, a $100.00 discount will be applied to your balance.
A $2000 credit card deposit is required to hold your spot. Call Jim ASAP at the office weekdays at 863-221-2372 to leave your deposit. Your balance will be payable only by check no later than July 31, 2020. If you fail to pay your balance, your spot will be forfeited to someone on the waiting list and you will lose your deposit. If you plan on joining me, please e-mail immediately or try me on my cell at 863-221-2372 with any questions or to let me know of your plans. First come, first served.
Not included: your round-trip airfare from home to Homer, AK through Anchorage and back. Your second sit-down meal each day. Alcoholic beverages at our sit down meal.
On these IPTs you will learn:
1- The basics and fine points of digital exposure; how to get the right exposure every time after making a single test exposure (or before if you are using SONY gear).
2- How and why to work in Manual mode (even if you're scared of it).
3- Lots about bird behavior and how to use that knowledge to help you create better images.
4- To spot good situations and to choose the best perspective.
5- To see, evaluate, and understand the light.
6- To design pleasing images by mastering your camera's AF system.
7- And perhaps most importantly, to evaluate wind and sky conditions and understand how they affect bird photography.
8- More than you could ever imagine.
If In Doubt …
If you are in doubt about using the BAA B&H affiliate link correctly, you can always start your search by clicking here. Please note that the tracking is invisible. Web orders only. Please, however, remember to shoot me your receipt via e-mail.
Please Remember to use my Affiliate Links and to Visit the BAA Online Store 🙂
To show your appreciation for my continuing efforts here, we ask, as always, that you get in the habit of using my B&H affiliate links on the right side of the blog or Bedfords, for all of your photo and electronics purchases. Please check the availability of all photographic accessories in the New BIRDS AS ART Online Store, especially the Mongoose M3.6 tripod head, Wimberley lens plates, Delkin flash cards and accessories, and LensCoat stuff.
As always, we sell only what I have used, have tested, and can depend on. We will not sell you junk. We know what you need to make creating great images easy and fun. And please remember that I am always glad to answer your gear questions via e-mail.
I would, of course, appreciate your using our B&H affiliate links or Bedfords for all of your major gear, video, and electronic purchases. For the photographic stuff mentioned in the paragraph above, and for everything else in the new store, we, meaning BAA, would of course greatly appreciate your business. Here is a huge thank you to the many who have been using our links on a regular basis and those who regularly visit the New BIRDS AS ART Online Store as well.
Facebook
Be sure to like and follow BAA on Facebook by clicking on the logo link upper right.
Typos
In all blog posts and Bulletins, feel free to e-mail or to leave a comment regarding any typos or errors. Just be right :).