What's Up?
I have been swimming every day, eating well, and working hard on the new SONY e-Guide. This morning, Thursday 12 MAR 2020, I will be heading down to the lake as there are a pair of small Sandhill Crane chicks and a new low Osprey nest on a dead palm tree. I was glad to learn that newbie Vikrant Rajurs and repeat private-day client Harry Lerner are both joining me on the 2020 DeSoto Spring Sandbar Secrets IPT.
Homer IPT Kudos from Greg Ferguson via e-mail
I received this e-mail this morning from multiple IPT veteran Greg Ferguson. It was his second trip to Homer with me.
Artie, you really knocked the ball out of the park on the recent Homer IPT. I had high hopes before I arrived; you exceeded my expectations in every area. I wanted to get my new Sony A9II set up and we did that even before we left the dock the first morning. It seemed that we had better and better opportunities every day after that. I also appreciated your announcing aloud why and how you were changing your settings, effectively thinking out loud, As we went through the week we shot eagles flying, banking, backlit silhouettes, and perched head shots. We shot eagles flying, in trees, on snow, on rocks, and on ice. We got all that and more. Thanks so much for the amazing journey! I had a blast.
Greg Ferguson
IPT Udpates
You can access the full listings and all IPT details here.
The 2020 Fort DeSoto Spring Sandbar Secrets IPT/April 22 through the morning session on April 25, 2020. 3 1/2 DAYS: $1499.00. Limit 8/Openings: 6.

The Greatest-ever Bald Eagle Experience IPTs:

IPT #1: SAT 20 FEB 2021 through the full day on THURS 25 FEB MAR 1, 2021. Six full days: $5499.00. Limit 5 photographers/Openings: 4.
IPT #2: SAT 27 FEB 2021 through the full day on WED 3 MAR 2021. Five full days: $4599.00. Limit 5 photographers/Openings: 4
The 2020 Hooptie Deux/Roseate Spoonbill Boat 3 1/2 DAY IPT — MAR 19 thru the morning session 22 MAR 2020: $2599.00. Sold out.
The GALAPAGOS Photo Cruise of a Lifetime IPT/The Complete Galapagos Archipelago Photographic Experience. August 17-31, 2021 on the boat. 13 FULL and two half-days of photography: $14,999.00. Limit: 12 photographers/Openings: 5.
BIRDS AS ART
BIRDS AS ART is registered in the U.S. Patent and Trademark Office.
Canon EF 400mm f/4 DO IS II Lens with tons of extras! Australian Sale
Price Reduced 500 AUD on 12 MAR 2020
Barry Barfield is offering a Canon EF 400mm f/4 DO IS II in near-mint condition for a very low 4,999 AUD (was 5,499.00 AUD). The sale includes the 1.4X III and 2X III teleconverters, the rear lens cap, the lens trunk, the original tough front lens cover, the lens strap, a RRS Arca-Swiss foot, the Canon drop-in polarizer, a Realtree LensCoat, the original product box, and insured courier shipment to anywhere in Australia. In addition, the lens will be covered by the remainder of the Canon Australia Factory warranty until May 30, 2020. Barry is located in Brisbane. Your item will not ship until your check clears unless other arrangements are made.
Please contact Barry via e-mail or here: MOB: 0418780575.
I owned and used and loved the 400 DO II when I shot with Canon and found a way to take it on most trips. I took it to Scotland and Nickerson Beach and San Diego. It served me well as my (lighter!) big gun several Galapagos and Southern Ocean (the Falklands and South Georgia) trips. It is a killer for flight photography with or without the 1.4X III TC. It is razor-sharp with the 2X on static subjects and skilled folks have had amazing success hand holding it with the 2X III TC for flight and for action. With all the great extras and the super low price of about $3,300.00 USD you might wish to contact Barry and explore the possibility of shipping the lens outside of Australia … artie
Another SONY 600 GM Available
Steve Elkins asked me to let everyone know that he has another Sony FE 600mm f/4 GM OSS Lens in stock right now with your name on it. His contact info is below. Grab the 600 GM right now and you earn a free copy of the new Sony e-Guide and Video.

Money Saving Reminder
If you need a hot photo item that is out of stock at B&H, would enjoy free overnight shipping, and would like a $50 discount on your first purchase over $1000.00, click here to order and enter the coupon code BIRDSASART at checkout. If you are looking to strike a deal on Canon or Nikon gear (including the big telephotos) or on a multiple item order, contact Steve Elkins via e-mail or on his cell at (479) 381-2592 (Eastern time) and be sure to mention your BIRDSASART coupon code and use it for your online order. Steve has been great at getting folks the hot items that are out of stock at B&H. Those include the SONY a7r IV, the SONY 200-600, the SONY 600mm f/4 GM, and the Nikon 500mm PF. Steve is eager to please.
Gear Questions and Advice
Too many folks attending BAA IPTs and dozens of photographers whom I see in the field and on BPN, are–out of ignorance–using the wrong gear especially when it comes to tripods and more especially, tripod heads… Please know that I am always glad to answer your gear questions via e-mail. Those questions might deal with systems, camera bodies, accessories, and/or lens choices and decisions.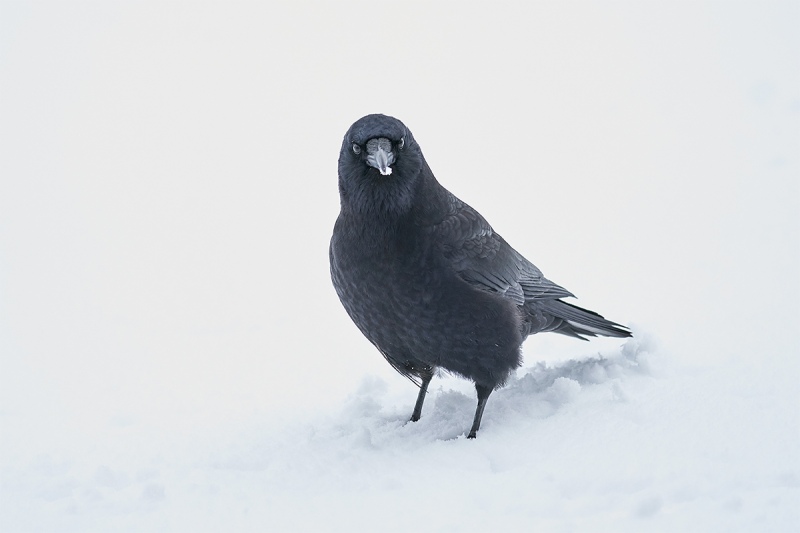 This image was created on 1 MAR 2020, the last day of the 1st Homer IPT. I used the handheld Sony FE 200-600mm f/5.6-6.3 G OSS lens (at 312mm) with the blazingly fast AF King, the Sony Alpha a9 II Mirrorless Digital camera body. ISO 1250. Exposure determined by Zebras with ISO on the rear wheel: 1/500 sec. at f/6.3 in Manual mode. AWB at 2:25pm on a cloudy afternoon.
Wide AF-C performed surprisingly well. Click on the image to enjoy a larger version.
Northwestern Crow on snow

Your browser does not support iFrame.
Can You Believe It?
I had been keeping an eye on the fresh snow outside my hotel room at the Land's End Resort in hopes of finding ideal conditions for photographing the Northwestern Crows. Finally, after nine straight days of spectacular Bald Eagle photography, there was an overcast afternoon with winds from the southwest. I went onto my balcony and took a peek outside; I was thrilled to see several crows on the snow outside the next room. I grabbed my 2-6 with an a9 ii on it and when the crows spotted me several flew towards me in hopes of a handout. I chose a shutter speed of 1/500 second and the aperture at f/6.3. I spun the rear dial to raise the ISO until all of the snow was totally Zebra-ed in an effort to open up the dark tones; that happened when I got to 1250. As you will see in the next item, the exposure was spot on. I wound up keeping twenty sharp ones — today's featured image with a bit of snow on the corvid's bill was my favorite.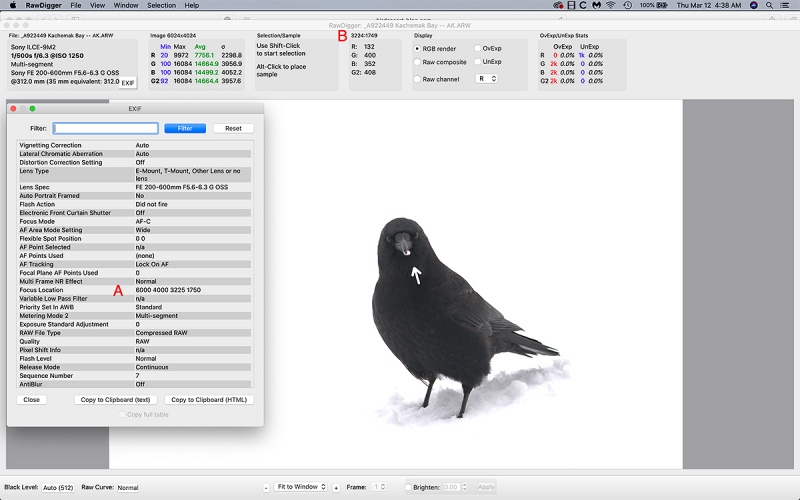 RawDigger screen capture for Northwestern Crow on snow image

Your browser does not support iFrame.
Lots to Learn from RawDigger
Be sure to click on the RawDigger screen capture above if you would like to read the fine print (and learn something). Note: RawDigger can handle RAW files from SONY, Nikon, Canon, and probably a lot more systems as well. Things to note:
1- The OvExp/UnExp stats show the following in red: 2,000 overexposed GREEN pixels and 2,000 overexposed BLUE pixels along with 1.000 underexposed RED pixels. As those are out of the 24,000,000 pixels in an a9 ii file, the percentages in red show 0% over- or under-exposure across the board. In other words, my exposure could not possibly have been much better. Zebras rule!
2-The numbers too the right of the red letter A first show the pixel dimensions: 6000 X 4000. The next two sets of four digits — 3225 and 1750 show the Focus Location — the spot on the image pixel grid with the sharpest focus. The pixel coordinates next to the letter B indicate the position of the cursor (shown by the white "v" on the crow's neck) on the grid: 3224 and 1749. So the cursor was very, very close to the position of sharpest focus. Note: this does not indicate the position of the active focus point (or points).
3- In the EXIF data, the AF Area Mode Setting shows Wide. This is correct.
4- Again in the EXIF data, AF Tracking always shows Locked On AF. This does not indicate that a Tracking AF Area was used.
5- Wide AF focused on the crow's neck just below and to our right of the bird's bill, on the same plane as the eyes.
From Fred Innamorato via e-mail
Hi Artie,
I want to thank you for making the Sony e-Guide and videos available and for the work you put into the blog as well as for your books that teach us how to photograph birds and also for your camera User's Guides. There is just no possible way I would have been able to get my Sony a9 ii camera settings so technically correct for doing birds in flight on my own without this guide. in my opinion, Sony should pay you for taking on the task of educating their customers. Sony has created an amazing camera but they fail to explain to their customers how to take full advantage of it. I appreciate that you know and have access to some very competent people with the technical backgrounds to assist you in your field experimentation to come up with the best and most practical and useful Menu Settings for bird photography. We all will benefit from your unique ability to pull this together. I am especially happy with your instructions on how to use the Zebra Settings for getting proper exposures. I really can't thank you enough Artie for making my bird photography hobby so much more enjoyable than it would have been otherwise. My photography brings me great satisfaction. Sharing quality photographs with my family and friends has generated lots of interest in my hobby and why I do it. Life is good!
I highly recommend the purchase of your Sony e-Guide and Video(s). This information is just not available anywhere else. Even from Sony …
Fred Innamorato
The Sony Camera Videos and Pre-publication e-Guide Costs and Discount Info
The cost of the SONY e-Guide is $100.00 US and will include one of the camera set-up videos — we offer one video each for the a7r iii, the a7r iv, the a9, and the a9 ii — and the written guide with the galleries. The guide is now 98% done and you will — of course, receive the final version when it is completed. I sent out the third draft today to those who have purchased the Guide with or without the discount.
Folks who have used my B&H links or purchased their SONY gear from Bedfords will receive said discount based exactly on how much they spent. If you spent more than $10,000 you will receive one free video and the e-Guide. Additional camera videos are $25.00 each. If you spent $2400, you will receive a 24% discount, and so on and so forth. And again, additional camera videos will be $25.00 each.
I will need time to verify your B&H purchases so folks will need to send their receipts and then be a bit patient. It is much easier to verify Bedfords' purchases but I need those receipts as well.
If you have not used BAA links, please do so in the future. If that is the case and you would like the e-Guide now, please send a Paypal for $100 US to birdsasart@verizon.net and be sure to include the words "SONY Pre-publication Guide" in the Paypal e-mail along with the name of your camera or cameras so that you can receive the correct video or videos. Please add $25 for each additional camera video. Be sure to send a copy of the Paypal transaction to me via e-mail.
Folks who have used BAA links to purchase their SONY gear should send their receipts to me via e-mail asap and let me know which camera videos they need. I will verify their purchases as quickly as possible and send a quote to be paid via Paypal as above.
Thanks to all who have properly used my B&H links or gone through the fabulous Steve Elkins at Bedfords, and thanks to everyone for having faith in the information that I provide, knowing that it will be the best available anywhere.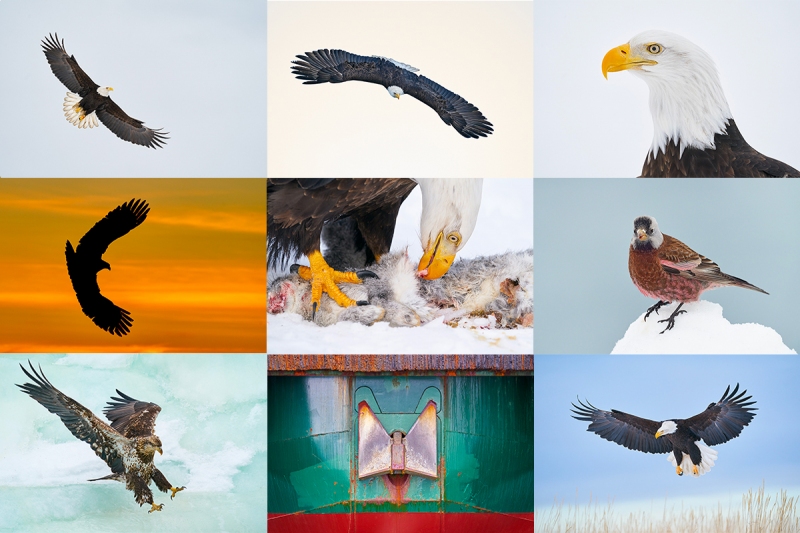 All images copyright 2020: Arthur Morris/BIRDS AS ART
Click on the card to enjoy a larger version
Homer 2020 IPT Images
The Greatest-ever Bald Eagle Experience IPTs
IPT #1: SAT 20 FEB 2021 through the full day on THURS 25 FEB MAR 1, 2021. Six full days: $5499.00. Limit 5 photographers/Openings: 4.

IPT #2: SAT 27 FEB 2021 through the full day on WED 3 MAR 2021. Five full days: $4599.00. Limit 5 photographers/Openings: 4
Please note the slightly revised dates for IPT #2 above.
From Homer, Alaska
We will do two 2-hour or one 4-hour boat trip to Kachemak Bay each day (weather permitting). Our schedule will be flexible and driven by the wind and sky conditions. We will have numerous and varied mind-boggling opportunities to photograph Bald Eagle, a hugely popular species. We will be feeding the eagles to attract them into photographic range. The trip is costly because chartering the boat is expensive, the fish are very expensive at $1.25/pound (all on me), the costs of in-room breakfasts and one sit-down meal/day are included, hotel to dock transfers are included, as is lodging (double-occupancy). The cost of a single supplement is $90.00/night
We will do lots of flight photography from the boat and on land until you can no longer lift your lens. We will get off the boat on various islands to photograph the birds both perched and in flight. This species takes five years to reach maturity; we will get to photograph birds os all age-classes from juvenile plumage to full adults with their gleaming white heads (and everything in between). There will be numerous informal Image Editing, Photoshop, and Image Review sessions throughout each trip. As I am conversant in Canon, Nikon, and SONY I can help you better understand your gear no matter what you are shooting.
Going up earlier than all other tours this year proved to be fantastic with tons of snow on the ground to light up the eagle's underwings. You will usually not enjoy those conditions on the March tours (unless you are very lucky). In addition, the eagles are more ravenous early in the season. In FEB 2020 we often had 30-40 or more eagles in the air around the boat with as many as 75 perched in trees or resting on the black sand beaches. Folks who want to do some photography locally during down-time may wish to rent a vehicle.
It is best to register right now to save your spot. Register for both trips and apply a $300 discount.
A $2000 credit card deposit is required to hold your spot. Call Jim ASAP at the office weekdays at 863-221-2372 to leave your deposit. Your balance will be payable only by check no later than July 31, 2020. If you fail to pay your balance, your spot will be forfeited to someone on the waiting list and you will lose your deposit. If you plan on joining me, please e-mail immediately or try me on my cell at 863-221-2372 with any questions or to let me know of your plans. First come, first served.
Not included: your round-trip airfare from home to Homer, AK through Anchorage and back. Your second sit-down meal each day. Alcoholic beverages at our sit down meal.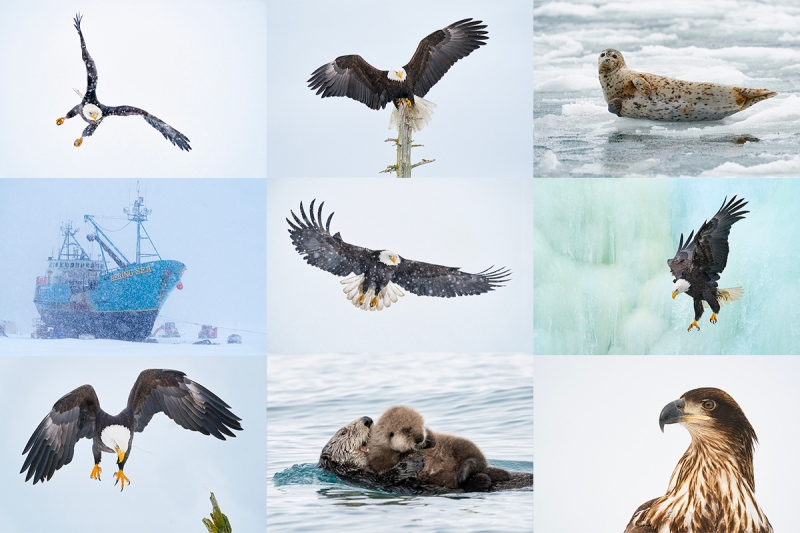 All images copyright 2020: Arthur Morris/BIRDS AS ART except for Sea Otter with pup which is courtesy of and copyright 2020: Anita North
Click on the card to enjoy a larger version
Homer 2020 IPT Images
On the Homer IPTs you will learn:
1- The basics and fine points of digital exposure; how to get the right exposure every time after making a single test exposure (or before if you are using SONY gear).
2- How and why to work in Manual mode (even if you're scared of it).
4- Lots about bird behavior and how to use that knowledge to help you create better images.
6- To spot good situations and to choose the best perspective.
7- To see, evaluate, and understand the light.
8- To design pleasing images by mastering your camera's AF system.
9- And perhaps most importantly, to evaluate wind and sky conditions and understand how they affect bird photography.
11- More than you could ever imagine.
If In Doubt …
If you are in doubt about using the BAA B&H affiliate link correctly, you can always start your search by clicking here. Please note that the tracking is invisible. Web orders only. Please, however, remember to shoot me your receipt via e-mail.
Please Remember to use my Affiliate Links and to Visit the BAA Online Store 🙂
To show your appreciation for my continuing efforts here, we ask, as always, that you get in the habit of using my B&H affiliate links on the right side of the blog or Bedfords, for all of your photo and electronics purchases. Please check the availability of all photographic accessories in the New BIRDS AS ART Online Store, especially the Mongoose M3.6 tripod head, Wimberley lens plates, Delkin flash cards and accessories, and LensCoat stuff.
As always, we sell only what I have used, have tested, and can depend on. We will not sell you junk. We know what you need to make creating great images easy and fun. And please remember that I am always glad to answer your gear questions via e-mail.
I would, of course, appreciate your using our B&H affiliate links or Bedfords for all of your major gear, video, and electronic purchases. For the photographic stuff mentioned in the paragraph above, and for everything else in the new store, we, meaning BAA, would of course greatly appreciate your business. Here is a huge thank you to the many who have been using our links on a regular basis and those who regularly visit the New BIRDS AS ART Online Store as well.
Facebook
Be sure to like and follow BAA on Facebook by clicking on the logo link upper right.
Typos
In all blog posts and Bulletins, feel free to e-mail or to leave a comment regarding any typos or errors. Just be right :).