What's Up
On Friday morning I headed to Circle Bar B Preserve in hopes of creating some pleasing blurs. I arrived way before sunrise but — on a completely windless morning — was quickly driven back to my vehicle by swarms of angry, biting mosquitoes. My next stop was Lakeland where there were still hordes of White Pelicans. They should be heading north quite soon. The light was sweet and the photography was excellent.
The next stop was Fields Auto Group where I arranged to lease rather than buy my new vehicle. Then home for a nap and a quick swim.
As I type this morning, Saturday 14 MAR 2020, I am on my way to Gatorland which at present, remains open while all Disney and Universal theme parks in central Florida are closed …
Circle Bar B, Gatorland, and Lakeland are among the many great central Florida bird photography hotspots covered in The BAA Middle of Florida Photographic Site Guide. See the details below.
GNPA Programs
I was all set to announce that I am scheduled to be presenting at the Georgia Nature Photographers Association Annual Expo Conference at Villas by The Sea Resort & Conference Center, Jekyll Island, GA. They were putting me to work big time. But when I got online this morning, I learned that the even will likely be canceled. C'est la vie.
From Fred Innamorato via e-mail
Hi Artie,
I want to thank you for making the Sony e-Guide and videos available and for the work you put into the blog as well as for your books that teach us how to photograph birds and also for your camera User's Guides. There is just no possible way I would have been able to get my Sony a9 ii camera settings so technically correct for doing birds in flight on my own without this guide. in my opinion, Sony should pay you for taking on the task of educating their customers. Sony has created an amazing camera but they fail to explain to their customers how to take full advantage of it. I appreciate that you know and have access to some very competent people with the technical backgrounds to assist you in your field experimentation to come up with the best and most practical and useful Menu Settings for bird photography. We all will benefit from your unique ability to pull this together. I am especially happy with your instructions on how to use the Zebra Settings for getting proper exposures. I really can't thank you enough Artie for making my bird photography hobby so much more enjoyable than it would have been otherwise. My photography brings me great satisfaction. Sharing quality photographs with my family and friends has generated lots of interest in my hobby and why I do it. Life is good!
I highly recommend the purchase of your Sony e-Guide and Video(s). This information is just not available anywhere else. Even from Sony …
Fred Innamorato
The Sony Camera Videos and Pre-publication e-Guide Costs and Discount Info
The cost of the SONY e-Guide is $100.00 US and will include one of the camera set-up videos — we offer one video each for the a7r iii, the a7r iv, the a9, and the a9 ii — and the written guide with the galleries. The guide is now 98% done and you will — of course, receive the final version when it is completed. I sent out the third draft today to those who have purchased the Guide with or without the discount.
Folks who have used my B&H links or purchased their SONY gear from Bedfords will receive said discount based exactly on how much they spent. If you spent more than $10,000 you will receive one free video and the e-Guide. Additional camera videos are $25.00 each. If you spent $2400, you will receive a 24% discount, and so on and so forth. And again, additional camera videos will be $25.00 each.
I will need time to verify your B&H purchases so folks will need to send their receipts and then be a bit patient. It is much easier to verify Bedfords' purchases but I need those receipts as well.
If you have not used BAA links, please do so in the future. If that is the case and you would like the e-Guide now, please send a Paypal for $100 US to birdsasart@verizon.net and be sure to include the words "SONY Pre-publication Guide" in the Paypal e-mail along with the name of your camera or cameras so that you can receive the correct video or videos. Please add $25 for each additional camera video. Be sure to send a copy of the Paypal transaction to me via e-mail.
Folks who have used BAA links to purchase their SONY gear should send their receipts to me via e-mail asap and let me know which camera videos they need. I will verify their purchases as quickly as possible and send a quote to be paid via Paypal as above.
Thanks to all who have properly used my B&H links or gone through the fabulous Steve Elkins at Bedfords, and thanks to everyone for having faith in the information that I provide, knowing that it will be the best available anywhere.
Homer IPT Kudos from Greg Ferguson via e-mail
I received this e-mail this morning from multiple IPT veteran Greg Ferguson. It was his second trip to Homer with me.
Artie, you really knocked the ball out of the park on the recent Homer IPT. I had high hopes before I arrived; you exceeded my expectations in every area. I wanted to get my new Sony A9II set up and we did that even before we left the dock the first morning. It seemed that we had better and better opportunities every day after that. I also appreciated your announcing aloud why and how you were changing your settings, effectively thinking out loud, As we went through the week we shot eagles flying, banking, backlit silhouettes, and perched head shots. We shot eagles flying, in trees, on snow, on rocks, and on ice. We got all that and more. Thanks so much for the amazing journey! I had a blast.
Greg Ferguson
IPT Udpates
You can access the full listings and all IPT details here.
The 2020 Fort DeSoto Spring Sandbar Secrets IPT/April 22 through the morning session on April 25, 2020. 3 1/2 DAYS: $1499.00. Limit 8/Openings: 6.

The Greatest-ever Bald Eagle Experience IPTs:

IPT #1: SAT 20 FEB 2021 through the full day on THURS 25 FEB MAR 1, 2021. Six full days: $5499.00. Limit 5 photographers/Openings: 4.
IPT #2: SAT 27 FEB 2021 through the full day on WED 3 MAR 2021. Five full days: $4599.00. Limit 5 photographers/Openings: 4
The 2020 Hooptie Deux/Roseate Spoonbill Boat 3 1/2 DAY IPT — MAR 19 thru the morning session 22 MAR 2020: $2599.00. Sold out.
The GALAPAGOS Photo Cruise of a Lifetime IPT/The Complete Galapagos Archipelago Photographic Experience. August 17-31, 2021 on the boat. 13 FULL and two half-days of photography: $14,999.00. Limit: 12 photographers/Openings: 5.
BIRDS AS ART
BIRDS AS ART is registered in the U.S. Patent and Trademark Office.
Another SONY 600 GM Available
Steve Elkins asked me to let everyone know that he has another Sony FE 600mm f/4 GM OSS Lens in stock right now with your name on it. His contact info is below. Grab the 600 GM right now and you earn a free copy of the new Sony e-Guide and Video.

Money Saving Reminder
If you need a hot photo item that is out of stock at B&H, would enjoy free overnight shipping, and would like a $50 discount on your first purchase over $1000.00, click here to order and enter the coupon code BIRDSASART at checkout. If you are looking to strike a deal on Canon or Nikon gear (including the big telephotos) or on a multiple item order, contact Steve Elkins via e-mail or on his cell at (479) 381-2592 (Eastern time) and be sure to mention your BIRDSASART coupon code and use it for your online order. Steve has been great at getting folks the hot items that are out of stock at B&H. Those include the SONY a7r IV, the SONY 200-600, the SONY 600mm f/4 GM, and the Nikon 500mm PF. Steve is eager to please.
Gear Questions and Advice
Too many folks attending BAA IPTs and dozens of photographers whom I see in the field and on BPN, are–out of ignorance–using the wrong gear especially when it comes to tripods and more especially, tripod heads… Please know that I am always glad to answer your gear questions via e-mail. Those questions might deal with systems, camera bodies, accessories, and/or lens choices and decisions.
To Isolate or Not to Isolate? That is the Question.
When I work in Lakeland, I set up and use the 600 GM with the 1.4X TC and keep thee 200-600 with an a9 ii on my shoulder via a Black Rapid Curve Breathe Strap. I usually go with the a7r iv on the big glass but yesterday I used my second a9 ii on the 60omm in hopes that with the nice east wind I would have some good flight opportunities but they never came to pass. Next time.
The more that I work with Tracking Flexible Spot M (or S) and practice using it, the more proficient I become. When mastered, it is is an incredible feature that enables you to create perfect image designs without once ever having to move the AF point around … Learn how to use it correctly and your compositions will improve dramatically. I am getting there.
I work at 840mm at Lake to make isolating these relatively large, relatively tame subjects easy. I made dozens of head and bill portraits — both horizontals and verticals depending on the bird's posture — with a variety of gorgeous backgrounds. But this one with the second bird placed perfectly in the lower-left corner was my favorite image of the day. Placing the main subject in the upper right corner without having to switch the AF point was done using Tracking Flexible Spot M!
So while clean, tight, and graphic is usually my preferred style, there are times when sublime juxtapositions are the way to go.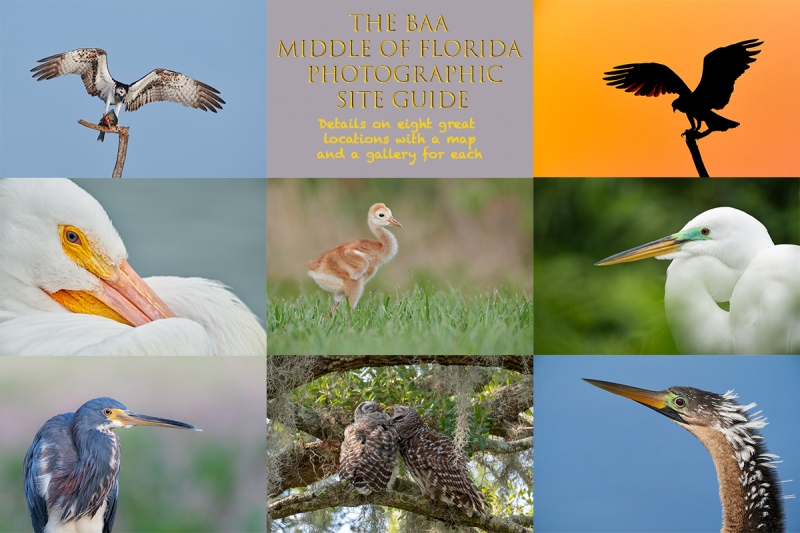 The BAA Middle of Florida Photographic Site Guide
You can purchase your copy here in the BAA Online Store.
The BAA Middle of Florida Photographic Site Guide
126 pages, 87 photographs by Joe Przybyla and Arthur Morris.
The PDF for this e-Guide is an electronic download sent via e-mail.
Purchase your copy here in the BAA Online Store.
I had thought about doing a guide to some of the great but little-known photo hotspots around central Florida for about a decade, but those plans never came to fruition. I met Joe online in the Avian Forum at BirdPhotographer's.Net about two years ago. Joe's photography has improved tremendously over the past few years; he credits the BAA blog, my books and PDFs, and his participation on BPN. The one thing that I learned right from the get-go about Joe is that he is a hard and tenacious worker, always striving to improve his skills and to grow his knowledge base. As he knew of more than a few good spots in central Florida, I broached the idea of us doing a photographic site guide that covered many of the little-known photographic hotspots from Brandon to Lakeland to Joe Overstreet Road to Indian Lake Estates (my Florida home for the past 20 years or so). After more than many, many dozens of hours of effort, The BIRDS AS ART Middle of Florida Photographic Site Guide is now a reality. Thanks to Joe's wife Dottie for her review of our writing. We all learned once again that writing is a process, a back and forth process. All thanks to the white pelicans of Lakeland. Here are the locations that are detailed in this e-Guide:
Indian Lake Estates: Sandhills Cranes with chicks and colts, lots of vultures, and Ospreys up the kazoo!
Gatorland, Kissimmee: Learn to make great images of wading birds in a cluttered rookery.
The Brandon Rookery: Great for nesting Wood Storks, Great Egrets, and more.
Circle Bar B Reserve, Lakeland: Here you will find a great variety of avian subjects in a great variety of habitats.
Lake Morton, Lakeland: There are lots of silly tame birds here including and especially American White Pelican during the colder months.
Lake Mirror, Lakeland: Tame Anhingas, Limpkins, and a zillion White Ibises at times.
West Lake Parker, Lakeland: Here you will have a chance for two difficult birds, Snail Kite, and Purple Gallinule.
Joe Overstreet Road, Kenansville: Crested Caracara, meadowlarks, Loggerhead Shrike, and much more on the fenceposts and barbed wire.
Each location includes a map, a detailed description of the best spots, best season, light and time of day instructions, the expected species, and an educational and inspirational gallery that is designed to open your eyes as to the possibilities.
You can purchase a copy here in the BAA Online Store.
If In Doubt …
If you are in doubt about using the BAA B&H affiliate link correctly, you can always start your search by clicking here. Please note that the tracking is invisible. Web orders only. Please, however, remember to shoot me your receipt via e-mail.
Please Remember to use my Affiliate Links and to Visit the BAA Online Store 🙂
To show your appreciation for my continuing efforts here, we ask, as always, that you get in the habit of using my B&H affiliate links on the right side of the blog or Bedfords, for all of your photo and electronics purchases. Please check the availability of all photographic accessories in the New BIRDS AS ART Online Store, especially the Mongoose M3.6 tripod head, Wimberley lens plates, Delkin flash cards and accessories, and LensCoat stuff.
As always, we sell only what I have used, have tested, and can depend on. We will not sell you junk. We know what you need to make creating great images easy and fun. And please remember that I am always glad to answer your gear questions via e-mail.
I would, of course, appreciate your using our B&H affiliate links or Bedfords for all of your major gear, video, and electronic purchases. For the photographic stuff mentioned in the paragraph above, and for everything else in the new store, we, meaning BAA, would of course greatly appreciate your business. Here is a huge thank you to the many who have been using our links on a regular basis and those who regularly visit the New BIRDS AS ART Online Store as well.
Facebook
Be sure to like and follow BAA on Facebook by clicking on the logo link upper right.
Typos
In all blog posts and Bulletins, feel free to e-mail or to leave a comment regarding any typos or errors. Just be right :).