What's Up?
Tuesday was mixed clouds and sun all day long. I went down to the lake early, had a few fair chances on Cattle Egret and Old Gnarly with its still-tiny chick, and did some feather close-ups on an adult crane. With a nice northeast wind and the sun out, I set up for flight photography at the always-dependable Vulture Tree. Not a single vulture flew in. I headed down twice in the afternoon and never raised my lens. I'll be heading down to the lake this morning, Wednesday 8 APR 2020. The forecast is for west winds and clear skies so chances are that it will be a tough wind-against-sun session for bird photography.
Thanks to the many who commented on the Osprey silhouettes in yesterday's blog post here.
And thanks to the many who have been ordering a ton of educational guides from the BAA Online Store here and here. And instructional videos here.
In Jim's absence, I have pretty much mastered the UPS and Stamps.Com shipping stuff so the BAA Online Store is open for business.
Unexplained Upper Leg Pain
When I woke on Sunday past, I could barely sit down due to some pretty decent muscle pain in both thighs, especially the hamstrings and the adductors on the insides of the legs. For only a moment, I thought, "Is this the muscle pain of COVID-19?" But I realized that what I was feeling was sore, over-used muscle pain. I asked myself, "What had I done yesterday that strenuously involved my upper leg muscles?" For the answer, see the Bored? Trash Pickup Solution feature below.
SONY 7r iv or a9 ii?
Thanks to Bill Webb for his comment at yesterday's blog post. At 10:46am on April 7, 2020, he wrote:
Image 3 for me. Approach angle, wing position, and talon display all work.
Another issue/question: Are you finding that you prefer the α7R iv over the α9 ii for most of your work? I have the α9 ii and the α7R iii (using 200-600G) and while the α9 is fantastic for in-flight captures, I find that I am more satisfied with the α7's overall performance and the extra available pixels for cropping are always good. Many of my subjects are small birds (wrens, phoebes, bluebirds, kinglets) in brush so the α7 definitely works best in those situations. For the larger subjects (hawks, owls, herons, egrets, etc.) either camera works well. And actually, my α7R iii tracks pretty darn well – not as well as the α9 ii, though.
Just curious because I find myself wondering if I should have bought the α7R iv instead of the α9 ii. (Sigh)
At 6:41pm I replied:
Hey Bill, Thanks for your comment and your question. When it comes to birds in flight, the a9 and the a9 ii are far better than the a7r series bodies. (That said in spite of the sharpness of Images #2 and #3 above.) And that goes double for folks with the 200-600. My a7r III was my workhorse camera body on my last Galapagos Photo-Cruise of a Lifetime; it served me well. If you keep your shutter speeds up and the bird holds still for a moment, the 7r iv is great. I enjoy working with the a9 ii much more than with the 7r iv as it is so fast and everything is sharp. On the other hand, the 7r iv files are amazing and you can crop with impunity.
If I could only own one body for bird photography, I would go with the a9 ii in an instant. And Patrick Sparkman would do the same.
Best advice? Own both! Please be sure to use Bedfords or my B&H affiliate links if you purchase any new SONY gear. Doing so will earn you a nice discount on the almost-finished SONY e-Guide and Videos.
with love, artie
From Fred Innamorato via e-mail
Hi Artie,
I want to thank you for making the Sony e-Guide and videos available and for the work you put into the blog as well as for your books that teach us how to photograph birds and also for your camera User's Guides. There is just no possible way I would have been able to get my Sony a9 ii camera settings so technically correct for doing birds in flight on my own without this guide. in my opinion, Sony should pay you for taking on the task of educating their customers. Sony has created an amazing camera but they fail to explain to their customers how to take full advantage of it. I appreciate that you know and have access to some very competent people with the technical backgrounds to assist you in your field experimentation to come up with the best and most practical and useful Menu Settings for bird photography. We all will benefit from your unique ability to pull this together. I am especially happy with your instructions on how to use the Zebra Settings for getting proper exposures. I really can't thank you enough Artie for making my bird photography hobby so much more enjoyable than it would have been otherwise. My photography brings me great satisfaction. Sharing quality photographs with my family and friends has generated lots of interest in my hobby and why I do it. Life is good!
I highly recommend the purchase of your Sony e-Guide and Video(s). This information is just not available anywhere else. Even from Sony …
Fred Innamorato
The Sony Camera Videos and Pre-publication e-Guide Costs and Discount Info
I recently sent aa link to the March 19 Version of the SONY e-Guide to the 31 folks who have purchased it. It will siureely be the next-to-last pre-publication version.
The cost of the SONY e-Guide is $100.00 US and will include one of the camera set-up videos — we offer one video each for the a7r iii, the a7r iv, the a9, and the a9 ii — and the written guide with the galleries. The guide is now 98% done and you will — of course, receive the final version when it is completed. I sent out the third draft today to those who have purchased the Guide with or without the discount.
Folks who have used my B&H links or purchased their SONY gear from Bedfords will receive said discount based exactly on how much they spent. If you spent more than $10,000 you will receive one free video and the e-Guide. Additional camera videos are $25.00 each. If you spent $2400, you will receive a 24% discount, and so on and so forth. And again, additional camera videos will be $25.00 each.
I will need time to verify your B&H purchases so folks will need to send their receipts and then be a bit patient. It is much easier to verify Bedfords' purchases but I need those receipts as well.
If you have not used BAA links, please do so in the future. If that is the case and you would like the e-Guide now, please send a Paypal for $100 US to birdsasart@verizon.net and be sure to include the words "SONY Pre-publication Guide" in the Paypal e-mail along with the name of your camera or cameras so that you can receive the correct video or videos. Please add $25 for each additional camera video. Be sure to send a copy of the Paypal transaction to me via e-mail.
Folks who have used BAA links to purchase their SONY gear should send their receipts to me via e-mail asap and let me know which camera videos they need. I will verify their purchases as quickly as possible and send a quote to be paid via Paypal as above.
Thanks to all who have properly used my B&H links or gone through the fabulous Steve Elkins at Bedfords, and thanks to everyone for having faith in the information that I provide, knowing that it will be the best available anywhere.
BIRDS AS ART
BIRDS AS ART is registered in the U.S. Patent and Trademark Office

Money Saving Reminder
If you need a hot photo item that is out of stock at B&H, would enjoy free overnight shipping, and would like a $50 discount on your first purchase over $1000.00, click here to order and enter the coupon code BIRDSASART at checkout. If you are looking to strike a deal on Canon or Nikon gear (including the big telephotos) or on a multiple item order, contact Steve Elkins via e-mail or on his cell at (479) 381-2592 (Eastern time) and be sure to mention your BIRDSASART coupon code and use it for your online order. Steve has been great at getting folks the hot items that are out of stock at B&H. Those include the SONY a7r IV, the SONY 200-600, the SONY 600mm f/4 GM, and the Nikon 500mm PF. Steve is eager to please.
Gear Questions and Advice
Too many folks attending BAA IPTs and dozens of photographers whom I see in the field and on BPN, are–out of ignorance–using the wrong gear especially when it comes to tripods and more especially, tripod heads… Please know that I am always glad to answer your gear questions via e-mail. Those questions might deal with systems, camera bodies, accessories, and/or lens choices and decisions.
Bored? Trash Pickup Solution
On Saturday morning I was waiting at the point on the North Field for the cranes to swim across. To keep my self busy I set up the 600 with the 1.4X and the a9 ii for Black Vultures in flight. Many were landing on opposite shore on the North Peninsula. I lined up a few nice group shots but never pressed the shutter button as there was so much litter on the grass and along the shoreline. So when the light got too harsh, I drove around to the opposite point and began cleaning about a 40-square yard patch. I picked up plastic bottles, cups, caps, and container lids, soda cans and straws, dozens of cigarette butts, lots of paper, a rubber worm, cardboard containers, and even two washcloths. Sad to say, the fishermen at ILE are quite careless.
I bent and squatted so many times that I was quite sore the next day or two as detailed above. After a day of rest, I trash-picked half of the road by the North Field point. I still need to do the other half.
If you are fortunate enough to be able to get out in a natural area for an exercise walk, consider bringing along a plastic bag and picking up the litter. You can be ultra-safe (as I was) by wearing a glove on one hand, holding the plastic bag in the other, and then washing up with lots of soap as soon as you get home. Heck, I've been keeping a spray bottle of HoCl in my car and using it often.
It seems like a win/win to me.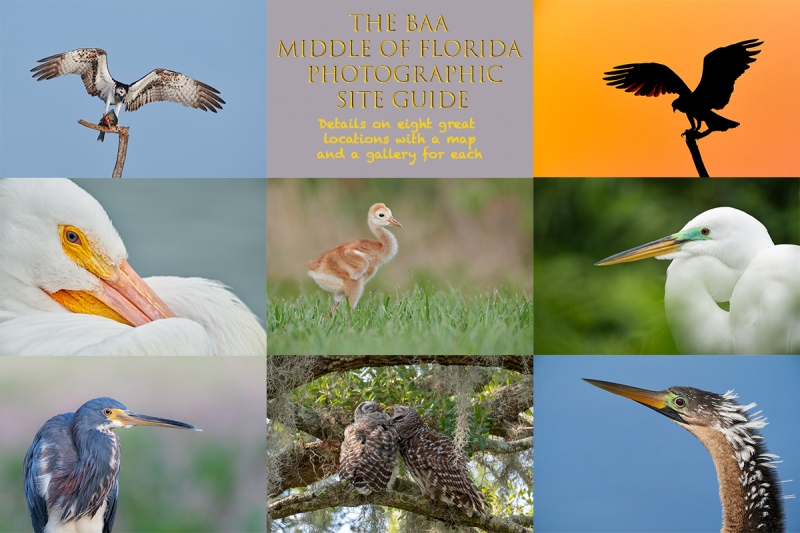 The BAA Middle of Florida Photographic Site Guide
You can purchase your copy here in the BAA Online Store.
The BAA Middle of Florida Photographic Site Guide
126 pages, 87 photographs by Joe Przybyla and Arthur Morris.
The PDF for this e-Guide is an electronic download sent via e-mail.
Purchase your copy here in the BAA Online Store.
I had thought about doing a guide to some of the great but little-known photo hotspots around central Florida for about a decade, but those plans never came to fruition. I met Joe online in the Avian Forum at BirdPhotographer's.Net about two years ago. Joe's photography has improved tremendously over the past few years; he credits the BAA blog, my books and PDFs, and his participation on BPN. The one thing that I learned right from the get-go about Joe is that he is a hard and tenacious worker, always striving to improve his skills and to grow his knowledge base. As he knew of more than a few good spots in central Florida, I broached the idea of us doing a photographic site guide that covered many of the little-known photographic hotspots from Brandon to Lakeland to Joe Overstreet Road to Indian Lake Estates (my Florida home for the past 20 years or so). After more than many, many dozens of hours of effort, The BIRDS AS ART Middle of Florida Photographic Site Guide is now a reality. Thanks to Joe's wife Dottie for her review of our writing. We all learned once again that writing is a process, a back and forth process. All thanks to the white pelicans of Lakeland. Here are the locations that are detailed in this e-Guide:
Indian Lake Estates: Sandhills Cranes with chicks and colts, lots of vultures, and Ospreys up the kazoo!
Gatorland, Kissimmee: Learn to make great images of wading birds in a cluttered rookery.
The Brandon Rookery: Great for nesting Wood Storks, Great Egrets, and more.
Circle Bar B Reserve, Lakeland: Here you will find a great variety of avian subjects in a great variety of habitats.
Lake Morton, Lakeland: There are lots of silly tame birds here including and especially American White Pelican during the colder months.
Lake Mirror, Lakeland: Tame Anhingas, Limpkins, and a zillion White Ibises at times.
West Lake Parker, Lakeland: Here you will have a chance for two difficult birds, Snail Kite, and Purple Gallinule.
Joe Overstreet Road, Kenansville: Crested Caracara, meadowlarks, Loggerhead Shrike, and much more on the fenceposts and barbed wire.
Each location includes a map, a detailed description of the best spots, best season, light and time of day instructions, the expected species, and an educational and inspirational gallery that is designed to open your eyes as to the possibilities.
You can purchase a copy here in the BAA Online Store.
If In Doubt …
If you are in doubt about using the BAA B&H affiliate link correctly, you can always start your search by clicking here. Please note that the tracking is invisible. Web orders only. Please, however, remember to shoot me your receipt via e-mail.
Please Remember to use my Affiliate Links and to Visit the BAA Online Store 🙂
To show your appreciation for my continuing efforts here, we ask, as always, that you get in the habit of using my B&H affiliate links on the right side of the blog or Bedfords, for all of your photo and electronics purchases. Please check the availability of all photographic accessories in the New BIRDS AS ART Online Store, especially the Mongoose M3.6 tripod head, Wimberley lens plates, Delkin flash cards and accessories, and LensCoat stuff.
As always, we sell only what I have used, have tested, and can depend on. We will not sell you junk. We know what you need to make creating great images easy and fun. And please remember that I am always glad to answer your gear questions via e-mail.
I would, of course, appreciate your using our B&H affiliate links or Bedfords for all of your major gear, video, and electronic purchases. For the photographic stuff mentioned in the paragraph above, and for everything else in the new store, we, meaning BAA, would of course greatly appreciate your business. Here is a huge thank you to the many who have been using our links on a regular basis and those who regularly visit the New BIRDS AS ART Online Store as well.
Facebook
Be sure to like and follow BAA on Facebook by clicking on the logo link upper right.
Typos
In all blog posts and Bulletins, feel free to e-mail or to leave a comment regarding any typos or errors. Just be right :).