What's Up?
Me early. Listening to alternative-view COVID-19 videos. I've been swimming every day without a miss. I'll be heading down to the lake early today, Thursday 9 APR 2020 despite another less than ideal forecast; partly cloudy with west winds. Yesterday's lousy forecast yielded a great session …
What They Are Buying
The BAA Online Store has been very busy for the past week with most folks purchasing educational materials — moslty e-Guides and Videos — to help pass their COVID-19 generated free time. Here is what folks have been buying:
New Listings
Sony A9 Digital Mirrorless Camera Body
BAA Record-Low Price!
Blog regular Fred Innamorato is offering a Sony A9 in excellent condition for a BAA record-low $2349.00. The sale includes the original battery, the charger, the original product box, the body cap, and insured shipping via Fed Ex Ground. Your item will not ship until your check clears unless other arrangements are made.
Please contact Fred via e-mail.
The a9, the original AF king, offers superb autofocus that absolutely kills for flight photography. Virtually every image is sharp on the eye. Many feel that the AF system on the a9 ii is no better. As the a9 ii sells new for $4498.00 you can save an incredible $2149.00! artie
Nikon Super Coolscan 5000 ED Slide/Film Scanner with necessary extras
Wayne Lea is offering a Nikon Super Coolscan 5000 ED Slide/Film Scanner, a Nikon SF-210 Auto Slide Feeder (up to 50 slide batches), a Nikon SA-21 35mm Strip FilmAdapter (2-6 frame strips), and a Rocky Nook Scanning Negatives and Slides book ($45), all in near-mint condition for an amazingly low $1199.00. The sale includes everything as noted above and thee manuals. The scanner is supported by VueScan and Silverfast scanning software (separate purchase required) for use with current operating systems (but not by the original Nikon software). The scanner has many special features including Digital ICE and a special Kodachrome setting and is surely the best slide scanner ever made.
Your scanner and accessories will be shipped by insured ground shipping via major courier to lower-48 US addresses only. Your item will not ship until your check clears unless other arrangements are made.
Please contact Wayne via e-mail or by phone at 1-817-360-1480 (Central time zone).
I owned this scanner years ago when I was scanning the best of my tens of thousands of slides. It did a fine job. Can you think of a better way to spend your shelter-in-place time? artie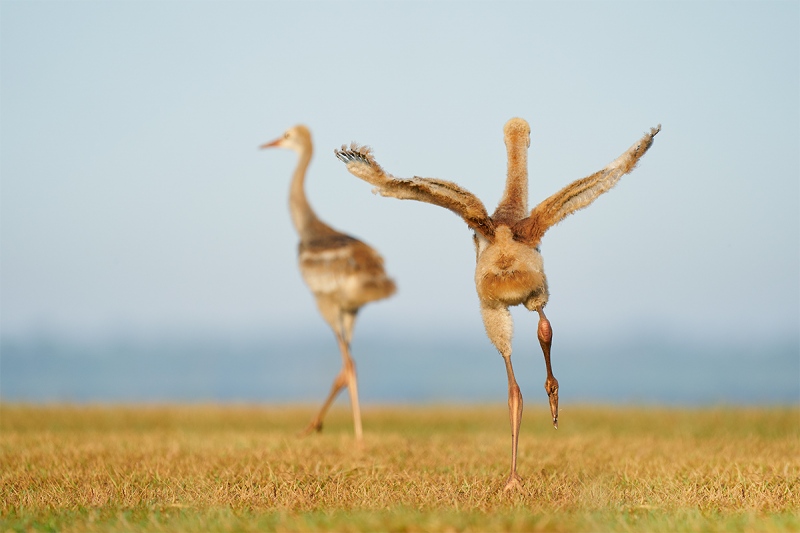 This image was created on Wednesday 8 APR 2020 at Indian Lake Estates. I used the handheld Sony FE 200-600mm f/5.6-6.3 G OSS lens (at 600mm) and the blazingly fast AF King, the Sony Alpha a9 II Mirrorless Digital camera body. ISO 400. Exposure determined by Zebras with ISO on the rear wheel: 1/800 sec. at f/6.3 in Manual mode. AWB at 8:14am on a clear morning.
Right Zone AF-C was active at the moment of exposure and performed superbly. I do not remember going from Center Zone to Right Zone, but I surely wound up with the correct AF Area.
Sandhill Crane colt running toward its sibling (and away froom the photographer)

Your browser does not support iFrame.
Wait For Me Bro!
Yesterday's weather forecast was poor for bird photography: clear skies with the wing from the west, AKA wind against sun. That pretty much ruled out flight photography. I visited old gnarly, its mate, and their still very small chick. They were back to their very shy ways, so I let them be. I could have tried for Black Vulture head portraits on the pier but I have a zillion fairly new but unpublished ones. So I drove out to the end of the North Peninsula and lo and behold, the crane colt family walked out of the marsh. I made a few images at 840mm from my SUV but quickly got out of my vehicle with the 200-600 with the a9 ii so that I could more easily keep up with the birds and get the perspectives that I wanted.
I got low — as I often do — by walking down the edge of the field toward the canal. Then, I could simply change the background by taking a short step up or backing up a bit. The gray-blue strip above the grass is the lake and the distant horizon. I am not sure how I wound up in the perfect spot at the exact right time when Orangey Colt decided to run toward its nest-mate. IAC, I followed my own advice: When unexpected action occurs, (acquire focus) and push and hold the shutter button. All of the seven images in the sequence were sharp. Today's featured image had the most pleasing juxtaposition with no merges. I love the raised right foot and the way that the running colt's left wing fits nicely over the back of Gray Colt.
Opting to work with the crane family with the wind-against-sun conditions was a smart move as large birds that are foraging are not affected at all by the wind. Once I got low I was able to stay right on sun angle by moving right or left. Another consideration was avoiding having any white buildings on the far shore in the background. In any case, I was thrilled with this one and in addition, created several other very fine images.