What' Up?
Me, early again. I was down at the lake both morning (cloudy) and afternoon (sunny). It was not the greatest of days, but I had fun and made some good images including a very few good ones. With the pool at a steady 82 degrees, swimming has been a pleasure.
I spent too many hours working on completing the SONY e-Guide. I have just a bit more to do and hope to have the final version published no later than next Tuesday. Writing is a process and I have gotten some great help from several folks including of course my co-author, Patrick Sparkman. Others include Ellen Anon, son Josh, blog regular Craig Elson, and the eagle-eyed Dane Johnson.
I was glad to learn that Patrick sold his a7r iii yesterday. He replaced it with a 7r iv.
On Today's Images
There are three questions today:
1- Which background do you prefer?
2- Which image has the better head angle?
3- Which of today's two featured images is the strongest by far? Be sure to let us know why you made your choice.
BIRDS AS ART
BIRDS AS ART is registered in the U.S. Patent and Trademark Office
Selling Your Used Photo Gear Through BIRDS AS ART
Selling your used (or like-new) photo gear through the BAA Blog is a great idea. We charge only a 5% commission. One of the more popular used gear for sale sites charged a minimum of 20%. Plus assorted fees! Yikes. They went out of business. And e-Bay fees are now up to 13%. Please understand that e-Bay prices are bogus. And the same is true of the prices of used gear including my dear friends at B&H and the other mega-outfits. They offer you pennies and then try to sell the stuff to ignorant folks for ridiculously high prices. With their huge international exposure, they occasionally find someone …
The minimum item price here is $500 (or less for a $25 fee). If you are interested please scroll down here or shoot us an e-mail with the words Items for Sale Info Request cut and pasted into the Subject line :). Stuff that is priced fairly — I offer pricing advice to those who agree to the terms — usually sells in no time flat. Over the past year, we have sold many many dozens of items. Do know that prices on some items like the EOS-1D Mark IV, the 5Ds and 5Ds R, the old Canon 500mm, the EOS-7D, the Canon 200-400 with internal extender, and the original 400mm DO lens have been dropping steadily. Most recently the price of used Canon 600mm f/L IS II lenses have been dropping like a rock with the introduction of the 600 III. The prices garnered for used Canon gear has tanked completely as demand has dropped tremendously. It is ironic that for decades Canon gear had very strong resale value …
Note: all BAA Used Gear sales include insured ground shipping via UPS to lower 48 US addresses only. Others who live elsewhere are invited to e-mail the seller for shipping surcharge info. Sellers should charge you only the difference between shipping to the farthest US location from their home and the charge to a non-lower-48 address.
Price Drop
Canon EOS-1D X Professional Digital Camera Body with Extras!
Price dropped $100 on 6 FEB 2020!
Price dropped $200 on 9 APR 2020!
BAA Record-low Price!
Jim Lewis is offering a Canon EOS-1D X in near-mint condition with extras for a BAA record-low $1,595.00 (was $1,895.00). The sale includes the original box, the CD's, the strap, the cables, the manual, the front body cap, the charger w/LPE4N battery and an extra Canon LPE4N battery, 2 Lexar 1066X CF cards (one 32GB & one 64GB), a Canon RS-80 N3 remote switch, and insured ground shipping via major courier to lower-48 US addresses only. Your item will not ship until your check clears unless other arrangements are made.
Please contact Jim via e-mail.
Several rugged 1D X bodies served as my workhorse cameras for about four years. I made many hundreds of family jewels images in all types of weather all around the world. artie
Re-run
Please note: the purchase of the item below includes a $50.00 discount on the to-be-finished SONY e-Guide.
Sony FE 100-400mm F4.5-5.6 GM OSS
IPT veteran and dear friend Patrick Sparkman is offering a Sony FE 100-400mm F4.5-5.6 GM OSS Lens in very good condition for a very low $1650.00. The body of the lens is in excellent condition. The glass is perfect except for a tiny scratch on the front element that does not affect performance. The sale includes the lens hood, the original box, the soft case that came with the lens, the front lens cap, the rear lens cap, and insured shipping via Fed Ex Ground. Your item will not ship until your check clears unless other arrangements are made.
Please contact Patrick via e-mail.
The .98 meter minimum focusing distance of the SONY 100-400 is a huge plus. It comes in very handy when working with mega-tame birds and the lens can be effective as a quasi-macro lens for large bugs (including butterflies and dragonflies), frogs, all but very small flower blossoms, and lots more. In addition, it is a more than capable flight lens that is a lot lighter than the 200-600. The 100-400 was my workhorse lens on the 2019 Galapagos Photo-Cruise of a Lifetime. As it sells new for $2,498.00 you can save a very neat $848.00 by grabbing Patrick's lens.

Money Saving Reminder
If you need a hot photo item that is out of stock at B&H, would enjoy free overnight shipping, and would like a $50 discount on your first purchase over $1000.00, click here to order and enter the coupon code BIRDSASART at checkout. If you are looking to strike a deal on Canon or Nikon gear (including the big telephotos) or on a multiple item order, contact Steve Elkins via e-mail or on his cell at (479) 381-2592 (Eastern time) and be sure to mention your BIRDSASART coupon code and use it for your online order. Steve has been great at getting folks the hot items that are out of stock at B&H. Those include the SONY a7r IV, the SONY 200-600, the SONY 600mm f/4 GM, and the Nikon 500mm PF. Steve is eager to please.
Gear Questions and Advice
Too many folks attending BAA IPTs and dozens of photographers whom I see in the field and on BPN, are–out of ignorance–using the wrong gear especially when it comes to tripods and more especially, tripod heads… Please know that I am always glad to answer your gear questions via e-mail. Those questions might deal with systems, camera bodies, accessories, and/or lens choices and decisions.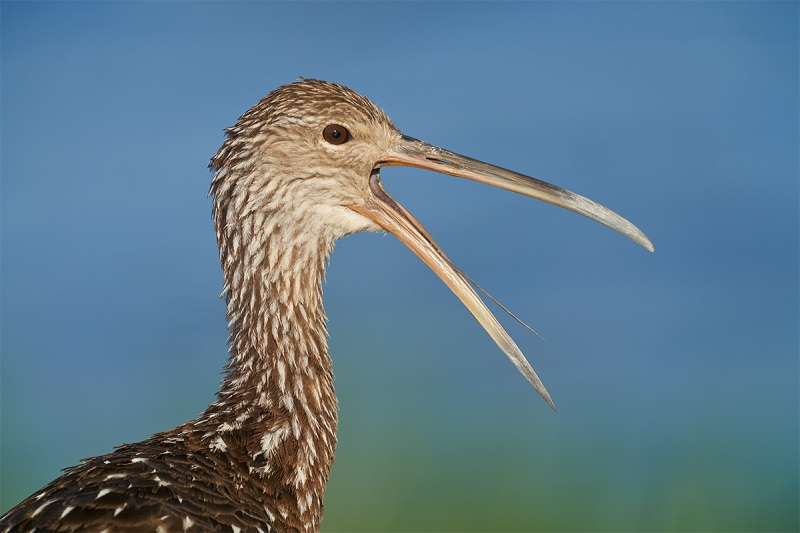 This is yet another image from the wonderfully magical later afternoon and evening of 3 APR 2020 at Indian Lake Estates. Working from my SUV, I used the Induro GIT 204/FlexShooter Mini-mounted Sony FE 600mm f/4 GM OSS lens, the Sony FE 2.0x Teleconverter, and the 61-MP Monster, the Sony Alpha a7R IV Mirrorless Digital camera body. ISO: 800. Exposure determined by Zebras with exposure compensation on the rear wheel: 1/1000 sec. at f/8 in Manual mode. AWB at 6:16pm on a clear afternoon.
Tracking Flexible Spot M, AF-C. Click on the image to see a larger, sharper version.
Image #1: Limpkin calling, two-toned background

Your browser does not support iFrame.
Working Off a Tripod From Your Vehicle
As mentioned here often, I have been setting up a tripod in my vehicle for more than two decades. Adding the FlexShooter Pro (only one in stock right now) transformed a good technique into an incredibly efficient and effective one. I stayed with the Limpkin for more than an hour, moving my vehicle only once when the bird moved a few steps to my left. When I first positioned my Sequoia, I approached very slowly with the lens already on the tripod. I made a few head portraits at 1200mm and then took a moment to center the bubble on the silver ball in the scribed circle. That done, with the lens rotated to one of the two click-stops, I was able to shoot horizontals and verticals with impunity for the next 45 minutes knowing that every image would be perfectly square to the world. The first time that the bird called (heck, screamed is a better word), it turned its head away so I never pressed the shutter button. But I was ready for it the next few times!
You can hear (and see) a Limpkin calling here.
Tracking Flexible Spot M
Folks might ask, "Why did you stay with one bird for so long?" First off, tame Limpkins at ILE are few and far between. Second, and most importantly, I was able to practice using Tracking Flexible Spot M at 1200mm. This amazing AF area separates SONY from all Canon and Nikon AF systems: you usually start with the AF point in the center and acquire focus on the bird's face. Then you can point the lens wherever you want to get the perfect image design; the AF point always stays on the bird's face. It does, however, require some practice to develop complete confidence when using it. When the bird called, I trusted Tracking Flexible Spot M. My confidence was rewarded by two sharp images.
There is extensive coverage of all of the AF Area Modes (including and especially the Tracking Modes) in the soon-to-be-finished SONY e-Guide. Keep reading for details on that.
From Fred Innamorato via e-mail
Hi Artie,
I want to thank you for making the Sony e-Guide and videos available and for the work you put into the blog as well as for your books that teach us how to photograph birds and also for your camera User's Guides. There is just no possible way I would have been able to get my Sony a9 ii camera settings so technically correct for doing birds in flight on my own without this guide. in my opinion, Sony should pay you for taking on the task of educating their customers. Sony has created an amazing camera but they fail to explain to their customers how to take full advantage of it. I appreciate that you know and have access to some very competent people with the technical backgrounds to assist you in your field experimentation to come up with the best and most practical and useful Menu Settings for bird photography. We all will benefit from your unique ability to pull this together. I am especially happy with your instructions on how to use the Zebra Settings for getting proper exposures. I really can't thank you enough Artie for making my bird photography hobby so much more enjoyable than it would have been otherwise. My photography brings me great satisfaction. Sharing quality photographs with my family and friends has generated lots of interest in my hobby and why I do it. Life is good!
I highly recommend the purchase of your Sony e-Guide and Video(s). This information is just not available anywhere else. Even from Sony …
Fred Innamorato
The Sony Camera Videos and Pre-publication e-Guide Costs and Discount Info
I recently sent aa link to the March 19 Version of the SONY e-Guide to the 31 folks who have purchased it. It will siureely be the next-to-last pre-publication version.
The cost of the SONY e-Guide is $100.00 US and will include one of the camera set-up videos — we offer one video each for the a7r iii, the a7r iv, the a9, and the a9 ii — and the written guide with the galleries. The guide is now 98% done and you will — of course, receive the final version when it is completed. I sent out the third draft today to those who have purchased the Guide with or without the discount.
Folks who have used my B&H links or purchased their SONY gear from Bedfords will receive said discount based exactly on how much they spent. If you spent more than $10,000 you will receive one free video and the e-Guide. Additional camera videos are $25.00 each. If you spent $2400, you will receive a 24% discount, and so on and so forth. And again, additional camera videos will be $25.00 each.
I will need time to verify your B&H purchases so folks will need to send their receipts and then be a bit patient. It is much easier to verify Bedfords' purchases but I need those receipts as well.
If you have not used BAA links, please do so in the future. If that is the case and you would like the e-Guide now, please send a Paypal for $100 US to birdsasart@verizon.net and be sure to include the words "SONY Pre-publication Guide" in the Paypal e-mail along with the name of your camera or cameras so that you can receive the correct video or videos. Please add $25 for each additional camera video. Be sure to send a copy of the Paypal transaction to me via e-mail.
Folks who have used BAA links to purchase their SONY gear should send their receipts to me via e-mail asap and let me know which camera videos they need. I will verify their purchases as quickly as possible and send a quote to be paid via Paypal as above.
Thanks to all who have properly used my B&H links or gone through the fabulous Steve Elkins at Bedfords, and thanks to everyone for having faith in the information that I provide, knowing that it will be the best available anywhere.
If In Doubt …
If you are in doubt about using the BAA B&H affiliate link correctly, you can always start your search by clicking here. Please note that the tracking is invisible. Web orders only. Please, however, remember to shoot me your receipt via e-mail.
Please Remember to use my Affiliate Links and to Visit the BAA Online Store 🙂
To show your appreciation for my continuing efforts here, we ask, as always, that you get in the habit of using my B&H affiliate links on the right side of the blog or Bedfords, for all of your photo and electronics purchases. Please check the availability of all photographic accessories in the New BIRDS AS ART Online Store, especially the Mongoose M3.6 tripod head, Wimberley lens plates, Delkin flash cards and accessories, and LensCoat stuff.
As always, we sell only what I have used, have tested, and can depend on. We will not sell you junk. We know what you need to make creating great images easy and fun. And please remember that I am always glad to answer your gear questions via e-mail.
I would, of course, appreciate your using our B&H affiliate links or Bedfords for all of your major gear, video, and electronic purchases. For the photographic stuff mentioned in the paragraph above, and for everything else in the new store, we, meaning BAA, would of course greatly appreciate your business. Here is a huge thank you to the many who have been using our links on a regular basis and those who regularly visit the New BIRDS AS ART Online Store as well.
Facebook
Be sure to like and follow BAA on Facebook by clicking on the logo link upper right.
Typos
In all blog posts and Bulletins, feel free to e-mail or to leave a comment regarding any typos or errors. Just be right :).