What's Up?
More of the same — two photo trips down to the lake yesterday and a nice swim. Keep reading to learn how I did on Tuesday morning. It was 90 degrees by yesterday afternoon. I forgot to mention that when I was at the post office on Monday, I learned of two COVID-19 cases here at ILE. That after hearing two ladies talk about the safety of living in a rural area … The forecast for today is for partly to mostly cloudy skies all day with southwest winds increasing from 5-10 in the morning to 15-20 by afternoon. I will be headed down to the lake early this morning, Wednesday 15 APR 2020. Have a great day and stay safe.
Thanks to the many who have ordered the almost-finished SONY e-Guide and Video(s). If you purchase, please be sure to include your e-mail address in a note as we do not always receive Paypal notification and please send a copy of your Paypal order that includes your e-mail address to me at the samandmayasgrandpa@att.net address.
Thanks to Kathy Hronopoulos of Western Australia for her SONY e-guide order. Kathy, if you see this, please contact me via e-mail as the emails I sent to the address in your Paypal bounced back to me.
The Second Tripod Question Answer
In the Now is the Time. The why a second tripod (?) question. And learning about Magnolia blossoms, or not … blog pose here, I asked why setting up the second tripod was the key to success. Many folks answered correctly by stating that the second tripod was put in place to keep the flower still in the wind. I had thought of using a Plamp to keep the blossom still, but the tripod was an even better solution. Not to mention that in general, you need to first fasten the Plamp to a tripod anyway. The Plamp is a great macro accessory. I keep one in my car all the time. Learn more or purchase one here.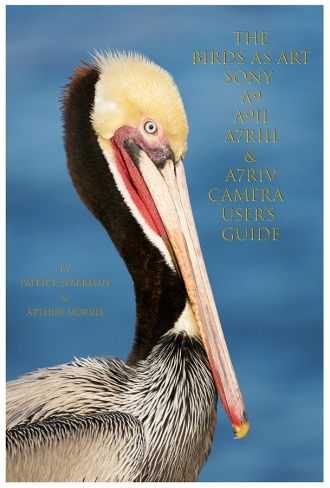 Click on the image to enjoy a larger version.
The SONY e-Guide by Patrick Sparkman and Arthur Morris
The Sony Camera Videos and Pre-publication e-Guide Costs and Discount Info
The cost of the SONY e-Guide is $100.00 US and will include one of the four camera set-up videos — we offer one video each for the a7r iii, the a7r iv, the a9, and the a9 ii — and the written guide with the galleries. The guide is now 98% done and you will — of course, receive the final version when it is completed. I sent out the third draft today to those who have purchased the Guide with or without the discount.
Folks who have used my B&H links or purchased their SONY gear from Bedfords will receive said discount based exactly on how much they spent. If you spent more than $10,000 you will receive one free video and the e-Guide. Additional camera videos are $25.00 each. If you spent $2400, you will receive a 24% discount, and so on and so forth. And again, additional camera videos will be $25.00 each.
I will need time to verify your B&H purchases so folks will need to send their receipts and then be a bit patient. It is much easier to verify Bedfords' purchases but I need those receipts as well.
If you have not used BAA links, please do so in the future. If that is the case and you would like the e-Guide now, please send a Paypal for $100 US to birdsasart@verizon.net and be sure to include the words "SONY Pre-publication Guide" in the Paypal e-mail along with the name of your camera or cameras so that you can receive the correct video or videos. Please add $25 for each additional camera video. Be sure to send a copy of the Paypal transaction to me via e-mail.
Folks who have used BAA links to purchase their SONY gear should send their receipts to me via e-mail asap and let me know which camera videos they need. I will verify their purchases as quickly as possible and send a quote to be paid via Paypal as above.
Thanks to all who have properly used my B&H links or gone through the fabulous Steve Elkins at Bedfords, and thanks to everyone for having faith in the information that I provide, knowing that it will be the best available anywhere.
BIRDS AS ART
BIRDS AS ART is registered in the U.S. Patent and Trademark Office
Price Drop
Canon EF 400mm f/2.8L IS II USM Lens
Price Reduced $250.00 on 10-23-2019
Price Reduced $250.00 on 4-14-2020
Sandra Calderbank is offering a Canon EF 400mm f/2.8L IS II USM lens in like-new condition for the BAA record-low-by-$1,500 price of $5,499.00 (was $5999.00). The sale includes the original box and everything that came in it including the rear lens cap, the lens trunk, the original tough front lens cover, and the lens strap along with a LensCoat and insured ground shipping via major courier to US addresses only. Your item will not ship until your check clears unless other arrangements are made.
Please contact Sandra via e-mail or by phone at 1-828 412 1047 (eastern time).
This fast, super-sharp, relatively lightweight (8.49 pounds) super-telephoto lens is a versatile lens for wildlife photographers, especially for those who live in the west and do large mammals in low light. And it is a hugely popular lens with sports photographers. For bird photographers working at close range at feeder set-ups will really love the 3m (9.8 feet) close focus. And best of all, it creates super-sharp images with both the 1.4X III and the 2X III Extenders. It currently sells new at B&H for $7,999. You can save $2,250 significant bucks by grabbing Sandra's super-fast lens right now. artie
Great Buy Reruns
Canon EOS 7D dSLR
Tim McCreary is offering a Canon EOS 7D dSLR in near-mint condition for an incredibly low $199.00. The sale includes the body cap, the strap, the original box, manual, a third-party battery grip, 2 batteries, the charger, a memory card, and insured ground shipping via UPS to lower-48 US addresses only. Your item will not ship until your check clears unless other arrangements are made.
Please contact Tim McCreary via via e-mail or by phone at 702 328 6159 (Pacifc time zone).
This is a great body for anyone looking to get started with digital photography, nature or not. Paired with Tim's 100-400 II, it would make a great starter kit. artie
Tokina 11-16mm f/2.8 Lens for Canon EF
Tim McCreary is also offering a Tokina 11-16mm f/2.8 Lens for Canon EF in near-mint condition for $229.00. The sale includes the front and rear lens caps, the original box, and insured ground shipping via UPS to lower-48 US addresses only. Your item will not ship until your check clears unless other arrangements are made.
Please contact Tim via via e-mail or by phone at 702 328 6159 (Pacifc time zone).
The Canon EF-mount atx-i 11-16mm f/2.8 CF from Tokina is a versatile ultra-wide zoom well-suited for landscape, architecture, and interior shooting. Characterized by its bright f/2.8 constant maximum aperture, consistent brightness is afforded throughout the zoom range and benefits working in available lighting conditions. The optical design incorporates a series of aspherical and low dispersion elements, which suppress a variety of aberrations for improved sharpness and clarity. Individual elements are also multi-coated to resist flare and ghosting for greater contrast and color accuracy when working in bright or backlit conditions. Complementing the optics, this lens features a One-Touch Focus Clutch Mechanism for changing between AF and MF settings, and an internal focusing design is used for responsive focusing performance. B&H
This versatile wide-angle zoom lens sells new for $449.00. artie
The Perfect SONY Starter Kit!
Sony A9 Digital Mirrorless Camera Body
BAA Record-Low Price!
Blog regular Fred Innamorato is offering a Sony A9 in excellent condition for a BAA record-low $2349.00. The sale includes the original battery, the charger, the original product box, the body cap, and insured shipping via Fed Ex Ground. Your item will not ship until your check clears unless other arrangements are made.
Please contact Fred via e-mail.
The a9, the original AF king, offers superb autofocus that absolutely kills for flight photography. Virtually every image is sharp on the eye. Many feel that the AF system on the a9 ii is no better. As the a9 ii sells new for $4498.00 you can save an incredible $2149.00! artie
Sony FE 100-400mm F4.5-5.6 GM OSS
Please note, the purchase of this item includes a $50.00 discount on the soon-to-be-finished SONY e-Guide.
IPT veteran and dear friend Patrick Sparkman is offering a Sony FE 100-400mm F4.5-5.6 GM OSS Lens in very good condition for a very low $1650.00. The body of the lens is in excellent condition. The glass is perfect except for a tiny scratch on the front element that does not affect performance. The sale includes the lens hood, the original box, the soft case that came with the lens, the front lens cap, the rear lens cap, and insured shipping via Fed Ex Ground. Your item will not ship until your check clears unless other arrangements are made.
Please contact Patrick via e-mail.
The .98 meter minimum focusing distance of the SONY 100-400 is a huge plus. It comes in very handy when working with mega-tame birds and the lens can be effective as a quasi-macro lens for large bugs (including butterflies and dragonflies), frogs, all but very small flower blossoms, and lots more. In addition, it is a more than capable flight lens that is a lot lighter than the 200-600. The 100-400 was my workhorse lens on the 2019 Galapagos Photo-Cruise of a Lifetime. As it sells new for $2,498.00 you can save a very neat $848.00 by grabbing Patrick's lens.

Money Saving Reminder
If you need a hot photo item that is out of stock at B&H, would enjoy free overnight shipping, and would like a $50 discount on your first purchase over $1000.00, click here to order and enter the coupon code BIRDSASART at checkout. If you are looking to strike a deal on Canon or Nikon gear (including the big telephotos) or on a multiple item order, contact Steve Elkins via e-mail or on his cell at (479) 381-2592 (Eastern time) and be sure to mention your BIRDSASART coupon code and use it for your online order. Steve has been great at getting folks the hot items that are out of stock at B&H. Those include the SONY a7r IV, the SONY 200-600, the SONY 600mm f/4 GM, and the Nikon 500mm PF. Steve is eager to please.
Gear Questions and Advice
Too many folks attending BAA IPTs and dozens of photographers whom I see in the field and on BPN, are–out of ignorance–using the wrong gear especially when it comes to tripods and more especially, tripod heads… Please know that I am always glad to answer your gear questions via e-mail. Those questions might deal with systems, camera bodies, accessories, and/or lens choices and decisions.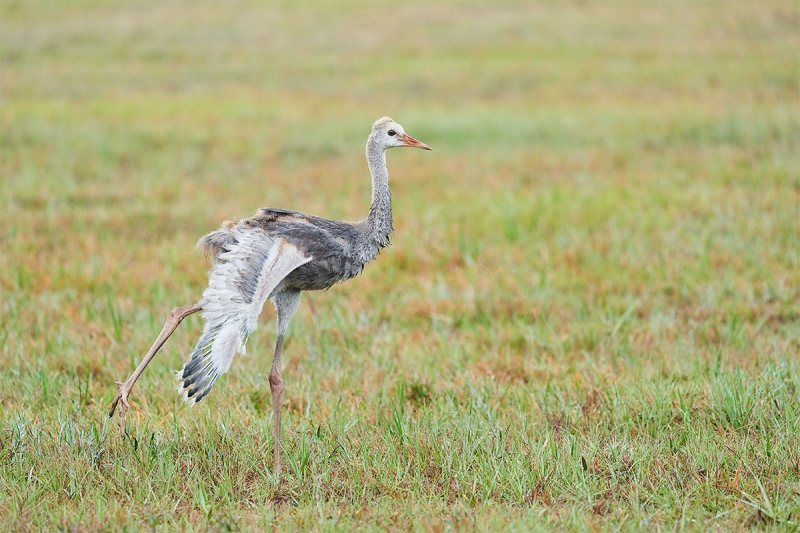 This image was also created on the 14 APR 2020 at Indian Lake Estates. I used the handheld Sony FE 200-600mm f/5.6-6.3 G OSS lens (at 362mm) and the 61MP monster, the Sony Alpha a7R IV Mirrorless Digital Camera (Body Only) ISO 2000. Exposure determined by Zebras with ISO on the rear wheel: 1/500 sec. at f/6.3 in Manual mode. AWB at 8:05am on an overcast morning.
Tracking Flexible Spot M AF-C was active at the moment of exposure and performed superbly.
Click on the image to see a larger, sharper version.
Sandhill Crane colt stretching near-wing

Your browser does not support iFrame.
Not What I Was After, But …
The forecast for Tuesday morning was spot-on: overcast with a gentle wind from the south. It was the perfect morning to work on creating some ISO 1600 and 3200 7r iv images for Arash Hazeghi. I sent him 50 RAW files last night by Hightail. He will use them to create the Capture One noise reduction values for the C-1 guide that he is working on.
With the North Field spur-road sheltered by the tall woods across the canal, I knew that the flowers would be still. I was two minutes late getting in position and the crane colt family was getting ready to swim across the canal. I rushed to set up the 600 with the a7r iv on the tripod. Working as quickly and calmly as possible, I managed a few decent images. I have pretty much figured out their morning swim schedule and have made many pretty good (but not great) images …
Anyhoo, after the two adults with their two getting-larger-every-day colts crossed, I set up the 100-400/2X TC/a7r iv rig on the tripod and went to work on the flowers, creating a very few decent images.
As expected, the crane colt family was foraging in their usual haunts at the south end of the North Field. Orangey Colt stayed with one adult, Gray Colt with the other. I re-parked my SUV, mounted the a7r iv on the 200-600, and went for a walk with the cranes. I've been trying for years for a perfect hand-off shot with an adult crane feeding a nice fat mole cricket — the crane's favorite food, to a chick or colt and with the soft light, the morning seemed perfect.
The hand-off image, however, is quite difficult. The two birds need to be perfectly juxtaposed with the chick either just this side of or facing the adult. And you need to have chosen the perfect perspective. I set up the exposure going for a few Zebras on the adult's white cheek patch and the colt's face. Working wide open at f/6.3, I set my fast-enough-to-make-a-sharp-image shutter speed at 1/500 sec., I increased the ISO to 2000 to get the Zebras I needed. I tried and failed several times for a good handoff shot.
Gray Colt was walking a few feet behind one of the adults when it stopped to stretch. I zoomed out a bit and made five images as the colt held the pose. And Tracking Flexible Spot (M) worked to perfection. When a bird stretches its near-wing it will almost always turn its head away. I was lucky on all counts for this one. Note that on this humid morning the colt was still soaking wet from its swim.
If In Doubt …
If you are in doubt about using the BAA B&H affiliate link correctly, you can always start your search by clicking here. Please note that the tracking is invisible. Web orders only. Please, however, remember to shoot me your receipt via e-mail.
Please Remember to use my Affiliate Links and to Visit the BAA Online Store 🙂
To show your appreciation for my continuing efforts here, we ask, as always, that you get in the habit of using my B&H affiliate links on the right side of the blog or Bedfords, for all of your photo and electronics purchases. Please check the availability of all photographic accessories in the New BIRDS AS ART Online Store, especially the Mongoose M3.6 tripod head, Wimberley lens plates, Delkin flash cards and accessories, and LensCoat stuff.
As always, we sell only what I have used, have tested, and can depend on. We will not sell you junk. We know what you need to make creating great images easy and fun. And please remember that I am always glad to answer your gear questions via e-mail.
I would, of course, appreciate your using our B&H affiliate links or Bedfords for all of your major gear, video, and electronic purchases. For the photographic stuff mentioned in the paragraph above, and for everything else in the new store, we, meaning BAA, would of course greatly appreciate your business. Here is a huge thank you to the many who have been using our links on a regular basis and those who regularly visit the New BIRDS AS ART Online Store as well.
Facebook
Be sure to like and follow BAA on Facebook by clicking on the logo link upper right.
Typos
In all blog posts and Bulletins, feel free to e-mail or to leave a comment regarding any typos or errors. Just be right :).