What's Up
The sun finally came out on Monday morning after a week of early clouds, fog, overcast, and rain. Aside from a few adult cranes (like the bird in today's featured image) and some Turkey Vultures, there was not much to photograph. And with a fairly brisk wind from the west/southwest, flight photography was out of the question. I did get back down to the lake in the late afternoon for some more photography and a health walk. I lucked out photographing Orangey Colt at point-blank range with the 200-600 in amazing red light less than ten minutes before sunset. The sunset turned out to be mega and with an east wind in the evening, conditions were perfect for creating dramatic silhouettes so I drove quickly back to the perch. The bad news? There were no birds. But the sky was so beautiful that I created 74 sky-scapes.
The forecast for this morning — Tuesday 27 APR 2020, is much better for flight: partly cloudy skies with a northeast breeze. I will go hunting soon.
My Bad
I guess that I am not much of a salesman. As I had suspected might be the case, everyone absolutely loved yesterday's image editing Vlog– "We loved learning how you think in the field." But I totally blew it by not mentioning that BAA currently offers two Picking Your Keepers educational videos:
The San Diego II Picking Your Keepers Instructional Video (One hour, seventeen minutes.)
The Flight Photography Editing and Education Video (Forty-nine minutes.)
BIRDS AS ART
BIRDS AS ART is registered in the U.S. Patent and Trademark Office.

Money Saving Reminder
If you need a hot photo item that is out of stock at B&H, would enjoy free overnight shipping, and would like a $50 discount on your first purchase over $1000.00, click here to order and enter the coupon code BIRDSASART at checkout. If you are looking to strike a deal on Canon or Nikon gear (including the big telephotos) or on a multiple item order, contact Steve Elkins via e-mail or on his cell at (479) 381-2592 (Eastern time) and be sure to mention your BIRDSASART coupon code and use it for your online order. Steve has been great at getting folks the hot items that are out of stock at B&H. Those include the SONY a7r IV, the SONY 200-600, the SONY 600mm f/4 GM, and the Nikon 500mm PF. Steve is eager to please.
Gear Questions and Advice
Too many folks attending BAA IPTs and dozens of photographers whom I see in the field and on BPN, are–out of ignorance–using the wrong gear especially when it comes to tripods and more especially, tripod heads… Please know that I am always glad to answer your gear questions via e-mail. Those questions might deal with systems, camera bodies, accessories, and/or lens choices and decisions.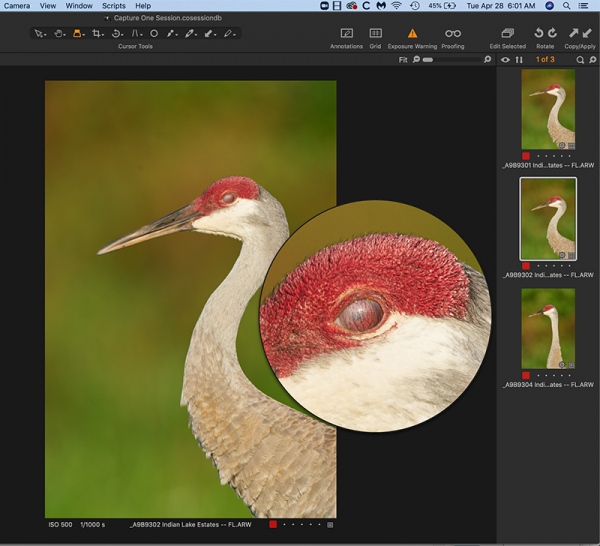 Click on the image to view a larger version.
Capture One screen capture showing nictitating membrane covering the eye

Your browser does not support iFrame.
The Dreaded Nictitating Membrane
As most bird photographers know, birds often blink. At times, a 3rd translucent eyelid called the nictitating membrane covers the eye momentarily. Since this membrane is designed to protect the eye, it happens most often when a bird is feeding young or fighting with another bird. But it can happen at any time. And most of the time it ruins the image. That is the number one reason that I have been shooting 3 frames at a time for more than three decades. Even when I was using film!
Eye Replacement Vlog Video
You can learn the basics of replacing a bird's eye using a Quick Mask in the short video above. And there are some bill clean-up tips as well. Yu can learn the details of creating, using, re-sizing, re-shaping, and warping Quick Masks and refining them with a regular layer mask in Digital Basics II and in APTATS I & II.
Note: I went to a higher quality MP.4 file so you should be OK watching this one full screen.
More!
If you enjoyed today's Vlog Photoshop video, know that you can find know fewer than eight Photoshop videos here in the BAA Online Store. Each is far more detailed than today's Vlog video and each costs only $5.00.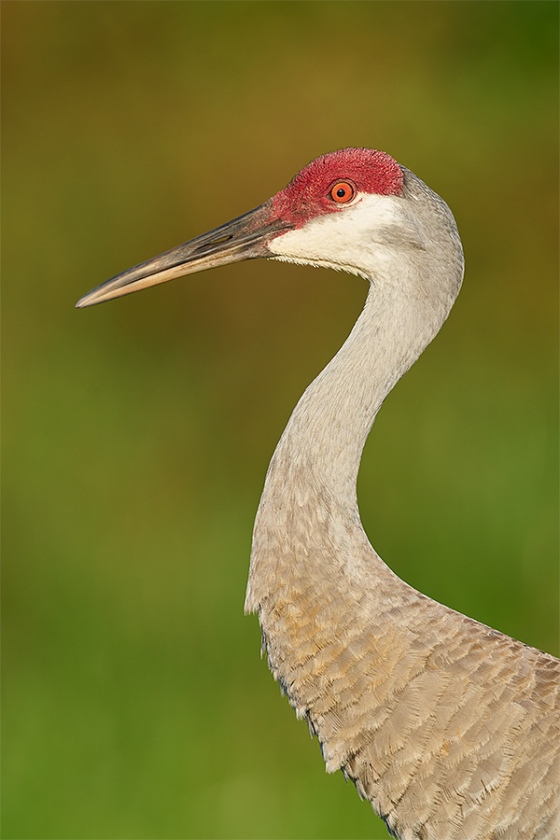 This image was created on 27 APR 2020 at Indian Lake Estates, FL. Working from inside my SSUV, I used the Induro GIT 204/FlexShooter Mini-mounted Sony FE 600mm f/4 GM OSS lens, Sony FE 1.4x teleconverter, and the blazingly fast AF King, the Sony Alpha a9 II Mirrorless Digital Camera Body. ISO 500. Exposure determined by Zebras with ISO on the rear dial: 1/1000 sec. at f/6.3 in Manual mode. AWB at 7:52am on a (finally!) clear, sunny morning.
Upper Center Zone Continuous/tracking AF was active at the moment of exposure and performed to perfection.
Click the image to enjoy a larger version.
Image #1: Sandhill Crane with eye replaced

Your browser does not support iFrame.
It Was Good to See the Morning Sun Again
This is the optimized version of my favorite image from the first sunny morning in quite some time. With the eye replaced and a bit of bill clean-up. I love the sweet early morning light, the perfect head angle, and the curved shape of the neck.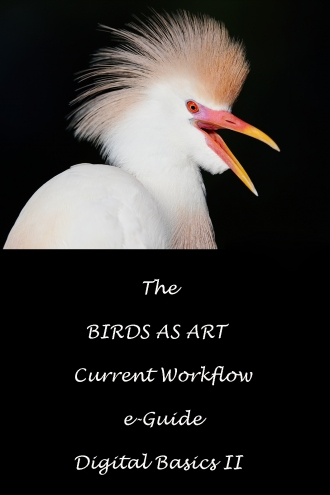 The BIRDS AS ART Current Workflow e-Guide (Digital Basics II).
You can order your copy from the BAA Online Store here, by sending a Paypal for $40 here, or by calling Jim or Jennifer weekdays at 863-692-0906 with your credit card in hand.
The BIRDS AS ART Current Workflow e-Guide (Digital Basics II)
All the techniques mentioned above and tons more (with the exception of Capture One RAW Conversions) — along with all of my personalized Keyboard Shortcuts — are covered in detail in the BIRDS AS ART Current Workflow e-Guide (Digital Basics II), an instructional PDF that is sent via e-mail. Learn more and check out the free excerpt in the blog post here. While the new e-Guide reflects my Macbook Pro/Photo Mechanic/DPP 4/Photoshop workflow, folks using a PC and/or BreezeBrowser will also benefit greatly by studying the material on DB II. Note: folks working on a PC and/or those who do not want to miss anything Photoshop may wish to purchase the original Digital Basics along with DB II while saving $15 by clicking here to buy the DB Bundle.
Folks who learn well by following along rather than by reading can check out the complete collection of MP 4 Photoshop Tutorial Videos by clicking here. Note: all of the videos are now priced at an amazingly low $5.00 each.
You can learn how and why I converted all of my Canon digital RAW files in DPP 4 in the DPP 4 RAW Conversion Guide here. More recently, I became proficient at converting my Nikon RAW (NEF) files in Adobe Camera Raw. About two years ago I began converting my Nikon and Sony RAW files in Capture One Pro 12 and continue to do so today.
To purchase Capture One, please use this link. Then you can learn more about Capture One in the Capture One Pro 12 Simplified MP4 Video here. The next step would be to get a copy of Arash Hazeghi's "The Nikon Photographers' Guide to Phase One Capture One Pro e-Guide" in the blog post here.
You can learn advanced Quick Masking and advanced Layer Masking techniques in APTATS I & II. You can save $15 by purchasing the pair. Folks can learn sophisticated sharpening and (NeatImage) Noise Reduction techniques in The Professional Post Processing Guide by Arash Hazeghi and edited by yours truly. Please use this link to purchase NeatImage.
To introduce folks to our MP.4 videos and the basics involved in applying more NeatImage noise reduction to the background and less on the subject, I'd be glad to send you a free copy of the Free Noise Reduction Basics MP.4 Video. Simply click to shoot me an e-mail to get your free copy.
If In Doubt …
If you are in doubt about using the BAA B&H affiliate link correctly, you can always start your search by clicking here. Please note that the tracking is invisible. Web orders only. Please, however, remember to shoot me your receipt via e-mail.
Please Remember to use my Affiliate Links and to Visit the BAA Online Store 🙂
To show your appreciation for my continuing efforts here, we ask, as always, that you get in the habit of using my B&H affiliate links on the right side of the blog or Bedfords, for all of your photo and electronics purchases. Please check the availability of all photographic accessories in the New BIRDS AS ART Online Store, especially the Mongoose M3.6 tripod head, Wimberley lens plates, Delkin flash cards and accessories, and LensCoat stuff.
As always, we sell only what I have used, have tested, and can depend on. We will not sell you junk. We know what you need to make creating great images easy and fun. And please remember that I am always glad to answer your gear questions via e-mail.
I would, of course, appreciate your using our B&H affiliate links or Bedfords for all of your major gear, video, and electronic purchases. For the photographic stuff mentioned in the paragraph above, and for everything else in the new store, we, meaning BAA, would of course greatly appreciate your business. Here is a huge thank you to the many who have been using our links on a regular basis and those who regularly visit the New BIRDS AS ART Online Store as well.
Facebook
Be sure to like and follow BAA on Facebook by clicking on the logo link upper right.
Typos
In all blog posts and Bulletins, feel free to e-mail or to leave a comment regarding any typos or errors. Just be right :).