What's Up?
Sunday morning was gorgeous. Dead clear and super-still. Lake Walk-in-Water was like a polished blue mirror. I was desperate for a bird in the water, but that did not happen. And with no wind, there was no flight photography. I did some very nice Cattle Egrets, a ton of Black Vulture heads (I even made two short in-the-field videos — both coming at some point), and a sweet Great Egret head portrait or two. I was done by 9:30am but when I pulled into my driveway I noticed some small, lovely, blue flowers. I spent an hour photographing them and got one good one. They turned out to be a dayflower. I did not do much but I made a simple Black Vulture head and shoulders portrait against an amazing still-canal background. It is very sweet and you will see it here pretty soon along with a sob story …
The best image I created on Monday morning was of an in situ buttonbush blossom on the edge of the marsh. I have mastered a great manual focusing macro technique that is detailed in the new SONY e-Guide; it does, however, take a bit of practice to get it down pat … The Cattle Egrets had disappeared along with most other birds.
I went back down to the lake on Monday evening; things started off slowly. It was the stillest evening I have ever seen at ILE; the flag was hanging limply. After my walk, I had some really good chances with Orangey Colt who has so far evaded the fox-in-the-marsh … With just a bit of haze in the west, there was some decent sunset color, but few photo opportunities.
With little rain this spring the lake is very low. Over the past week or so, I have seen some shorebirds. In addition to the previously mentioned Solitary Sandpiper, there have been Least and Spotted Sandpipers, about eight Black-necked Stilts, both yellowlegs, and several Killdeer.
Thanks to the many who have been placing orders in the BAA Online Store. They are always greatly appreciated, especially at this (crazy) time. Speaking of which, Fort DeSoto Park in Pinellas County re-opened yesterday and — as I understand it — Florida folks are no longer under lockdown …
We received 30 FlexShooter Pro heads yesterday and will be shipping the back-orders today. We are down to about three FlexShootter Minis but will be getting our next shipment of those next week.
A Must-Read
I have prepared the final PDF for the new SONY e-Guide. It should be available in the store no later than next Tuesday.
Here is a comment from last week left by IPT veteran Barry Barfield:
I have been actively using the set up from artie's Sony e-Guide now for about four weeks. With my a9 ii and the 200-600 rig is easy to get the right exposure 99% of the time. I could never have figured out the settings suggested on my own, so thank you artie and Patrick. If you have Sony A9, A9ii, or one of the A7r bodies covered – get this guide today. Barry, Australia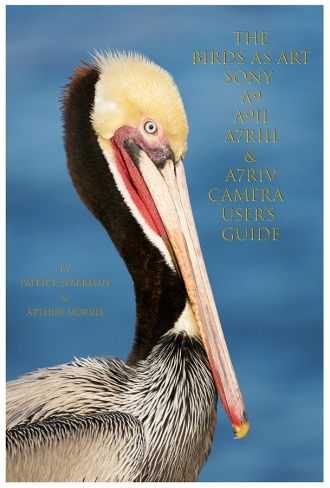 Click on the image to enjoy a larger version.
The SONY e-Guide by Patrick Sparkman and Arthur Morris
The Sony Camera e-Guide (PDF) and videos Info
Yesterday I prepared the final PDF for the Sony Camera e-Guide. It will not be available in the store until early next week but you can order yours right now. The cost of the SONY e-Guide is $100.00 US and will include one of the four (4) camera set-up videos — we offer one video each for the a7r iii, the a7r iv, the a9, and the a9 ii — and the written guide with the galleries. Additional camera videos are $25.00 each The guide is now done.
If you would like to order the e-Guide now, please send a Paypal for $100 US to birdsasart@verizon.net and be sure to include the words "SONY e-Guide" in the Paypal e-mail along with the name of your camera or cameras so that you can receive the correct video or videos. Note: please add $25 for each camera video after the first. And please be sure to type your e-mail address into your Paypal order. Then be sure to send a copy of the Paypal transaction to me via e-mail.
BIRDS AS ART
BIRDS AS ART is registered in the U.S. Patent and Trademark Office.

This Just In!
Steve Elkins asked me to let y'all know that he has six SONY 200-600s in stock and that one of them has your name on it. Contact Steve as below and save $50.00.
Money Saving Reminder
If you need a hot photo item that is out of stock at B&H, would enjoy free overnight shipping, and would like a $50 discount on your first purchase over $1000.00, click here to order and enter the coupon code BIRDSASART at checkout. If you are looking to strike a deal on Canon or Nikon gear (including the big telephotos) or on a multiple item order, contact Steve Elkins via e-mail or on his cell at (479) 381-2592 (Eastern time) and be sure to mention your BIRDSASART coupon code and use it for your online order. Steve has been great at getting folks the hot items that are out of stock at B&H. Those include the SONY a7r IV, the SONY 200-600, the SONY 600mm f/4 GM, and the Nikon 500mm PF. Steve is eager to please.
Gear Questions and Advice
Too many folks attending BAA IPTs and dozens of photographers whom I see in the field and on BPN, are–out of ignorance–using the wrong gear especially when it comes to tripods and more especially, tripod heads… Please know that I am always glad to answer your gear questions via e-mail. Those questions might deal with systems, camera bodies, accessories, and/or lens choices and decisions.
If Wind Against Sun is Bad How Can It Be Good?
To learn the answer to that question, play the video. If you have any questions, please leave a comment. In general, we want the wind and the sun from somewhere behind us. When the wind, however, is blowing hard right at you and the sun, you may be able to find a decent situation if you keep your eyes open and allow yourself to think out of the box …
If In Doubt …
If you are in doubt about using the BAA B&H affiliate link correctly, you can always start your search by clicking here. Please note that the tracking is invisible. Web orders only. Please, however, remember to shoot me your receipt via e-mail.
Please Remember to use my Affiliate Links and to Visit the BAA Online Store 🙂
To show your appreciation for my continuing efforts here, we ask, as always, that you get in the habit of using my B&H affiliate links on the right side of the blog or Bedfords, for all of your photo and electronics purchases. Please check the availability of all photographic accessories in the New BIRDS AS ART Online Store, especially the Mongoose M3.6 tripod head, Wimberley lens plates, Delkin flash cards and accessories, and LensCoat stuff.
As always, we sell only what I have used, have tested, and can depend on. We will not sell you junk. We know what you need to make creating great images easy and fun. And please remember that I am always glad to answer your gear questions via e-mail.
I would, of course, appreciate your using our B&H affiliate links or Bedfords for all of your major gear, video, and electronic purchases. For the photographic stuff mentioned in the paragraph above, and for everything else in the new store, we, meaning BAA, would of course greatly appreciate your business. Here is a huge thank you to the many who have been using our links on a regular basis and those who regularly visit the New BIRDS AS ART Online Store as well.
Facebook
Be sure to like and follow BAA on Facebook by clicking on the logo link upper right.
Typos
In all blog posts and Bulletins, feel free to e-mail or to leave a comment regarding any typos or errors. Just be right :).