What's Up?
Wednesday morning dawned sunny with lots of large, puffy, white clouds. There was a huge hatch of mayflies but few birds partook of the potential feast. I created a few decent small-in-the-frame images of a Great Egret cloud-scape and a few more of the inch-deep pile of mayflies at the base of the pier. And I just missed on a crow with a mouthful of the just-emerged insects; the bird refused to turn toward me. By 8:15am the wind had switched to strong from the west so I headed home early.
The forecast for this morning — Thursday 7 MAY 2020, is for clear and sunny with the wind from the north at 10. As the sun is coming up earlier and more to the northeast than it had been, I am hoping for some good early flight photography before the sun moves to the south.
Be sure to check out the Fort DeSoto Gallery here and be sure to note all the terns and Laughing Gulls in full breeding plumage!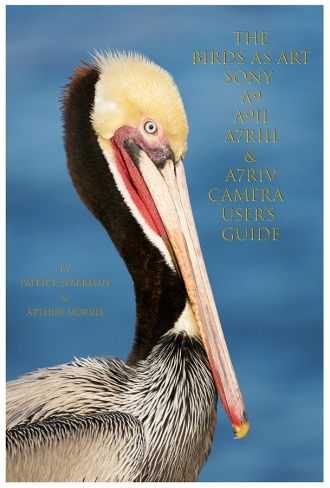 Click on the image to enjoy a larger version.
The SONY e-Guide by Patrick Sparkman and Arthur Morris
The Sony Camera e-Guide (PDF) and videos Info
Yesterday I prepared the final PDF for the Sony Camera e-Guide. It will not be available in the store until early next week but you can order yours right now. The cost of the SONY e-Guide is $100.00 US and will include one of the four (4) camera set-up videos — we offer one video each for the a7r iii, the a7r iv, the a9, and the a9 ii — and the written guide with the galleries. Additional camera videos are $25.00 each The guide is now done.
If you would like to order the e-Guide now, please send a Paypal for $100 US to birdsasart@verizon.net and be sure to include the words "SONY e-Guide" in the Paypal e-mail along with the name of your camera or cameras so that you can receive the correct video or videos. Note: please add $25 for each camera video after the first. And please be sure to type your e-mail address into your Paypal order. Then be sure to send a copy of the Paypal transaction to me via e-mail.
BIRDS AS ART
BIRDS AS ART is registered in the U.S. Patent and Trademark Office.

This Just In!
Steve Elkins asked me to let y'all know that he now has eight SONY 200-600s in stock and that one of them has your name on it. Contact Steve as below and save $50.00.
Money Saving Reminder
If you need a hot photo item that is out of stock at B&H, would enjoy free overnight shipping, and would like a $50 discount on your first purchase over $1000.00, click here to order and enter the coupon code BIRDSASART at checkout. If you are looking to strike a deal on Canon or Nikon gear (including the big telephotos) or on a multiple item order, contact Steve Elkins via e-mail or on his cell at (479) 381-2592 (Eastern time) and be sure to mention your BIRDSASART coupon code and use it for your online order. Steve has been great at getting folks the hot items that are out of stock at B&H. Those include the SONY a7r IV, the SONY 200-600, the SONY 600mm f/4 GM, and the Nikon 500mm PF. Steve is eager to please.
Gear Questions and Advice
Too many folks attending BAA IPTs and dozens of photographers whom I see in the field and on BPN, are–out of ignorance–using the wrong gear especially when it comes to tripods and more especially, tripod heads… Please know that I am always glad to answer your gear questions via e-mail. Those questions might deal with systems, camera bodies, accessories, and/or lens choices and decisions.
The DeSoto Snowy Egret V-log: The Importance of Staying Ahead of the Birds When You Have Wind and Sun Together …
Lord how I miss DeSoto. I hope to get over there very soon as April and May can be spectacular. One of the biggest mistakes that I see in the field is folks standing in the same spot without regard to the position of the subject and the sun angle … There is lots of great info in today's V-log; all that I can say is "watch it, learn a ton, and ask questions if you have any.
Despite my saving the videos at the highest quality, I'd still recommend that you do not watch them full-screen.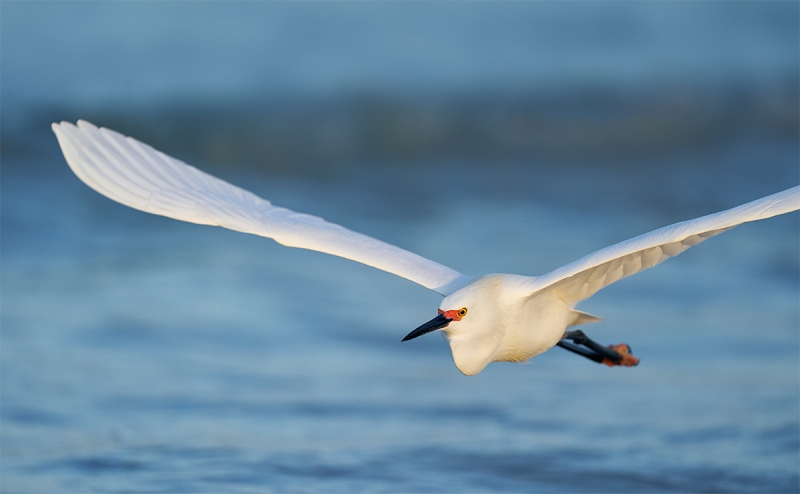 This image was created on 18 FEB 2020 at Fort DeSoto Sandbar Park in Pinellas County. I used the Induro GIT 304L/FlexShooter Pro-mounted Sony FE 600mm f/4 GM OSS lens and the blazingly fast AF King, the Sony Alpha a9 II Mirrorless Digital Camera Body. ISO 640. Exposure determined by Zebras with ISO on the rear dial: 1/3000 sec. at f/4 in Manual mode. AWB at 8:02am on a clear morning.
Center Zone Continuous/tracking AF was active at the moment of exposure and performed to perfection. Click on the image to see the spectacular larger version.
Image #1: Snowy Egret in breeding plumage: tight/flight

Your browser does not support iFrame.
My Favorite Image
Of all the images in today's V-log, this is my favorite. Do you like or hate the tight/flight image design with the pano-crop and the near wing cut in half? Why?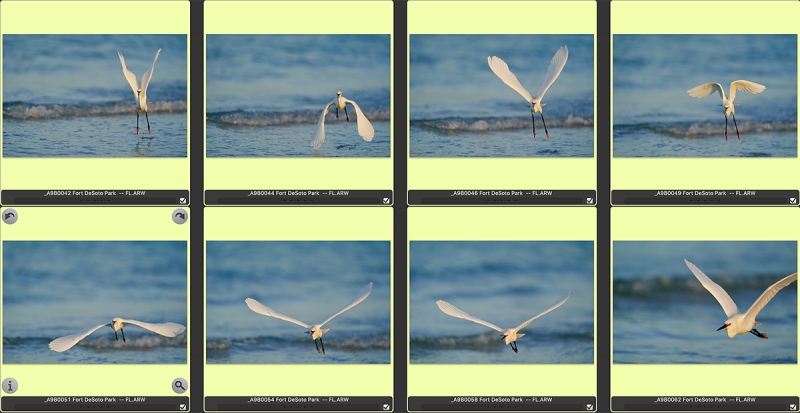 Image #2: Snowy Egret taking flight composite

Your browser does not support iFrame.
Which is Your Favorite?
First, click on the composite to see it larger. Note that these are the eight keepers from a 23-frame sequence; I actually stopped for a moment to re-frame as the bird flew toward me. The SONY a9 ii is that fast. Note also that I had difficulty simply keeping the subject in the center of the frame … How's your hand/eye coordination? BTW, all 23 images were razor-sharp on the bird's eye.
Please pick your favorite image from the sequence by noting the file number and do let us know why you made your pick.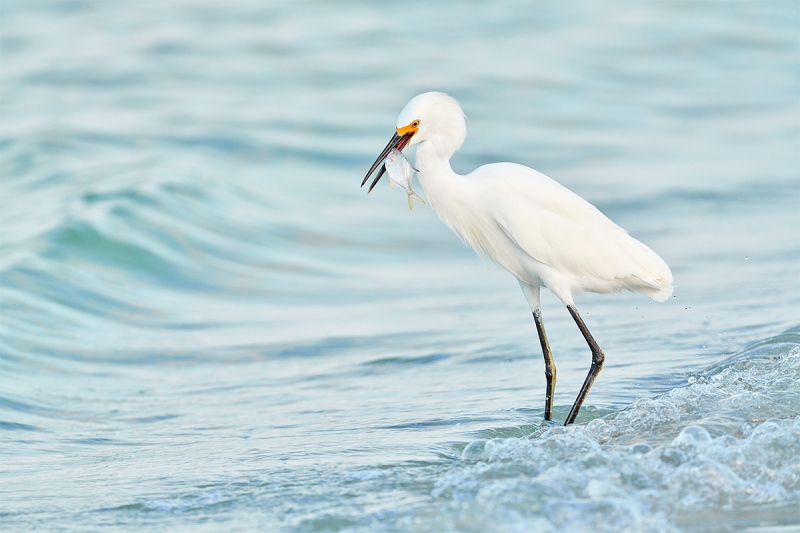 This image was created on September 27, 2019 while doing a private day with fraternity brother Harry Lerner at Fort DeSoto. I used the Induro GIT 304/FlexShooter Pro-mounted Sony FE 600mm f/4 GM OSS lens and the 61-MP Sony Alpha a7R IV Mirrorless Digital Camera Body. ISO 400. Exposure determined by Zebras with ISO on the rear dial: 1/2000 sec. at f/5 in Manual mode was about +2 stops on the analog scale. AWB at 8:10am on a very overcast morning.
Upper Center Zone AF-C was active at the moment of exposure and performed to perfection. The point of sharpest focus was slightly more than halfway down the bill, right on the same plane as the bird's eye. RAW Digger showed 0% Over-exposed and 0% Underexposed pixels.
Click the image to see a larger version.
Snowy Egret with greenback

Your browser does not support iFrame.
Fort DeSoto Fall 2020 Sandbar Secrets IPT
OCT 2 thru the morning session October 5, 2020 (3 1/2 DAYS). Three full and one half day: $1399.00. Deposit: $500.00. Limit: 8 photographers/ Openings: 7.
I plan on running this IPT if we return to some semblance of normalcy and if photographing in groups, air travel, and staying in hotels or AirBNBs is safe by late summer. If COVID-19 is still an issue that is of concern to you, your deposit will be refunded with no questions asked. Pre- and post-IPT days for this IPT are available for those who wish to get the most out of their travel dollars.
If you have any questions, please get in touch via e-mail.
If In Doubt …
If you are in doubt about using the BAA B&H affiliate link correctly, you can always start your search by clicking here. Please note that the tracking is invisible. Web orders only. Please, however, remember to shoot me your receipt via e-mail.
Please Remember to use my Affiliate Links and to Visit the BAA Online Store 🙂
To show your appreciation for my continuing efforts here, we ask, as always, that you get in the habit of using my B&H affiliate links on the right side of the blog or Bedfords, for all of your photo and electronics purchases. Please check the availability of all photographic accessories in the New BIRDS AS ART Online Store, especially the Mongoose M3.6 tripod head, Wimberley lens plates, Delkin flash cards and accessories, and LensCoat stuff.
As always, we sell only what I have used, have tested, and can depend on. We will not sell you junk. We know what you need to make creating great images easy and fun. And please remember that I am always glad to answer your gear questions via e-mail.
I would, of course, appreciate your using our B&H affiliate links or Bedfords for all of your major gear, video, and electronic purchases. For the photographic stuff mentioned in the paragraph above, and for everything else in the new store, we, meaning BAA, would of course greatly appreciate your business. Here is a huge thank you to the many who have been using our links on a regular basis and those who regularly visit the New BIRDS AS ART Online Store as well.
Facebook
Be sure to like and follow BAA on Facebook by clicking on the logo link upper right.
Typos
In all blog posts and Bulletins, feel free to e-mail or to leave a comment regarding any typos or errors. Just be right :).