What's Up?
Saturday dawned still and foggy so I started out photographing Coral Honeysuckle blossoms in our butterfly garden. I went down to the lake and did see some interesting behavior. And adult crane was sleeping, and I mean sleeping like a log. On my way back to the pier I noticed that he was lying on the ground sleeping, surrounded by three very interested Black Vultures. One of the vultures picked at the crane's tail feathers as thee others closed in. The crane stood up and pecked at them and they flew off. I was ready for pix but there was always one vultures between me and the action.
For the past few days, we've had a male Rose-breasted Grosbeak at our backyard feeder, and yesterday there were two. It is the first time I have seen this species at ILE. The forecast for today — Sunday 10 MAY 2020 — is cloudy with drizzle and rain. It might be a good day for wildflower photography if it is not blowing.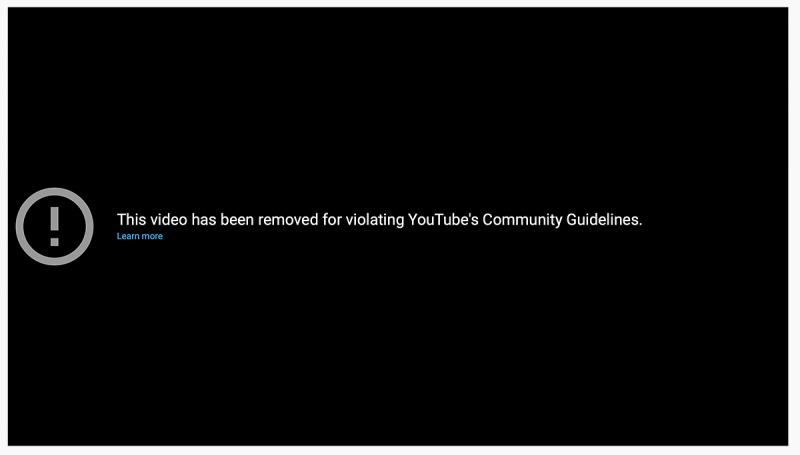 Back to business as usual …
Plandemic
YouTube removed the Plandemic video again yesterday. You should always be able to see it here. Read more on the veracity of Dr. Minkovits below. I clicked on the Learn more link and read every word of it. Nothing there applied at all to the Pandemic video.
Disagreeing with a Dear Friend
In the Whatever Happened to Free Speech blog post here, my longtime and dear friend Patrick Sparkman, co-creator of the new SONY e-Guide, posted this:
Facebook and YouTube are private companies and have their own first amendment rights. The First Amendment applies to the government restriction of speech. Facebook and YouTube have the same rights as you do to censor content that they feel is not appropriate. How many times have you blocked a user here on your blog for content that you deemed not appropriate? Facebook and YouTube have the same rights as you.
The discussion in the comments section of that blog post has been heated but civil.
In any case, Patrick's response did not quite make complete sense to me and I mentioned it to Dr. Cliff Oliver, another longtime friend, a friend who inspired me to quit trying to kill myself with food about 25 years ago and has guided me along my path ever since then. I hold him in high regard as a brilliant doctor. Via text message, he mentioned people were upset as Congress had given some special exemptions to the big public forums. So I did some online research to learn about these exemptions.
I found a relevant article on the CJ (City Journal) website. It is titled Platform, or Publisher? with this subhead: If Big Tech firms want to retain valuable government protections, then they need to get out of the censorship business. It was co-authored by Adam Candeub, a law professor & director of the Intellectual Property, Information & Communications Law Program at Michigan State University who previously served as an attorney at the Federal Communications Commission and by Mark Epstein, an antitrust attorney specializing in the technology sector.
Below is what was published on May 7, 2018. You can read the article with several live links here.
When the House Judiciary Committee held a hearing on social media censorship late last month, liberal Democratic congressman Ted Lieu transformed into a hardcore libertarian. "This is a stupid and ridiculous hearing," he said, because "the First Amendment applies to the government, not private companies." He added that just as the government cannot tell Fox News what content to air, "we can't tell Facebook what content to filter," because that would be unconstitutional.
Lieu is incorrect. While the First Amendment generally does not apply to private companies, the Supreme Court has held it "does not disable the government from taking steps to ensure that private interests not restrict . . . the free flow of information and ideas." But as Senator Ted Cruz points out, Congress actually has the power to deter political censorship by social media companies without using government coercion or taking action that would violate the First Amendment, in letter or spirit. Section 230 of the Communications Decency Act immunizes online platforms for their users' defamatory, fraudulent, or otherwise unlawful content. Congress granted this extraordinary benefit to facilitate "forum[s] for a true diversity of political discourse." This exemption from standard libel law is extremely valuable to the companies that enjoy its protection, such as Google, Facebook, and Twitter, but they only got it because it was assumed that they would operate as impartial, open channels of communication—not curators of acceptable opinion.
When questioning Facebook CEO Mark Zuckerberg earlier this month, and in a subsequent op-ed, Cruz reasoned that "in order to be protected by Section 230, companies like Facebook should be 'neutral public forums.' On the flip side, they should be considered to be a 'publisher or speaker' of user content if they pick and choose what gets published or spoken." Tech-advocacy organizations and academics cried foul. University of Maryland law professor Danielle Citron argued that Cruz "flips [the] reasoning" of the law by demanding neutral forums. Elliot Harmon of the Electronic Freedom Foundation responded that "one of the reasons why Congress first passed Section 230 was to enable online platforms to engage in good-faith community moderation without fear of taking on undue liability for their users' posts."
As Cruz properly understands, Section 230 encourages Internet platforms to moderate "offensive" speech, but the law was not intended to facilitate political censorship. Online platforms should receive immunity only if they maintain viewpoint neutrality, consistent with traditional legal norms for distributors of information. Before the Internet, common law held that newsstands, bookstores, and libraries had no duty to ensure that each book and newspaper they distributed was not defamatory. Courts initially extended this principle to online platforms. Then, in 1995, a federal judge found Prodigy, an early online service, liable for content on its message boards because the company had advertised that it removed obscene posts. The court reasoned that "utilizing technology and the manpower to delete" objectionable content made Prodigy more like a publisher than a library.
Congress responded by enacting Section 230, establishing that platforms could not be held liable as publishers of user-generated content and clarifying that they could not be held liable for removing any content that they believed in good faith to be "obscene, lewd, lascivious, filthy, excessively violent, harassing, or otherwise objectionable." This provision does not allow platforms to remove whatever they wish, however. Courts have held that "otherwise objectionable" does not mean whatever a social media company objects to, but "must, at a minimum, involve or be similar" to obscenity, violence, or harassment. Political viewpoints, no matter how extreme or unpopular, do not fall under this category.
The Internet Association, which represents Facebook, Google, Twitter, and other major platforms, claims that Section 230 is necessary for these firms to "provide forums and tools for the public to engage in a wide variety of activities that the First Amendment protects." But rather than facilitate free speech, Silicon Valley now uses Section 230 to justify censorship, leading to a legal and policy muddle. For instance, in response to a lawsuit challenging its speech policies, Google claimed that restricting its right to censor would "impose liability on YouTube as a publisher." In the same motion, Google argues that its right to restrict political content also derives from its "First Amendment protection for a publisher's editorial judgments," which "encompasses the choice of how to present, or even whether to present, particular content."
The dominant social media companies must choose: if they are neutral platforms, they should have immunity from litigation. If they are publishers making editorial choices, then they should relinquish this valuable exemption. They can't claim that Section 230 immunity is necessary to protect free speech, while they shape, control, and censor the speech on their platforms. Either the courts or Congress should clarify the matter.
Rebutting the Plandemic Rebbutters
As noted above, YouTube continues to take down the Plandemic video, yet they allow the rebuttals to stand and they continue to promote them. A respected doctor in San Diego posted a factual rebuttal to the rebuttals (with lots of links). It is reproduced below.
Ladd McNamara, M.D.
Ladd McNamara, M.D. is an author, educator, and international speaker, with a passion for health, truth, justice, and freedom. To have lasting happiness and health, one must have freedom to pursue truth in all areas, including the principles of wellness. He has made it his life's work to first understand, and then educate others on nontoxic healthful modalities that support optimal health, including advanced nutritional supplementation and lifestyle modification. He also feels the duty to inform others of the risks and dangers of certain medications, toxic chemicals in our food and water, and unhealthful lifestyles.
Learn more about Ladd on his website here.
For Those Who Doubt the Plandemic Movie
From Ladd McNamara's Facebook Page
I researched some of the "facts" going around claiming to have "debunked" the movie, which are being regurgitated by many who prefer to remain asleep and won't put the effort in to research things themselves. Here is what I found along with all of my supporting sources.
1. Dr. Anthony Fauci has worked at the National Institute of Health (NIH) since 1968 and has been a Director with the organization since 1984, "both as a scientist and as the head of the NIAID at the NIH". A simple Wikipedia search resolved that one.
https://en.wikipedia.org/wiki/Anthony_Fauci
2. The NIH was one of the institutions funding the original study published in 10/23/2009, which Dr. Mikovits participated in and makes reference to in the Plandemic movie. Dr. Fauci worked at and continues to work at the NIH, one of the primary financial contributors to the study as one of it's most senior directors, so you can indeed say that Dr. Judy Mikovits was in fact working for Dr. Fauci. I have downloaded the complete original study and saved for you to access here (highlights on page 3 denote Dr. Judy Mikovits's participation and her employing firm) (highlights on page 6 indicate the institutions which provided the funding for the study):
Click here.
3. The study was challenged in 2010, when other researches could not replicate their findings and in September 2010, the original team, inclusive of Dr. Judy Mikovits issued an official response supporting their work.
Click here.
4. After which the original study was partially and then subsequently fully retracted (a very rare move in science). The partial retraction document states that two of the co-authors, Robert Silverman and Das Gupta (whom the original study listed as working for the Department of Cancer Biology) re-analyzed the samples they used and discovered that they had been contaminated. Please refer back to the first link provided herein, for item #1 showing the original study, indicates on the document that it has since been retracted.
5. That she was arrested and a quote from the prosecuting district attorney, that said the charges were dropped because "there were issues with the witnesses".
Click here.
6. In September 2012, Dr. Judy Mikovits and a team of other scientists conducted another study replicating the original one and published their findings, ultimately resolving the scientific communities dispute over the original work.
https://twp.duke.edu/sites/twp.duke.edu/files/file-attachments/1441.full_.pdf?fbclid=IwAR2w_MdKkw0k5lvX89OmCtDumosJPIYMzbIWE-hTpK_duM2F9masM7zyucE
And click here.
Or here: https://mbio.asm.org/content/3/5/e00266-12
7. As previously shared in another post, Dr. Fauci does in fact hold a large number of patents related to HIV (as Dr. Judy Mikovits states in the video). He also holds numerous patents related to the Novel Coronavirus.
https://patents.justia.com/search?q=Anthony+Fauci
https://www.wsj.com/articles/SB113383825463714813
Other Interesting and Related Facts:
The Bill and Melinda Gates Foundation has appointed Dr. Anthony Fauci to their Vaccination Action Plan.
Click here.
Bill Gates personally owns a number of vaccine-related patents (amongst many other interesting and unrelated patents):
https://patents.justia.com/inventor/william-gates
Pirbright, a company funded by The Bill and Melinda Gates Foundation owns European protecting replication of a variant gene of an avian infectious bronchitis virus.
Here is proof that Pirbright is in fact funded by The Bill and Melinda Gates Foundation:
Click here.
Pirbright also has a US patent on the Coronavirus (you will need to scroll down quite a bit to see the owner and inventor they really covered every base on this patent.
Click here.
Vanderbilt University owns a large number of Coronavirus vaccine patents:
https://patents.justia.com/patent/7452542
Dr. Anthony Fauci and the Director of Vanderbilt University go back.
Here you see them lobbying together:
https://news.vumc.org/tag/anthony-fauci/
Also as previously shared in another post, the polio vaccines the Bill and Melinda Gates Foundation tested on children in Africa, causing an outbreak of Polio from the vaccine itself and paralysis on the children.
Click here.