What's Up?
Here are some of my very favorite recent comments.
Arthur Morris/BIRDS AS ART
Blog posts — never more than one every other day — that deal with the current situation in the US (and the world), will include the words Alert: Non-photography-related Post in the title. If you do not wish to read about or discuss the current issues, simply do not open such blog posts. Nobody is forcing you to read the blog. I have lots more important stuff to share and lots more questions to ask. As for those who are disappointed in me or have lost respect for me that is about them. Only I can disrespect myself.
Those who wish to paint me as some sort of conspiracy theorist can keep their heads buried in the sand, ignore solid information from many knowledgeable folks (including doctors), obey all government orders, wait for the COVID-19 vaccine (that is never coming), and line up to have their chips implanted. For those who state that they will never again come to the BIRDS AS ART Blog for the free photography instruction that I have provided for I don't know how many years — 3044 posts before this one — I wish them only the best.
Adam Rubinstein is a doctor on the front like treating COVID-19 patients.
All I can say is I have first-hand experience, and you are wise to be a skeptic. The lockdown was prudent, albeit too late for an unknown virus with unknown modes of transmission, mortality, etc. The whole intent was to minimize the number of casualties and prevent an overwhelming surge on existing resources. It turns out the virus on first pass targets certain demographic groups, is less deadly than originally projected, and therapies are few and far between. Hydroxy/Azith are still unproven, Resdes has yet to demonstrate efficacy other than shortening the course – no effect on viral load or mortality, and convalescent serum is an unknown.
For those who want to join the crazed pols who want to shut the country down until a vaccine is developed, you may as well kiss your arse goodbye.
Well said Doc.
dhm
Trust science. Trust the experts — Fauci is one. Anyone who doesn't buy that is promoting needless deaths (and reactionary thinking). End of story.
Yes, Shut up. Be scared. Lock down. Do what we say even if it makes zero sense. And don't ask any questions. Way to go dhm. Please explain why everyone who shops in Walmart is not dying, causing outbreaks, if you would. Kudos to the gym guy in Belmar, NJ who is opening on Monday despite the governor's orders.
a
Tilo Samteer
Artie, You don't subscribe to flu shots. Will you also avoid a covid19 vaccine, should it become available? Wearing a mask protects others, not the wearer. See Andrew Cuomo's daily presentation.
Arthur Morris/BIRDS AS ART
Hi Tilo, The only way I will get a COVID 19 "vaccine" is if I am chained down. If you feel that it is important to be injected with carcinogens, toxins, aborted fetal cells, animal DNA, parasites, antibiotics, fungi, insecticides, and disinfectants, that is your choice. Do understand that at present there are ZERO approved vaccines for any of the previous coronaviruses. Heck, maybe you'll get lucky.
with love, artie
ps: And the jury is still out on masks. If you remember, the CDC originally stated that nobody should wear masks. Right now I believe that all folks should wear masks when they are in fairly close contact with others as when shopping). Do understand that I have gone shopping four times in two months
byron prinzmetal
So whom do you trust from a medical perspective that has national stature that people listen to?
Nobody. I do trust the advice I get from Dr. Cliff Oliver of San Diego.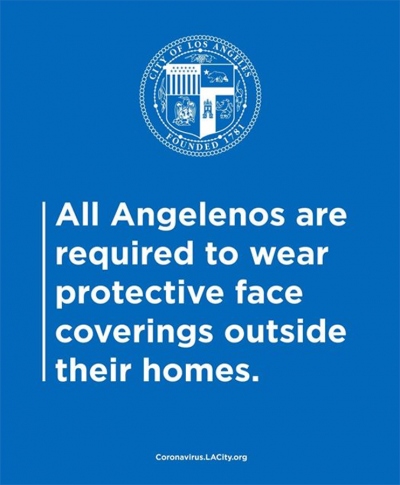 From LA Mayor Garcetti's Facebook Page
Los Angeles, CA
On May 13, Los Angeles County health officer Dr. (Barbara) Ferrer said that the stay at home order would stay in place for at least three more months. Yesterday, LA Mayor Eric Garcetti mandated that anyone who goes outside for any reason must wear a mask.
Yesterday, a new order from Los Angeles Mayor Eric Garcetti requires Angelenos to wear masks or "face coverings" whenever they leave home, in an effort to stop the coronavirus from spreading. What about L.A. County? In her daily coronavirus briefing this afternoon, Public Health Director Barbara Ferrer says the county health order is clear: "Masks are in fact mandatory across the entire county when you're outside of your home, not with members of your household, and in any kind of contact with other people. The reason you wear a cloth face covering is so that you can protect other people from your respiratory droplets."
Face Masks Pose Serious Risks To The Healthy
In an article posted by Patrick Wood; he wrote, in part:
With the advent of the so-called COVID-19 pandemic, we have seen a number of medical practices that have little or no scientific support as regards reducing the spread of this infection. One of these measures is the wearing of facial masks, either a surgical-type mask, bandana or N95 respirator mask.
When this pandemic began and we knew little about the virus itself or its epidemiologic behavior, it was assumed that it would behave, in terms of spread among communities, like other respiratory viruses. Little has presented itself after intense study of this virus and its behavior to change this perception.
This is somewhat of an unusual virus in that for the vast majority of people infected by the virus, one experiences either no illness (asymptomatic) or very little sickness. Only a very small number of people are at risk of a potentially serious outcome from the infection—mainly those with underlying serious medical conditions in conjunction with advanced age and frailty, those with immune compromising conditions and nursing home patients near the end of their lives. There is growing evidence that the treatment protocol issued to treating doctors by the Center for Disease Control and Prevention (CDC), mainly intubation and use of a ventilator (respirator), may have contributed significantly to the high death rate in these select individuals.
By wearing a mask, the exhaled viruses will not be able to escape and will concentrate in the nasal passages, enter the olfactory nerves and travel into the brain. Russell Blaylock, MD
As for the scientific support for the use of face mask, a recent careful examination of the literature, in which 17 of the best studies were analyzed, concluded that, "None of the studies established a conclusive relationship between mask/respirator use and protection against influenza infection." Keep in mind, no studies have been done to demonstrate that either a cloth mask or the N95 mask has any effect on transmission of the COVID-19 virus. Any recommendations, therefore, have to be based on studies of influenza virus transmission. And, as you have seen, there is no conclusive evidence of their efficiency in controlling flu virus transmission.
Click here to read the whole article with references.
Dr. Russell Blaylock, a nationally recognized board-certified neurosurgeon, health practitioner, author, and lecturer. He attended the Louisiana State University School of Medicine and completed his internship and neurological residency at the Medical University of South Carolina. For 26 years, he practiced neurosurgery. In addition, he's had a nutritional practice. He recently retired from his neurosurgical duties to devote his full attention to nutritional research. Dr. Blaylock has authored four books, Excitotoxins: The Taste That Kills, Health and Nutrition Secrets That Can Save Your Life, Natural Strategies for Cancer Patients, and his most recent work, Cellular and Molecular Biology of Autism Spectrum Disorders.
More on Trusting Dr. Fauci
In the Alert: Non-photography-related Post: Trusting Dr. Fauci blog post here, many rose to Dr. Fauci's defense: "You've made mistakes too." "He changes his position as new data comes in." "So, you discount all the expertise from a leading epidemiologist because he changed his opinion based on additional information?"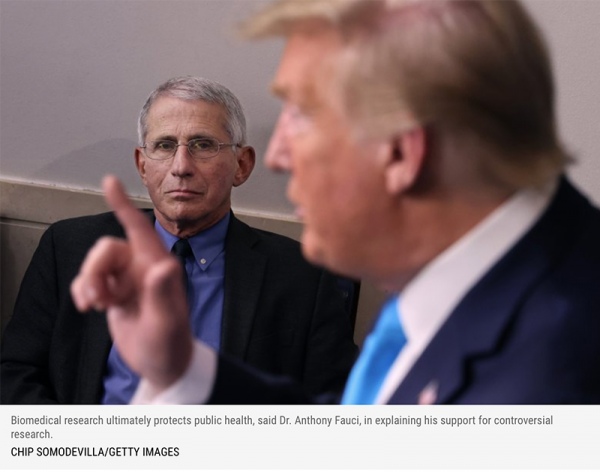 Dr. Fauci in position …
Consider This
Thanks to Cliff Beittel for providing a link to this article From Newsday: Dr. Fauci Backed Controversial Wuhan Lan With US Dollars For Risky Coronavirus Research By Fred Guterl on 4/28/20.
He wrote:
Dr. Anthony Fauci is an adviser to President Donald Trump and something of an American folk hero for his steady, calm leadership during the pandemic crisis. At least one poll shows that Americans trust Fauci more than Trump on the coronavirus pandemic—and few scientists are portrayed on TV by Brad Pitt.
But just last year, the National Institute for Allergy and Infectious Diseases, the organization led by Dr. Fauci, funded scientists at the Wuhan Institute of Virology and other institutions for work on gain-of-function research on bat coronaviruses.
In 2019, with the backing of NIAID, the National Institutes of Health committed $3.7 million over six years for research that included some gain-of-function work. The program followed another $3.7 million, 5-year project for collecting and studying bat coronaviruses, which ended in 2019, bringing the total to $7.4 million.
Many scientists have criticized gain of function research, which involves manipulating viruses in the lab to explore their potential for infecting humans, because it creates a risk of starting a pandemic from accidental release.
SARS-CoV-2 , the virus now causing a global pandemic, is believed to have originated in bats. U.S. intelligence, after originally asserting that the coronavirus had occurred naturally, conceded last month that the pandemic may have originated in a leak from the Wuhan lab. (At this point most scientists say it's possible—but not likely—that the pandemic virus was engineered or manipulated.)
Dr. Fauci did not respond to Newsweek's requests for comment. NIH responded with a statement that said in part: "Most emerging human viruses come from wildlife, and these represent a significant threat to public health and biosecurity in the US and globally, as demonstrated by the SARS epidemic of 2002-03, and the current COVID-19 pandemic…. scientific research indicates that there is no evidence that suggests the virus was created in a laboratory."
The NIH research consisted of two parts. The first part began in 2014 and involved surveillance of bat coronaviruses, and had a budget of $3.7 million. The program funded Shi Zheng-Li, a virologist at the Wuhan lab, and other researchers to investigate and catalogue bat coronaviruses in the wild. This part of the project was completed in 2019.
A second phase of the project, beginning that year, included additional surveillance work but also gain-of-function research for the purpose of understanding how bat coronaviruses could mutate to attack humans. The project was run by EcoHealth Alliance, a non-profit research group, under the direction of President Peter Daszak, an expert on disease ecology. NIH canceled the project just this past Friday, April 24th, Politico reported. Daszak did not immediately respond to Newsweek requests for comment.
The project proposal states: "We will use S protein sequence data, infectious clone technology, in vitro and in vivo infection experiments and analysis of receptor binding to test the hypothesis that % divergence thresholds in S protein sequences predict spillover potential."
In layman's terms, "spillover potential" refers to the ability of a virus to jump from animals to humans, which requires that the virus be able to attach to receptors in the cells of humans. SARS-CoV-2, for instance, is adept at binding to the ACE2 receptor in human lungs and other organs.
According to Richard Ebright, an infectious disease expert at Rutgers University, the project description refers to experiments that would enhance the ability of bat coronavirus to infect human cells and laboratory animals using techniques of genetic engineering. In the wake of the pandemic, that is a noteworthy detail.
Ebright, along with many other scientists, has been a vocal opponent of gain-of-function research because of the risk it presents of creating a pandemic through accidental release from a lab.
Dr. Fauci is renowned for his work on the HIV/AIDS crisis in the 1990s. Born in Brooklyn, he graduated first in his class from Cornell University Medical College in 1966. As head of NIAID since 1984, he has served as an adviser to every U.S. president since Ronald Reagan.
A decade ago, during a controversy over gain-of-function research on bird-flu viruses, Dr. Fauci played an important role in promoting the work. He argued that the research was worth the risk it entailed because it enables scientists to make preparations, such as investigating possible anti-viral medications, that could be useful if and when a pandemic occurred.
The work in question was a type of gain-of-function research that involved taking wild viruses and passing them through live animals until they mutate into a form that could pose a pandemic threat. Scientists used it to take a virus that was poorly transmitted among humans and make it into one that was highly transmissible—a hallmark of a pandemic virus. This work was done by infecting a series of ferrets, allowing the virus to mutate until a ferret that hadn't been deliberately infected contracted the disease.
The work entailed risks that worried even seasoned researchers. More than 200 scientists called for the work to be halted. The problem, they said, is that it increased the likelihood that a pandemic would occur through a laboratory accident.
Dr. Fauci defended the work. "[D]etermining the molecular Achilles' heel of these viruses can allow scientists to identify novel antiviral drug targets that could be used to prevent infection in those at risk or to better treat those who become infected," wrote Fauci and two co-authors in the Washington Post on December 30, 2011. "Decades of experience tells us that disseminating information gained through biomedical research to legitimate scientists and health officials provides a critical foundation for generating appropriate countermeasures and, ultimately, protecting the public health."
Nevertheless, in 2014, under pressure from the Obama administration, the National of Institutes of Health instituted a moratorium on the work, suspending 21 studies.
Three years later, though—in December 2017—the NIH ended the moratorium and the second phase of the NIAID project, which included the gain-of-function research, began. The NIH established a framework for determining how the research would go forward: scientists have to get approval from a panel of experts, who would decide whether the risks were justified.
The reviews were indeed conducted—but in secret, for which the NIH has drawn criticism. In early 2019, after a reporter for Science magazine discovered that the NIH had approved two influenza research projects that used gain of function methods, scientists who oppose this kind of research excoriated the NIH in an editorial in the Washington Post.
"We have serious doubts about whether these experiments should be conducted at all," wrote Tom Inglesby of Johns Hopkins University and Marc Lipsitch of Harvard. "[W]ith deliberations kept behind closed doors, none of us will have the opportunity to understand how the government arrived at these decisions or to judge the rigor and integrity of that process."
You can access the article here (complete with the advertisements).
The Newsweek article above seems to support much of the controversial information presented in Plandemic. What do you think?
The rebuttal at ScienceMag.org here began like this: She makes head-scratching assertions about the virus—for instance, that it is "activated" by face masks. Considering what Dr. Blaylock has to say about masks above, that statement would surely have me doubting whatever else the author had to say …