What's Up?
After a good session on Friday morning, I left DeSoto a day early and headed home. Here's why: As expected, I was ten days too late to catch the Red Knots. Most of the shorebirds had left. I experienced two mornings of respiratory distress from red tide toxins in the air at North Beach. And I wanted to check on the crane babies.
Be sure to scroll down all the way to see the optimized image.
BIRDS AS ART
BIRDS AS ART is registered in the U.S. Patent and Trademark Office.

SONY 200-600 Update
Steve Elkins now has four SONY 200-600s in stock; one of them surely has your name on it. Contact Steve as immediately below to save $50.00.
Money Saving Reminder
If you need a hot photo item that is out of stock at B&H, would enjoy free overnight shipping, and would like a $50 discount on your first purchase over $1000.00, click here to order and enter the coupon code BIRDSASART at checkout. If you are looking to strike a deal on Canon or Nikon gear (including the big telephotos) or on a multiple item order, contact Steve Elkins via e-mail or on his cell at (479) 381-2592 (Eastern time) and be sure to mention your BIRDSASART coupon code and use it for your online order. Steve has been great at getting folks the hot items that are out of stock at B&H. Those include the SONY a7r IV, the SONY 200-600, the SONY 600mm f/4 GM, and the Nikon 500mm PF. Steve is eager to please.
Gear Questions and Advice
Too many folks attending BAA IPTs and dozens of photographers whom I see in the field and on BPN, are–out of ignorance–using the wrong gear especially when it comes to tripods and more especially, tripod heads… Please know that I am always glad to answer your gear questions via e-mail. Those questions might deal with systems, camera bodies, accessories, and/or lens choices and decisions.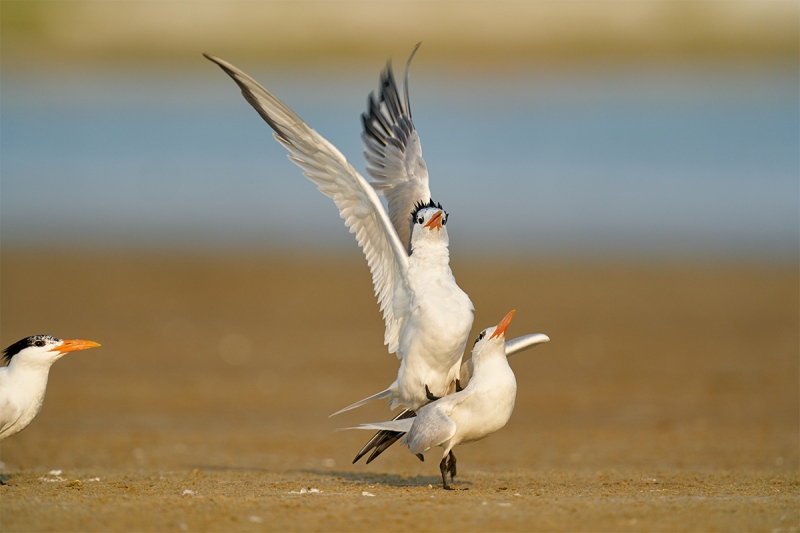 The original

Your browser does not support iFrame.
The Situation
I saw two Royal Terns on the beach standing a bit away from a larger group. They were acting amorously, so I hustled to get on sun angle. I set the ISO and fired off about fifteen frames. Though the image above was far from being artistically perfect: The birds were too centered. The image was not quite level. There were some large specular highlights. And there was some whitewash on the beach. The image, however, was sharp and the exposure was right-on. I knew that with some TLC that it had the makings of a very strong image.
Before you scroll down to see the optimized version, ask yourself what you would have done with this image.
Relevant e-mail conversation with Fred Innamorato
am: Hey Fred, re:
FI: I am thinking about purchasing a Sony a7r iv camera.
am: I love mine!
FI: I own a Nikon D850 already and wanted to know your opinion and briefly contrast it with the Sony a7 IV.
am: They are both great camera bodies. For me, the SONY system with its great AF with and without TCs is superior to anything out there — Nikon or Canon, and getting the right exposure is far easier with SONY once you learn to use Zebras properly. At present, SONY is what is best for me.
FI: The Nikon D850 is pretty good with the new Nikkor 500mm f/5.6 PF ED VR lens for warblers at close range. Considering that I own some SONY lenses and the Sony a9 ii, do you think buying the Sony a7 IV and selling the Nikon D850 is a waste of money? Can the pictures really get much better with the Sony a7r iv?
am: The quality of the images depends much more on the person holding the gear than on the camera or lens. Sharp image files from either camera are superb. But I can never know what is worth it for you …
Remember that I was using Nikon and SONY at the same time and decided to give SONY an exclusive 3-month test run. The experiment lasted about one month …
FI: I have a Canon Mark 5D Mark IV, a 400mm DO IS II, 300mm f/2.8 II, and a Canon 1DX ii that I could sell. I am not sure if they would even sell or if they would just sit on the Used Gear Page unsold??
am: You can sell them all for the right price. Which would be better: having $8-10K or more in your pocket — I did not do the math — or having your Canon gear sit on a shelf until they put you in a box?
FI: All of the Canon stuff is in excellent condition with the original boxes and accessories. I ask if they would sit unsold because you have so many of them listed.
am: Most of the Canon stuff sells in time as there are lots of folks using Canon gear for nature photography, especially the stuff that you mention. I am pretty sure that none of the items you mention above are currently listed. And I learned on Friday that the sale of the long-listed Canon 400mm f/2.8L IS II lens is pending. Right now, note that the prices of used Nikon gear are dropping as well.
I will send you the Items for Sale Info e-mail.
With love, artie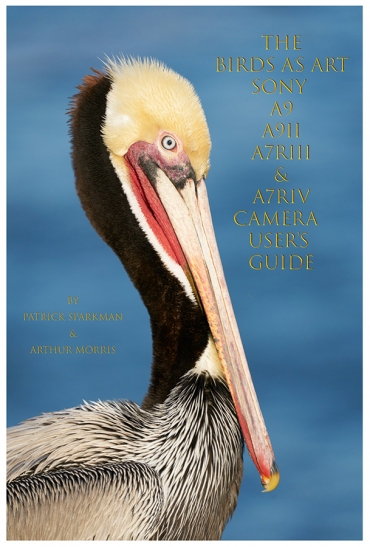 77 sold to rave reviews.
The SONY e-Guide by Patrick Sparkman and Arthur Morris
Recent Comments
From Ian Newton via e-mail:
After struggling with the Sony menu system, the SONY e-Guide has saved me weeks of frustration with my new a9. Thank you!
From Frank Sheets via e-mail:
I did not like using Zebras but I tried the suggestions in the guide and now I am geting every exposure right-on with the data all the way to the right! Great job guys.
The Sony Camera User's e-Guide (and Videos)
Click here to learn more about the SONY e-Guide.
Click here to purchase the guide with one Camera Set-up Video. Be sure to e-mail us by clicking here to specify your camera body so that we can send you a link for the correct video.
Click here to purchase the guide with two Camera Set-up Videos. Be sure to e-mail us by clicking here to specify your two camera bodies so that we can send you links for the correct videos.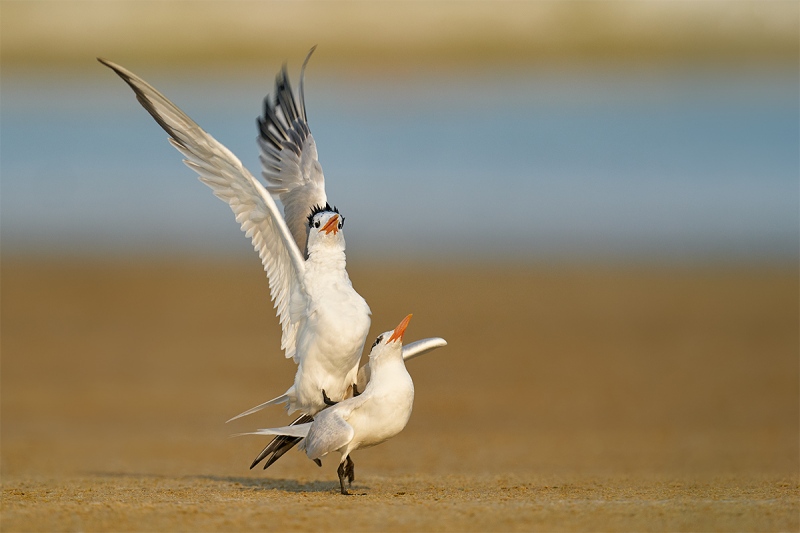 This image was created on 27 MAY 2020 at Fort DeSoto Park, FL I used the Induro GIT 304L/FlexShooter Pro-mounted Sony FE 600mm f/4 GM OSS lens, the Sony FE 2.0x Teleconverter, and the blazingly fast Sony Alpha a9 II Mirrorless Digital camera body) that features incredibly accurate AF. ISO 800. Exposure determined by Zebras with exposure compensation on the rear wheel: 1/1000 sec. at f/8 in Manual mode. AWB at 7:22pm on a clear afterrnoon.
Tracking Small Flexible Spot AF-C was active at the moment of exposure and held focus on the male's head as the birds moved quickly to my right.
Click on the image to see a larger, sharper version.
Rapture: Royal Terns copulating

Your browser does not support iFrame.
The Image Optimization
After converting the RAW file in Capture One, I brought the image into Photoshop. The first thing that I did was expand and fill in the canvas above and right using the Croop Tool with Content Aware-Fill. Next was to level the image with the Ruler Tool and Image > Rotate > Arbitrary. Then I cropped the image from the rear to the original proportion. I used the Patch Tool, Content-Aware Fill, and the Spot Healing Brush for the clean-up work. Then I used my patented Gaussian Blur background smoothing technique to deal with a bit of smudging from the clean-up. Bingo!
If In Doubt …
If you are in doubt about using the BAA B&H affiliate link correctly, you can always start your search by clicking here. Please note that the tracking is invisible. Web orders only. Please, however, remember to shoot me your receipt via e-mail.
Please Remember to use my Affiliate Links and to Visit the BAA Online Store 🙂
To show your appreciation for my continuing efforts here, we ask, as always, that you get in the habit of using my B&H affiliate links on the right side of the blog or Bedfords, for all of your photo and electronics purchases. Please check the availability of all photographic accessories in the New BIRDS AS ART Online Store, especially the Mongoose M3.6 tripod head, Wimberley lens plates, Delkin flash cards and accessories, and LensCoat stuff.
As always, we sell only what I have used, have tested, and can depend on. We will not sell you junk. We know what you need to make creating great images easy and fun. And please remember that I am always glad to answer your gear questions via e-mail.
I would, of course, appreciate your using our B&H affiliate links or Bedfords for all of your major gear, video, and electronic purchases. For the photographic stuff mentioned in the paragraph above, and for everything else in the new store, we, meaning BAA, would of course greatly appreciate your business. Here is a huge thank you to the many who have been using our links on a regular basis and those who regularly visit the New BIRDS AS ART Online Store as well.
Facebook
Be sure to like and follow BAA on Facebook by clicking on the logo link upper right.
Typos
In all blog posts and Bulletins, feel free to e-mail or to leave a comment regarding any typos or errors. Just be right :).