What's Up?
It continues to rain non-stop here in central Florida. Tropical Storm Cristobal, now in the Gulf of Mexico, may bring additional rains midweek. I did manage to create a few nice flower images in a light drizzle this morning, Saturday 6 JUNE 2020. At 10:00am it is raining harder under somber gray skies with zero wind.
BIRDS AS ART
BIRDS AS ART is registered in the U.S. Patent and Trademark Office.
SONY e-Guide Discount Program
Purchase a (new) qualifying SONY camera body (a7r iii, a7r iv, a9, a9 ii) from Bedfords or using a BIRDS AS ART B&H affiliate link, and you will receive a $40 discount on the SONY e-guide. Purchase a (new) SONY 200-600mm G lens from Bedfords or using a BIRDS AS ART B&H affiliate link, and you will receive a $25 discount on the SONY e-guide. Purchase a (new) SONY 600mm f/4 GM lens from Bedfords or using a BIRDS AS ART B&H affiliate link, and you will receive a free SONY e-guide with one or two videos.
Please send your Bedford's or B&H receipts to me via e-mail to receive your discount and your ordering instructions. Folks purchasing from Bedfords and using the BIRDSASART code will save $50. Folks sending their B&H receipts may need to wait a few days to have their purchases confirmed. Folks using Bedfords will have their purchases confirmed immediately.
Via e-Mail from Charlie Curry
Artie, I would like to add my thanks for the incredible SONY e-Guide and the videos for the a9 ii and the a7r iv. Now I can focus accurately and get my exposure correct in many different lighting situations on almost every shot. My efficiency improved tremendously thanks to you and Patrick. Best regards. Charlie Curry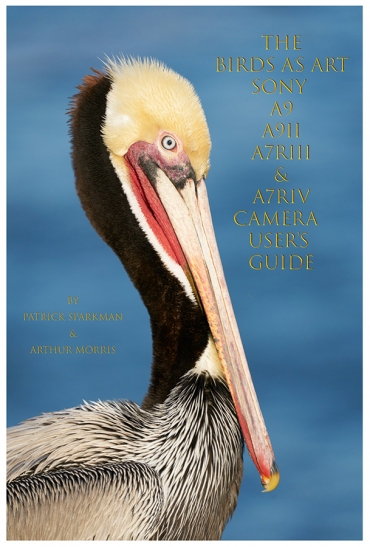 83 sold to rave reviews.
The SONY e-Guide by Patrick Sparkman and Arthur Morris
The Sony Camera User's e-Guide (and Videos)
Click here to purchase the guide with one Camera Set-up Video. Be sure to e-mail us by clicking here to specify your camera body so that we can send you a link for the correct video.
Click here to purchase the guide with two Camera Set-up Videos. Be sure to e-mail us by clicking here to specify your two camera bodies so that we can send you links for the correct videos.
Click here to learn more about the SONY e-Guide.
Selling Your Used Photo Gear Through BIRDS AS ART
Selling your used (or like-new) photo gear through the BAA Blog is a great idea. We charge only a 5% commission. One of the more popular used gear for sale sites charged a minimum of 20%. Plus assorted fees! Yikes. They went out of business. And e-Bay fees are now up to 13%. Please understand that e-Bay prices are bogus. And the same is true of the prices of used gear including my dear friends at B&H and the other mega-outfits. They offer you pennies and then try to sell the stuff to ignorant folks for ridiculously high prices. With their huge international exposure, they occasionally find someone …
The minimum item price here is $500 (or less for a $25 fee). If you are interested please shoot us an e-mail with the words Items for Sale Info Request cut and pasted into the Subject line :). Stuff that is priced fairly — I offer pricing advice to those who agree to the terms — usually sells. With the pandemic and the down economy, the market is somewhat depressed. That said, the prices of used photo gear only go one way: down. The longer you wait, the less you will get for your gar. Period. Over the past year, we have sold many many hundreds of items. Do know that prices the used prices of many items have been dropping steadily. The prices garnered for used Canon gear has tanked completely as demand has dropped tremendously. It is ironic that for decades Canon gear had very strong resale value … That said, the prices on used Nikon gear are dropping as well. You can see all thee great bargains here on the Used Gear Page.
Note: all BAA Used Gear sales include insured ground shipping via UPS to lower 48 US addresses only. Others who live elsewhere are invited to e-mail the seller for shipping surcharge info. Sellers should charge you only the difference between shipping to the farthest US location from their home and the charge to a non-lower-48 address.
Used Gear Page News
All eight of Fred Innamorato's Canon offerings sold on the first day of listing as did two of the four Carol Anderson's listings. In addition, the sale of Anita North's 200-500 was recently finalized. When folks are willing to pay 4% extra to cover our Paypal fees for the gear that I am handling, we can ship the stuff the same day; several folks have done that in the past week.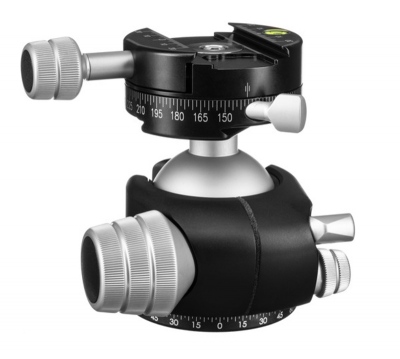 Really Right Stuff BH-55 Ball Head with Screw-Knob Panning Clamp Plus Accessories!
BPN friend Ravi Hirekatur is offering a BH-55 Ball Head Kit for a very low $499.00. The sale includes the Really Right Stuff BH-55 Ball Head with Screw-Knob Panning Clamp (in very good condition; sells new for $615.00), a Really Right Stuff B2-Pro-II 60mm Screw-Knob Pro Clamp (in very good condition; sells new for $86.00), a Really Right Stuff MPR-192 — Macro Slider — & Mini-Clamps Package with Allen wrenches (in excellent condition; sells new for $180.00), and insured ground shipping via UPS to lower-48 US addresses only.
Please contact Ravi via e-mail e-mail or by phone at 1-608-217-9593 central time.
This ballhead kit is perfect for super-serious landscape and macro photographers. artie

Money Saving Reminder
If you need a hot photo item that is out of stock at B&H, would enjoy free overnight shipping, and would like a $50 discount on your first purchase over $1000.00, click here to order and enter the coupon code BIRDSASART at checkout. If you are looking to strike a deal on Canon or Nikon gear (including the big telephotos) or on a multiple item order, contact Steve Elkins via e-mail or on his cell at (479) 381-2592 (Eastern time) and be sure to mention your BIRDSASART coupon code and use it for your online order. Steve has been great at getting folks the hot items that are out of stock at B&H. Those include the SONY a7r IV, the SONY 200-600, the SONY 600mm f/4 GM, and the Nikon 500mm PF. Steve is eager to please.
Gear Questions and Advice
Too many folks attending BAA IPTs and dozens of photographers whom I see in the field and on BPN, are–out of ignorance–using the wrong gear especially when it comes to tripods and more especially, tripod heads… Please know that I am always glad to answer your gear questions via e-mail. Those questions might deal with systems, camera bodies, accessories, and/or lens choices and decisions.
The Question
In the A Photoshop Hanky-Panky Quiz blog post here, I asked which of the three featured Black Vulture images underwent major changes in Photoshop. That would be Image #3 (above). Scroll down to see the original.
A Comments conversation with Jeff Rugg from that blog post:
Hi Artie, you always do such a good job with the Photoshop tools that a quiz like this won't find any photoshop mistakes.
Thanks, Jeff.
In images 2 and 3 you would have followed your own advice and fired off several pictures to cover the action and movement of the birds. It is possible that the best overall pose clipped a wing. As you have shown many times, you can fix that easily.
That does take some time and effort to do well.
If you were using photoshop to fix image 2, I think you would have cleaned up the one dirt spot along the lower right-hand edge …
Good eye. I missed that. That's the muddy track …
and maybe the green out of focus spot in the blue water area on the left.
I actually love that for compositional balance.
Image 4 is set up with the bird on the left one-third, focused on the eye and it has a good amount of space behind the bird, so I think you took a great shot there as you planned it.
I see them coming, acquire focus, and make three or four images …< he SONY AF system performs magically in these (and many other) situations.< /h2>
That leaves image 3 where the primaries are close to the top edge of the picture and the toes are close to the bottom, either could have been clipped and fixed, but I don't see any obvious evidence of the photoshop work. Well done as always. Jeff
Thanks again. Most folks will be surprised when they see the original for #3 in Saturday's blog post (now immediately below). with love, artie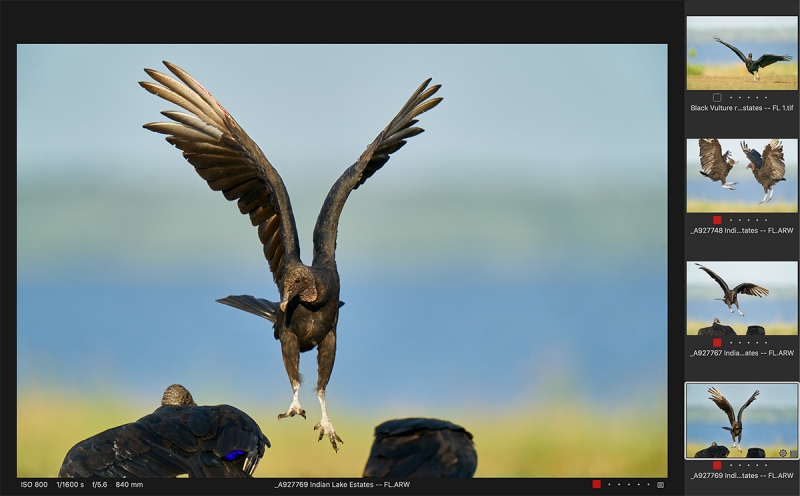 Capture One screeen capture: the original for Image #3: Black Vulture landing

Your browser does not support iFrame.
Image #3
When the vultures are coming to the roadkill cafe, it is often quite difficult to isolate the landing birds. As soon as I saw this image, I knew exactly what I had to do. Note that as captured that the bird is looking out of the "wrong" side of the frame. To create the optimized version that opens this post, I first leveled the imagee. Then, I not only needed to coverer the two extraneous vultures with Quick Masks, but I needed to flop the subject (as detailed in APTATS I & II) and then move it to the left in the frame by adding significant canvas on the right.
As expected, noone had a clue as to what I had done (though two folks were vaguely in the neighborhhood).
My Point!
I can guarantee that if I had showed the original image along with the optimnized version that many folks would have pointed to the obvious telltalee signs because they knew where to look and theey knew what had been done. Note also in the comments that several folks had invented "proof" as to what they thought had been done even though Images #2 and #4 were as they came out of the camera.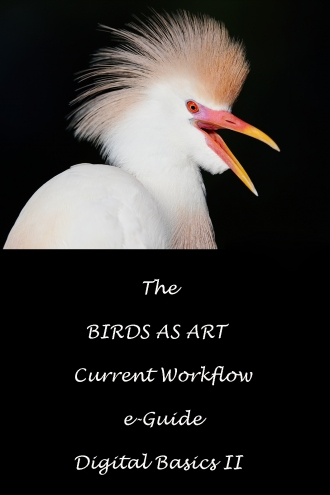 The BIRDS AS ART Current Workflow e-Guide (Digital Basics II).
You can order your copy from the BAA Online Store here, by sending a Paypal for $40 here, or by calling Jim or Jennifer weekdays at 863-692-0906 with your credit card in hand.
The BIRDS AS ART Current Workflow e-Guide (Digital Basics II)
All the techniques mentioned above and tons more (with the exception of Capture One RAW Conversions) — along with all of my personalized Keyboard Shortcuts — are covered in detail in the BIRDS AS ART Current Workflow e-Guide (Digital Basics II), an instructional PDF that is sent via e-mail. Learn more and check out the free excerpt in the blog post here. While the new e-Guide reflects my Macbook Pro/Photo Mechanic/DPP 4/Photoshop workflow, folks using a PC and/or BreezeBrowser will also benefit greatly by studying the material on DB II. Note: folks working on a PC and/or those who do not want to miss anything Photoshop may wish to purchase the original Digital Basics along with DB II while saving $15 by clicking here to buy the DB Bundle.
Folks who learn well by following along rather than by reading can check out the complete collection of MP 4 Photoshop Tutorial Videos by clicking here. Note: all of the videos are now priced at an amazingly low $5.00 each.
You can learn how and why I converted all of my Canon digital RAW files in DPP 4 in the DPP 4 RAW Conversion Guide here. More recently, I became proficient at converting my Nikon RAW (NEF) files in Adobe Camera Raw. About two years ago I began converting my Nikon and Sony RAW files in Capture One Pro 12 and continue to do so today.
To purchase Capture One, please use this link. Then you can learn more about Capture One in the Capture One Pro 12 Simplified MP4 Video here. The next step would be to get a copy of Arash Hazeghi's "The Nikon Photographers' Guide to Phase One Capture One Pro e-Guide" in the blog post here.
You can learn advanced Quick Masking and advanced Layer Masking techniques in APTATS I & II. You can save $15 by purchasing the pair. Folks can learn sophisticated sharpening and (NeatImage) Noise Reduction techniques in The Professional Post Processing Guide by Arash Hazeghi and edited by yours truly. Please use this link to purchase NeatImage.
To introduce folks to our MP.4 videos and the basics involved in applying more NeatImage noise reduction to the background and less on the subject, I'd be glad to send you a free copy of the Free Noise Reduction Basics MP.4 Video. Simply click to shoot me an e-mail to get your free copy.
If In Doubt …
If you are in doubt about using the BAA B&H affiliate link correctly, you can always start your search by clicking here. Please note that the tracking is invisible. Web orders only. Please, however, remember to shoot me your receipt via e-mail.
Please Remember to use my Affiliate Links and to Visit the BAA Online Store 🙂
To show your appreciation for my continuing efforts here, we ask, as always, that you get in the habit of using my B&H affiliate links on the right side of the blog or Bedfords, for all of your photo and electronics purchases. Please check the availability of all photographic accessories in the New BIRDS AS ART Online Store, especially the Mongoose M3.6 tripod head, Wimberley lens plates, Delkin flash cards and accessories, and LensCoat stuff.
As always, we sell only what I have used, have tested, and can depend on. We will not sell you junk. We know what you need to make creating great images easy and fun. And please remember that I am always glad to answer your gear questions via e-mail.
I would, of course, appreciate your using our B&H affiliate links or Bedfords for all of your major gear, video, and electronic purchases. For the photographic stuff mentioned in the paragraph above, and for everything else in the new store, we, meaning BAA, would of course greatly appreciate your business. Here is a huge thank you to the many who have been using our links on a regular basis and those who regularly visit the New BIRDS AS ART Online Store as well.
Facebook
Be sure to like and follow BAA on Facebook by clicking on the logo link upper right.
Typos
In all blog posts and Bulletins, feel free to e-mail or to leave a comment regarding any typos or errors. Just be right :).