What's Up?
On Monday morning it was a bit breezy hot and humid so I spent most of my morning session scouting for wildflowers. I did find some nice new stuff and wound up photographing what I think was Tenangle Pipewort and a lovely Pink –not sure which one.
I upped my swim to 66 lengths, 3/4 mile. In addition to my cardio-bursts I have added ten easy minutes on the StairMaster.
BIRDS AS ART
BIRDS AS ART is registered in the U.S. Patent and Trademark Office.
SONY e-Guide Discount Program
Purchase a (new) qualifying SONY camera body (a7r iii, a7r iv, a9, a9 ii) from Bedfords or using a BIRDS AS ART B&H affiliate link, and you will receive a $40 discount on the SONY e-guide. Purchase a (new) SONY 200-600mm G lens from Bedfords or using a BIRDS AS ART B&H affiliate link, and you will receive a $25 discount on the SONY e-guide. Purchase a (new) SONY 600mm f/4 GM lens from Bedfords or using a BIRDS AS ART B&H affiliate link, and you will receive a free SONY e-guide with one or two videos.
Please send your Bedford's or B&H receipts to me via e-mail to receive your discount and your ordering instructions. Folks purchasing from Bedfords and using the BIRDSASART code will save $50. Folks sending their B&H receipts may need to wait a few days to have their purchases confirmed. Folks using Bedfords will have their purchases confirmed immediately.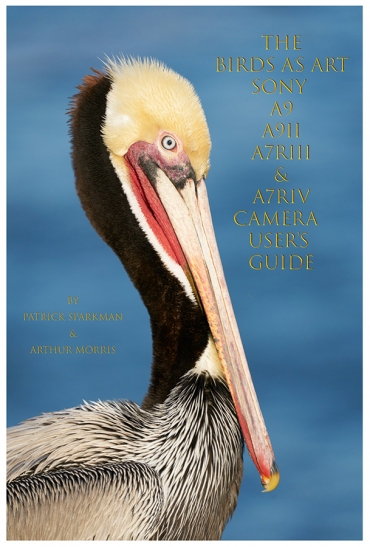 87 sold to rave reviews.
The SONY e-Guide by Patrick Sparkman and Arthur Morris
The Sony Camera User's e-Guide (and Videos)
Click here to purchase the guide with one Camera Set-up Video. Be sure to e-mail us by clicking here to specify your camera body so that we can send you a link for the correct video.
Click here to purchase the guide with two Camera Set-up Videos. Be sure to e-mail us by clicking here to specify your two camera bodies so that we can send you links for the correct videos.
Click here to learn more about the SONY e-Guide.

Money Saving Reminder
If you need a hot photo item that is out of stock at B&H, would enjoy free overnight shipping, and would like a $50 discount on your first purchase over $1000.00, click here to order and enter the coupon code BIRDSASART at checkout. If you are looking to strike a deal on Canon or Nikon gear (including the big telephotos) or on a multiple item order, contact Steve Elkins via e-mail or on his cell at (479) 381-2592 (Eastern time) and be sure to mention your BIRDSASART coupon code and use it for your online order. Steve has been great at getting folks the hot items that are out of stock at B&H. Those include the SONY a7r IV, the SONY 200-600, the SONY 600mm f/4 GM, and the Nikon 500mm PF. Steve is eager to please.
Gear Questions and Advice
Too many folks attending BAA IPTs and dozens of photographers whom I see in the field and on BPN, are–out of ignorance–using the wrong gear especially when it comes to tripods and more especially, tripod heads… Please know that I am always glad to answer your gear questions via e-mail. Those questions might deal with systems, camera bodies, accessories, and/or lens choices and decisions.
My Big Macro Mistake Corrected …
For decades I have been teaching bird photographers that when they are photographing large groups of birds, it is imperative to focus on the closest bird. I failed to follow my own advice the first time that I photographed Florida Sensitive Brier by focusing beyond the closest little gold thingies. Having something out of focus in front of the subject is generally an image wrecker; I deleted all of the images from the first session. For today's featured image, I made sure to focus on the closest little gold thingies. Using the Focus Magnfier/Manual focusing technique that is detailed in The Sony Camera User's e-Guide (see same above), makes macro photography pretty much a walk-in-the-park as long there is no breeze or provided that you can keep the subject absolutely still. See Lesson One on that below.
The more that I work with the Sigma 150mm macro/Vello Adapter/a7r iv rig the more proficient I become. If I can keep the blossoms completely, still everything is easy …
Plamped-in-Place
The best-case scenario for wildflower photography is a dead still day with zero breezes. Such conditions are very rare, and when they do occur — usually in the early morning, they do not last long. In general, cloudy days are to be preferred as the clouds eliminate shadows. In addition, when it is sunny, the air heats and moves and the resulting air currents move the flowers constantly. One of the best ways to solve this problem is to use the Plamped-in-Place solution. As you can ssee above, I set up a spare tripod about 15 inches from the blossom.I attached a Wimberley Plamp II to the tripod with the sturdy, powerful clamp jaws (black with the orange tips) and then held the flower gently in place with the lightweight (black and white) clamp. The beauty of this solution is that when you are done, you carefully remove the lightweight clamp from the stem of the flower and pack your gear. The flower is left growing in place as if you were never there.
There are many ways to use the Wimberley Plamp II; I will be sharing additional Plamp techniques here with you in future blog posts.
The Art of Flower Photography by Denise Ippolito and Arthur Morris
You can learn everything e about this e-book here, or order your copy here.
Video: The Art of Flower Photography
In this B&H Event Space video, two of the world's premier photographers of flora and fauna — Arthur Morris and Denise Ippolito — share the techniques they use to create dramatic, sharp, well-composed, properly exposed images of flowers and flower fields. Denise does great things with the Canon 100mm f/2.8 L IS lens, while artie often goes to longer focal lengths—he has been seen photographing tulips at Keukenhoff Gardens, Holland, with a 600mm lens and a teleconverter. In addition to standard techniques, the video ends with Ippolito and Morris showing a wide range of abstract floral images and describing a variety of creative artistic effects such as multiple exposures, sharp/soft blending, texture overlays, warping a flower, creating zoom/twirls, in-camera blurs, and many others.
Click here to see the video.
If In Doubt …
If you are in doubt about using the BAA B&H affiliate link correctly, you can always start your search by clicking here. Please note that the tracking is invisible. Web orders only. Please, however, remember to shoot me your receipt via e-mail.
Please Remember to use my Affiliate Links and to Visit the BAA Online Store 🙂
To show your appreciation for my continuing efforts here, we ask, as always, that you get in the habit of using my B&H affiliate links on the right side of the blog or Bedfords, for all of your photo and electronics purchases. Please check the availability of all photographic accessories in the New BIRDS AS ART Online Store, especially the Mongoose M3.6 tripod head, Wimberley lens plates, Delkin flash cards and accessories, and LensCoat stuff.
As always, we sell only what I have used, have tested, and can depend on. We will not sell you junk. We know what you need to make creating great images easy and fun. And please remember that I am always glad to answer your gear questions via e-mail.
I would, of course, appreciate your using our B&H affiliate links or Bedfords for all of your major gear, video, and electronic purchases. For the photographic stuff mentioned in the paragraph above, and for everything else in the new store, we, meaning BAA, would of course greatly appreciate your business. Here is a huge thank you to the many who have been using our links on a regular basis and those who regularly visit the New BIRDS AS ART Online Store as well.
Facebook
Be sure to like and follow BAA on Facebook by clicking on the logo link upper right.
Typos
In all blog posts and Bulletins, feel free to e-mail or to leave a comment regarding any typos or errors. Just be right :).