What's Up?
I headed out early this morning — Monday 6 JULY 2020. It was clear and sunny. I stopped on the way down to the lake to photograph some large yellow flowers; I am going to try to learn whether they are a native species — there is one, Wild Allamanda, but after some online research I suspect that it is one of the non-natives …
I did OK down by the lake with several adult Sandhill Cranes including one in a very nice studio setting 🙂
BIRDS AS ART
BIRDS AS ART is registered in the U.S. Patent and Trademark Office.
SONY e-Guide Discount Program
Purchase a (new) qualifying SONY camera body (a7r iii, a7r iv, a9, a9 ii) from Bedfords or using a BIRDS AS ART B&H affiliate link, and you will receive a $40 discount on the SONY e-guide. Purchase a (new) SONY 200-600mm G lens from Bedfords or using a BIRDS AS ART B&H affiliate link, and you will receive a $25 discount on the SONY e-guide. Purchase a (new) SONY 600mm f/4 GM lens from Bedfords or using a BIRDS AS ART B&H affiliate link, and you will receive a free SONY e-guide with one or two videos.
Please send your Bedford's or B&H receipts to me via e-mail to receive your discount and your ordering instructions. Folks purchasing from Bedfords and using the BIRDSASART code will save $50. Folks sending their B&H receipts may need to wait a few days to have their purchases confirmed. Folks using Bedfords will have their purchases confirmed immediately.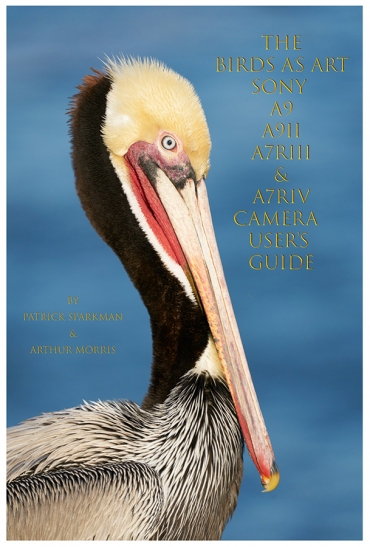 99 sold to rave reviews.
The SONY e-Guide by Patrick Sparkman and Arthur Morris
The Sony Camera User's e-Guide (and Videos)
Click here to purchase the guide with one Camera Set-up Video. Be sure to e-mail us by clicking here to specify your camera body so that we can send you a link for the correct video.
Click here to purchase the guide with two Camera Set-up Videos. Be sure to e-mail us by clicking here to specify your two camera bodies so that we can send you links for the correct videos.
Click here to learn more about the SONY e-Guide.

Money Saving Reminder
If you need a hot photo item that is out of stock at B&H, would enjoy free overnight shipping, and would like a $50 discount on your first purchase over $1000.00, click here to order and enter the coupon code BIRDSASART at checkout. If you are looking to strike a deal on Canon or Nikon gear (including the big telephotos) or on a multiple item order, contact Steve Elkins via e-mail or on his cell at (479) 381-2592 (Eastern time) and be sure to mention your BIRDSASART coupon code and use it for your online order. Steve has been great at getting folks the hot items that are out of stock at B&H. Those include the SONY a7r IV, the SONY 200-600, the SONY 600mm f/4 GM, and the Nikon 500mm PF. Steve is eager to please.
Gear Questions and Advice
Too many folks attending BAA IPTs and dozens of photographers whom I see in the field and on BPN, are–out of ignorance–using the wrong gear especially when it comes to tripods and more especially, tripod heads… Please know that I am always glad to answer your gear questions via e-mail. Those questions might deal with systems, camera bodies, accessories, and/or lens choices and decisions.
A Macro Lens Question
Left as a comment by Norm Skliar:
Art, question, – is the Sigma 105mm f/2.8 HSM macro lens compatible with the Canon EOSS 7D Mark II? If not, what macro lens would you recommend ?
Hey Norm, Good question. The Sigma 105mm f/2.8 EX DG OS HSM Macro Lens for Canon EF is perfectly compatible with all Canon EF bodies including the 7D Mark II. I have never used it but it generally receives very good reviews. Compare it with either the Canon EF 100mm f/2.8 Macro USM Lens or the newer Image Stabilized (IS) version, the Canon EF 100mm f/2.8L Macro IS USM Lens. Note: the Sigma version offers an Optical Stabilizer system that enables folks to create sharper images when shooting handheld.
Sigma also offers a Nikon mount version, the Sigma 105mm f/2.8 EX DG OS HSM Macro Lens for Nikon F.
Most of the 90, 100, and 105mm macro lenses do not come with a tripod collar so if you are planning to work on a tripod as I do most of the time, you will need to explore the tripod collar options.
We are however, not quite done 🙂 When I used Canon, I owned the 100 IS macro and the Canon EF 180mm f/3.5L Macro USM Lens. For flowers, especially cultivated flowers like dahlias and tulips, the 100 macro was great. But for generally smaller wildflowers, frogs, bugs, and butterflies, I loved the longer focal length of the 180 macro. That brings us to the last alternative, the Tamron Telephoto SP AF 180mm f/3.5 Di LD IF Macro Autofocus Lens for Canon EOS. Here again, the off-brand Tamron 180 has a great reputation. Do understand that the Sigma and Tamron lenses will save you considerable money while producing excellent results …
All in all, it is your call. Do let me know if you have any additional questions and please remember to use my affiliate links for this and other purchases.
Partridge Pea: a Difficult Subject!
Though a common species, I found my first batch of Partridge Pea just a few days ago, and a second batch yesterday at a different location. As the flower is quite distinctive and there are no similar species, I am 100% sure of my identification. (Unless and until proven otherwise!)
The flowers are sort of curled and twisted making them difficult to photograph; with this and all of the other blossoms, one of the five petals was curved in as you with the petal at the 10:30 position (just to the right and above the letter A). This means that you need some extra depth-of-field. As stopping down with the rig I was using is problematic, the simple solution was to move the tripod back a bit and photograph the blossom with some extra leaves and a pod or two rather than trying to shoot the single flower full frame. Remember, at a given aperture, the greater the distance to the subject the greater the depth-of-field.
If you enlarge the image you can see the second big problem: the sepal (?) on our left just below the letter A is flattened against the petal below the A. Compositionally, this left an empty hole in the area around the A. After cleaning up the dark crud spots on some of the compound leaves, I created and saved a version true to the RAW file. But I was not at all happy with the image design as noted above. A day after working the image, I re-did it with a new plan. I painted a Quick Mask of the sepal (?) at the 4:30 position (just our left of the B) and placed it on its own layer. I moved it into position with the Move Tool (V) and then, using the Transform command I rotated it, flipped it vertically, and re-sized and warped it a bit so that it did not match the source sepal perfectly.
On Shading Flowers on Sunny Days …
I've consistently said after looking at way too many terrible flower images lit by harsh light in full sun (mostly in field guides), that the best and simplest way for folks to improve their flower photography would be to shade their subjects. That can be done in many ways — with a large diffuser, with the photographer's body, with a large piece of cardboard or a cardboard box, with a blanket thrown over a spare tripod, or as here, with my vehicle.
The Optimized Version
Considering the difficulty of the subject and the image optimization, I was quite happy with the results. Now I need to find a perfect blossom with the leaf just above A oriented just like the leaf above B and I will be in business … Your thoughts?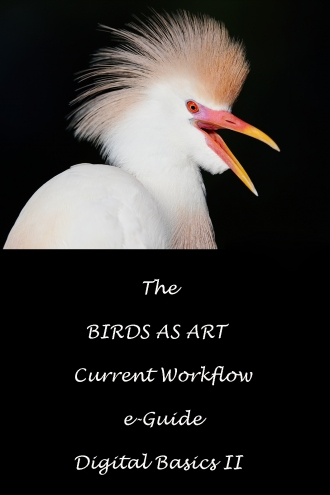 The BIRDS AS ART Current Workflow e-Guide (Digital Basics II).
You can order your copy from the BAA Online Store here, by sending a PayPal for $40 here, or by calling Jim or Jennifer weekdays at 863-692-0906 with your credit card in hand. Be sure to specify Digital Basics II.
The BIRDS AS ART Current Workflow e-Guide (Digital Basics II)
The techniques mentioned above and tons more (with the exception of Capture One RAW Conversions) — along with all of my personalized Keyboard Shortcuts — are covered in detail in the BIRDS AS ART Current Workflow e-Guide (Digital Basics II), an instructional PDF that is sent via e-mail. Learn more and check out the free excerpt in the blog post here. While the new e-Guide reflects my MacBook Pro/Photo Mechanic/DPP 4/Photoshop workflow, folks using a PC and/or BreezeBrowser will also benefit greatly by studying the material on DB II. Note: folks working on a PC and/or those who do not want to miss anything Photoshop may wish to purchase the original Digital Basics along with DB II while saving $15 by clicking here to buy the DB Bundle.
Folks who learn well by following along rather than by reading can check out the complete collection of MP 4 Photoshop Tutorial Videos by clicking here. Note: all of the videos are now priced at an amazingly low $5.00 each.
You can learn how and why I converted all of my Canon digital RAW files in DPP 4 in the DPP 4 RAW Conversion Guide here. More recently, I became proficient at converting my Nikon RAW (NEF) files in Adobe Camera Raw. About two years ago I began converting my Nikon and Sony RAW files in Capture One Pro 12 and continue to do so today.
To purchase Capture One, please use this link. Then you can learn more about Capture One in the Capture One Pro 12 Simplified MP4 Video here. The next step would be to get a copy of Arash Hazeghi's "The Nikon Photographers' Guide to Phase One Capture One Pro e-Guide" in the blog post here.
You can learn advanced Quick Masking and advanced Layer Masking techniques in APTATS I & II. You can save $15 by purchasing the pair. Folks can learn sophisticated sharpening and (NeatImage) Noise Reduction techniques in The Professional Post Processing Guide by Arash Hazeghi and edited by yours truly. Please use this link to purchase NeatImage.
To introduce folks to our MP.4 videos and the basics involved in applying more NeatImage noise reduction to the background and less on the subject, I'd be glad to send you a free copy of the Free Noise Reduction Basics MP.4 Video. Simply click to shoot me an e-mail to get your free copy.
If In Doubt …
If you are in doubt about using the BAA B&H affiliate link correctly, you can always start your search by clicking here. Please note that the tracking is invisible. Web orders only. Please, however, remember to shoot me your receipt via e-mail.
Please Remember to use my Affiliate Links and to Visit the BAA Online Store 🙂
To show your appreciation for my continuing efforts here, we ask, as always, that you get in the habit of using my B&H affiliate links on the right side of the blog or Bedfords, for all of your photo and electronics purchases. Please check the availability of all photographic accessories in the New BIRDS AS ART Online Store, especially the Mongoose M3.6 tripod head, Wimberley lens plates, Delkin flash cards and accessories, and LensCoat stuff.
As always, we sell only what I have used, have tested, and can depend on. We will not sell you junk. We know what you need to make creating great images easy and fun. And please remember that I am always glad to answer your gear questions via e-mail.
I would, of course, appreciate your using our B&H affiliate links or Bedfords for all of your major gear, video, and electronic purchases. For the photographic stuff mentioned in the paragraph above, and for everything else in the new store, we, meaning BAA, would of course greatly appreciate your business. Here is a huge thank you to the many who have been using our links on a regular basis and those who regularly visit the New BIRDS AS ART Online Store as well.
Facebook
Be sure to like and follow BAA on Facebook by clicking on the logo link upper right.
Typos
In all blog posts and Bulletins, feel free to e-mail or to leave a comment regarding any typos or errors. Just be right :).
6 comments to Quick Mask Flower Magic. Canon Macro Lens Choices (and more). And On Shading Flowers on Sunny Days …
Was wondering if you replaced the foot on the Nikon 500 af-p lens when you used it with your Nikon cameras?

Good morning Guru. Hope you are keeping healthy and cheerful as ever.

I'm sure you know this very well. However, sharing an experience here for others.

First, I'd like to reveal that I'm a Canon DSLR user and enthusiast nature & wildlife photographer.

My experience: Extension tubes are effective way for part-timers to do macro work. Two days ago I mounted Canon Extension Tube EF25 II on my APS-C body and then, mounted the kit lens EFS 18-135mm IS STM on it. It retained AF and produced some prosumer quality macro at ease. I shot from as close as 4 centimetre from the subject.

Hope it helps the occasional macro lovers. For full-timers, perhaps a dedicated macro lens is a better choice. However, I don't have experience with that lens and do not intend to either.

Best regards.

Tamron 90 Macro is a better choice in my opinion to Sigma 105 Macro Lens.
I like the image, Yellow on green looks nice. Not so happy with the leaf on the left side. I am Interested in Raw Digger Guide, I have been using it for 6 months and it is a great tool to have in the workflow.
Arthur Morris/BIRDS AS ART
Powered by WordPress & Atahualpa
Copyright © 2021