What's Up?
On Friday morning, I wound up photographing a single Bloodberry (Rivina-humilis) blossom in our butterfly garden for well-more than 30 minutes before heading down to the lake. On Saturday morning it looked as if it might be cloudy so I decided to head to Tiger Creek Preserve to look for some new wildflowers. But even before I left ILE it became evident that it was gonna be another hot sunny morning so I made a u-turn and headed down to the lake. I started off with a perched Great Egret while practicing my RawDigger-evaluated bright white exposures. Next I spent 30 minutes photographing a picked and Plamped Virgina-Buttonweed-(Diodia-virginiana) flower. At less than 1/2 inch the tripod-mounted Venus Optics Laowa 100mm f/2.8 2X Ultra Macro APO Lens for Sony E was perfect for the job. For the most part I worked between 1.2X and 1.6X magnification. Photos to come.
What They are Saying About the FlexShooter Pro
Learn more about the ballhead that acts like a gimbal head and see the instructional video here.
Experiencing Weightlessness– Wow!
By Gregory
I own a Canon 500 mm lens, and a while back severely damaged the muscles and nerves in my left arm. With the FlexShooter Pro, I feel like the bionic man. I can use the lens, enjoy it, and try to create some great shots. It has given back to me the ability to enjoy my camera again.
Goodbye Gimbal!
By David
I use the FlexShooter Pro my Nikon 800mm f/5.6 lens, a precision piece of equipment. It is smooth as silk even with the heavy lens, stays and where you point it. There is no need for tightening and loosening knobs! The head weighs next-to-nothing and allows for a comfortable over the shoulder carry with your lens tucked neatly away. It is the best of both worlds: a gimbal head and a ballhead neatly packaged in a single, attractive, lightweight unit.
Much More Versatile Than a Gimbal Head!
By Timothy
While I do not have a lot of experience with a gimbal head, I know that they are big, bulky and heavy. As a mixed shooter of both landscapes and wildlife, the FlexShooter Pro was an interesting choice. After two weeks of solid use, I have found it to be well-built, very functional, and much more versatile than a gimbal head or ball-head alone.
The Levered-Clamp FlexShooter Pro Head: $679.00 plus shipping only from BIRDS AS ART
Before I began carrying the FlexShooter Pro, I insisted that Csaba Karai, the Hungarian designer, make me a batch with a larger knob. He kindly did and continues to do so. But even with the larger knob, some folks — especially those with relatively weak fingers — prefer a levered clamp to a clamp with a knob ss they are easier to operate. In North America, the Levered FlexShooter Pro Head is now available only from BIRDS AS ART. Over the past month we have had several inquiries. Right now we have five in stock.
Do understand that the Levered-Clamp FlexShooter Pro Head maintains all the great benefits of the FlexShooter Pro, the ballhead that acts like a gimbal and works great with any rig from the longest, heaviest super-telephoto lens to a camera-body-mounted wide angle. The latter is possible because of the bi-directional clamp; it is no longer necessary to travel with a gimbal head for long lens photography and a ballhead for scenic photography …
You can order yours here for $679.00 plus shipping in the BIRDS AS ART Online Store.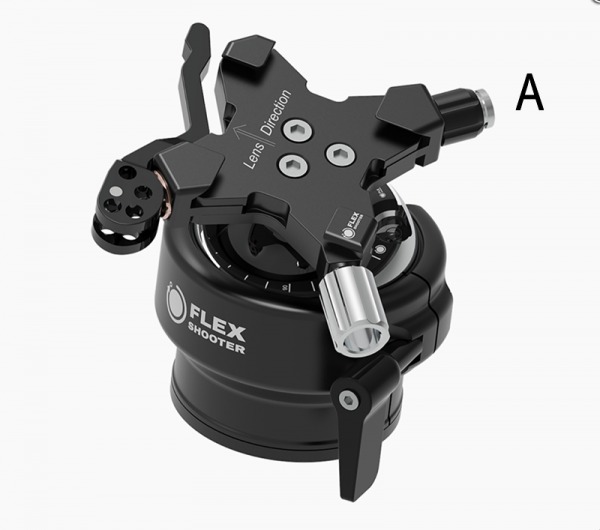 The Levered-Clamp FlexShooter Pro Head
Setting the Tension
The Levered-Clamp FlexShooter Pro Head ships with the tension knob (A) at the loosest setting, with the knob fully turned router-clockwise. Note: not all "Arca-Swiss compatible" lens plates have identical measurements. You can follow the steps below with the plate or a short lens (or camera body) in your left hand, and the head in your right hand (or resting on a table). If you are setting the tension for a plate that is affixed to a super-telephoto lens, it is recommended that you mount the head to a sturdy tripod before following the steps below.
Here is how to set the tension correctly for your specific lens plate.
1- Begin with the lever open and then close it. It should close very easily.
2- Pull the lever to open, place the lens plate into the jaws of the clamp, and close the lever. Again, it should close very easily. With the lever fully open, tighten the tension knob (A) two turns (clockwise).
3- Now close the lever. If it closes with a decent amount of force needed, you have set the proper tension. Set it and forget it unless you are using a different plate (that might have a slightly different width).
4- If it still closes easily, tighten the tension knob (A) two more turns (clockwise). Repeat until you need a decent amount of force to close the lever. Do not force things. If it is very difficult to close the lever, loosen the tension knob (A) one turn (counter-clockwise).
5- By experimenting, you will learn to set the correct tension quickly and easily. Once you get it right with a decent (but not excessive!) amount of force needed to close the lever, you are good to go. Set it and forget it; the tension knob will stay in place.
If you do some serious macro photography, and do not own and use a focusing rail, I recommend that you use the FlexShooter Pro rather than the Levered-Clamp FlexShooter Pro so that you can move the plate in the jaws as needed when pointing your macro lens downward …